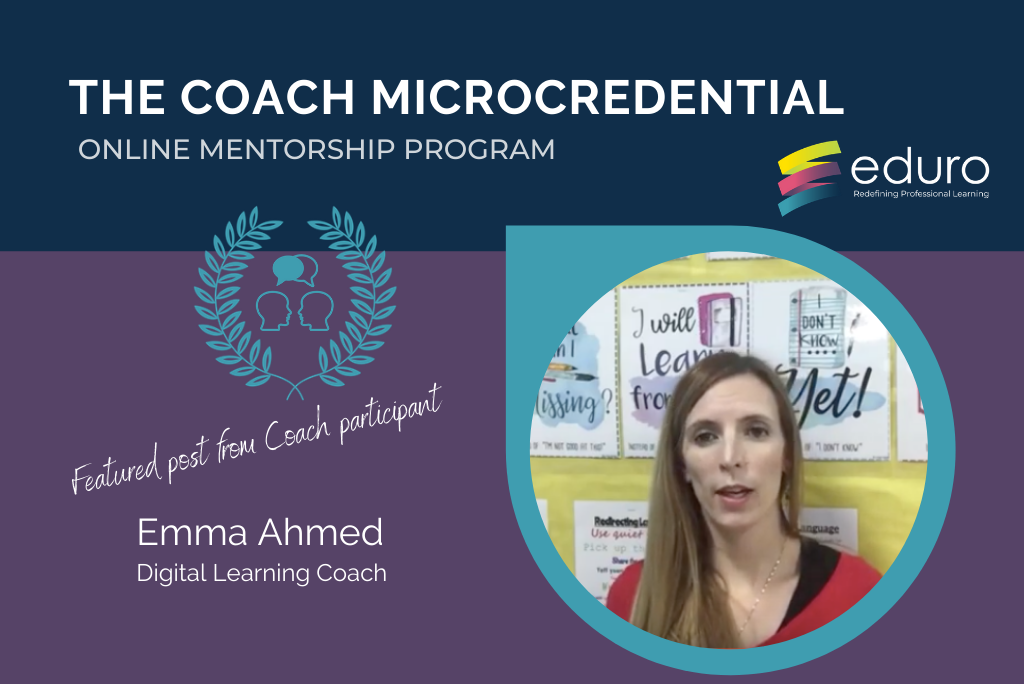 We want to give you a peek inside our Coach Microcredential Online Mentorship Program. Coaches taking part in this academic-year-long journey have graciously given us permission to post some of their learning and reflections from the private coursework they are undertaking during this microcredential. Where possible, we have shared the course and the action task to give context for the guest post.
The Topic: Coaching in Practice
The Task: Share an example of when you used each of the coaching stances and how you knew it was the right choice to make. Think about: What kinds of questions did the teacher ask? How did you know that this coaching stance was the right stance to take? What worked about this stance? What didn't? What might you do differently next time?
I had the opportunity to work with our PE teacher to create a long-desired project to improve student running through video analysis. He had wanted to do this for many years but had not had the support he needed to complete it. I adopted a consulting approach for the creation of the form and app selection as I had the greater experience and confidence with the technology needed. I felt this would be the fastest option for him, plus it was the first time we had really worked together so I felt it was likely to support our relationship-building. It worked well to get the task completed and build our relationship, he was the content expert and I was the technology expert. Our next steps would ideally be posting their videos on their learning journals and repeating the exercise later in the year. In the future I would aim to use a coaching approach to support his thinking which may be easier as we now have a successful foundation to work from.
Last year I had an excellent coaching relationship with one of the elementary teachers. She approached me to work together to help her become more technologically fluent, which suggested to me that she was open to a coaching stance. Having a flexible schedule I was able to be available whenever she needed me and when reflecting on success factors I think a key one was booking in one 'coaching' time and two class 'teaching' times in each of our six-day schedule rotations. We both then had a commitment to meet and were able to adjust to a different time in the rotation, depending on the needs of the projects we planned. I know this was the right stance to take because she was so open and excited to learn new things and evidence is how she has developed tremendously in her use of technology since we began working together. Although I did move between the coaching stances, we talked constantly about student learning, standards and the effectiveness of our lessons and fluidly moved between the two of us when delivering lessons. Further to this, I became an integral part of the grade level team and was able to support grade-level planning and projects because of the relationships we developed. One area I would like to develop is formalising our use of student data.
Following the development of that coaching relationship , I was able to work with her colleague. From a conversation with the third team member who was interested in iTime – personalised inquiry – I decided to invite the whole to team to review an article I had found online that I hoped would be a conversation and though kickstarter. From this, the second teacher asked me to support in her class while we introduced the idea to the students and ran iTime. Knowing she was interested but had asked for support, and I was also new to iTime, we developed a collaborative relationship co-creating materials, templates and procedures for iTime, I provided some technical support and resources for our development and we thought through our plans together. This was a great opportunity to model coaching with the students themselves and to build our relationship because neither of us knew the answers. I would like to continue and expand this relationship next year by moving to more of a coaching stance, asking mediative questions to support her thinking and collecting and using student data to inform our decisions.
Read more from The Coach participants as they share their learning from the microcredential program …​
We love sharing great content!
Get authentic, relevant, practical content delivered right to your inbox!