In my previous blog post,
Coaches as Leaders: Perceptions and Connections
I shared the challenges many coaches face in seeing themselves as leaders and suggested some connections that can be made between coaching and leadership to illustrate how coaches can be and are leaders. If coaches can begin to see (and accept) themselves as leaders, what can they do to broaden their understanding of leadership and apply it in their own context?
As I reflect on my own journey, here are five (+1) ways I've been working through my own growth in the leadership aspects of my role as a coach. 
1.  Accept that as a coach, you are also a leader.
Reflect on how you are already a leader in your school, even a reluctant leader. Recognize those connections you can make between aspects of leadership (characteristics and actions) and your own perspectives, actions and goals.
2.  Clarify your role in relation to your school's mission and vision and goals.
Reflect on your role as a coach both in relation to your perspective on coaching and your job description. Discuss your coaching role with administrators to review and refine your job description, if needed, so it clearly supports the school's mission and vision. Look for opportunities to advocate your involvement in divisional and school-wide initiatives.
3.  Familiarize yourself with change theory and management.
This will give you some frameworks and strategies on how change can be effectively implemented. Your role as a coach is based on supporting and facilitating change and the more you understand how change can impact people, the more equipped you will be to plan for and address challenges.
4.  Build up your facilitation skills and strategies.
5.  Build your PLN for support and ideas and resources.
+  Take a closer look at these instructional coaching PD opportunities.
If your actions inspire others to dream more, learn more, do more and become more, you are a leader.
Academy Mentor: The Coach Microcredential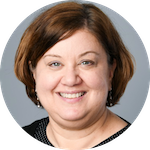 We're  really good at creating virtual communities!
We love sharing great content!
Get authentic, relevant, practical content delivered right to your inbox!