In this episode of #coachbetter librarian spotlight
we're chatting with Tara Ethridge, Elementary School librarian at International School Prague. Tara has taught everything from Kindergarten to Grade 9 English and everything in between! She made the transition to librarianship about six years ago.
Bonus: Watch the spotlight version of this episode on YouTube!
Tara Ethridge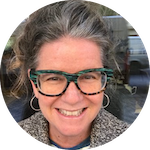 Full Show Notes
Tara's superpower is meeting teachers where they're at, and her endless patience and interest in supporting teachers in just what they need at that moment – no matter how many times she's explained that very same thing before! For coaches looking to better understand how to engage their teacher colleagues who might be a little intimidated by technology, Tara is an absolute expert and this interview highlights the critical skill of building those interpersonal relationships to make coaching a success!
What do you think coaches do?
If the school is at the beginning of using tech, the coach is getting everyone on board. Once the school is established, the coaches role shifts to more of a support role. More support and handholding when things get started, gradual release of responsibility. As teachers are getting more comfortable, they start spreading the news that it's great. When that happens, they are providing resources and inspiration, and sitting in on planning meetings, and supporting teacher needs. Being there for what the needs are for teachers. Sometimes teachers don't even know what's available.
How do you work with the coaches at your school?
New class: tinker time: STEM activities for early childhood. 3 coaches in ISPrague, they are located very close the library. When coach goes away on PD, they share back to other teachers. Coaches support Tara as a librarian – for example, tech support when there are trouble shooting needs.
What are some good opportunities for coaches to work with you?
Anytime – would love their support. Tech coaches are constantly learning new ideas. I love when a coach can say "hey! I just saw this at ISKL…. It might be cool for our Energy unit". I really appreciate it when they're connected with people on Twitter and sharing ideas we can apply in our setting. I love when someone throws an idea my way, but in the ideal world, I would prefer to sit down and have longer conversations.
What do you do when you don't have the opportunity to work with a coach?
Idea-wise: my go to is Twitter. Her whole feed is professional, tech and library only. It's a platform to easily get support. If you need tech support, search out someone who is comfortable with tech – to find someone just in case who can help.
What are the essential elements for coaching success in a school? What's needed to build a coaching culture?
Exactly the same thing that's essential for librarians. Approachability and personality. The more you are accessible to your staff, the more you're not intimidating to the staff. Tech coaches have a vast amount of knowledge and that can be super intimidating. That willingness to do what is necessary to get started – which might mean a whole lot of handholding to get started (and it could be the same thing many many times).
Ideal personality: dynamic, outgoing, totally willing to help. Passionate. Making (and searching for) connections grow our relationships and build the trust to know that when you need something, you might think, I'm going to ask the coach because last time he/she was super positive and ready to help.
Where do coaches / does coaching fail? And what can we do about it?
I think coaching fails when coaches don't have the desire or patience to help teachers with things that aren't really interesting. The reality of day to day implementation of tech rich learning might not be super interesting. Coaches could be better by really honoring where teachers are. Know your audience. Help EVERYONE move forward, even though everyone is on a different place on the continuum.
Clint: Tech coaches struggle when the focus in more on the tech and less on the coaching.
What makes a coach invaluable to you?
The knowledge. This is their world: tools, technology, interesting ideas and global projects. For a teacher who has so many competing interests. For a coach to consistently have current knowledge is one of the best things you can bring to the table. Bigger global projects – I always find them fascinating but I never had a chance to really be part of them. Tech coaches are privy to those more than classroom teachers.
What was your first teaching or librarian moment that made you realize that coaching was important to start or sustain
After school tech support at Shanghai American School.  ISBangkok was where it got solidified, with Kim and Jeff. Seeing how coaches have that vast amount of knowledge that they really want to share with me.
We love sharing great content!
Get authentic, relevant, practical content delivered right to your inbox!
Join the SlowChat #coachbetter
Connect with our current participants and graduates while discussing the content of any of our episode on our #coachbetter Twitter slow chat.
Now you can subscribe to #coachbetter via your favorite Podcast Player!