In this episode of #coachbetter spotlight, Kim chats with Carrie Zimmer, 4th grade teacher at GEMS Dubai American Academy. Carrie has a wide range of experience, including being an instructional coach in her previous school, so her thoughts in this conversation provide great insight into the needs of a classroom teacher – with the perspective of a very recent coach.
Bonus: Watch the spotlight version of this episode on YouTube!
Carrie Zimmer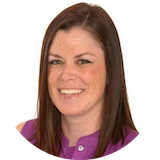 Full Show Notes
Carrie shares her thoughts on the real value of a coach to a classroom teacher, and what schools and coaches can do together to make sure coaching is perceived as valuable and worthwhile from a classroom teacher's point of view. For those coaches seeking insight into a classroom teacher's mindset about coaching, this episode is full of valuable insights!
Here's some helpful snippets of the broader conversation.
What do you think coaches do?
The coaches role is varied, coaches advice, assist, mentor, model and teach. They do whatever that individual classroom teacher might need in that moment. You have to be prepared to do whatever the teacher needs at that moment.
Transitioning from coach to classroom teacher, Carrie recognizes how important it is for the coach to be in the room, to just show up. Now as a classroom teacher, she doesn't have time to plan meetings with coach, so thinks a coach should just start by showing up. Less at meetings. More in her classroom.
How do you work with the coaches at your school?
We have tech coaches, called Innovative Activators, and literacy coaches. Usually I see them just in meetings. Every time someone says "I'll come to your room", I say "yes please". More of our time together seems to be in meetings – it would be more useful  to be in my classroom. Which means they (the coaches) would need to divide their time among all 7 teachers at each grade level.
What are some good opportunities for coaches to work with you?
If the conversation you would have before hand is similar to the one you would have with your evaluator. I need someone who can model my goal for me, or to sit with me so we can do it together. Someone who can come in and model the idea and then do it with me and watch me do it and provide feedback.
Most important is not the expertise, it's the relationship. Very important not to have any layer of judgement. If the right person is in the job, this shouldn't be as much of an issue. Come with an attitude of it doesn't matter where you are, it's all about moving forward.
What do you do when you don't have the opportunity to work with a coach?
I rely more on my grade level. Entire grade level is new. They've become the support system for everyone. We spend so much time together, and planning lines up.
What are the essential elements for coaching success in a school? What's needed to build a coaching culture?
It's the right person for the job. Being able to establish that relationship with the majority of teachers they're working with. The school needs to have established a community that learning is for everyone. If a school believes in that, they should believe in the coach as a facilitator of that learning.
Where do coaches / does coaching fail? And what can we do about it?
If the coach isn't being used for the real purpose of helping teachers continuing to grow and learn, then they're not really fulfilling the role of a coach. Biggest challenge is lack of time – if I had more time to talk to a coach individually, there's not enough time in the day for me to take more time to plan that meeting. Lack of time and organizational structure to support coaching.
What makes a coach invaluable to you?
The person that could bridge the gap – be the person I can trust and rely on to support my journey. They have to almost learn to anticipate your needs, which is a lot to ask of someone who has 20 – 30 people they work with.
What was your "aha" moment that shifted your perspective from not caring about coaching to being on board?
Never worked with coaches while in the US. Getting hired as a coach in Milan was a great opportunity to learn about the value of coaching. Coming from never having even seen a coach, to being a coach, to now being a classroom teacher where there are coaches. My "aha' moment has been understanding the needs from the classroom teacher side.
Are you looking for quality Professional Development that is ...
based on a cohort model of a community of like-minded learners?

a deep dive into a topic over 8 weeks?

led by experienced and knowledgeable facilitators? AND

has continuing education quarter credits and/or clock hour options available?
We have what you are looking for!
Facilitated, online courses for Instructional Coaches
Offered ONCE a year only!
Facilitated from: October 7, 2019 - December 1 2019
Reserve your place between 7 August - 7 September & receive an early bird bonus!
 JOIN OUR MAILING LIST
Sign up for our #coachbetter mailing list to receive a newsletter every other week all about coaching in a school context. Each FREE newsletter features one of our relevant coaching videos, a practical coaching tip you can use right away, plus a great resource created or selected by the Eduro Team to help you #coachbetter!
CLICK HERE
#COACHBETTER ON FACEBOOK
Connect with other coaches, just like you, in our free #coachbetter Facebook group:
CLICK HERE
EVEN MORE COACHING RESOURCES
See all of our Eduro Learning coaching resources!
CLICK HERE
If there's something you're interested in, and we don't have it, let us know!
PRIVATE MENTORING
Or if you want to see what the private mentorship experience is like, check out our Private Coaching sessions – and get your first coaching session for free – here:
CLICK HERE
ABOUT #COACHBETTER
We're passionate about the impact instructional coaching can have on school culture, student learning and teacher professional growth. This podcast allows us to share inspiring ideas about coaching through conversations with innovative educators from around the world. Let us help you #coachbetter! We would love to hear your thoughts, ideas and questions so please drop us a comment below!
Join the SlowChat #coachbetter
Connect with our current participants and graduates while discussing the content of any of our episode on our #coachbetter Twitter slow chat.
Now you can subscribe to #coachbetter via your favorite Podcast Player!
We love sharing great content!
Get authentic, relevant, practical content delivered right to your inbox!