In this episode of #coachbetter spotlight, Kim chats with David Lee, Elementary STEM Coach at Singapore American School. 
David's experience with design thinking, along with his personal connections to his own education provide great insights into the value and purpose of authentic and meaningful use of technology in the classroom.
Bonus: Watch the spotlight version of this episode on YouTube!
David Lee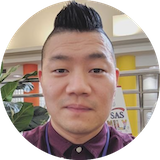 Full Show Notes
As a first-year, full time coach, David shares lots of great strategies for how to connect with teachers and build authentic learning experiences for students.
Here are snippets of our conversation.
STEM: at KIS focused on culminating challenges, applying their learning from their other classes into the Design class. Now, David's role is more helping teachers move towards STEM. He is focused on being in every classroom and doing design thinking activities and is in charge of 4th and 5th Grade.
Building Rapport in your teaching community, what are your routines (walking the hall, eating lunch in the staff room) "The Coaching Bank" – how do you make connections with colleagues on a professional level, not just a personal one?
The whole year has been a transition for the EdTech Team. At the beginning of the year, they were designated to grade levels, but the team has realized that they are working with all teams. I ask to be part of their unit development, and created performance tasks with the team. Being involved from ground zero and then helped implemented projects at all grade levels.
Sometimes tech coordinators can distance themselves from the curriculum. Knowing the standards and what students need to know and do, being engaged in the curriculum is critical, allows us to be engaged in a meaningful way.
Building a Culture of Coaching: Where/How do you start? How do you be an advocate for the importance of your role?
Same as teachers do with students. The coach and teacher relationship is more of a partnership. Sometimes teachers think coaches come in and tell you what to do. But it's about both coming together to work towards a common goal. Because of that relationship coaches will need to show teachers that they're designers. They will take an active role in this creative problem solving. This can be challenging because in the past coaches may have just told them what to do and they haven't had to think for themselves. 
In all schools there are constantly initiatives being given to teachers. A lot of times the initiatives contradict each other. Can't take all approaches and do them exactly as instructed, have to take them apart and do what's best for your school. A lot of times this is challenging for teachers to try to fit all the pieces together. If they're seen as designers they can customize all the pieces together to see how it fits bet for student learning.
How do you stay motivated as a coach when you're "the only one" who cares about tech rich learning?
Truly believe it's best for the students. Constantly think about his own schooling experience, and he doesn't remember any of the content. Confidence level was so low. Realized he was missing those skills and dispositions that were never taught in school, and now those are his priority. Motivated to make that his students have experiences that get them ready for their life.
The challenge of being "understood" as a coach – teachers don't know what you do / think you just have free time
In previous role, I was also a teacher, which helped a lot. Now as a full time STEM coach, the teachers will know what you do if you develop units with them and develop performance tasks and then help them to implement those tasks. Be an active collaborator!
I'm in a very collaborative school. Even though I wasn't invited, I just asked to attend. Initially teachers were curious, but once they started collaborating, they were thankful to have another perspective.
The many hats of coaching: coach, consultant, co-teacher …
I do what's needed at the time.
What does data look like from coaching? What are you using to help motivate teachers to make improvements/changes? Assessing tech & tech integration, how do you give it value (teacher evaluation, teacher growth): "More Than Ticking the Box"?
An area of growth. As a team they have smart goals they try to hit. This year it's through collaborative work, they want 100% of students to be involved in a unit that has meaningful use of technology.
Would like to try giving out surveys to students, where there's no performance task and see how they feel about the unit, and then do the same survey after a unit with a performance task.
What are ways that you make yourself invaluable as a coach? What are the things that teachers love that you do?
One of the strategies is to make everything as easy and seamless as possible for the teachers. For the design thinking, they don't have a separate teacher, so I do an empathy challenge with the students. Teachers always ask "what do I have to do?", but I just say "sit back and relax and enjoy the experience!" This helps spread the interest in design thinking, because of the ease. Best thing to do is model.
Where do coaches fail? And what can we do about it?
One of the biggest fails is when coaches don't know the curriculum. They don't know what's going on in the classroom. When coaches are implementing things straight from the book. It's extremely important for coaches to be informed, but after that, you need to synthesize and take to your school so it will work. Very critical of edtech tools that are not open ended, because they don't require much critical thinking. As a design teacher, I was a huge fan of hummingbirds because it's very personalized. You need tools that allow students to take a creative idea and actually have them produce it.
Tips for getting started as a coach in a new school?
Start small, grassroots approach. Start in a club, or your own classroom. Little by little bring in teachers and they spread the world. They will be more convinced if their peers say "try it". Find someone who's willing to try it out. Constantly empathize with the teacher who would not be willing to try it, so you can be adaptable if the opportunity presents itself.
What's one resource you would recommend and why was it impactful for your practice?
Creative Confidence by David and Tom Kelly. Everyone is creative, you just have to work on it.
Radical Collaboration (book): strategies for how to be a better collaborator.
Are you looking for quality Professional Development that is …
based on a cohort model of a community of like-minded learners?

a deep dive into a topic over 8 weeks?

led by experienced and knowledgeable facilitators? AND

has continuing education quarter credits and/or clock hour options available?
We have what you are looking for!
Facilitated, online courses for Instructional Coaches
Offered ONCE a year only!
Facilitated from: October 7, 2019 – December 1 2019
Reserve your place between 7 August – 7 September & receive an early bird bonus!
 JOIN OUR MAILING LIST
Sign up for our #coachbetter mailing list to receive a newsletter every other week all about coaching in a school context. Each FREE newsletter features one of our relevant coaching videos, a practical coaching tip you can use right away, plus a great resource created or selected by the Eduro Team to help you #coachbetter!
CLICK HERE
#COACHBETTER ON FACEBOOK
Connect with other coaches, just like you, in our free #coachbetter Facebook group:
CLICK HERE
EVEN MORE COACHING RESOURCES
See all of our Eduro Learning coaching resources!
CLICK HERE
If there's something you're interested in, and we don't have it, let us know!
PRIVATE MENTORING
Or if you want to see what the private mentorship experience is like, check out our Private Coaching sessions – and get your first coaching session for free – here:
CLICK HERE
ABOUT #COACHBETTER
We're passionate about the impact instructional coaching can have on school culture, student learning and teacher professional growth. This podcast allows us to share inspiring ideas about coaching through conversations with innovative educators from around the world. Let us help you #coachbetter! We would love to hear your thoughts, ideas and questions so please drop us a comment below!
Join the SlowChat #coachbetter
Connect with our current participants and graduates while discussing the content of any of our episode on our #coachbetter Twitter slow chat.
Now you can subscribe to #coachbetter via your favorite Podcast Player!
We love sharing great content. Choose the best mailing list for you!
Coaches, Teachers OR Parents (or all three!) and get a FREE Digital Download!
Join our COACHES mailing list and receive your FREE digital download
"Top 5 Strategies
for Your
Coaching Toolkit"
Join our TEACHERS mailing list and receive your FREE digital download
"5 Creative Ways to have Students Reflect on their Learning"
Join our ADMIN mailing list and receive your FREE digital download
"5 Key Things to Ask when Hiring an Instructional Coach."