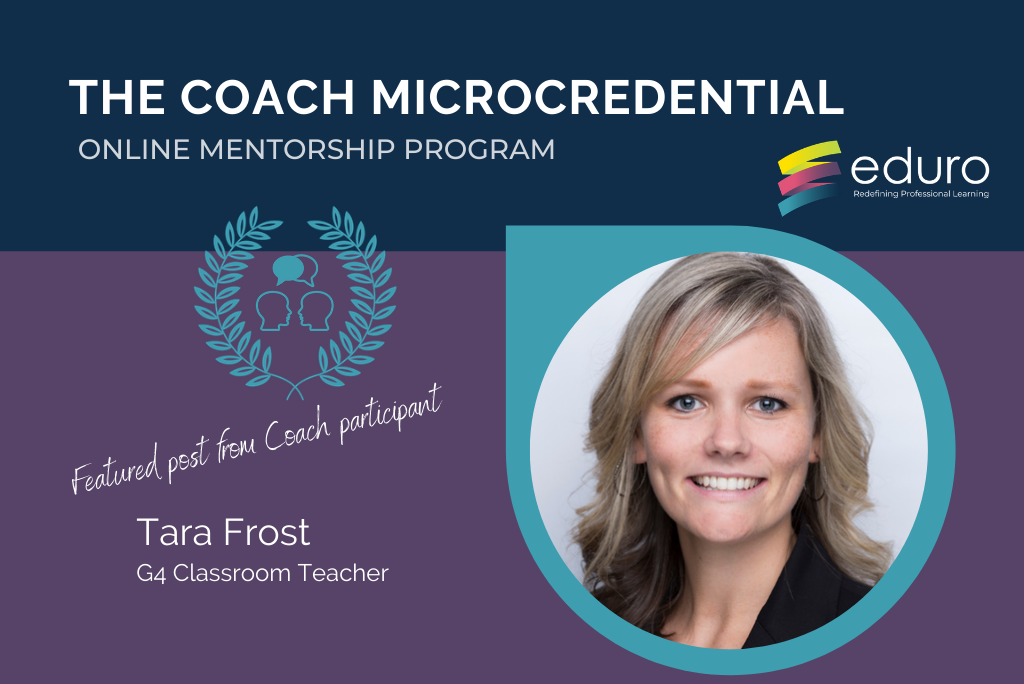 We want to give you a peek inside our Coach Microcredential Online Mentorship Program. Coaches taking part in this academic-year-long journey have graciously given us permission to post some of their learning and reflections from the private coursework they are undertaking during this microcredential. Where possible, we have shared the course and the action task to give context for the guest post.
The Topic: Essential Skills for Instructional Coaches
The Task:  As an aspiring coach, think of a coaching relationship you've had in the past where you were the person being coached. Reflect on that experience. What were the qualities the coach demonstrated that made the relationship successful (or not)? Share at least 3 qualities and describe the impact they had on you. Which of those qualities would you like to emulate in your coaching experience? Why? If there are qualities to avoid, what are they and why?
The learning curve in this role was incredibly steep, and I was in a "pilot" type position where 3rd grade had been departmentalized into 3 classes: Math, ELA, and Guided Reading/Phonics (the last was mine). I had some experience with Guided Reading, but I had never had a wider range of readers (there were 67 students, with a range of F&P levels from AA-Y) and because it was a new role, there wasn't a clear set of success criteria. Our district that had a high teacher accountability push, so I was in a position where I needed some initial guidance.
The literacy coach at that school was a saint. Not only was she incredibly experienced, but she was also very positive. During the more hectic seasons, she would always say, "Right now we are in Crazy Town. Don't worry, we are just driving through–we never stay in Crazy Town." To this day, I remember that phrase during the high pressure seasons. She was great about acknowledging our emotions, giving us the time and space to vent/clear our head/ask questions, and then ask all the right questions and give appropriate guidance.
While we didn't have too many one-on-one coaching sessions, just knowing that she was there as a resource was immensely helpful. In that district we were heavily scrutinized and an inspector could come into your classroom at any moment (during the whole year) and do one of your high stakes evaluations. For this reason, we all had anxiety when any adult entered our room–any adult other than our coach. Our literacy coach was one of the "good guys". She would model lessons and give us helpful feedback, which is why we always welcomed her into our classes. She was also extremely organized and efficient–she held meetings before school and always keep them succinct and to-the-point because she valued our time.
If I could emulate any of her qualities it would be her positivity, ability to build relationships, and her organization. Like I said before, she was endlessly positive in a rather tough environment and I can't imagine how many teachers must have sought her out in moments of distress. She was also able to teach us so much because she was a master relationship-builder and we all trusted her within the first few weeks. She kept her room (with leveled books, PD books, etc.) immaculate and we were free to always borrow what we needed. It was a sort of calm oasis in a sea of chaos.
I can't really think of any qualities I would avoid. If I could have changed anything, it would have been the opportunity to meet with her more often. She was stretched super thin, so I also get that this would have been impossible. I was grateful to have her mentorship and she gave me all sorts of small tips and tricks that I pull out to this day.
Read more from The Coach participants as they share their learning from the microcredential program …​
We love sharing great content!
Get authentic, relevant, practical content delivered right to your inbox!