Coaches. This is a big one.
In a recent tweet, Jim Knight author of the new, The Definitive Guide to Instructional Coaching said, "I think the fact that we get to have and promote life giving conversations is one of the most important parts of coaching. We all need life-giving conversations."
Life giving conversations, let that sink in for a second.
What that means to me is that coaching is a supreme act of self-care both when we're holding space for another and when we can experience it ourselves.
So this month, let me ask you coaches, do you have a coach?
If not, here are five reasons how investing in your own coaching will give you more life to do the things that you left.
1: To be in the company of greatness.
Even the greatest of all time, have a coach. Think about the Olympics. Every athlete out there has a coach. Why Because they are constantly working to get better. When we were working on our own transformations, we need someone else to help us see what we can't someone else to remind us the things we already know, but maybe forgot if we are truly committed to growth and change in the communities we serve and humanity in general, that applies to us too, like coach, as you know, can sometimes ask hard questions in a compassionate way that allows us to move to a new place.
2: Help with clarity and perspective.
Sometimes we've got too much going on in our brain to be able to see clearly often in our roles, we are so much more than coaches. We are designers and facilitators to professional learning. We are go tos for problem-solving and emotional support, and we potentially were quite a few other hats, especially now with sub coverage and other duties that we end up taking on, simply because of the times we're living in.
When we engage with our own coach, that person can help mediate our thinking. As they say in cognitive coaching, I know you are amazing at the work you do. And yet we can always use an extra set of eyes and ears to help us really get that clarity. We need to show up as our best selves.
3: For your own learning and understanding.
Ina post for EdWeek, Elena Aguilar wrote "We need to be receiving what we are giving because it's how we can continue to learn about coaching. This is when we get to actively participate in our own learning while shifting our own thinking".
When I am being coached, I try to notice an expert paraphrase or a beautifully posed question or my own body language throughout the conversation. By being metacognitive about the process, we can peek behind the metaphorical curtain simultaneously experiencing the benefits of coaching while deepening our understanding of the process. This type of learning by doing sets us up for success with our next coaching conversations.
4: To recharge your superpowers.
Brene Brown often references the Rumi quote, "We're all just walking each other home."
Coaching isn't solving problems. It's clearing the way for solutions to appear.
We all deserve someone who will listen to us in the same way we do for them. When someone holds space for us to figure out what we want to say and makes us feel like we're the most important person in the room just as we do for those we partner with that is where our coaching super super powers are four to five.
5: There is an incredible opportunity waiting for you right now.
The Coach Certificate and Mentorship Program! Each year, in our global cohort, you will have the opportunity to work with a mentor and a small cohort of your coaching peers. This is professional learning like no other, because the work you do is that important. If you're ready to up level and experience new vistas of growth in change, all grounded in research-based practices, this program is for you. I hope you can join us for our next cohort.
Wherever you are in building a coaching culture in your school, The Coach will give you the strategies, skills and tools you need to make coaching a success and will empower you to confidently apply instructional coaching strategies in any situation – from building a coaching program, to having coaching conversations, to being a leader in your school community. We facilitate only one cohort each academic year so we can offer individualized support for each participant.
Registration opens in Feb every year!
Find out more at: https://edurolearning.com/coach/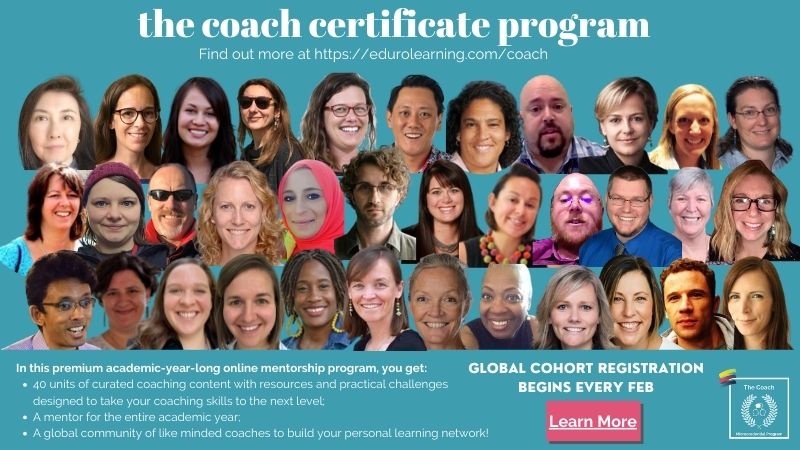 Watch the Video
Sources Mentioned
Aguilar, E. (2016, January 19). Why Coaches Need Coaches.
Edweek.orgKnight, J. (2022, February 20). Twitter.com