I work with coaches in schools around the world, and one of the challenges everyone struggles with is the transition from consulting to coaching.
I have another post on the difference between the 3 coaching stances: consulting, collaborating and coaching, but what I'm talking about in this context is that it's super easy to get stuck in the consulting stance of continually offering solutions, instead of helping your coaching partners recognize they already have an idea or a possibility within themselves.
It's important to note that you can't pull out something that's not there (so you can't just ask questions forever and hope they come up with an answer), but sometimes you genuinely don't know what your coaching partner knows or doesn't know, and you have to figure it out.
That's what today's post is about!
If this is something you're struggling with in your coaching practice, or you're ready to be more intentional with all the work you do as a coach, please consider joining us for our next cohort of The Coach Certificate and Mentorship Program. This is the kind of in-depth strategy that we help you develop so that you can truly find your unique voice as a coach and become as comfortable with coaching conversations as you are with any other kind of conversation!
If you're curious to learn more, there are two free workshops at the end of this post for you to dive deeper into!
---
What's YOUR level of coaching mastery?
All coaches go through various stages of coaching mastery. Once you identify where you're at, you can begin to build the skills needed to move to the next stage.
This quiz is based on real-life case studies compiled from years of working with coaches inside The Coach Certificate & Mentorship Program!
When you receive your results, you'll also get your matching case study from the STRIVE Case Studies to see where you fit in the stages of coaching mastery.
Ready to tackle your challenges and move on to the next level in YOUR coaching practice?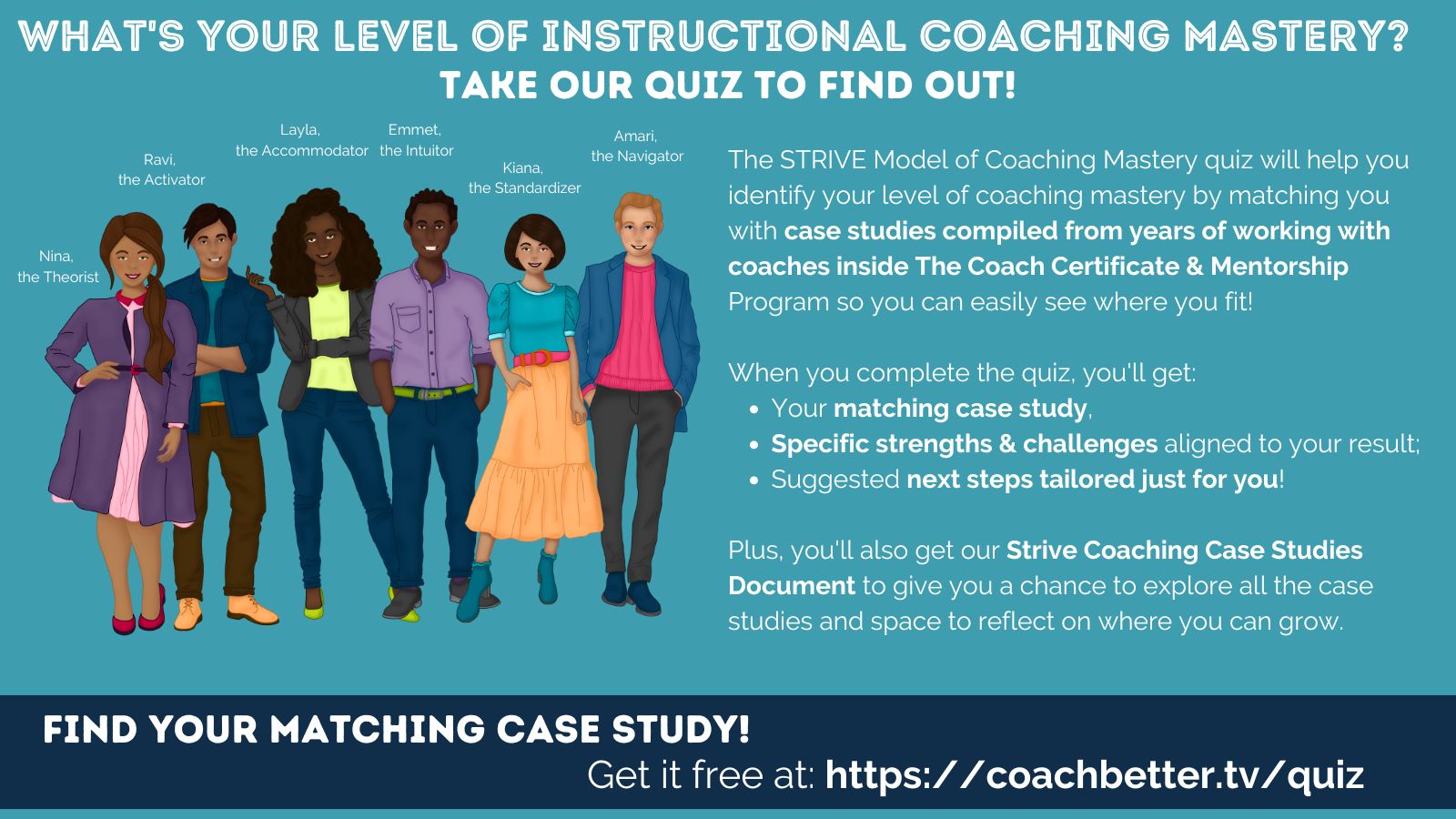 The STRIVE Model of Coaching Mastery quiz will help you identify your level of coaching mastery by matching you with case studies compiled from years of working with coaches inside The Coach Certificate & Mentorship Program so you can easily see where you fit!
When you complete the quiz, you'll get:
Your matching case study,
Specific strengths & challenges aligned to your result;
Suggested next steps for each stage;
Plus the Case Study Document includes:
Case studies leveled by coaching mastery;
A framework to identify essential stages of professional growth & key areas to focus on in your professional learning;
Alignment with the THRIVE Model for a Successful Coaching Culture;
Space for you to reflect & prioritize so you can take action immediately!
You'll go straight to the Quiz, and get the Case Study Document via email.
---
My "Secret" Coaching Assessment
When I share this, you're going to think, Kim, that's so obvious!
And it is, I'm not claiming anything amazing here, it's easy, and practical, and you can use it anytime, but it's SO POWERFUL once you start making it a habit.
It's probably my second favorite simple coaching question that I ask all the time. (I shared my first favorite in this post).
OK, here we go.
When a coaching partner is asking for a solution to a problem, but you're not entirely sure if they have a possible strategy or idea already so you can assess their individual needs and readiness, the super simple question you can ask is:
"What have you already tried?"
And then say "and what else" as many times as you need to get everything out
When I'm doing this, I like to take notes on what they say so I have a clear documentation of all the things they've tried.
By asking this simple question, probably a few times, you can get a better understanding of where the person is at, and then determine if:
You might need to offer a consulting response (perhaps sharing something they they might have missed, or offer an other suggestion)
Or a ask a coaching question question
Transitioning between stances in this context becomes very easy, you can simply say
If the person seems ready for consulting: "You've tried so many different angles here, would you like a suggestion or a strategy that may work?"
Or if you can tell in the response that they already have a strategy they just need to think about it a little differently: "You brought up something really interesting here, can I ask you another question about it?"
This VERY simple question can lead to a really deep conversation, and help you practice moving between coaching stances.
I told you it was simple.
I think some of the best coaching strategies are.
Sometimes we make coaching conversations more complicated than they need to be.
When we listen with genuine interest, curiosity and empathy, we can have deep and meaningful conversations that support our coaching partners exactly how they need to be supported.
Watch the Video
Ready to start having Deeper Coaching Conversations?
If you're ready to have deeper conversations with your coaching partners, and thinking about how you can be more intentional in your coaching practice, join us for one of our courses for coaches!
One of the things we're most proud of here at Eduro is that there's no one-size-fits-all learning – you always have choice and voice in how you learn with us. Today's posts highlights one of the key themes that you'll find in all of our courses for coaches, and if you're curious to take your learning deeper, we have two great options for you.
New Coaches:
If you're just getting started as a coach, and you want to learn how to make these mindset and skillset shifts, watch our New to Coaching Workshop, which will also tell you all about our brand new course, Getting Started as a Coach, which is open for registration RIGHT now – so don't wait if this sounds like it's right for you! This course is specifically designed for classroom teachers that are moving into a coaching role. It's focused on exactly the skillset & mindset shifts you need to make to be successful as an instructional Coach.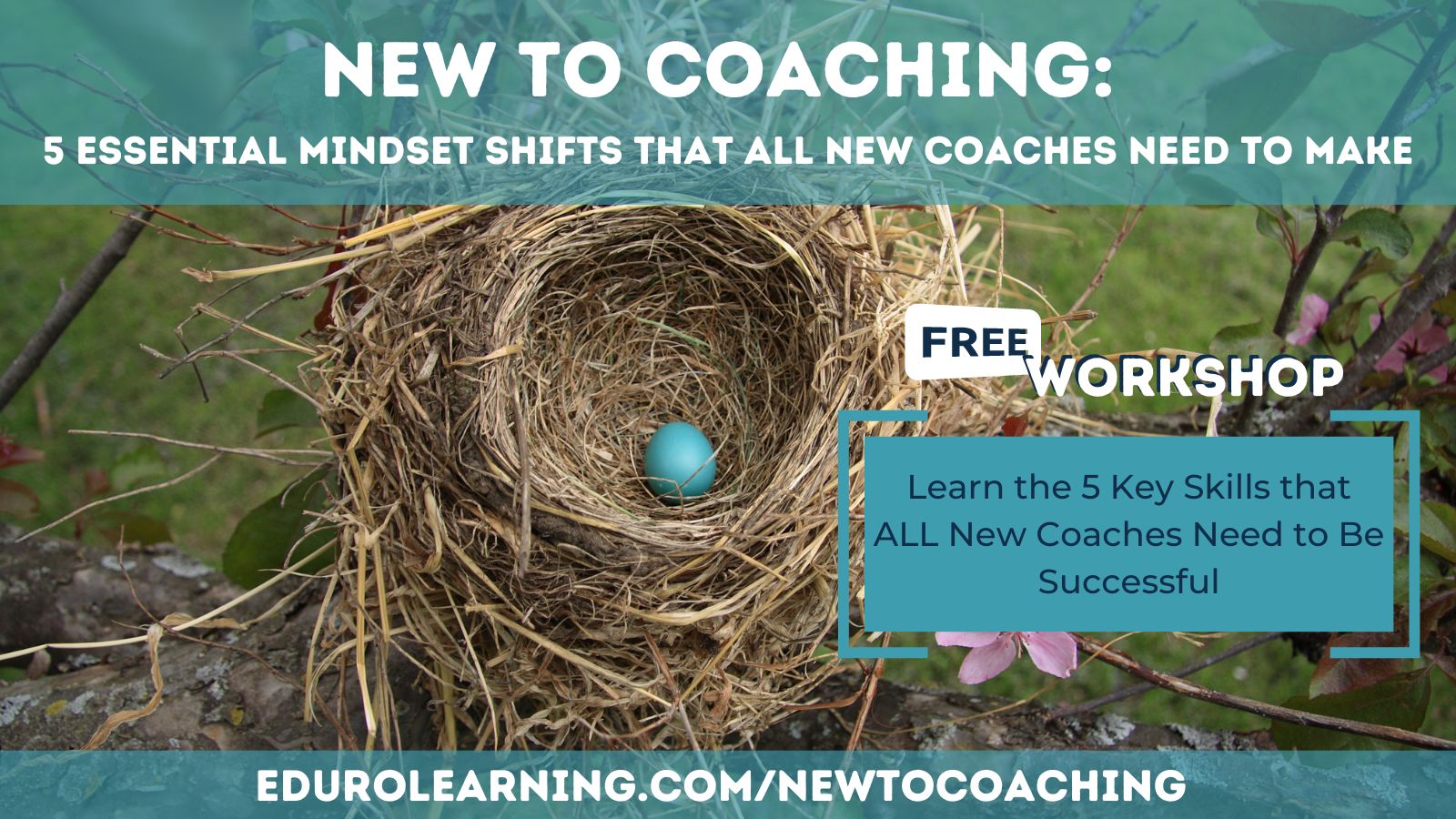 Experienced Coaches:
If you're already a coach & you want to think about being more intentional & strategic in your practice, watch our workshop on the Thrive Model for Coaching Success which will help you evaluate your program to see where you may have room to grow – and help you decide if our year-long mentorship and certification program, The Coach, is right for you, right now. This program is designed for current coaches who are focused on building a coaching culture through intentional and strategic coaching work at all levels – with teachers and school leaders.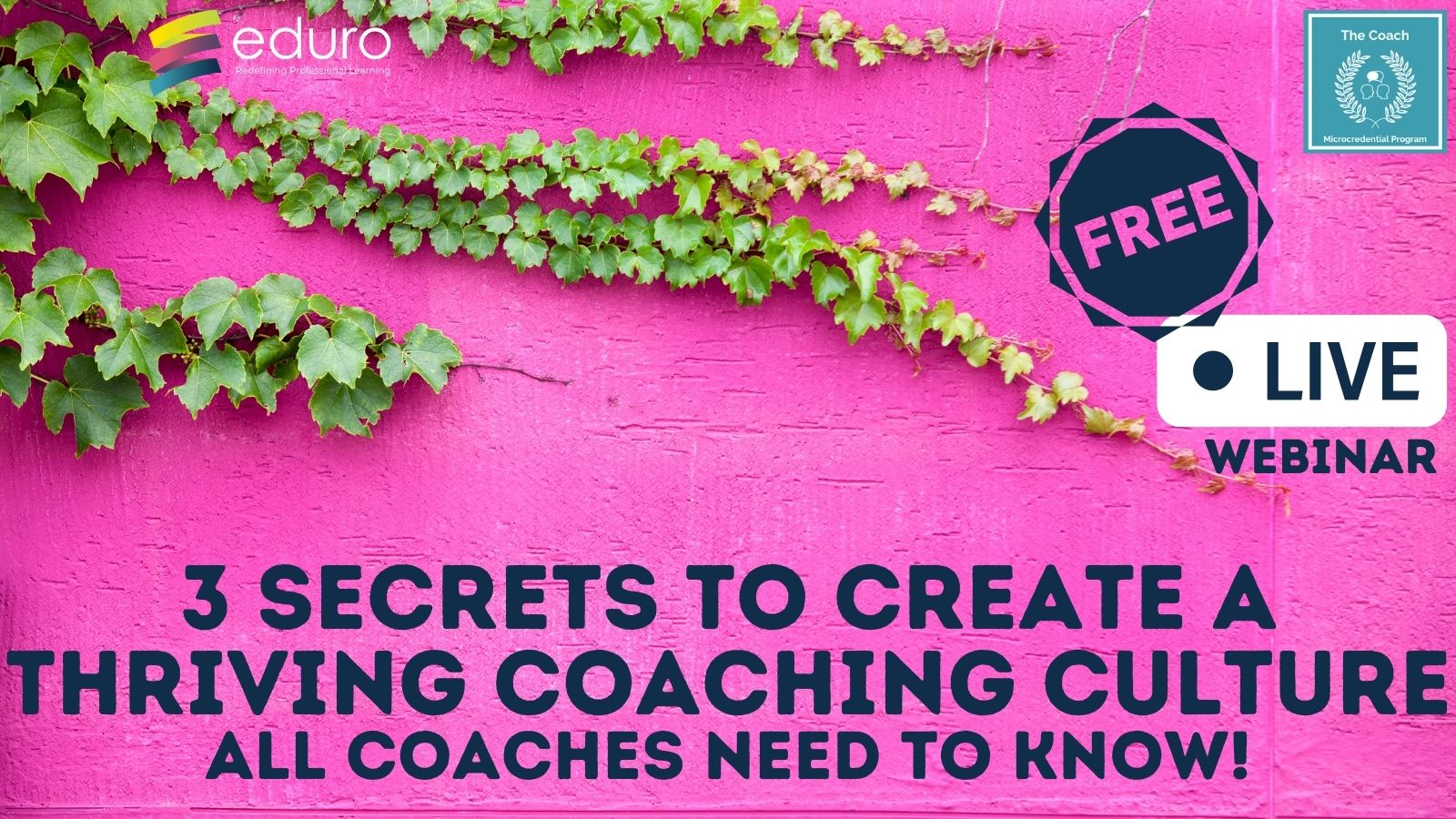 Just like all our learning experiences, the content in both of these courses is self paced so you get access to everything immediately – but you get so much more: when you join the course, you get access to our #coachbetter global community with optional group coaching calls at various time zones to meet & connect with other coaches PLUS private office hours with me to get all your questions answered & work through anything coaching related in your unique school context.
Wherever you are in your coaching journey, we can support you!
For All Coaches
Connect with us!