There is one question that I have a recently started bringing into my coaching practice that has transformed pretty much everything I do. It's so simple and you can do it immediately!
As coaches, we all want to refine and improve our practice. To do that, we need feedback. Although there are tons of strategies to get more formal feedback (and we have quite a few videos and resources on that topic too!), today's tip is very informal and very practical. This is something you can bring into your coaching sessions immediately, and you can do every single session.
One Simple Question
There is one simple thing we can do in the moment during our coaching sessions that will transform your practice. It's just one question and I tend to ask it at the end of every coaching session. Maybe not every session, depending on how frequently I meet with that particular client, but as frequently as I feel like everybody can handle.
The question is: "what was most helpful for you today ?"
So simple, so powerful. I promise you will get so much great feedback from just hearing the response to that question. It's kind of amazing what you can do with it. Today I'm going to share three ways you can use the answer to that question to transform your coaching practice. Hearing that answer to "what was most helpful for you today" will empower you to do the following:
1:: Better Understand What Worked
Firstly, you learn immediately what worked you, might've just talked to this client for an hour and you will hear the one or two things that really stood out to them in that conversation you'll know right away exactly what made the impact on their professional growth for that session.
You will also immediately remind your client that the session was valuable. Sometimes that's really important because you can have such a free flowing and authentic coaching conversation that the learning and growth that happened is so owned by the coachee, that they don't even realize that the conversation is the thing that helped them. Giving them that moment to look back and reflect and recognize, "Oh, this conversation was really powerful. I want to keep having more of these because I'm growing!" This is a great way to help both you and your coachee or your client recognize that that session was really good and worth their time and energy.
In the reverse, this question can also help uncover what might've been less valuable to that client. Every time I'm having a coaching conversation, I take notes and the notes are shared between me and the coachee. This allows me to look back at my notes afterwards. Combined with the answer of this question, I can compare what they said was the most valuable part of the session and look at what else we talked about and think about how I might fine tune my next conversation with them to have a less of the less helpful stuff and more of the more helpful stuff.
This works really well if you're documenting your coaching conversation, so you can go back and reflect on what was actually said, as opposed to just kind of trying to remember it. Often things can get a little bit hazy after the conversation is over, but if you're taking notes and you know what you said and what questions you ask and the chunks of the meetings that you had, the chunks of the conversation you had during that meeting, it's really easy to see what worked and what that might mean.
2:: Recognize & Reflect on the Value of the Conversation (for both you and your coachee)
This is an opportunity for your coachee to reflect and recognize the value of your coaching conversation. What you're doing in this moment is you're highlighting their learning and their growth through this conversation. Once you've been coaching for a long time it's really common to have these really flowy conversations that prompt deep reflection from your coachee. These conversations can be so authentic and meaningful that your coachee may not even realize in the moment how much they're growing. This question highlights their learning for that individual session. Sometimes you ask this question and they actually think back to previous sessions and the types of things they were talking about and reflecting on, and they make that connection to their growth in the moment as well
When you're asking for feedback, of course, you're also valuing their time. You're letting them know that you think this time is really important and you want to make the most of it. So you are listening for what works for them and you're making your conversations work best for the person you're working with. It's also good prompt for further thinking for you and for the coachee about what we can keep doing to get better at this coaching practice. There's going to be a little tidbits in there about what we can do to keep refining this conversation experience for both the coach and the coach.
3:: Reveal Themes
If you are consistently asking this question, not just with one individual coachee, but with all the people you work with, you will start to see themes. You'll start to see themes in the way that your coaching is working for lots of people and potential gaps that you can develop as a coach to be better at your coaching practice.
That ability to look at a larger systems wide scale, to see what is really making sense in your conversational strategy and in your questioning for your coachees and for you as a coach, that's going to help you level up your practice on like a systemic level, not just an individual coaching
In terms of consistency, it's really nice to have a consistent closure to your meetings. It's nice to know that our meetings are going to take this form, we're going to:
have some kind of check-in at the beginning,
address some of our burning issues,
come back to our goals and our focus for today and
have a moment for reflection.
This gives a consistent structure to those conversations. So coaches know what to expect when they're coming to a meeting with you. And of course they know if they're going to be asked that question, that during that meeting something valuable is going to happen during the meeting!
You can use the responses to this question if you're documenting your meetings to see your growth over time, to see the kinds of questions, the kinds of feedback that you get, how it looked a year ago, two years ago, three years ago, versus how it looks today. That's really powerful.
I've actually started taking those notes and putting them in one spreadsheet for myself. So I can really see really clearly what people value about our time together. I can see how I have grown as a coach, over time. When I notice that this question prompted a powerful response, and then I use it again and again. I have I been able to make more time for the work that really benefits the person I'm working with.
Bonus
When I first start working with someone before we've kind of built up a relationship before we have this rapport, before we have this kind of flow to our conversations. I also always ask, what would you like to do differently next time, every now and again, they will say something that is so like in retrospect, obvious.
When they get the opportunity to give constructive feedback, and then see me implement it in the next meeting, that demonstrates how much I am investing in the conversation too. This also gives you an opportunity to hear from a newer client, what it's like to work with as a coach, what it's like to have that first conversation, what they're expecting, what they're looking for, what they're hoping out of this relationship with you.
That's an easy addition to that simple one question that might be powerful and useful particularly early on in a relationship, or if you've been working with someone for a while and you want to kind of get a little bit more feedback about how you might switch things up to keep things going for them.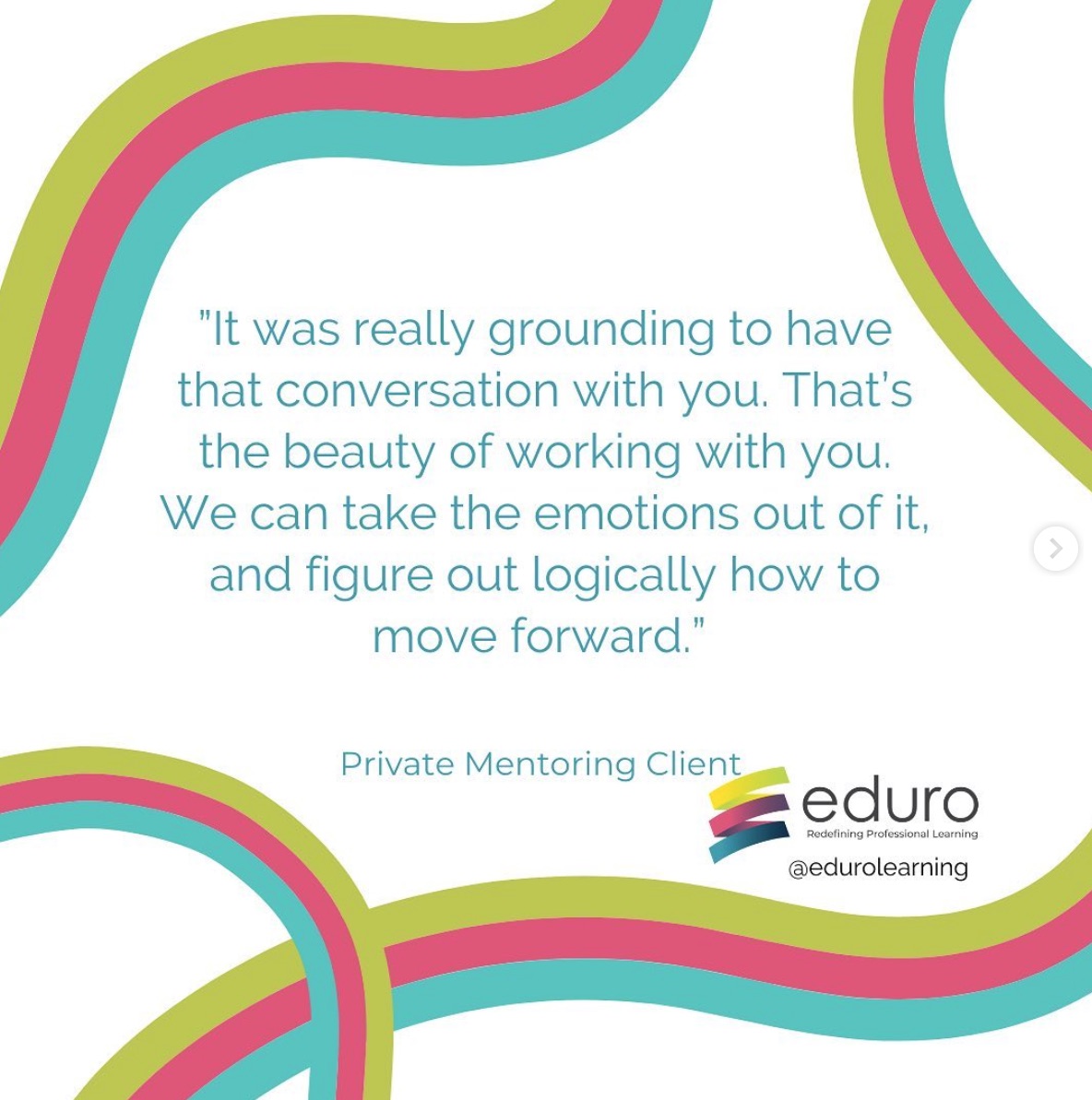 I've also been making an effort to share on our Eduro Learning Instagram account, the feedback I'm hearing in the sessions. I'm not attaching any names to those posts because those are private conversations, but I think it's really interesting to hear what people are saying about their work with me in this situation. If you have the opportunity to document what people are saying and share it, I think it's really powerful to see what works in coaching conversations, something that's working for somebody else might also work for you. It might spark a new idea. Images that look like this one are quotes from my The Coach Premium participants and my Private Mentoring clients. So you get a kind of a mix of the types of conversations that I'm having and see what people are taking away from those conversations with me.
Watch the 5 Min Fri
Level Up Your Coaching with The Coach Microcredential
Adding this kind of question into your coaching practice is just one step you can take to truly level up your coaching. If you are ready to commit to your professional growth, please join us for our next cohort of The Coach Microcredential.
If you're interested in The Coach, David Sheppard, Innovation and Learning Coach at Shekou International School shares why he would recommend you take The Coach:
"If you are on the fence about joining the coach, I would say you should definitely do it. You will not regret it. The coach is unlike any other program I've seen out there. What I like about it is that it teaches the same way that I would teach students in my classroom. The activities that we do are challenging, they're authentic, and they're before I joined,

My mentor Diana has been with me every step of the way, and she has worked with me to create a program that's meaningful to me. And, that's, that's really important. The mentors will work with you to make a program that will meet your needs.

Some of the things that I've learned throughout this course, I've already been able to put into practice as a coach. Most importantly, I feel like this course has really helped me improve my communication skills with my colleagues, and it's helped me to work with them to benefit student learning.

Overall, this has been a great experience and it's been a really fun experience too. And I think that you will definitely find benefit in this course, no matter if you're a classroom teacher or a coach or an administrator, there's, there's something in here for everyone. The course is personalized so that you can get out of it exactly what you want to. So do it."

David Sheppard, Innovation Coach, Shekou International School
If you are thinking now is the time to invest in a coach for you, please join us for The Coach Microcredential! Registration opens only once a year, and we would love to have you in our next cohort. Of course, these kind of mentoring conversations are included in The Coach, that personal connection and guidance is built into the Academy and Premium cohorts.
After a very unusual year, now is the time to invest in yourself, to build up your professional learning network of educators around the world and connect with a community that inspires you! Plus, you'll have a mentor who is an outside sounding board who will help you get outside of the group think or tunnel vision you might be stuck in, in your school context.
Since the program is sustained over an entire academic year, you are growing with your coach over that time, helping deepen your learning throughout the course of the program. The regular meetings with your mentor will help you reflect on the coaching challenges and opportunities that you find yourself presented with.
Of course The Coach is totally customized learning. We have standard content that we share with everyone, but then each time you meet with your mentor, every conversation is tailored exactly to your needs, including regular check-ins that will help provide you with customized resources that you need to help you keep growing in your role.
If you are ready to make a bigger impact in your school context, The Coach is for you! Learn more here!