Coaching is absolutely my favorite role in education.
Why?
Not only do we get to help teachers grow and thrive, we see the ripple effects of this work on hundreds, if not thousands of students around the globe!
But to do this well, we need to take care of ourselves.
Today I'm sharing five self-care tips for you that will set you up for realizing more of your own personal growth.
And speaking of that growth registration for the next cohort of The Coach Certificate and Mentorship Program is open until 14 March.
Did you know that The Coach is the only certificate program but with curated content from a variety of coaching models, featuring research from leading instructional coaches, that brings a global perspective to instructional coaching, where you learn with a connected cohort of learners, but the benefit of a mentor to guide your learning for the entire academic year? It's such an amazing opportunity!
So if you are as committed to your own personal growth, as much as you are committed to the growth of those you coach, let's get to it.
Here's a quick question for you:
How did you start your day?
Maybe you're not a morning person and that's okay, but as Elena Aguilar just shared in a recent podcast, how you spend the first part of your day sets the tone for your day and how you spend your day was how you spend your life.
As coaches we know that supporting our coachees is priority number one, but when we neglect our own needs, that impacts all those around us. We've all heard the saying that you can't pour from an empty cup and put on your own oxygen mask first.
So back to my question, how did you start your day?
Do you have a morning routine?
There is a ton of research about the power of a morning routine with benefits such as reduced stress and more energy.
A quick Google search will help you find the morning routines of all sorts of famous folks. And with some trial, trial and error, you'll find what works for you.
So I'm excited to share with you these five tips on how I start my day and maybe they'll help you feeling bright and shiny and ready for anything to practice.
5 Tips for How To Start Your Day
1: Gratitude
Maybe you already have a gratitude practice, but I have really come to enjoy this idea. As soon as the alarm goes off and before I even get out of bed, I need three specific things I'm grateful for lately.
I've been following the pattern of:
something,
someone,
myself.
It's a way to start the day with positivity and helps you refocus any of the, I have to go into work energy into, I get to go to work and coach see there's one thing you can use already tomorrow.
2: Hydrate
This second element of my morning routine is to hydrate. I drink a full bottle of water, first thing. I'm a regular eight hour sleeper, so this practice is essential to refuel the past eight hours of dehydration
3: Movement
Practice number three movement immediately. I do at least 30 minutes of something, and my best days I'll get out for a run for 45. Other mornings require a gentle yoga session, but there is always some kind of movement each morning. This has been a part of my morning routine for so long. Now my day is actually worse if I skip it. And the best part is that your workout is done. So you don't have to stress about finding the time to do it after school.
4: Breathe
Number four, I breathe just four to six minutes. I use the insight timer and there are guided meditations visualizations, as well as just a regular timer, you can program with a different sound. The calm app in 10% happier are also great go tos.
5: Email Preview
The fifth element of my morning routine, is it quick email preview Some people aren't into working before getting to school, but for me, taking a look at my email is actually a way to increase my sense of calm as it gives me a heads up on what the day ahead is going to bring. I'll also scan the various newsletters that I receive and send a few key articles to my Google, keep to be read later.
So to recap, gratitude, hydration, movement, breathing email with these simple daily self-care practices. I create the conditions for my own personal growth. Maybe for you that is signing up for The Coach! Are you ready? We'd love to have you join us.
Watch the Video
Resources:
Build Your Coaching Self Care Practice AND Grow as a Coach!
Join us for the next cohort of The Coach Certificate and Mentorship Program. Wherever you are in building a coaching culture in your school, The Coach will give you the strategies, skills and tools you need to make coaching a success and will empower you to confidently apply instructional coaching strategies in any situation – from building a coaching program, to having coaching conversations, to being a leader in your school community. We facilitate only one cohort each academic year so we can offer individualized support for each participant.
Registration for our next global cohort opens on the 21st February and closes on the 14th of March.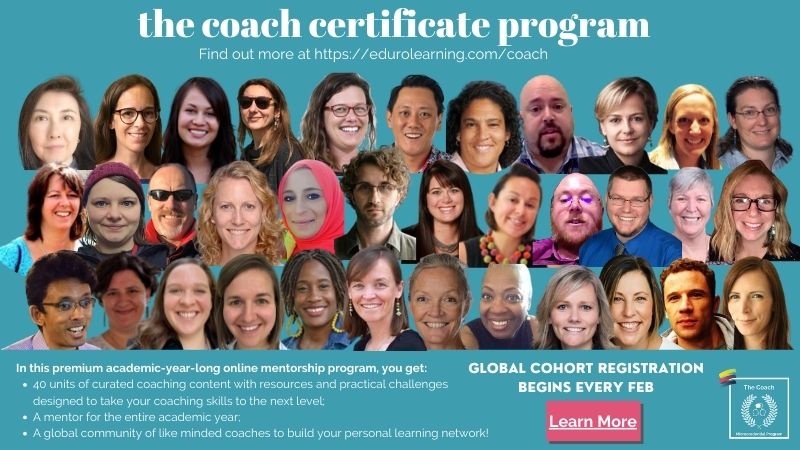 Find out more at: https://edurolearning.com/coach/