As coaches, we all believe in the power of coaching. We know that there are so many benefits to investing in yourself and taking that time to improve yourself both professionally and personally. Those benefits might look a little different for each individual, so today I'm sharing five of the ways that I think having a coach can make you be an even better coach.
We're re-sharing this video on this topic today because we are just about to launch our fifth (!) cohort of The Coach Microcredential. If you are dedicating 2021 to be the year that you become the best coach, you can be, please join us for The Coach! Learn more at the end of this post!
BONUS: Free Download!
Along with this five minute, Friday episode, we also have a FREE PDF with infographic sharing the 5 Ways Having a Coach Can Help You #coachbetter. So please download that and have that handy with you in your classroom or your office.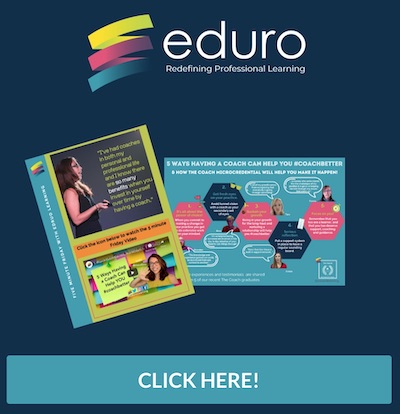 1. It's All About YOU & YOUR Mindset
The first is that it's all about you and your mindset. When you are ready to make a commitment to moving forward, things actually happen. That's why having a coach is really important because it gives you the purpose and focus to dedicate that time, to improving yourself both professionally and personally. It's about making the choice to invest time in yourself, to make those changes you want to see, but having prioritized yet (or found a way to implement yet).
2. You Get An Outside Sounding Board
Having a coach can help you coach better is that a coach is an outside sounding board. We can all get trapped into tunnel vision or "group think" of what's going on in our school setting. A coach will have that external pair of eyes that can see things from a distance that can help you see the forest through the trees. A coach will allow you to escape that group think or that tunnel vision that you can be kind of trapped in when you're so focused on what's going on internally within your school context or even within your personal environment. So that outside pair of eyes makes a really big difference when you're taking that time to reflect on what's happening within your personal context.
3. You Grow Together
As you work with a coach over time, both you and the coach are growing together. You're understanding more about their coaching style and the way that they work. And they're understanding more about you. They get to know you even better, the more time that you work with them so they can continue to customize and personalize the resources and strategies and tools that you might need as you're working towards your own professional growth. Based on your readiness, and how well they know you over time, they can coach and guide you in the direction that you want to go more deeply, more personally, and more directly related to your individual goals because you give them that time to understand you a little bit better.
4. You Get Time to Reflect
As coaches, we are often the only coaches in our school or division or a grade level. That can make it hard to find someone to talk about the coaching experiences that we have when you have one of those conversations that you realize that things did not go the way you want it to, or you need some other strategies or ideas.
Who do you talk to? Who is that person that has that longevity of knowing the understanding of you, your growth and your professional experience as a coach and the situations that you find yourself in on a regular basis that can support you in reflecting on that practice? Sure. You can pop a question in a Facebook group (and we encourage you to share those things in our coach.better Facebook group), but getting that ongoing conversation happening with someone who is genuinely interested in you and helping you meet your professional goals, that's where you can have that deep, meaningful reflection with another coach who understands everything you're going through.
5. The Focus is YOU
Your coach is focused on you. Coaching is completely customized learning. Your coach is dedicated to your success. They are personally invested in helping you reach your goals. That means you're no longer isolated and your learning can be tailored to your needs at your pace. Everyone wants that personalized learning experience. And I can't imagine someone who wouldn't want someone totally dedicated to helping them meet their professional goals, be a part of their life. That's what a coach does for you.
Watch the 5 Min Fri Episode!
Level Up Your Coaching with The Coach Microcredential
If you are thinking now is the time to invest in a coach for you, please join us for The Coach Microcredential! Registration opens only once a year, and we would love to have you in our next cohort. Of course, all five ways a coach can help you coach better are all included in The Coach, it's all about you making that choice to join our cohort, to make the next step in your professional learning.
After a very unusual year, now is the time to invest in yourself, to build up your professional learning network of educators around the world and connect with a community that inspires you! Plus, you'll have a mentor who is an outside sounding board who will help you get outside of the group think or tunnel vision you might be stuck in, in your school context.
Since the program is sustained over an entire academic year, you are growing with your coach over that time, helping deepen your learning throughout the course of the program. The regular meetings with your mentor will help you reflect on the coaching challenges and opportunities that you find yourself presented with.
Of course The Coach is totally customized learning. We have standard content that we share with everyone, but then each time you meet with your mentor, every conversation is tailored exactly to your needs, including regular check-ins that will help provide you with customized resources that you need to help you keep growing in your role.
If you are ready to make a bigger impact in your school context, The Coach is for you! Learn more here!