Are you ready to enhance your own learning, sharing, and participation in communities that support, engage, and motivate you professionally?
You can do that by building your Personal Learning Network or PLN!
In today's post, I'm going to share 5 ways you can build your PLN!
1: Follow People & Organizations You Already Know
If you're new to building your professional learning network through social media, start with people and organizations you already know. About 10 years ago, as a COETAIL participant, I was new to Twitter and not sure how to utilize it professionally, I started following people in my cohort and my facilitator and a few people I already knew. As we were all in different schools and even in different countries, I quickly saw the potential in connecting with other professionals on this type of platform compared to blog posts and emails.
2: Follow the Breadcrumbs
Your next step is to check out who those people you already know and trust are following. If you're finding connections to certain people based on your interests and goals, there's a good chance they are following people with similar interests and outlooks. This is where the networking really kicks in. You will find other people and organizations who are connected with other people and organizations and you can find yourself quickly building your own connections.
Side note: As you build your PLN, make sure to keep it manageable and relevant. It's not about the quantity of 'followers' or 'friends" but the quality. 
---
Bring New & Innovative Tech into Your Classroom Without All the Stress!
Are you or your teachers feeling overwhelmed & stressed by trying to "keep up" with all the new tech you're expected to use in your classroom? Do you wish there was an easier way to test things out, try new things and allow your students to be creative with technology tools – without taking tons of your own planning time? Good news! There is! Join me for a FREE workshop available right now: 5 Stress Free Ways to Transform Learning in Your Classroom with technology – without all the stress!!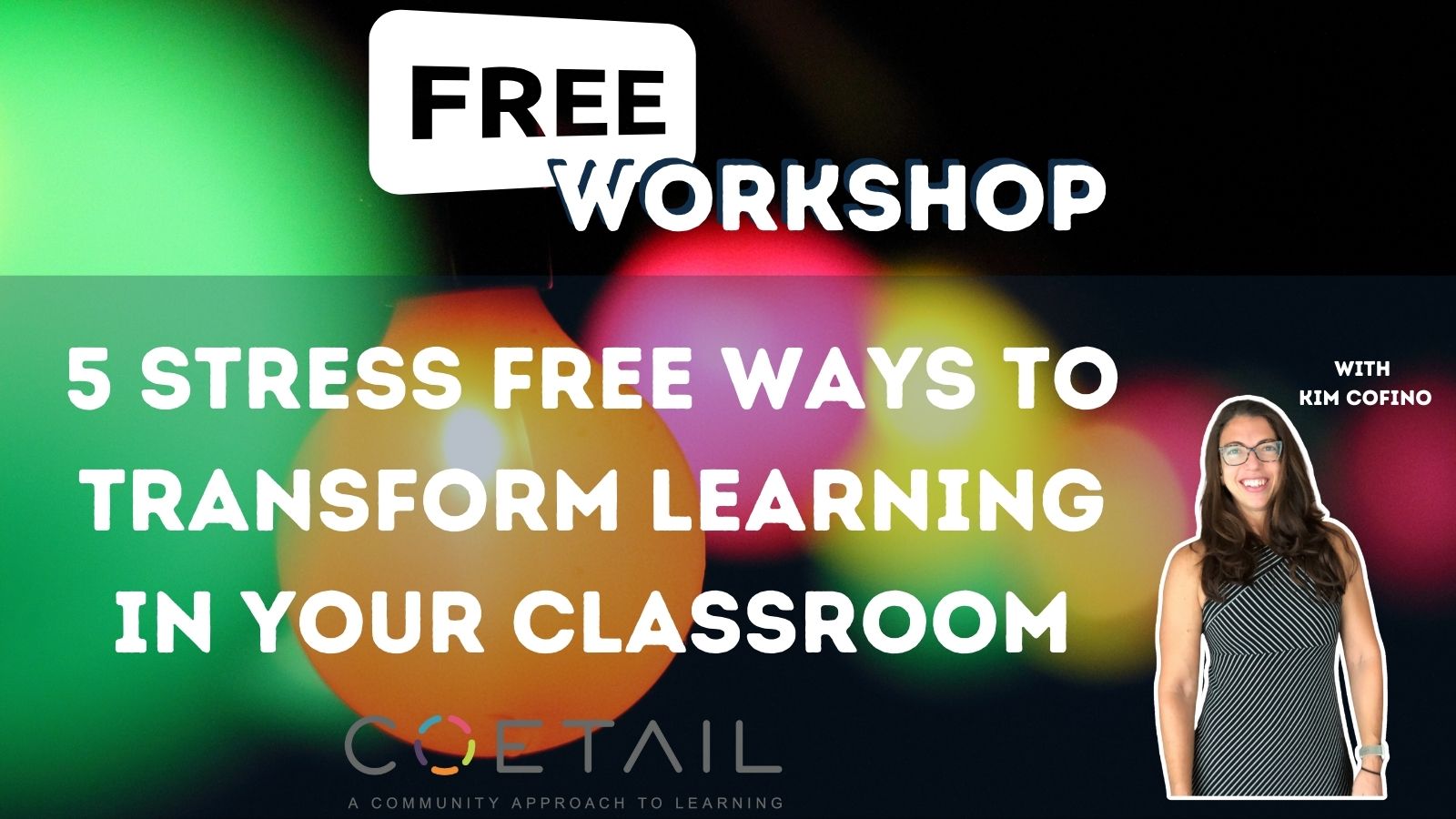 In this workshop you'll learn some of the key strategies we teach inside the COETAIL program to help you (or your teachers) smoothly bring new and innovative learning strategies into your classroom with almost no extra planning time required and the least amount of stress possible. In just 35 mins, you'll walk away with 5 concrete strategies you (or your teachers) can apply in your classroom immediately!! Click here to access the workshop – but don't wait too long, the workshop is only live until Nov 14th!
Click here to access the workshop!
---
3: Search For Groups or Chats with a Hashtag: #
Another way to build and expand your PLN is, as you use your own connections to find other connections, be proactive and search for individuals and groups that share your same interests, inspire you, or even challenge your thinking. Remember, your PLN does not have to include only those in your profession. Consider connecting with others who can push your thinking outside the box or can provide different perspectives that can inform and inspire you.
4: Engage!
Also consider how you are interacting with your PLN. Expand your exchanges with others through chats, group discussions, and online forums. These can happen synchronously or asynchronously and provide another level of interaction. Take advantage of technology to meet people from your region, country, or even across the globe to share ideas, resources, and opportunities for learning and growth.
5: Host Your Own Event!
Finally, consider organizing and hosting your own PLN experiences. With social media and available technology and communications, anyone can organize, promote, and host their own chat or online meet up. Taking the effort to bring people together around a common challenge or idea can be incredibly rewarding and have a huge impact on your approach to the work you do and enhance your PLN even more.
A PLN is Powerful!
It's amazing what powerful and inspiring experiences you can have as you utilize your abilities to build, interact with, and expand your PLNs. I've used all of the methods I've shared in building my own PLN over the years and my PLN has been a huge part of how I've grown, and continue to grow, professionally. Wherever you are in building your PLN, I encourage you to consider how you can expand and modify it to best suit your needs and for it to be a community where you can participate, grow, and be inspired.
Please share your questions, comments, ideas and resource recommendations regarding Professional Learning Networks in the comments below or via Twitter @edurolearning and #coachbetter.
Watch the #coachbetter QuickTips video!
Learn How to Build & Leverage Your PLN with COETAIL!
The Certificate of Educational Technology & Information Literacy is a 5-course online certificate program designed for educators ready to embrace innovative, technology-rich learning. COETAIL will empower you to leverage the technology you have to transform your practice in order to positively impact learning for all students. COETAIL embraces a community approach to learning through annual global cohorts that connect you with engaged educators, and supportive facilitators, around the world. Graduates of COETAIL are confident, adaptable, connected educators ready to tackle any new challenge that comes their way!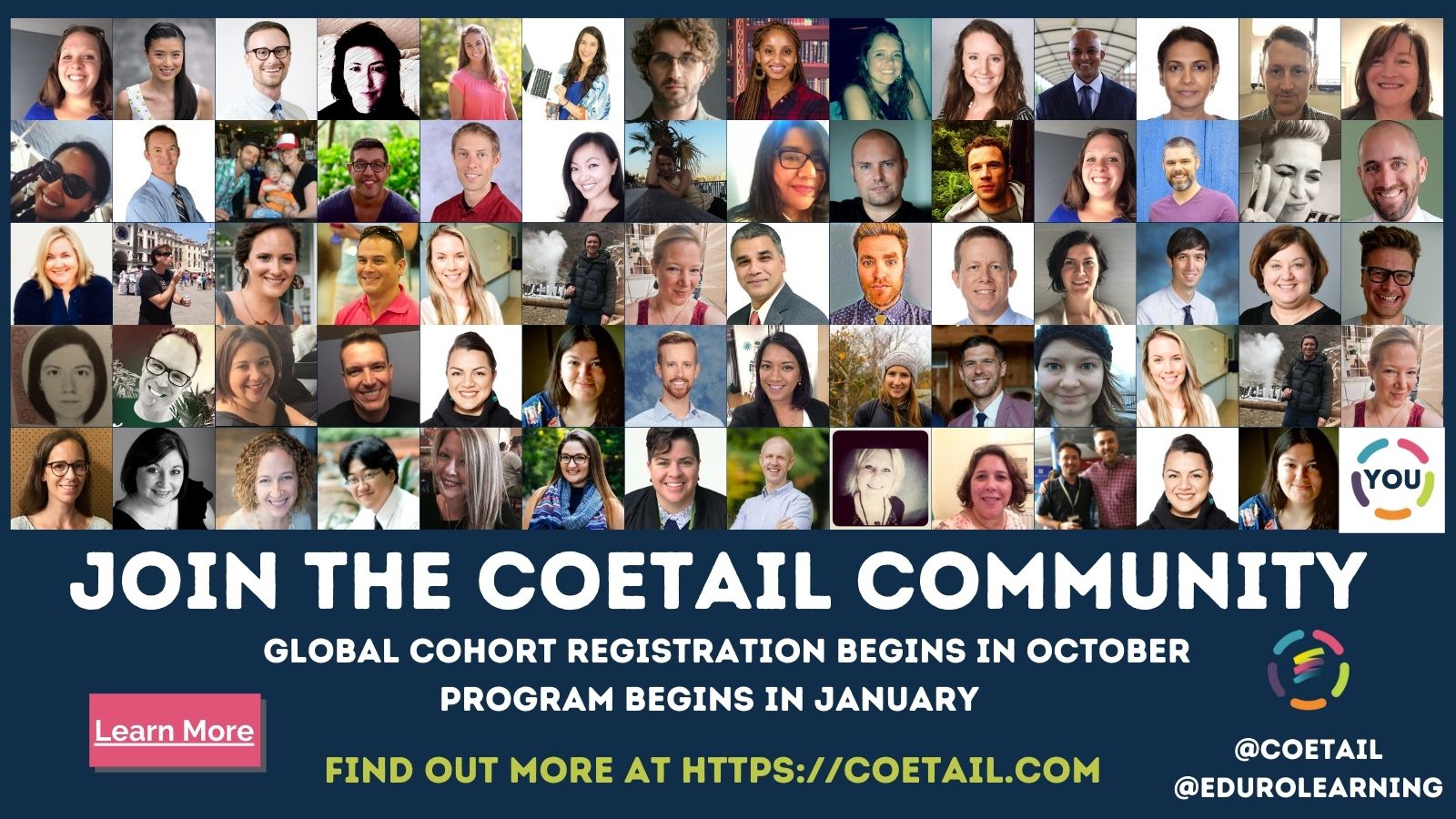 All educators are welcome: classroom teachers, coaches, specialists, school leaders. The program is customizable for educators in any setting. COETAIL is for educators who are ready to transform their practice through innovative pedagogical practices, and committed to a 1.5 year professional learning experience in a global cohort.
Our annual COETAIL cohorts begin in January every year. The cohort will run from January through to the following May (1.5 years). Registration opens the October before the cohort begins.

Find out more: https://coetail.com