Ug. Most of us know this feeling of "imposter syndrome".
That feeling of not being knowledgeable, experienced, or skilled enough for that next step, when you catch yourself thinking:
"Who am I to speak with authority on this topic? What do I know?" (When you actually do know)
or
"I don't have enough qualifications to go for that job." (When you absolutely do!)
or
"I'm not a leader." (When you absolutely are – even if it's not in a formal leadership position).
Sadly, this topic comes up ALL. THE. TIME.
Especially with women.
It comes up in:
I have noticed, as a mentor to educators around the world, that there are so many hardworking, well-educated strong women working in education that don't feel quite ready to take the leap into leadership or make the move into coaching, or generally up their career, because they feel like they're an imposter.
Research shows that this concept of imposter syndrome is a well-documented and it seems to affect women more than men.
Don't worry if you are feeling this way, if you feel like you're an imposter in your role, or you don't have the skills to level up to the next step in your career, it's really common.
There are lots of strategies we can use to help prevent imposter syndrome from rearing its ugly head.
8 Strategies to Challenge Feelings of Imposter Syndrome
To be fully transparent, I have used these strategies many times at many different points in my career.
In fact, some of them I use on an everyday basis and they definitely come up very frequently in my conversations with my private mentoring clients.
If imposter syndrome is something you're struggling with and the ideas in this video have resonate with you, please check out our private mentoring packages to learn more or reach out to me on social to ask questions. I'm always happy to chat with you about how we can best support you here at a Eduro Learning. Find all the details about our Private mentoring packages here: http://edurolearning.com/mentor.
In fact, we have a special package designed to help you Embrace Your Inner Leader if this is something you're currently struggling with!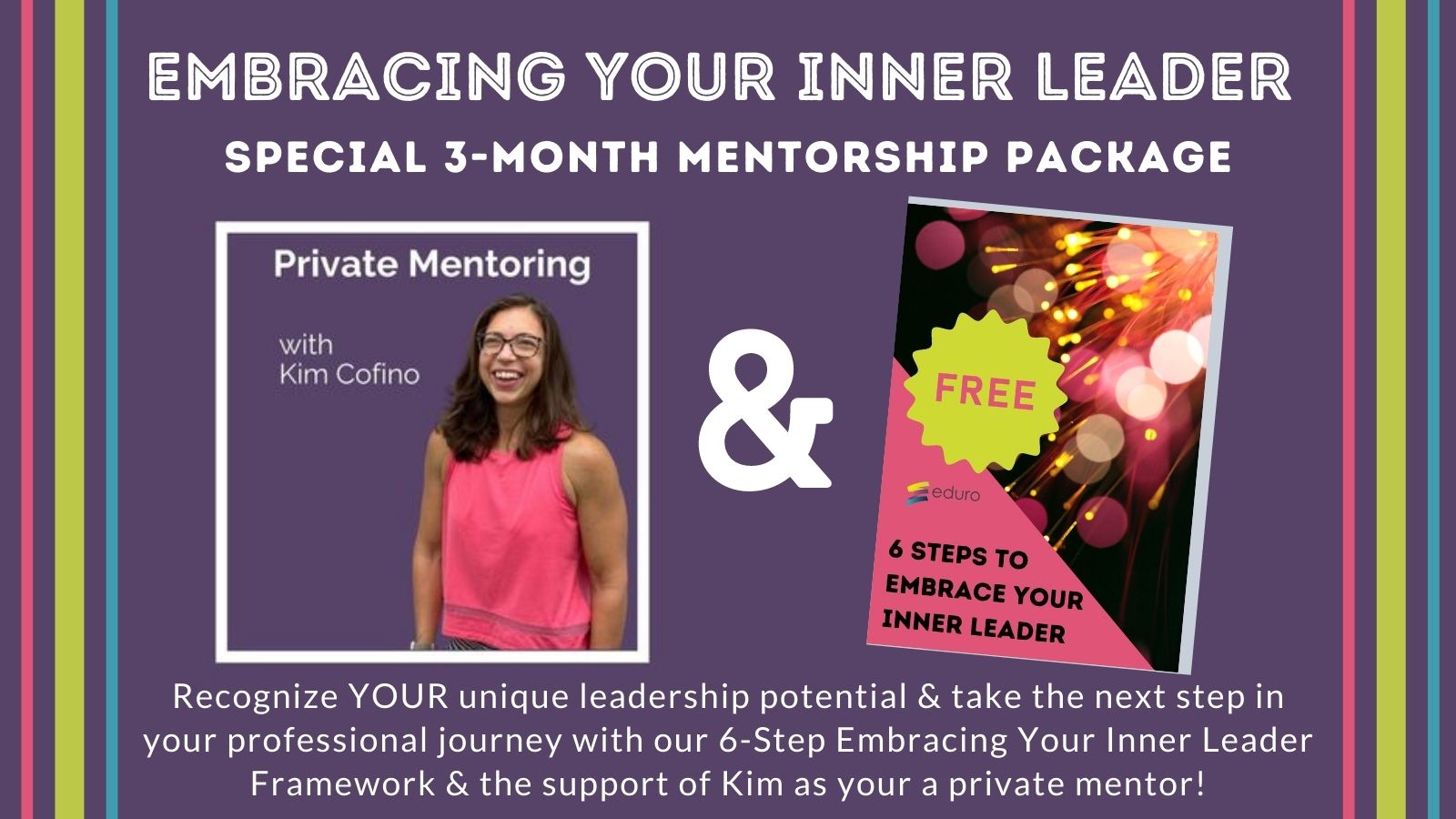 Let's dig into these strategies!
1: Remind Yourself of Your Qualifications and Achievements
If you are anything like me, as soon as you achieve something, it's almost forgotten in your mind and you just move on to the next hurdle.
Finding a way to remind yourself of the amazing things that you've accomplished over the course of your career, whether it's specifically the degrees that you have, or the accomplishments in your work performance or the products you've produced, or the ways that you've interacted with others, documenting those achievements and putting them in a space that's visible to you, especially when you're having something stressful like recruiting or having an interview conversation online, like we're chatting right now, having those documented and visible to you will help remind you of the great things that you have accomplished over the course of your career.
2: Be Clear on Your Purpose & Your "Why"
As educators, most of us got into education to make a difference in the lives of our students, and remembering why you became an educator and the impact you want to have on the students or educators that you work with will refresh your inspiration for taking the next step in your career.
Having that clear vision of why you're going for this role or why you're taking that next step will help inspire you to keep pushing.
3: Take Control of Your Self Talk
Instead of letting yourself get caught in a spiral of negative self-talk, either think of a quote or a phrase that inspires you or gets you fired up, or have a mantra that you can continue to repeat to yourself when you're faced with challenging situations.
The goal is to focus on breaking that cycle of negative thinking or rumination by flipping a switch in your brain to positive thinking. I use this all the time. I have mantras for all sorts of things, which really helps me switch my perspective from something that I can be intimidated by or scared of or not feel ready for to reminding myself the ways that I am actually prepared for ready for excited about whatever this next thing is.
In fact, lots of times, I actually use those as I'm drifting off to sleep at night, I will think about upcoming things and say my mantras to myself in my mind as I'm drifting off to sleep so that I can be thinking about this positive ways that I can tackle this new challenge as I'm sleeping.
4: Stop Comparing Yourself to Others
We are constantly faced with a highlight reel of somebody else's life. We never know what's truly going on behind the scenes of that Instagram or Facebook or Twitter account.
The idea is to reflect on yourself and how you have grown. That's more important than how you compare to someone else. If you're able to do this thing better, easier, or more confidently than you were before, that demonstrates growth. Even if you're not exactly where you want to be, are you growing, and if you can focus on your growth rather than competing with others, you'll begin to feel more confident.
5: Separate Feelings from Facts
Learn to recognize the difference between how you feel versus what you actually accomplished.
So if you're prepared for, and you know that feelings of imposter syndrome (or fear or not quite being ready) are going to come, you can then more objectively see how your feelings might be influencing your perspectives of your preparedness for whatever this next thing is. Then you can ask yourself, is this thought helping or hindering me.
Recognizing the difference between the way you feel about something versus the facts of how prepared you are for something is really important. This is also something I do a lot for myself. It's just recognizing that I might be intimidated by this thing, but I have done X, Y, and Z to prepare for it so that I am ready for it. That's the difference between feelings and facts.
---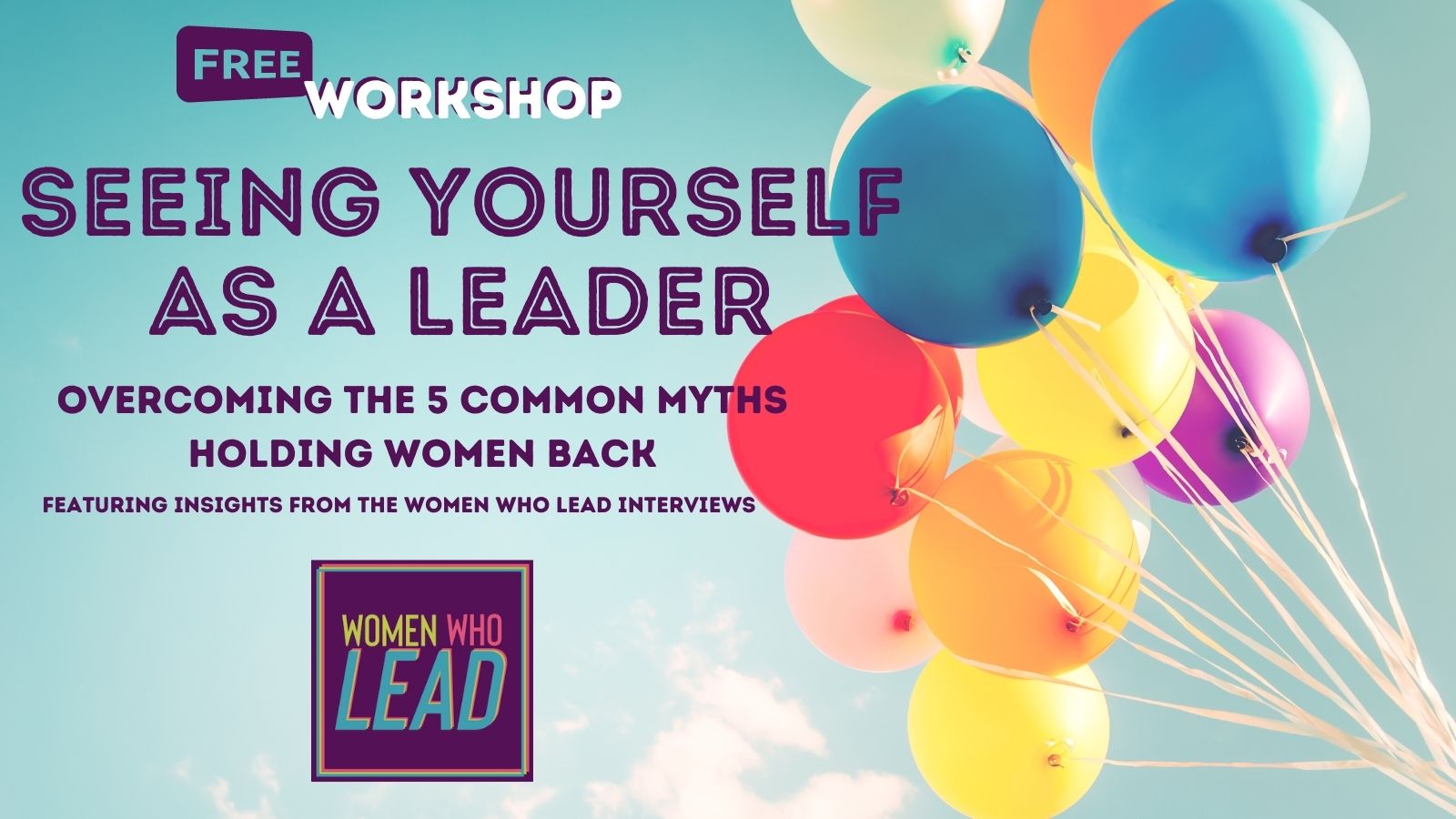 Do you wish you could make a bigger impact in your school setting? Is this the year you commit to your own leadership potential? Or will it be another year you'll spend saying you're not ready "yet"?
As an experienced educator, you are likely demonstrating leadership skills every day, by building quality relationships, or managing teams, or having coaching conversations. But if you find it hard to recognize your own leadership capacity, you might be experiencing feelings commonly referred to as "imposter syndrome."
Many educators, especially women, allow these feelings to keep them from taking the next step in their career. If that sounds like you: stop letting negative self-talk hold you back!
Learn how to crush your imposter syndrome before it gets to you with our new FREE Workshop: Seeing Yourself as a Leader: Overcoming the 5 Common Myths Holding Women Back, available right now!
Inside the workshop you'll get a sneak peek into some of the rich conversations inside Women Who Lead, and hear from very successful leaders who still struggle with imposter syndrome – as well as how they've learned to handle it. If you can, pause this podcast episode right now and head over to edurolearning.com/leader to register – the workshop is only available for a limited time! But, because I know how busy you are: it's pre-recorded, so you can watch anytime once you register, and then pause or replay whenever you're ready.
Don't let imposter syndrome hold you back this year! Access the workshop now at https://edurolearning.com/leader
---
6: Visualize Your Success
I use all the time and all the time, particularly for powerlifting, and for competitions. Close your eyes and actually see yourself succeeding in whatever it is you're moving towards, whether it's a job interview or a sports performance (like a powerlifting competition) to actually see yourself in your mind's eye, being successful at this thing will help you almost feel like you've lived that or that experience already and you know exactly how it's going to go.
This is another one I use a lot as I'm falling asleep. If I have an especially heavy lift the next day, or I have a presentation that I'm stressed out about the next day, I will visualize myself going through that experience really successfully and feeling confident and proud of myself for the work that I did so that the next day I wake up feeling ready to tackle whatever that thing is.
7: FAIL is a First Attempt in Learning
I take this one directly from the classroom. Recognizing that failure is just a first attempt in learning. It's okay to fail and learn and try again. In fact, by doing this, you are demonstrating a growth mindset. You're demonstrating the fact that you want to be a learner you want to grow and you want to be better.
If you're looking at leadership in your future or coaching in your future, demonstrating that you are able to try new things and take a risk and learn from them is exactly what you're expecting from the others that you work with. You're becoming a role model by growing from your own experience and alongside of that, it's totally okay to ask for help asking for help. Isn't a sign of weakness. It's a sign of growth mindedness.
8: Talk About It
Sometimes just the act of talking things out helps you realize that these are feelings, not facts.
Sometimes when I get lost in my own thoughts, just having to explain my process, my thought process to someone else can help me sort them out myself. In fact, a lot of the time I'll ask my husband to just literally sit there while I talk something through. He doesn't really even have to say anything. And by the end I have kind of sorted myself out.
Plus if you have the opportunity to work with a coach or a mentor, they can also support you in growing into the role you're working towards and help you recognize when your feelings of imposter syndrome are normal, or when you're overreacting.
Here at Eduro Learning, we believe in the power of mentorship and the impact having a mentor can have on all aspects of your life. I have coaches in multiple areas of my life and I can see my growth every single time I'm interacting with them. And even in between those sessions, I recognize the homework or the tasks that they've given me are helping me grow into the next stage of my professional career or my athletic development.
Watch the Video
Ready to Conquer YOUR Imposter Syndrome?
If you found any of these strategies helpful, please let me know. Leave a message in the comments or reach out to me on social. I'd love to hear how any of these strategies were helpful for you.
If you are ready to conquer your imposter syndrome, having a mentor can help you do just that our private mentoring packages are thoughtful. In-depth action oriented, personalized professional development, customized just to your needs. We work together. One-on-one in a format like this over zoom or Google Hangouts to articulate your professional goals and design a custom learning plan to help you reach those goals.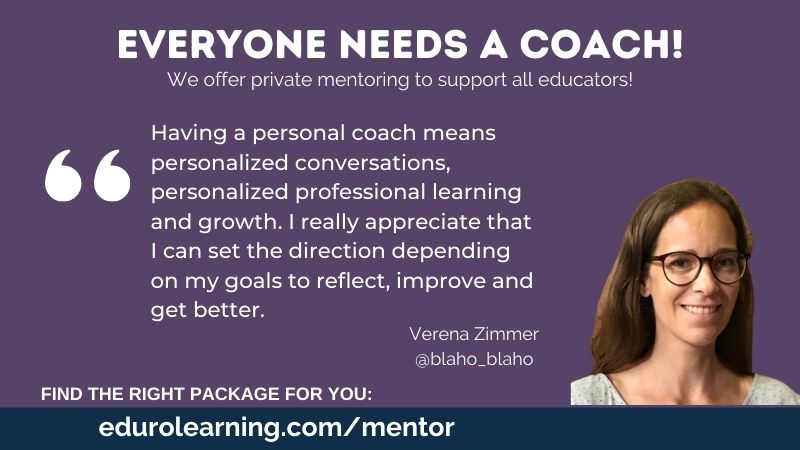 Having a mentor gives you an outside sounding board to talk through any issues you may be facing in your role at school to get away from potentially a negative school culture or a specific school group, think environment, having a mentor. It gives you an outside sounding board to talk through any issues you may be facing in your role at school, from moving to a leadership position, to finding your voice as a coach, to building your capacity with technology, rich learning, we can support you in any aspect of your professional growth, as an educator.
Find out more at: https://edurolearning.com/mentor/
Ready to Leap Into Leadership? Enjoy learning with a community? Join us for Women Who Lead!
Women Who Lead is an an online certificate program designed for growing and aspiring leaders, featuring the voices and experiences of over 70 successful female leaders from around the world.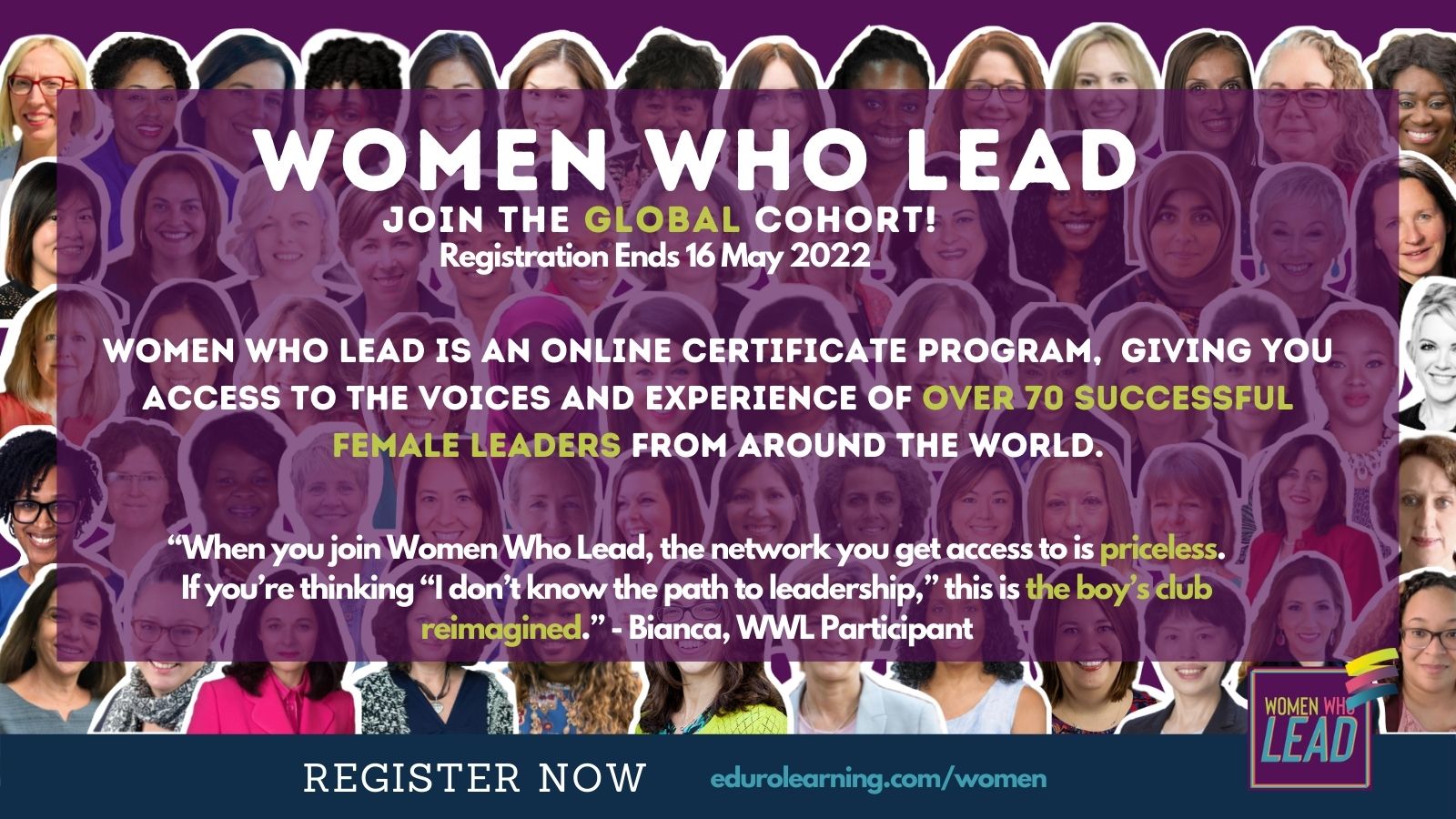 Women Who Lead will empower you to articulate your leadership potential so you can overcome the many challenges faced by women seeking leadership positions in the field of education.
Registration is open May 1 – 15 2022
Cohort runs 4 July – 25 Sept 2022
We facilitate only one global cohort each year, so we can create connected, collaborative and community driven global cohorts. Now is your chance to level up your leadership and reach for your dream job!
Find out more here: https://edurolearning.com/women/