Before we had the #coachbetter podcast, we did live streaming on Google Hangouts. This is one of those conversations! You'll hear what it was like for Jennifer & Camlynn to build their coaching program as they were implementing the first year of 1:1 learning in Everett School District in WA, USA!
Watch the Conversation
Show Notes
What have you learned?
Camlynn: This is the first year for our district to go 1:1 and also for Instructional Tech coaches that include myself and one other coach. This is completely new experience for everyone, teachers, students, admin, uncharted waters for all. EVERYTHING that I have learned from the Microcredential has directly applied to my job and my district, I can honestly say that I have never done any other professional development in my career that I can say that about.
Jennifer: I have learned so much already! The microcredential has also provided me resources that have led to a better understanding of what a school or district's 1:1 environment should look like and more importantly, how to get there. The program includes very practical elements such as digital citizenship being taught not as a stand-alone or add-on, but how to integrate it and address it as opportunities arise, to big-picture elements that lead to a shared vision of a 1:1 environment. There are portions of the program that allowed me to understand how everyone in the system can impact this vision, from administrators and coaches to classroom teachers. For example, the importance of administrators modeling for staff to show that taking risks and failing is encouraged, and also my role as a coach to support staff and administration as they navigate this new territory. The most exciting learning for me is learning about PLN's. This learning has had a significant impact on enhancing and cultivating my professional career. This particular learning for me reflects what I want for students – to learn from the world around them and not to limit themselves to their physical proximity. It is why I am passionate about 1:1. Learning about how to build, use and nurture PLN's has been empowering. I cannot finish without talking about the Coaching portion of the microcredential. The robust curation of resources on coaching strategies and styles has provided me with tools I was able to apply in my new role as a coach.
Are you learning things that you can immediately use?
Camlynn: Everything in The Coach microcredential has been learning that I needed and used immediately. Whether it was establishing a PLN, coaching teachers, or creating a culture in my building around technology, I cannot think any part of the microcredential that I have not used.
Jennifer: Definitely, the PLN course and The Coach microcredential courses have provided me with lots of resources I have applied in various settings. Specifically, the material on coaching roles and questioning have allowed me to navigate this new role in a district that is new to the 1:1 environment. I have already implemented the cadre idea for creating an AUP for school and the questions for coaching I use all the time. If I was still a classroom teacher, I would be implementing what I have learned about digital citizenship and applying the resources provided in the pedagogical course. The flexibility to move around the courses at my own pace has allowed me to interact with the material when it makes the most sense for me.
Do you feel like you're getting your money's worth out of the MC? Is it worth it?
Camlynn: We didn't have any experts to go to in district to get support and guidance for this transition, The Coach microcredential was that for me. We don't know, what we don't know and having the microcredential as my road map has been priceless.
Jennifer: This is one of the most relevant and robust PD programs I have participated in. The curation of resources and information alone is worth it! I love learning and connecting and learning with others in similar roles all over the world has been invigorating. However, the mentoring piece of the program is my favorite and for my learning style, invaluable! My mentor responds quickly with answers and provides additional resources and links She makes herself available and supports me in what I am needing at the time.
---
What's YOUR level of coaching mastery?
All coaches go through various stages of coaching mastery. Once you identify where you're at, you can begin to build the skills needed to move to the next stage.
This quiz is based on real-life case studies compiled from years of working with coaches inside The Coach Certificate & Mentorship Program!
When you receive your results, you'll also get your matching case study from the STRIVE Case Studies to see where you fit in the stages of coaching mastery.
Ready to tackle your challenges and move on to the next level in YOUR coaching practice?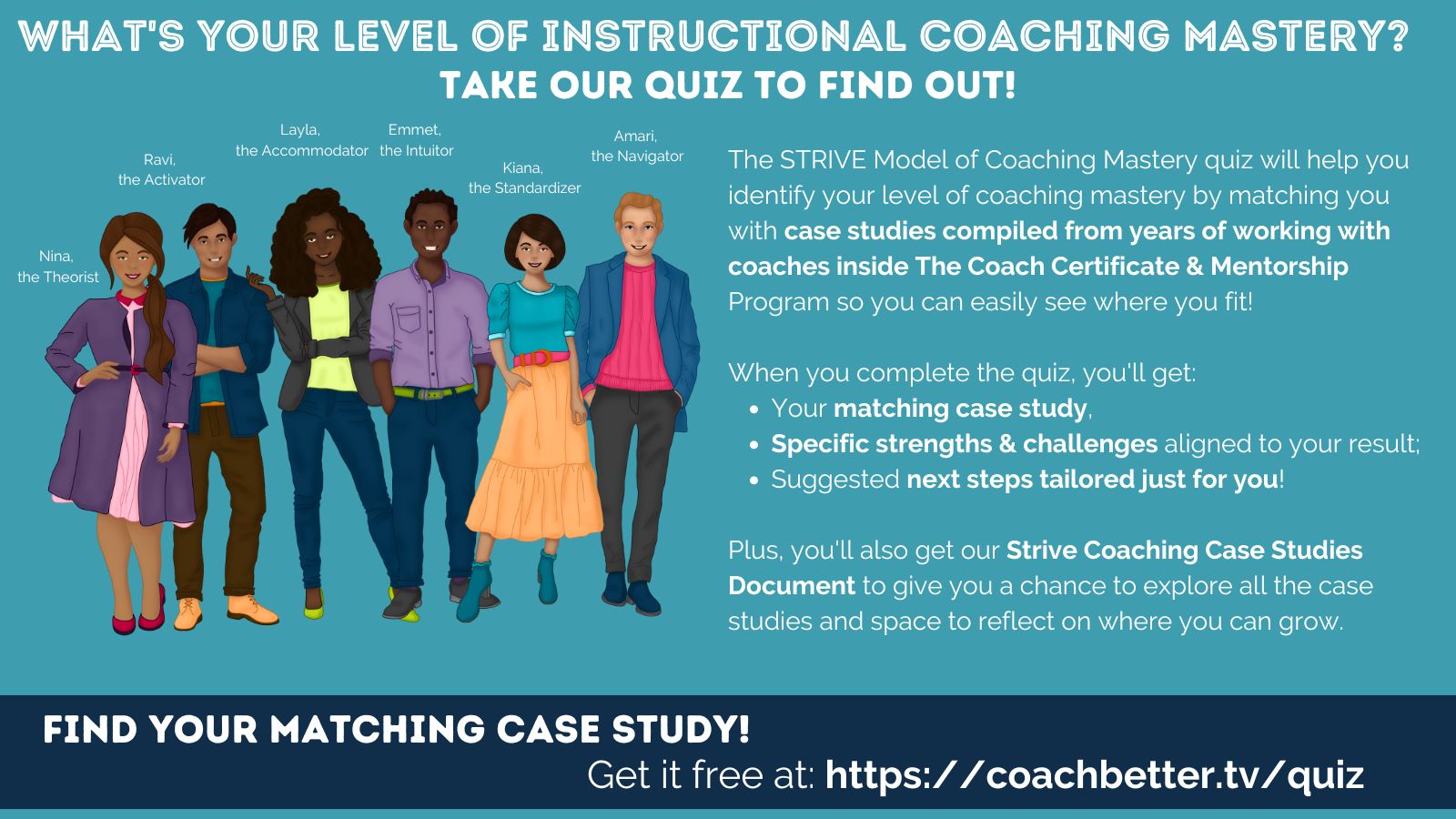 The STRIVE Model of Coaching Mastery quiz will help you identify your level of coaching mastery by matching you with case studies compiled from years of working with coaches inside The Coach Certificate & Mentorship Program so you can easily see where you fit!
When you complete the quiz, you'll get:
Your matching case study,
Specific strengths & challenges aligned to your result;
Suggested next steps for each stage;
Plus the Case Study Document includes:
Case studies leveled by coaching mastery;
A framework to identify essential stages of professional growth & key areas to focus on in your professional learning;
Alignment with the THRIVE Model for a Successful Coaching Culture;
Space for you to reflect & prioritize so you can take action immediately!
You'll go straight to the Quiz, and get the Case Study Document via email.
---
What's the relationship like with your mentor?
Camlynn: My relationship with my mentor is amazing, I feel like she is a colleague right in my own building and she is right down the hall from me and I could go and ask her any questions or talk out any issues with her, except that she is on the other side of the planet I know that if I need anything, she is there to support me.
Jennifer: The mentor piece of the micro-credential is to me the most valuable part of the program. I can ask my mentor for support on questions that arise not only within the course but in my actual coaching job. Having someone who is knowledgeable and has the resources that she does has allowed me to feel more confident in my role and I believe more successful. I am able to share with her any struggles, concerns or frustrations without any judgment. Most importantly though, my mentor has been a wealth of information. She has provided me with a robust collection of resources, as well as guidance, advice, and suggestions based on years of practice in multiple settings. This allows her to draw on many experiences and examples. She models for me the way I want to coach.
What's something you would say to someone considering the program?
Camlynn: The resources and the support are like no other program out there and you deserve and owe it to yourself to have access to all of it! I could not imagine doing this school year as a 1st time coach and our district going 1:1 without Eduro and The Coach microcredential.
Jennifer: If you are new to the 1:1 environment or in a new role, and especially if it is a NEW position to your school/district The Coach microcredential will provide you with the resources and support to be successful. Having the time to find new resources takes time, and the microcredential does this for you! Plus, it is a great way to get support from a mentor for situations that you may have tried everything in your toolbox but hasn't worked. The staff and mentors at Eduro understand the importance of relationships and this is evident throughout your experience, as well as providing you an opportunity to build your PLN with others in the program from all over the world in a variety of settings.
---
Level Up Your Coaching with The Coach!
If you are ready to develop your coaching practice over the next academic year, and explore topics like transitioning your work from individuals to teams, please join us for our next cohort of The Coach!
Wherever you are in building a coaching culture in your school, The Coach will give you the strategies, skills and tools you need to make coaching a success and will empower you to confidently apply instructional coaching strategies in any situation – from building a coaching program, to having coaching conversations, to being a leader in your school community. We facilitate only one cohort each academic year so we can offer individualized support for each participant.
Registration for our next global cohort opens once a year – check the website for details!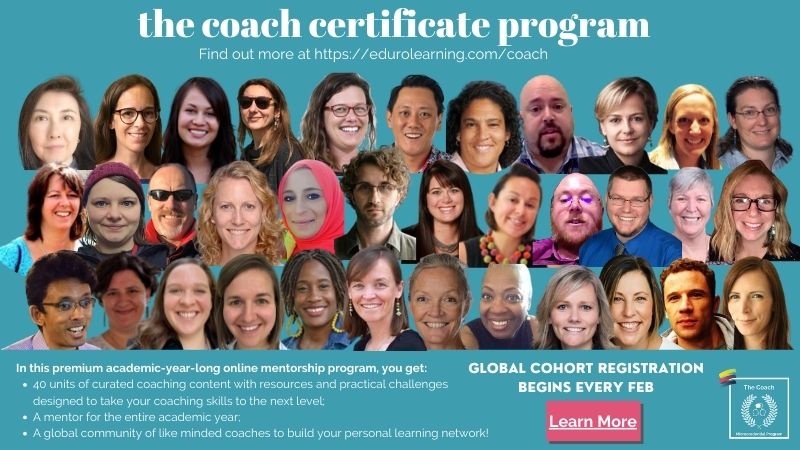 Find out more at: https://edurolearning.com/coach/