We want to give you a peek inside our Coach Certificate & Mentorship Program. Coaches taking part in this academic-year-long journey have graciously given us permission to post some of their learning and reflections from the private coursework they are undertaking during this program. Where possible, we have shared the course and the action task to give context for the guest post.
The Coach Learning Journey Video Reflection
The Learning Journey Video Reflection is a chance for you to reflect on everything you've learned and/or discovered throughout this Certificate Program.  You will create an 8-10 min video sharing on the goal that you set, documenting the process of working towards your goal, reflecting on your achievement and sharing the process/outcome with our learning community. The most important part of your personal project is that it's relevant to you, and you can demonstrate, through documentation and video, the impact your work has had on your school.
Watch Amber's Video
What goals did you set for yourself at the beginning of the program?
At the beginning of the program I wanted to build a coaching culture at my school. This goal was modified as I gained more understanding of my current role and what was possible within that framework, as well as what my own personal growth areas were; my final goal was to build strong and effective communication skills.
How did each milestone support you in reaching your goal?
Part I: I created three artifacts that gave me grounding with which to build the program. Using the school values and guiding documents to create my coaching vision helped me couch in what the school already believes in and will support. Coaching then became an extension of who we are as an educational institution.
Part II: I created the coaching conversation template and the coaching questions guide and quick overview. This one-pager was so helpful, as I modified questions to suit my style and voice. It now stays on my desk for easy access.
Part III: In the coaching conversation, I focused on two things: following the protocol and paraphrasing. Those were my two goals during this conversation. I was able to use the coaching conversation template that I had previously created and for the most part, I think it worked for what I wanted to accomplish during this initial meeting. I was a little stuck with what questions to ask as we moved through the protocol and one option I thought of was to take my QUICK LOOK questions and include examples in the protocol as I began this part of learning how to be a coach. However, I felt as though I was able to ask my coachee the right questions, paraphrase emotions before content, and use phrases like "it sounds like to me".."have you thought about…" I still need A LOT of practice.
Part IV: In this stage I created the "quick guide to difficult conversations". It was at this stage of the process that my learning from this course really started to solidify. I finally recognized that my most important learning throughout this last year was communication techniques, styles, and strategies when working with adults. My own communication style has been formed by my culture, my family, and by being a teacher for 20+ years. Transitioning from teacher to coordinator and coach and working with adults all day long, I was not trained in these new and very different communication techniques. It was the creation of a quick guide to difficult conversations that solidified my understanding and allowed me one place to access strategies. My quick guide is a culmination of much of my learning from this course and outside book studies and webinars.
---
What's YOUR level of coaching mastery?
All coaches go through various stages of coaching mastery. Once you identify where you're at, you can begin to build the skills needed to move to the next stage.
This quiz is based on real-life case studies compiled from years of working with coaches inside The Coach Certificate & Mentorship Program!
When you receive your results, you'll also get your matching case study from the STRIVE Case Studies to see where you fit in the stages of coaching mastery.
Ready to tackle your challenges and move on to the next level in YOUR coaching practice?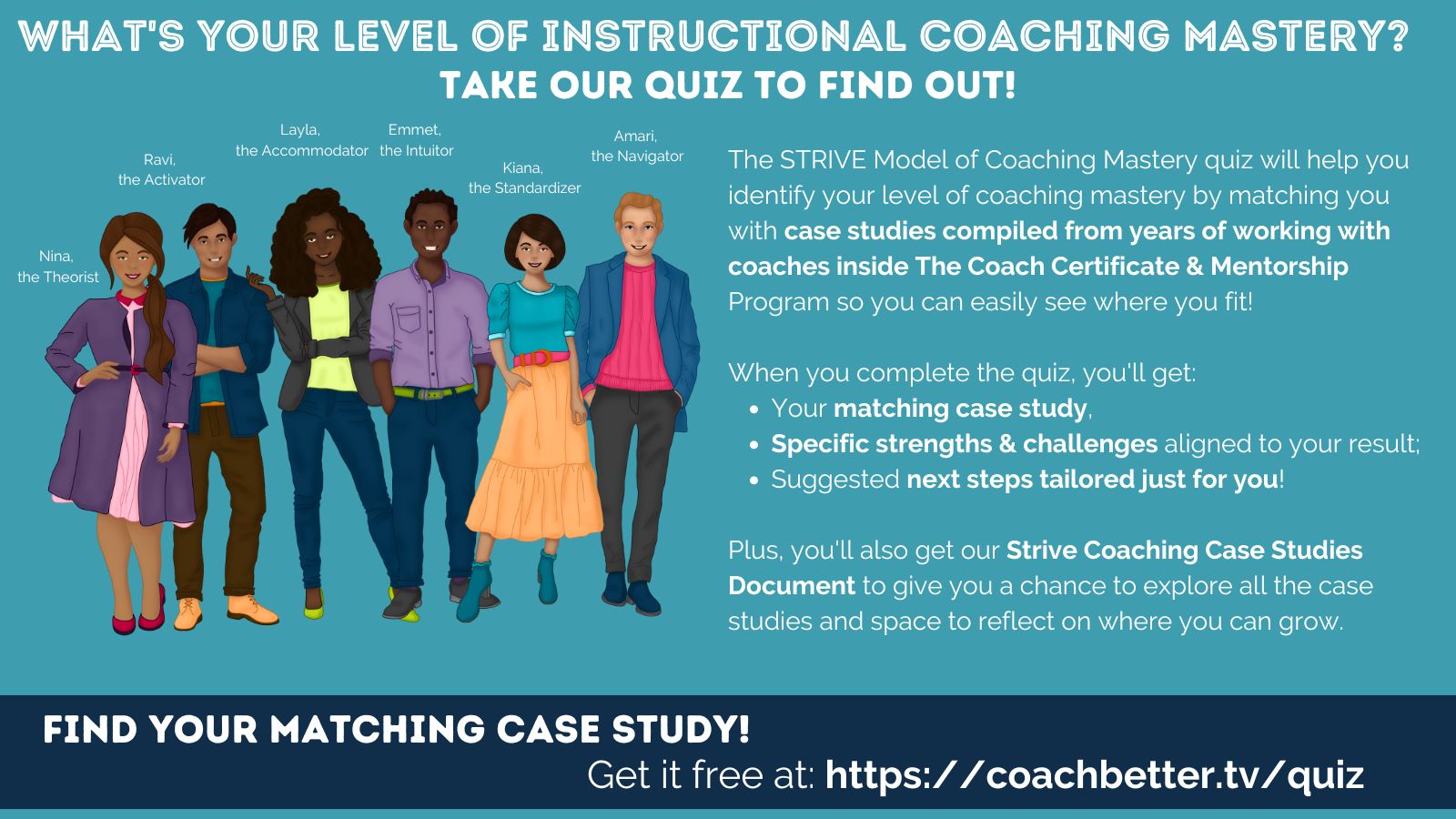 The STRIVE Model of Coaching Mastery quiz will help you identify your level of coaching mastery by matching you with case studies compiled from years of working with coaches inside The Coach Certificate & Mentorship Program so you can easily see where you fit!
---
What has been your biggest area of growth in the program?
Certainly communication techniques, as outlined in my video reflection.
Where do you still have room to grow?
I need to practice, use, and internalize these coaching questions and these communication techniques;
Use conditional language
Use pronouns 'you' & 'we'
Paraphrase / pause / question
Name emotion before asking a question
Recognize, acknowledge & validate
What surprises and/or challenges have you had along the way?
My big 'aha' of the course was how transferable these skills are to any area of my life, my career, and even for other people. A social worker friend in Boston uses some of my coaching questions working with her teen clients; my step-sister uses my quick guide to coaching questions during her medical documentation employee trainers; and I've used these communication techniques and script frames with my own children.
What would you do differently next time? What did you learn?
I don't think there's anything really, that I would have done differently. Perhaps I could have coached more than one person during the trial to compare, but I don't think I had the capacity to do so at the time.
How did the Coach support you in your learning journey?
How did it NOT? In every way, really. From Maggie's mentorship, to Nicola and Tine's help and collaboration, it was a consistently supportive journey. I also appreciated the timing of the course; built-in breaks and careful consideration that those of taking the course are also full-time employees. The different platforms were also helpful and I could ask questions and gain insights from many different people along the way.
How has your learning inside the Coach impacted your coaching practice & program in your school setting?
In every way – see above for challenges and surprises. The communication techniques I learned can be applied in all scenarios and with all ages.
What next for your professional learning?
After a year of so much online learning, I honestly think I need to take a break! Alongside The Coach, I also completed Harvard's Certificate in School Management and Leadership and trained to be a CIS Evaluator. I think my next step is application and synthesis of what I have learned this last year.
---
Level Up Your Coaching with The Coach!
If you are ready to develop your coaching practice over the next academic year, and explore topics like transitioning your work from individuals to teams, please join us for our next cohort of The Coach!
Wherever you are in building a coaching culture in your school, The Coach will give you the strategies, skills and tools you need to make coaching a success and will empower you to confidently apply instructional coaching strategies in any situation – from building a coaching program, to having coaching conversations, to being a leader in your school community. We facilitate only one cohort each academic year so we can offer individualized support for each participant.
Registration for our next global cohort opens once a year – check the website for details!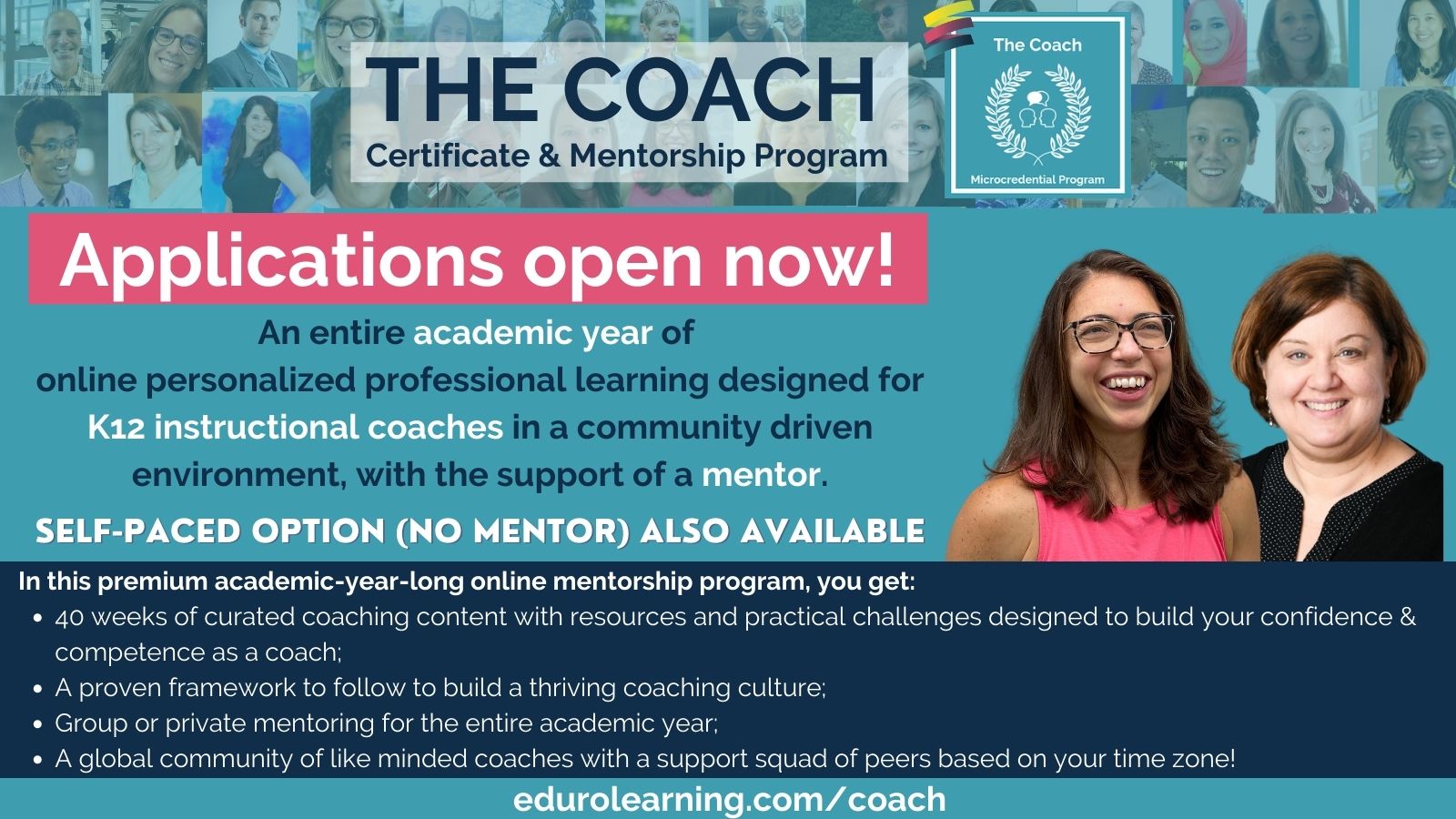 Find out more at: https://edurolearning.com/coach/