We want to give you a peek inside our Coach Certificate & Mentorship Program. Coaches taking part in this academic-year-long journey have graciously given us permission to post some of their learning and reflections from the private coursework they are undertaking during this program. Where possible, we have shared the course and the action task to give context for the guest post.
The Topic: The Role of the Coach
The Task: Share your current understanding of your role as a coach in your school setting.
What are your main priorities?
To help support teachers in growing their capacity to engage and grow their craft and learners in their classrooms. This support may come in the form of helping connect teachers with resources or other experts, co-planning or co-teaching a new strategy to use with students, modeling instructional practices or taking the teacher to observe a peer in action, or even just being a thought-partner to bounce ideas off.
Another priority is also to partner with administrators to support school goals and growth. Partnering with administrators helps connect all facets of the district and initiatives. Often things feel disjointed for teachers, especially when new initiatives are rolled out. Being able to connect new curriculum roll outs with needs a principal is seeing in their building, and all the while advocating for teacher needs to best support new initiatives helps pave the way for stronger growth.
What do you do on a day-to-day basis?
On a day-to-day basis:
I am collaborating with other coaches on our coaching team
Researching materials for teachers
Thinking about potential professional learning opportunities
Building relationships by checking-in on teachers, making a goal to introduce myself to someone new, and jumping in when I can quick help during unscheduled time. For example, there was a teacher waiting to copy tests she needed for that morning, but students had already started arriving in the building, so I offered to make her copies and deliver them to her.
Supporting teachers in classrooms through coaching conversations, co-planning, teaching a lesson to their students, being an extra set of hands to support with new technology endeavors, or providing feedback based on an observation or in-the-moment support.
What do teachers expect from you?
I have a unique experience in comparison to the other coaches on our coaching team. I come from building 8 years of teaching relationships with a large portion of the elementary staff, as well as holding many roles in committees, being a building technology coordinator, and Canvas superuser for our LMS. I'm still working on rebranding myself in my new role within the district and adjusting teacher expectations. Many started the year expecting me to support in the same ways that I did as their Canvas superuser and tech coordinator.
Coming into a lot of coaching conversations, teachers have entered expecting advice and me being the expert sharing all the answers. Working with one teacher this week provided an eye-opening experience when she mentioned that she felt that our general educators had questions better suited to coaches, where hers as a special educator were more program specific and how she can use them in her unique classroom. It was amazing to have the conversation then shift to how as coaches we are there to learn with them, being a brain partner and someone who can help connect her to resources.
---
---
What's YOUR level of coaching mastery?
All coaches go through various stages of coaching mastery. Once you identify where you're at, you can begin to build the skills needed to move to the next stage.
This quiz is based on real-life case studies compiled from years of working with coaches inside The Coach Certificate & Mentorship Program!
When you receive your results, you'll also get your matching case study from the STRIVE Case Studies to see where you fit in the stages of coaching mastery.
Ready to tackle your challenges and move on to the next level in YOUR coaching practice?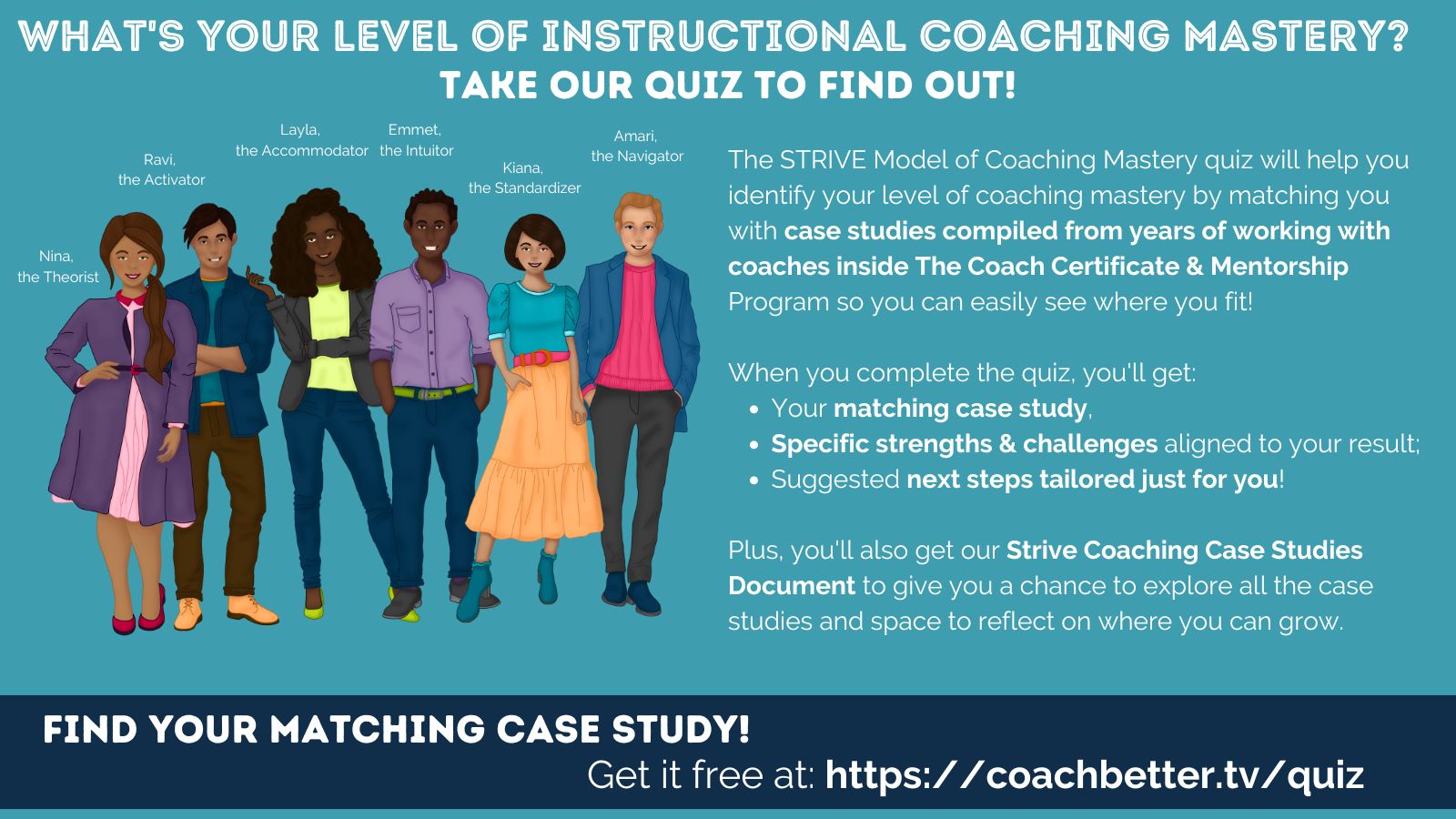 The STRIVE Model of Coaching Mastery quiz will help you identify your level of coaching mastery by matching you with case studies compiled from years of working with coaches inside The Coach Certificate & Mentorship Program so you can easily see where you fit!
When you complete the quiz, you'll get:
Your matching case study,
Specific strengths & challenges aligned to your result;
Suggested next steps for each stage;
Plus the Case Study Document includes:
Case studies leveled by coaching mastery;
A framework to identify essential stages of professional growth & key areas to focus on in your professional learning;
Alignment with the THRIVE Model for a Successful Coaching Culture;
Space for you to reflect & prioritize so you can take action immediately!
You'll go straight to the Quiz, and get the Case Study Document via email.
---
---
How do you work with all of the stakeholders in your school setting (parents, students, leadership, board)?
I've participated in parent events where we shared with parents how to utilize the technology offerings for them like Remind, Skyward, Canvas, and Zoom. Last year, I had the opportunity to also create a series of parent support videos that helped families through the ins and outs of some aspects of virtual learning.
As a coaching team we work closely with administrators, from planning professional development opportunities with our supervisor (the executive director of curriculum and specialized services), director of specialized services, director of special education, and curriculum supervisor. We also try to meet once a marking period with principals and when we have any offerings for their staff or communications we include them in emails.
I work with students while I work with teachers. I've been into a few rooms to co-teach, model a lesson, and indirectly working with students by working with teachers.
All of the work that we do is related back to district initiatives set by leadership, the board, and our community. As we work to grow our instructional practices, the work we do impacts all stakeholders whether directly working with them or indirectly.
Are there things you would prefer to be doing, but don't seem to be able to find the time?
I would love to work with more teams of teachers. Time is definitely an issue for this but more in the terms of lack of common time between teachers, or the lack of motivation to use prep time to meet as a team. I think as our coaching culture strengthens and develops this will be less and less of an issue.
Read more from The Coach participants as they share their learning from the certificate & mentorship program…
Abby's post: Facilitating an Effective Pre-Observation Meeting
Amy's post: Planning for a Coaching Pre-Observation Meeting
Karli's post: The Coach-Principal Partnership
Kate's post: The Coach Approach
---
---
Level Up Your Coaching with The Coach!
If you are ready to dive deep into your coaching practice, to help you #coachbetter and build a thriving coaching culture in your school, please join us for our next cohort of The Coach!
Wherever you are in building a coaching culture in your school, The Coach will give you the strategies, skills and tools you need to make coaching a success and will empower you to confidently apply instructional coaching strategies in any situation – from building a coaching program, to having coaching conversations, to being a leader in your school community. We facilitate only one cohort each academic year so we can offer individualized support for each participant.
Coaches of all levels are welcome: you'll start the program with a self-assessment to determine exactly what the next steps are for you!