In this #coachbetter episode, Kim talks with Anne Marie Chow, Middle School Vice Principal and English teacher at United World College Southeast Asia, East Campus in Singapore.
This episode is a gold mine of ideas, strategies, and examples of how to leverage multiple models of coaching in a large school setting. Anne Marie shares the ways that UWC brings together instructional coaching along with Cognitive Coaching, how coaches track data from coaching to measure success, the impact coaching has had on the leadership team and how coaches can articulate that in schools where leaders are not on board, as well as how coaches can work towards pursuing a leadership pathway if that's the next step in their career. If you want to get into the details of how to support coaching success in a very high functioning school community, this episode is for you!
This conversation is a window into the learning that happens inside The Coach Certificate and Mentorship Program. Wherever you are in building a coaching culture in your school, The Coach will give you the strategies, skills, and tools you need to make coaching a success. This academic-year-long online course & mentorship program will empower you to confidently apply instructional coaching strategies in any situation – from building a coaching program to being a leader in your school community. Registration for our next global cohort opens on the 21 February and closes on the 14th of March. Find out more, and join the waiting list at edurolearning.com/coach today!
Subscribe to #coachbetter via your favorite Podcast Player!
Featured Guests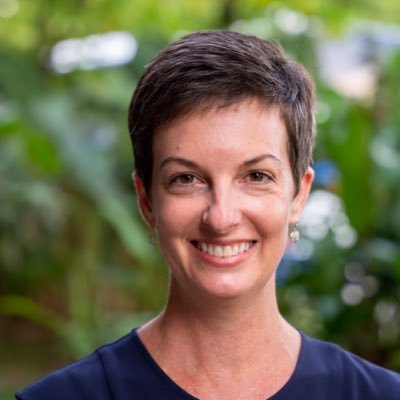 Bonus! Watch the Spotlight Version on YouTube!
---
Show Notes
Middle School Vice Principal and English teacher making connections, being curious, and collaborating to create meaningful learning
Please tell us a little bit about your journey in education. How did you get to your current role at UWC?
Vice Principal of Academics Middle School. Not a role I expected I would be in. Was really happy coaching. Felt like I found my niche, coaching literacy in the MS for 6 years, and thrived in that environment. Before that, grade 5, grade 2, grade 3 & 4 and middle school. Grew up in South America. Then taught all around Asia, HK, Indonesia, Mongolia, Taiwan, Singapore. Head of Digital Learning last year. Allowed me to think outside the box of literacy coaching.
How do the various models of coaching intertwine and support each other at UWC? How have you built a culture of coaching that includes multiple models of coaching?
Clarity around two different models is really clear in some areas of the school. Individuals as a coachee can identify which type of coaching they need support with. In the MS, new role is just instructional coaching, not just literacy coaching. Knowledge and culture of what does it mean to work with an instructional coach to improve your practice is growing across the MS. CC is embedded, people know what that is, and can do it any time.
Because of COVID, we haven't continued with professional learning around CC. For the past year and a half, all new staff haven't had PD on CC. How big of an impact will this have on the sustainability. Working with middle leaders, who are new to the school, but they don't know how to have a CC conversation. Focusing on paraphrasing and questioning as the basis for CC.
Moving & expanding pockets to where a point where people can flow smoothly between the different models. In CC, you get to a point where people have a goal, but they're really fuzzy about next steps, helping lift the instructional coaching into the minds as a next step. To make it more fluent in people's thought process.
One of the support functions we name in our coaching work here is consulting. Sometimes they don't need a CC or instructional coach, sometimes they just need some straight up consulting. By naming that "it sounds like you might need some consulting", and later they can see the difference between consulting and coaching. Benefit in naming that for people. Gesture with the body, concrete visual, this is something different.
As leaders, what makes coaching most impactful for you (and the leadership team)?
No matter what we say and how much we try to make it a non-hierarchical system, as admin we're still the "boss", there's always going to be a distance there. We're lucky that distance is quite small, trust is high, but there's a different level of ability to be transparent working with a coach. Value of having those skilled professionals who can work with teachers, to help them identify goals and work with them to achieve those goals using concrete strategies (great list here). Do this with someone that you see as a peer partner. Peer Partnership and trust that comes with that is really important. Leaders work really closely with the coaches, can share what we're noticing and what we could use support with, and the collaboration on professional learning, coaches can give feedback: yes that's what we need or that's not right, right now.
The biggest thing is that with whole school PD, you're going to get 60-75% that's relevant for those teachers, but when you have a coach working with an individual or a team that wants to get better at something, that has identified this desire to get better at their practice you're going to get 100%. So everything the coach puts in is going to go back and impact student learning.
Budget question: compare to students: yes, you could put 44 students in my class, but I'm not going to be able to confer with them 1:1.
What I'm seeing happen right now, the contagious conversations and relevancy. Student feedback surveys in each department, spread out throughout the year, back in Jan, one dept did it and in my reflection with that HOD, students want 1:1 feedback with the teacher. Contagious professional growth.
---
What's YOUR level of coaching mastery?
All coaches go through various stages of coaching mastery. Once you identify where you're at, you can begin to build the skills needed to move to the next stage.
This quiz is based on real-life case studies compiled from years of working with coaches inside The Coach Certificate & Mentorship Program!
When you receive your results, you'll also get your matching case study from the STRIVE Case Studies to see where you fit in the stages of coaching mastery.
Ready to tackle your challenges and move on to the next level in YOUR coaching practice?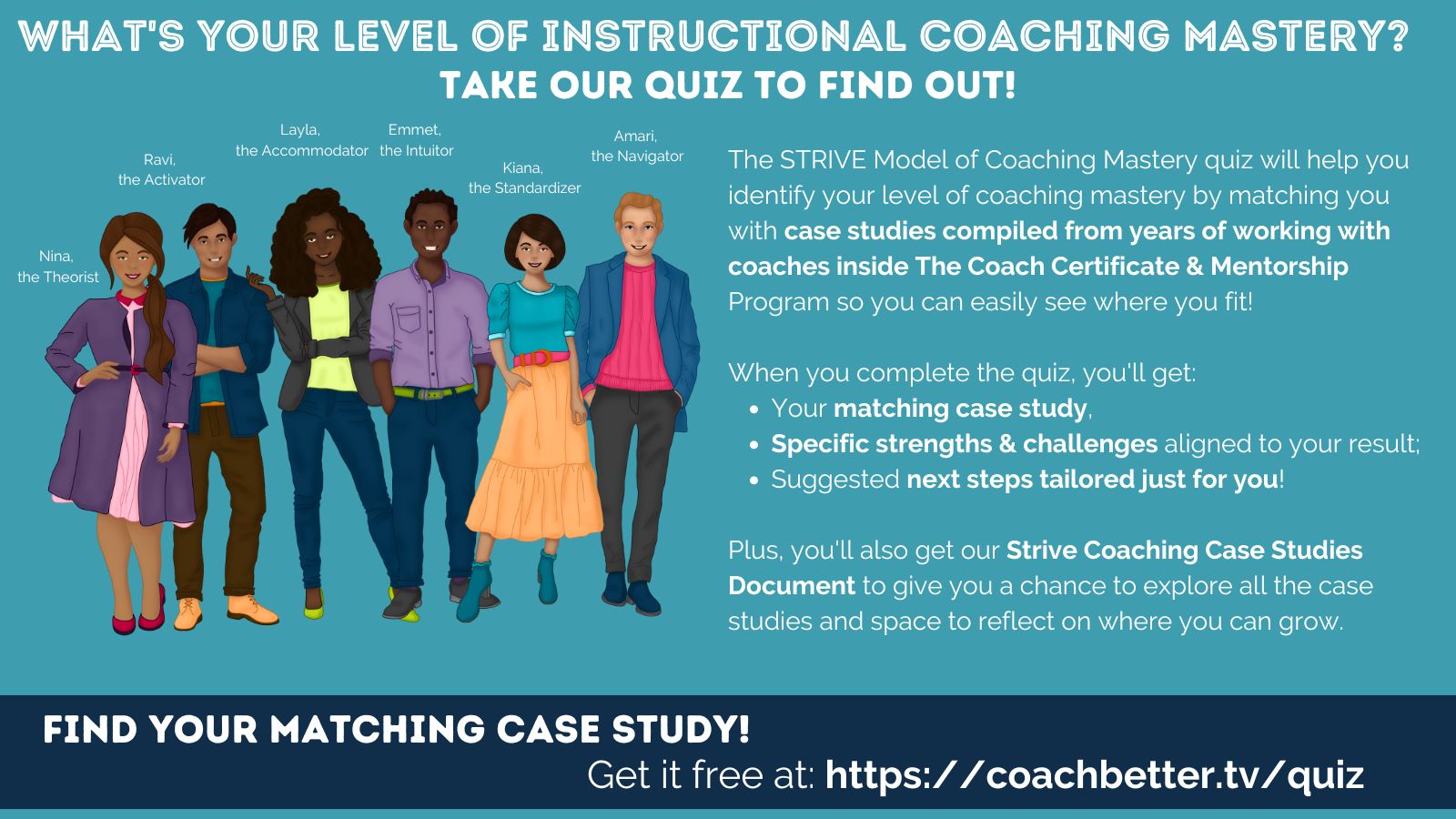 The STRIVE Model of Coaching Mastery quiz will help you identify your level of coaching mastery by matching you with case studies compiled from years of working with coaches inside The Coach Certificate & Mentorship Program so you can easily see where you fit!
When you complete the quiz, you'll get:
Your matching case study,
Specific strengths & challenges aligned to your result;
Suggested next steps for each stage;
Plus the Case Study Document includes:
Case studies leveled by coaching mastery;
A framework to identify essential stages of professional growth & key areas to focus on in your professional learning;
Alignment with the THRIVE Model for a Successful Coaching Culture;
Space for you to reflect & prioritize so you can take action immediately!
You'll go straight to the Quiz, and get the Case Study Document via email.
---
Show Notes continued…
What data is your coaching team collecting? How are they using that data? What makes it valuable and impactful?
Sara's first year, DLC has moved into another role & new DLC comes next year.
The data she's collecting is all about making sure she's getting a broad view of what learning looks like in the middle school. Tracking which classrooms she visited, returned to, and which ones have led to specific coaching work. Am I making sure that I'm seeing everyone?
She's working with me to think about what kind of data she might want to intentionally collect, in terms of moving forward. Will look at how that connects with school culture and strategic plan. Hunch is that it will be around student agency & personalized learning. Looking for what's already happening, as we think about next steps.
In the past, when I was a literacy coach, the data I was collecting initially was around basic structures that we had put in place through PL (like workshop model), data around those specific structures (how long mini lessons, etc), feedback to the teachers & they reflect on the recent PL.
Using digital tools to collect data, video & audio recording so the data is a third point for the teachers to reflect on. Video data is what he allowed him to see for himself.
Kim asks about if things are not as clear / connected to strategic plan
Consider what can you connect it to? Teaching standards, learning principles, to put a frame around what you're doing. As a coach, you're wanting to build that culture of who you are and you're wanting to build the culture of coaching being self-directed practice, so finding a way of framing what you're doing with teachers to help them connect that with what they know and what they're already familiar with, so that route becomes a way of connecting across departments to find some synergy.
Given that UWC has embraced coaching so strongly, but not all schools have similar cultures, how can coaches successfully articulate the value and purpose of coaching to their school leaders?
Getting the leadership as close as possible to the coaching. At our school leaders have to teach, can I coach you in your teaching practice. That's the best. If your leaders are teaching, they're probably only teaching one class, so they might be a little rusty. Leadership really does value setting aside this time to work on teaching practice & then going through the experience of coaching. Video data, co-teaching, as much as you can to get them close to the process. Bringing them along, into that process. Can they come with you into the classroom walk-through? Can they watch how you collect that data, can they observe a coaching conversation with a teacher & reflect afterward? Reach out to the teachers in advance: XX wants to learn, he's watching ME, he's learning what a coach does, he's learning what I do in my role as a coach. Plan which teachers you would do that with. Reach out to a handful. Teachers who have bought in, want leaders to recognize the power of coaching.
For coaches that are interested in pursuing a leadership pathway, what advice or recommendations do you have for them to transition from coaching to formal leadership?
If you're wanting to try something different, having some good reflection time, individual or with a coach to think through the skills and qualities you've been developing as a coach, to really pause and name what has changed in the school because of my work as a coach, how have I been influential in shifting teachers practice and a culture of learning, so you can name it for someone else.
Look for named leadership projects that you can take on as a coach. Volunteer to lead groups. Recognizing that I wanted to grow my leadership skills & inquire for myself about my leadership skills, is this something I'm good at and interested in. Looking for those smaller pockets gives you a space to learn about yourself and something to refer back to.
Dig in with the leaders you admire. Listen to them, ask them questions as much as you can, try to get into how they're thinking about things. Take advantage of those mentoring roles to learn from the amazing leaders around you.
Be willing to take on something that you didn't think was for you. Through that leap, you might be able to build your confidence in sitting at some tables thinking I belong here.
---
Level Up Your Coaching with The Coach!
If you are ready to develop your coaching practice over the next academic year, and explore topics like transitioning your work from individuals to teams, please join us for our next cohort of The Coach!
Wherever you are in building a coaching culture in your school, The Coach will give you the strategies, skills and tools you need to make coaching a success and will empower you to confidently apply instructional coaching strategies in any situation – from building a coaching program, to having coaching conversations, to being a leader in your school community. We facilitate only one cohort each academic year so we can offer individualized support for each participant.
Registration for our next global cohort opens once a year – check the website for details!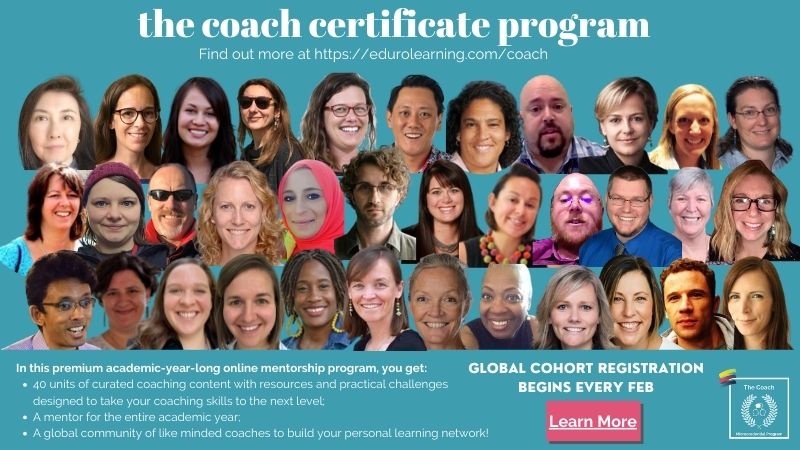 Find out more at: https://edurolearning.com/coach/