In this #coachbetter episode, Kim chats with Lindsay Deacon and Angela Harkness, authors of the EduCoach Survival Guide (and instructional coaches in Portland Oregon, USA). They discuss several key elements to successful coaching: understanding yourself as a coach, working with school leaders, how to effectively support teams, and the importance of building coaching relationships and having fun in your role. Lindsay and Angela share tons of stories from their own coaching experiences in Portland area school districts, as well as unique scenarios from their book, the EduCoach Survival Guide.
This conversation is a window into the learning that happens inside The Coach Certificate & Mentorship Program. This academic-year-long online program will empower you to confidently apply instructional coaching strategies in any situation – from building a coaching program to being a leader in your school community. Registration for our next global cohort opens on February 21st and closes on March 14th. Find out more, and join the waiting list at edurolearning.com/coach today!
Subscribe to #coachbetter via your favorite Podcast Player!
Featured Guests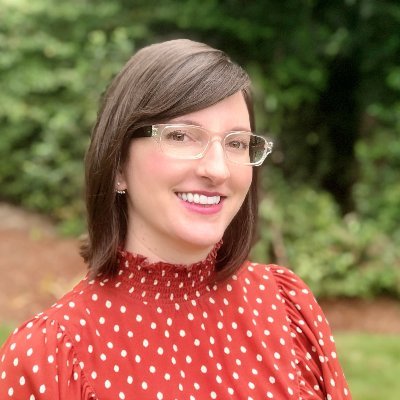 Find EduCoach Survival Guide on Twitter and Instagram
Bonus! Watch the Spotlight Version on YouTube!
Show Notes
Tell us about your journey to coaching, and then to the book
Got put together as new teachers at a new school, taught next door to each other. We became coaches at the same time, found that we were having similar issues, and we were looking for "in the moment" answers for coaching problems we were having. Hearing the same things come up every day, sometimes I'd be solving the same problem 4 times in a row.
Book background: #educoach Survival Guide: This book is not intended to be your coaching curriculum. It's a survival guide, you come to us when things aren't working.
The idea is that you are a coach, and you have been trained formally in the principles of coaching. The idea is that you have these materials at hand. But you keep finding yourself with everyday stumbling blocks that prevent you from getting to the practicalities of doing your job well.
The format of the book, we knew we wanted "best-case scenario, worst case, plan a, plan b" – it's a reference guide where you can turn to a page, find my problem
Coaches: Until you get yourself right, you can't expect others to change: What do coaches need to know and understand about themselves and their role to be successful?
Role clarity. As a coach, do I actually know what I'm supposed to be doing every day. What coaching practices are going to improve student achievement. When coaches really narrow down role clarity, with themselves, get it public with the teachers, clear with the principal, is the foundation of being successful. If a coach really knows what they're supposed to be doing and they have a network of coaches they talk to.
Coaches having a hard time liking a client. You want to like the people you coach. When I became a coach, I realized I have to put all that aside. It's not about me and my feelings, it's about this person and the students in her classroom.
Teachers: We love exploring and unpacking teacher case studies. We all have that experience of struggling with a certain "stereotype" of a teacher. Can you share a story with us and how you might recommend working with that particular colleague (We talked about the "Teacher not respected by colleagues" scenario)
Teacher Coach partnership agreements: confidentiality. How do you want me to communicate with you? When is a good time for me to talk to you? If there's a problem, how do you want me to approach you? When it comes to goal setting what do you prefer? Where do you want me in this role as a coach?
There are different ways to approach people: friends vs first-year teachers.
Storytime: A principal approached me about coaching a teacher with a sense of urgency.
---
Find YOUR Unique Voice as a Coach!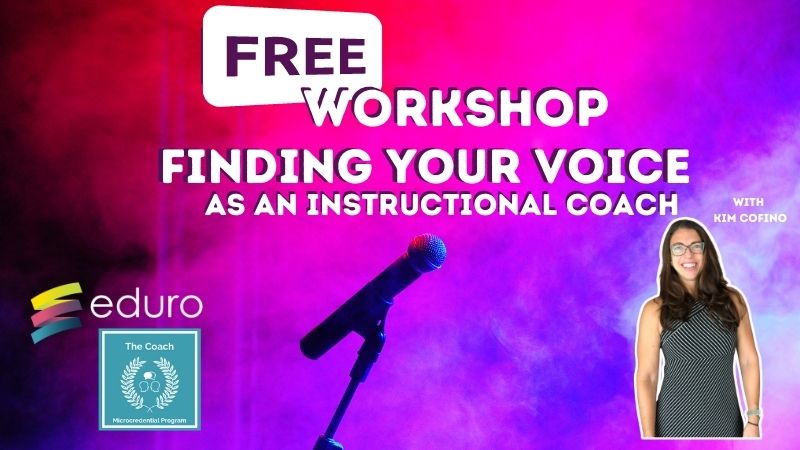 We know that coaching conversations are an art. Finding just the right questions, just the right tone, and just the right phrases for YOU as an instructional coach, that work just right with your coachees, is a special skill. When we hear highly experienced coaches having a coaching conversation, their conversational choices seem so natural and easy. That's because they have found their voice as a coach! Are you ready to find yours?
Join Kim for a free workshop, available right now, to learn the concrete strategies that I use with my private mentoring clients and inside The Coach Certificate and Mentorship program! Bonus: it's pre-recorded, so you don't have to wait to watch – and you can pause & replay whenever you need it! Are you ready to feel just as natural and confident in your coaching conversations as your coaching idols? Check out the Finding Your Voice as an Instructional Coach workshop at http://edurolearning.com/voice to get started!
---
SHOW NOTES continued…
Principals: We like to call this "coaching up" – working with your school leader to make the most out of your coaching role. So many coaches find themselves in the position of being a "coach" without their direct line supervisor directly understanding what their role is (and what it isn't). How do you help your school leader understand the role of a coach? And why is that so important?
Coach Admin partnership agreements: a tool in the back of the book. Communication, establishing what's ok what's not ok. Where you're expected to spend your time, data you will and won't share. Nailing those down really early. Advocate for that time with the administrator.
Not all admin have been trained in coaching, but they've been given the FTE. It's the coach's responsibility to educate the admin. These are high-impact practices, this is what I should be doing. Having a document to point to when you talk to your admin.
Block out time every day for professional reading so you feel prepared for these conversations.
Set a goal based on the instructional leadership team.
Coaching menu for teachers
Teams: As coaches, we often start by working with individual teachers, and when we need to transition to working with a whole team, we realize that there are different challenges (and opportunities). What have you seen as a key difference between working with teams vs individuals?
Sometimes we work with teachers who are a sheer delight, but when you get all the personalities together, dynamics change. If there's a lack of clarity around why we're meeting & what the goal is of this meeting, things can go south. Take the time to help teams structure a meeting, use protocols, to provide an equitable amount of talk time, give a focus.
Establishing the purpose, the timeline ahead of time so they know what they're getting into. What is the team accomplishing? Why are you meeting?
It's important to have fun
Building capacity
Know your people: who are your yes people? Who are the people who might be stretched?
Having a list of everyone's free period & knowing if it's ok to come during their prep. Know who you can drop in on, start a cycle, team partner with someone else
Building relationships is like putting coins in the piggy bank.
We all have those coaching moments when we reflect and say "Wow! I could have handled that differently!" Can you share a story with us that makes you say that?
Lindsay: I'm known for blowing my top a little bit
I was a coach at one of the lowest-performing schools in the state. Authoritarian principal. Felt pressure every day from him with the pressure of helping kids succeed.
What's next on your radar?
Lady Gaga piano book
Spanish
Find EduCoach Survival Guide on Twitter and Instagram
---
Level Up Your Coaching with The Coach!
If you are ready to develop your coaching practice over the next academic year, and explore topics like the coaching balance, building and sustaining coaching relationships, and enhancing professional learning, please join us for our next cohort of The Coach! Wherever you are in building a coaching culture in your school, The Coach will give you the strategies, skills and tools you need to make coaching a success and will empower you to confidently apply instructional coaching strategies in any situation – from building a coaching program, to having coaching conversations, to being a leader in your school community. We facilitate only one cohort each academic year so we can offer individualized support for each participant. Registration for our next global cohort opens on the 21st February and closes on the 14th of March.