In this #coachbetter episode Kim chats with Joellen Killion, author of Coaching Matters and so many other foundational books about instructional coaching.
This episode is a master class in successful instructional coaching: from defining your role as a coach to understanding "coaching heavy vs coaching light", to building a coaching program, to working with your school leaders, to measuring your impact as a coach. As always, Joellen is clear, articulate, thoughtful, and thorough in her responses to all our questions – there is just so much in here to digest, you're probably going to want to listen more than once. My head was buzzing with ideas for days after this conversation, you do not want to miss this one!
This conversation is a window into the learning that happens inside The Coach Certificate and Mentorship Program, because there are so many aspects of Joellen's work that we use inside the program. Wherever you are in building a coaching culture in your school, The Coach will give you the strategies, skills, and tools you need to make coaching a success. This academic-year-long online course & mentorship program will empower you to confidently apply instructional coaching strategies in any situation – from building a coaching program to being a leader in your school community. Registration for our next global cohort opens on the 21st of February and closes on the 14th of March. Find out more, and join the waiting list at edurolearning.com/coach today!
Subscribe to #coachbetter via your favorite Podcast Player!
Featured Guest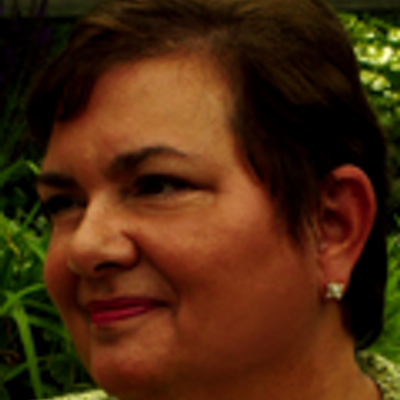 Bonus! Watch the Spotlight Version on YouTube!
---
Show Notes
Please tell us a little bit about how your work has evolved over time – this could be focused on your personal journey and also your books and the way your thinking about coaching has evolved.
Began as a teacher. Opportunity to work in admin at HS, then central office, involved in curriculum development. Transitioned from curriculum towards staff development (professional learning), focused on principal development. Evolved into coaching, helping teachers be the best they can be every day. Worked at Learning Forward for 11 years, retired as deputy executive director.
One of my biggest "aha" moments as a coach was reading your work on coaching heavy and coaching light. Can you tell us a little bit about the difference between them? Once coaches understand the difference, how do you help them make that transition? What are some strategies that work consistently? How do we manage this during remote learning when there is so much extra stress in our lives?
Background: working with a school system for over 10 years. Found that teachers were continuing to ask the same question over and over again: how do I build a relationship with the teacher I work with. They had built an assumption that it was relationships before results. I'm not sure that was an accurate assumption: Results can build relationships as relationships can build results.
Coaching light: coaching for relationships
Coaching heavy: coaching for results
When coaches saw their work only from the lens of helping teachers feel better & supported, being valued and appreciated as coaches, they can up against a wall. The wall of results. How do we get through the worry about "maybe they won't like me" if I raise the question about students not learning in their classrooms, to get to the point where we're talking about results.
It's about putting results for high quality teaching and learning in the forefront and keeping that in our view at all times, and holding ourselves accountable. All coaches, regardless of how long they've been coaching, really do want to see results, and it is through results that teachers appreciate the value of coaching and come to appreciate their coaches.
The reason we're in our positions is to produce better results for the teachers & the students.
When we get pushed into our discomfort, it's in that space that we have our greatest opportunity for learning. It's not discomfort with judgement, it's creating enough dissidence to encourage us to want to look at our practice as an opportunity for growth.
Creating a safety net to take that risk. Enough safety and sense of being supported, feeling as if I can fail here and it will be ok.
One strategy that really is helpful is to encourage our clients to articulate what they really want, and what it looks like when it's successful. Whenever we can help someone be clear about what he or she is striving to accomplish, what that person wants to gain and the indicators of what it will look like, feel like, what will I be doing, what will students be doing. All of that conversation creates the picture of what I'm striving for. That conversation builds ownership for achieving it. The coach is listening, capturing, probing and encouraging, our clients to be more thoughtful and analytic with what they want. It's in that depth & specificity that we can really help our clients.
When you get that, how will you feel? What will be the benefit for you? For your students? When we describe it in that way, we are helping our clients self-assess. To be in charge of monitoring their own progress.
If I can describe it with specificity, it is far more likely to be achieved, than if I don't have the capacity to be specific. More time on the what what what, and less time on the how. We do that backwards in schools. We spend a lot of time on the how without clarity on the what.
Another big question that comes up all the time with our coaches is: how do we measure the impact of coaching? Can you share some insights from your book: Assessing Impact: Evaluating Professional Learning
The impact of coaching ultimately rests in whether or not students are learning. If we are not seeing progress in terms of student learning, there's something not happening.
The lag indicator is whether or not we're seeing student success.
Lead indicators: if coaching is more likely to produce results for students:
Teachers reporting that they are gaining knowledge and skills and the support necessary to put those into practice
Coaches are focused on topics directly related to identifying needs for students in a school
The kind of work coaches are doing: high leverage work (coaching heavy), in classrooms working directly with teachers, meeting with teams & individual teachers to reflect on the effect of their practice
Context in which coaching is happening, culture of collaboration (side effect that also is an indicator)
To measure the effects of coaching: choose a couple of these lead indicators to focus their measurement, and then look at common assessments (not just high stake assessments), the kind of work students are doing.
What's often missing in many coaching programs is what is the overarching purpose or goal of a coaching program. If schools knew the answer to that question, there would be no question about how we measure the impact. What happens is those purposes and goals are never officially stated or held within individual people's heads without a unifier, it's impossible to know whether or not coaching is working.
The pathway through which all coaches work is the pathway of the teacher. If we have clear school-wide goals, we have clear focus and leverage points, we focus our actions on making sure every classroom is addressing those needs. What will affect student practice, why and how it will affect student practice, help teachers know how to do it with consistency and fidelity. Work with the teacher to help them approach mastery with a specific practice. As a coach, I get to spread those practices to every student in a school instead of in just one classroom.
The effectiveness of coaching is results for kids. The effectiveness of a coach is not results for kids. The person vs the action. It's critical that we separate coaching and coaches.
---
What's YOUR level of coaching mastery?
All coaches go through various stages of coaching mastery. Once you identify where you're at, you can begin to build the skills needed to move to the next stage.
This quiz is based on real-life case studies compiled from years of working with coaches inside The Coach Certificate & Mentorship Program!
When you receive your results, you'll also get your matching case study from the STRIVE Case Studies to see where you fit in the stages of coaching mastery.
Ready to tackle your challenges and move on to the next level in YOUR coaching practice?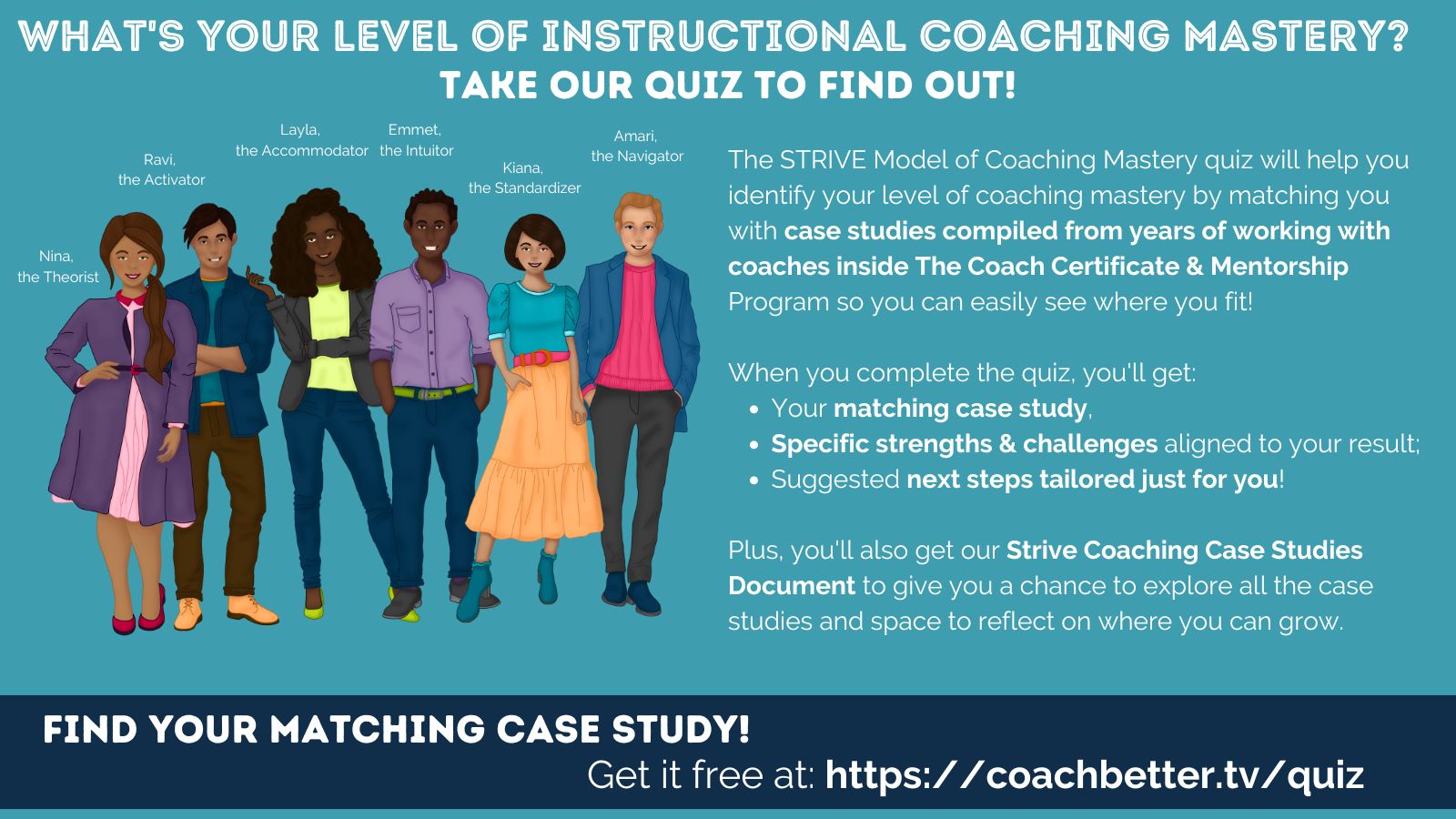 The STRIVE Model of Coaching Mastery quiz will help you identify your level of coaching mastery by matching you with case studies compiled from years of working with coaches inside The Coach Certificate & Mentorship Program so you can easily see where you fit!
When you complete the quiz, you'll get:
Your matching case study,
Specific strengths & challenges aligned to your result;
Suggested next steps for each stage;
Plus the Case Study Document includes:
Case studies leveled by coaching mastery;
A framework to identify essential stages of professional growth & key areas to focus on in your professional learning;
Alignment with the THRIVE Model for a Successful Coaching Culture;
Space for you to reflect & prioritize so you can take action immediately!
You'll go straight to the Quiz, and get the Case Study Document via email
---
Show Notes continued…
In your work with teams and schools all around the world, what makes coaching work well? What are ways that we, as coaches, can work effectively with individuals, teams and larger groups (like a division or whole school)?
Coaching Matters by Joellen Killion, Cindy Harrison, Chris Bryan & Heather Clifton
The critical questions that need to be answered before coaching begins:
What's your purpose? What's your goal? What do you hope will happen?
Define coaching. What do you mean by that? Have a common understanding
How will we hire coaches? How will we support and develop them?
Deployment: how do we decide what coaches do? (10 roles of coaching – I don't want any one coach doing all 10, based on the purpose and goal, select a few to leverage)
Train the principals: principals need to understand the purpose, the roles, how coaching is going to work, their role in supporting coaches and their role in setting the expectations for their staff in working with their coaches. If those aren't in place, there's no point in putting coaches in a school.
Scheduling coaches, where they work, how they work
Culture of coaching: what's missing in a school, what are the conditions that are present, what needs tuning up for coaching to be effective and who's responsible
Questions for evaluating coaches and evaluating coaching
For many coaches, if those pieces are missing, their work becomes so diffused, they do whatever needs to be done because they're contributors and collaborators, they're always willing, they say yes to everything. Before you know it, you see a coach doing 0 coaching and 80% secretarial support (work that could be done by others), the other portion is mini-administrator. These are capable hands willing to do anything. Before you know it, the resource of coaching is lost, yet the investment of coaching is still present without seeing the benefit.
The Coach Champion: the person in the system whose responsibility it is to make sure that what you've said the purpose of coaching is, is enacted. Who holds the system accountable to make sure that coaches are not doing things that are off focus. They're the ones who help coaches say no, they intervene when the principal oversteps. It's the coach champion who holds the torch for the fidelity of coaching, for everything we said we want to be and we're going to make sure it exists.
How do you help school leaders understand the value and purpose of coaching? Many of our listeners are in coaching positions with administration who may not have a clear vision of the role. How can they better build that understanding among school leadership?
It's very often coaches who are responsible for surfacing these questions and then facilitating their supervisors to answer these questions. It takes a willingness to be brave, to say "I'd love to have a conversation with you about your vision for the work I do as a coach, I'd love to share my vision, and for us to put that side by side and negotiate what it can be and what it should be in this school, and then set expectations for my work" If the principal needs mini-admin work, set aside time for that. Let's set some parameters, reach some agreements & then revisit those multiple times during the year with some data. The coach would need to be willing to track & come back, and reflect with the school leader. How is this working? What do we hope to gain?
It's hard for coaches to do that, yet they must. Otherwise, they're just being pulled like puppets on strings. They know in their heart they're not doing what is going to make a difference in teaching quality or student learning.
What does coaching heavy with admin look like, particularly to help shape your role, and help your admin team come to a shared understanding?
In order for coaching to have its greatest impact in this school, what do you want it to look like? Maybe I will have an opportunity to share with you, what I think it could look like. In order to do my work well, I need some parameters. Let's put some parameters around my role (percentage of time in major categories of work; do I work with ALL teachers or just some, which would you prefer). In order for me to give my attention to what's the priority, I need to know what I can come to do with, the support you can give to me, and the message you'll share with the staff about my role in the school.
How does the principal introduce the coach, introduce coaching to the staff? Set the expectations for every teacher.
The coach needs to know what the expectations are in order to do that work. When they do not, they work with teachers who volunteer, that list of teachers is limited; those teachers are often teachers who are fairly confident already; the teachers in classrooms that could benefit the most are not touched and now we have created a giant inequity in the building, but we're unwilling to say that, to call that out. That there are students in the school not getting the best instruction. And that's not ok.
Need to teach coaches to say no, in a way that helps the principal understand what isn't going to happen because I'm going to turn my attention to this. Which classrooms, which students, which teachers are not going to have the support because this is taking a priority.
Principals are dealing with an enormous set of responsibilities, and they're trying to get it handled, what they end up with is seeing the immediate field and can't see the long term. The principal isn't thinking about the 3 classrooms the coach was going to work with when they ask the coach to go test 5 kids. Sometimes we have to help the principal see what's not being done, when I'm doing this.
Joellen's goal: get in a principal's job description: How is the principal supporting and empowering the work of coaches?
---
Level Up Your Coaching with The Coach!
If you are ready to develop your coaching practice over the next academic year, and explore topics like transitioning your work from individuals to teams, please join us for our next cohort of The Coach!
Wherever you are in building a coaching culture in your school, The Coach will give you the strategies, skills and tools you need to make coaching a success and will empower you to confidently apply instructional coaching strategies in any situation – from building a coaching program, to having coaching conversations, to being a leader in your school community. We facilitate only one cohort each academic year so we can offer individualized support for each participant.
Registration for our next global cohort opens once a year – check the website for details!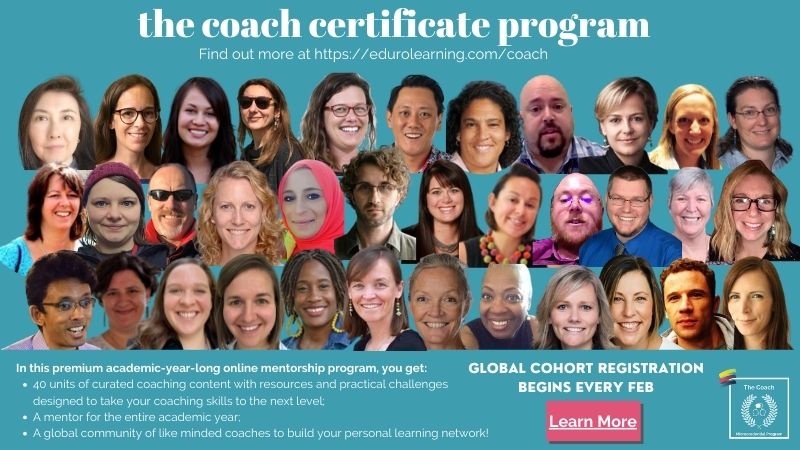 Find out more at: https://edurolearning.com/coach/