In this #coachbetter episode, Kim talks with Kristen Moreland, Instructional Coach at the Pan American School of Porto Alegre in Brazil!
Kristen has a wide range of coaching experience in several different schools and districts, so in this episode, they chat about the growth of coaching programs in international schools in the South American region, what makes coaching successful, and what professional learning for coaches should look like. For coaches that are interested in developing and building a coaching program, this episode is for you!.
This conversation is a window into the learning that happens inside The Coach Certificate and Mentorship Program. Wherever you are in building a coaching culture in your school, The Coach will give you the strategies, skills, and tools you need to make coaching a success. This academic-year-long online course & mentorship program will empower you to confidently apply instructional coaching strategies in any situation – from building a coaching program to being a leader in your school community. Registration for our next global just closed, but we have a self-paced option you can start immediately! Find out more at edurolearning.com/coach today!
Subscribe to #coachbetter via your favorite Podcast Player!
Featured Guest
Bonus! Watch the Spotlight Version on YouTube!
Show Notes
Tell us about your journey into coaching… how did you get to where you're at today?
MS Language arts teacher for 15 years. In year 13, the school I was at piloted a new reading comp program. Because it came from the university, there was a group of coaches who presented. I was assigned a coach. At this point in my career, the only people who had been in my room were evaluators. I politely blew her off a lot. Didn't want to admit that I was terrified of having someone come in and sit in the back of the room and what I thought, judge me. When she came in, I was terrified the whole time. She started saying back to me all the instructional moves that I was doing. It was pointing out the things I was doing, and all of a sudden I wanted to hear more. The validation that I had never really had, and she ended with a bit of a question that was super approachable.
Then I was angry, I'm in my 13th year of teaching, why didn't I have this from the beginning, when I was crying every day. It changed my entire practice. After that, I became a district coach. I started my international experience as a Peace Core volunteer in Cameroon, Istanbul, Brazil
Connecting to the human. Validating the person. All the work that goes into just showing up.
Having been in so many different regions in the world, tell us a little bit about the coaching culture in South American international schools. Overall, where are schools at? How are they growing?
This district-level experience was so powerful, we were a team of about 70. We wanted to move to SA because of proximity to the US, and then learn Spanish. Trying to find a full-time coaching position was really challenging. My position was new my first year. When I started recruiting, I started looking to see where the coaches were, and there just weren't many positions.
Wanted to connect and bring people together, started with a weekly blog post. Lots more of the virtual connections.
What are you most excited about in terms of coaching in your school / region?
2 coaches before me were here for 3 years. People feel very safe and open to coaching, people seek coaching out. I walked into a role that was quite well established. People already had a good understanding of what coaches do.
Program is growing, first with the inclusion of a teacher leader. School is so small, no department heads. People needed opportunities for professional growth. One teacher leader is working with 3 different teachers. Honing the craft of coaching. Teaching is the most important work, so coaches that can help teachers be great at what they're doing is the greatest gift.
Leadership coaching. Helping leaders recognize where they want to grow.
Having a formal application process & training for mentors is a good idea. More traditional administration is not everybodys path, so for people who love what they're doing with kids, but also want to grow and offer more, this is a perfect opportunity to make an impact.
What makes coaching work – in your school, your experience?
It all starts with relationships. Teaching is so complicated, people pour their hearts and soul into teaching. Having a relationship with someone who sees the work that you're doing, values that work, and wants to support you in taking the next step for you.
Can't be about changing everyone's practice at once, en mass.
Going out of your way to say hello, pop into someone's classroom, letting people know that they're seen. Connecting to something they have shared / done in their classroom. Honoring the space that you have without coming in with a big idea.
---
Is it time to reflect on your coaching program?
As you read through Laura's insight & advice, where do you think your program is thriving, and where might it be struggling? If now is the time for you to think how you can begin the process to ensure coaching is successful in your school environment, you might like our brand new free download: Coaching Program Evaluation!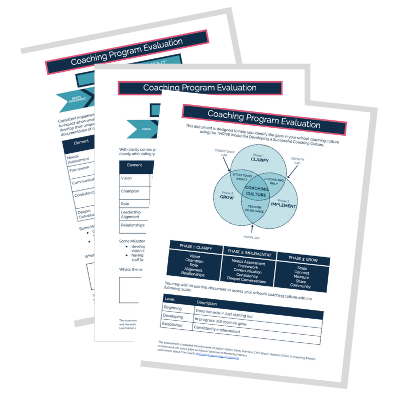 You'll walk through all of the steps in the THRIVE model to determine where your current program needs attention – and where you're already strong. You'll have a clear understanding of the gaps that you need to address in your program. You can even dig deeper into the evaluation process with our upcoming LIVE webinar: 3 Steps to Create a Thriving Coaching Culture All Coaches Need to Know!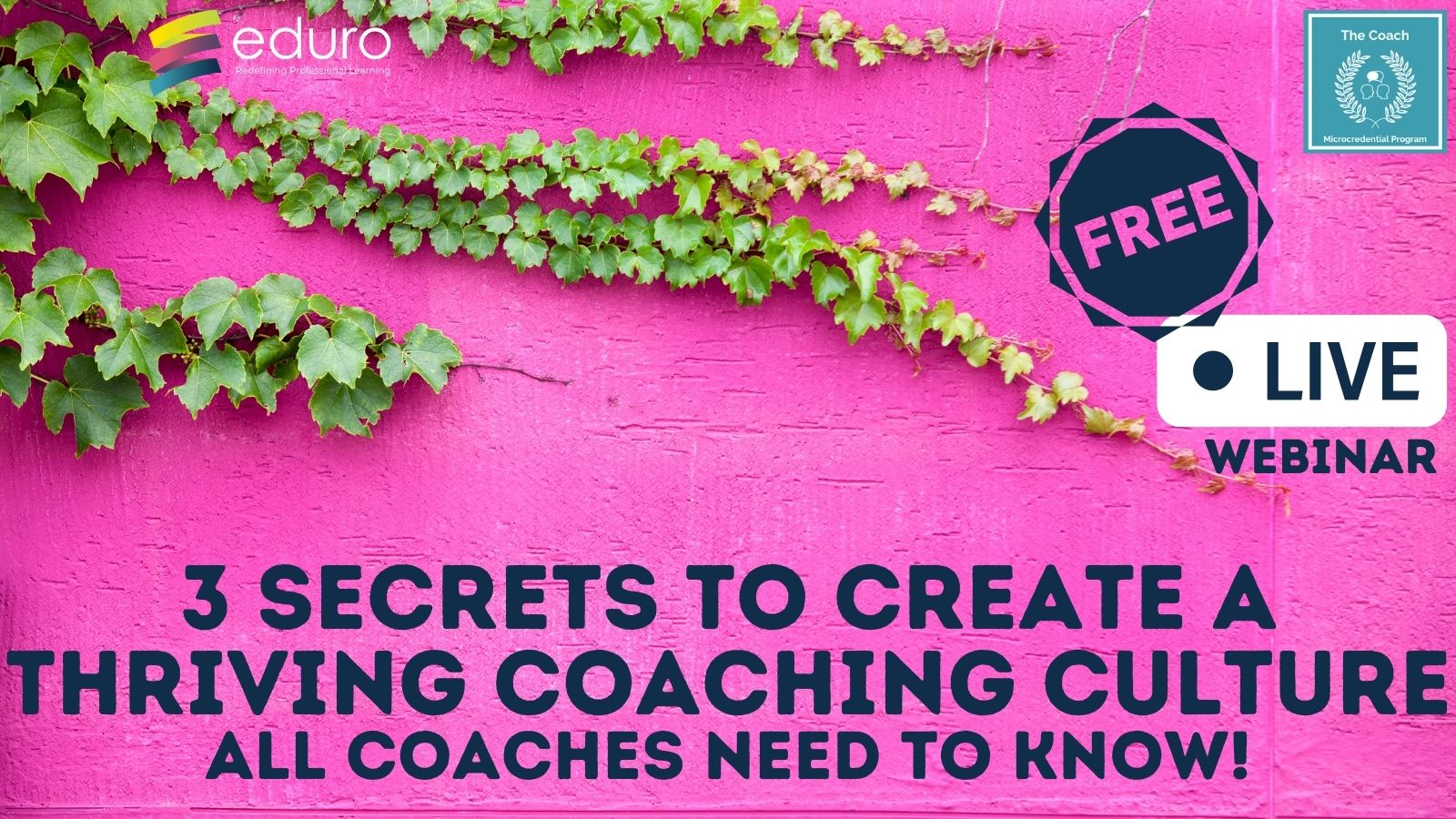 Webinar Description: Are you struggling to build a coaching culture in your school setting? Are you frustrated by teacher reluctance or lack of leadership? Do you feel like something is missing to make coaching work? There are 3 key elements necessary to create a thriving coaching culture in all school settings. But, the reality is that most schools are missing one – and they don't even realize it! In this workshop, you'll learn exactly what's needed to create a thriving coaching culture AND get the tools to identify the gaps in your coaching program so you can take action immediately! Are you ready to create a thriving coaching culture in your school this year?
---
Show Notes continued…
In The Coach microcredential program, we talk a lot about the difference between consulting, collaborating, and coaching; where would you say you find coaches get "stuck" and how do you help them recognize that and move forward?
The consultancy comes from a really good place. Can easily become about the coach, and less about the coachee, but it's not really serving anyone else. Reminders before a coaching session: "tell me more" – to resist the urge to jump in and offer my own idea. Needs to be about the coachee and not what I'm thinking. A visual reminder to say "tell me more" or "and what else" are good reminders to not consult and continue to coach.
Have questions in your back pocket. Questions can reframe the conversation. When you feel like you want to give your own idea, paraphrase, pause, and ask a question. As you're thinking about the coaching conversation, script the questions so that you don't fall into the consulting mode.
What should / does professional learning for coaches look like?
Ongoing and sustained. Whatever we can get. Having the space where coaches can come together with a little bit of content, let's talk about it, what does this look like in your own role, and then practice. Having the time to practice. Intentional progression in owning the learning.
Sometimes there's so much to do in our days, so how do we ensure we're being intentional in our work so that every conversation is an opportunity to grow.
What are you learning about now? What's on your radar?
Book club for coaches – Brene Brown – how her work is impacting our work as coaches. To be able to talk about it with someone just adds another level
I like to read a lot about strategy: Be 2.0 Beyond Entrepreneurship JIm Collins
Adult Development Theory (Robert Kegen), Jennifer Garvey Berger Unlocking Leadership Mindtraps, self-transforming adults
---
Level Up Your Coaching with The Coach!
If you are ready to develop your coaching practice over the next academic year, and explore topics like transitioning your work from individuals to teams, please join us for our next cohort of The Coach!
Wherever you are in building a coaching culture in your school, The Coach will give you the strategies, skills and tools you need to make coaching a success and will empower you to confidently apply instructional coaching strategies in any situation – from building a coaching program, to having coaching conversations, to being a leader in your school community. We facilitate only one cohort each academic year so we can offer individualized support for each participant.
Registration for our next global cohort opens on the 21st of February and closes on the 14th of March.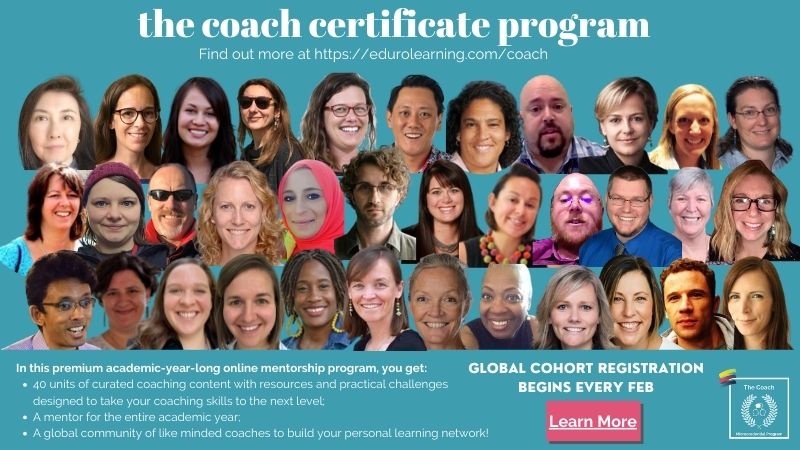 Find out more at: https://edurolearning.com/coach/