In this #coachbetter episode, Kim talks with Jen Ricks, Director of Learning at the American Community School in Abu Dhabi!
Jen has had a wide variety of experiences in leadership and curriculum development positions in schools and districts around the world. In this episode we're talking about how coaches and educational leaders can build a successful coaching program, starting with recognizing where the school is right now, what's needed for coaching to be successful, the value of coaching for all educators, and what coaching looks like at ACS. Coaches or learning leaders who are ready to build a coaching culture, this episode is for you!
Subscribe to #coachbetter via your favorite Podcast Player!
Featured Guest
Bonus! Watch the Spotlight Version on YouTube!
Show Notes
Background
Started as a highs school social studies teacher, realized that most of the impact I was having was outside the classroom. Moved into different roles: building leader, district leader, working for the state. Social Studies consultant for the State of NC. Moved into coaching, even though I'm an introvert. Then moved to ISBeijing. Came to ASC 5 years ago.
When you think of your work over time, when and how did it look when you were able to clearly define your vision or your goals? How have you continued to refine your work, your vision, your communication over time?
Compass Points: I'm a "north" and because of different roles and jobs I have to be a little more of the other compass points. Who you are across those compass points defines you.
Recognizing where the school is, being able to bring in foundational work, so we can build coaching program to set folks up for success. In your heart of heart , you know there are things you have to shift on, but you can't shift on the things that would make you a different person inside.
Tell us about how you're creating a learning-focused school culture at ACS? What did you see as foundational elements that needed to be in place before you hired a coaching team?
The school had done some work around Professional Learning Communities, but we didn't have collaborative planning time in all divisions (logistical barrier).
There were people in the mix who would be advocates later.
Didn't have the time built into the day
Didn't have a documented curriculum
Office was tiny (1.5 people, now we have 10-12), not a capacity to lead the work (no one who was a trained and highly skilled facilitator)
I wanted to come in with a cadre of coaches, but after a lot of back and forth, I recruited for 2 Curriculum Coordinators so we could do programmatic work.
Began to model it ourselves
You're making progress if people feel valued, kids are making progress, the work feels meaningful. It all starts with relationships
What's your coaching model?
6 coaches
Brought in an outside facilitator to discuss where coaching would sit. We didn't even have agreements about where they would sit, and who they would report to. What does the coaching model look like?
K12 coaches, program specific: math, literacy, performance (arts/pe), stem
Bringing in only ES coaches: voice & choice for kids is the focus with a documented curriculum, shifts were instructional (not curricular), we needed 2 coaches spread through the grade levels, swapped coordinator for coaching for someone who can do both
Only someone who was an experienced coach could be successful (2 ES coaches: KG-1, 2-4, Innovation Coach for K12 also does G5)
---
---
What's YOUR level of coaching mastery?
All coaches go through various stages of coaching mastery. Once you identify where you're at, you can begin to build the skills needed to move to the next stage.
This quiz is based on real-life case studies compiled from years of working with coaches inside The Coach Certificate & Mentorship Program!
When you receive your results, you'll also get your matching case study from the STRIVE Case Studies to see where you fit in the stages of coaching mastery.
Ready to tackle your challenges and move on to the next level in YOUR coaching practice?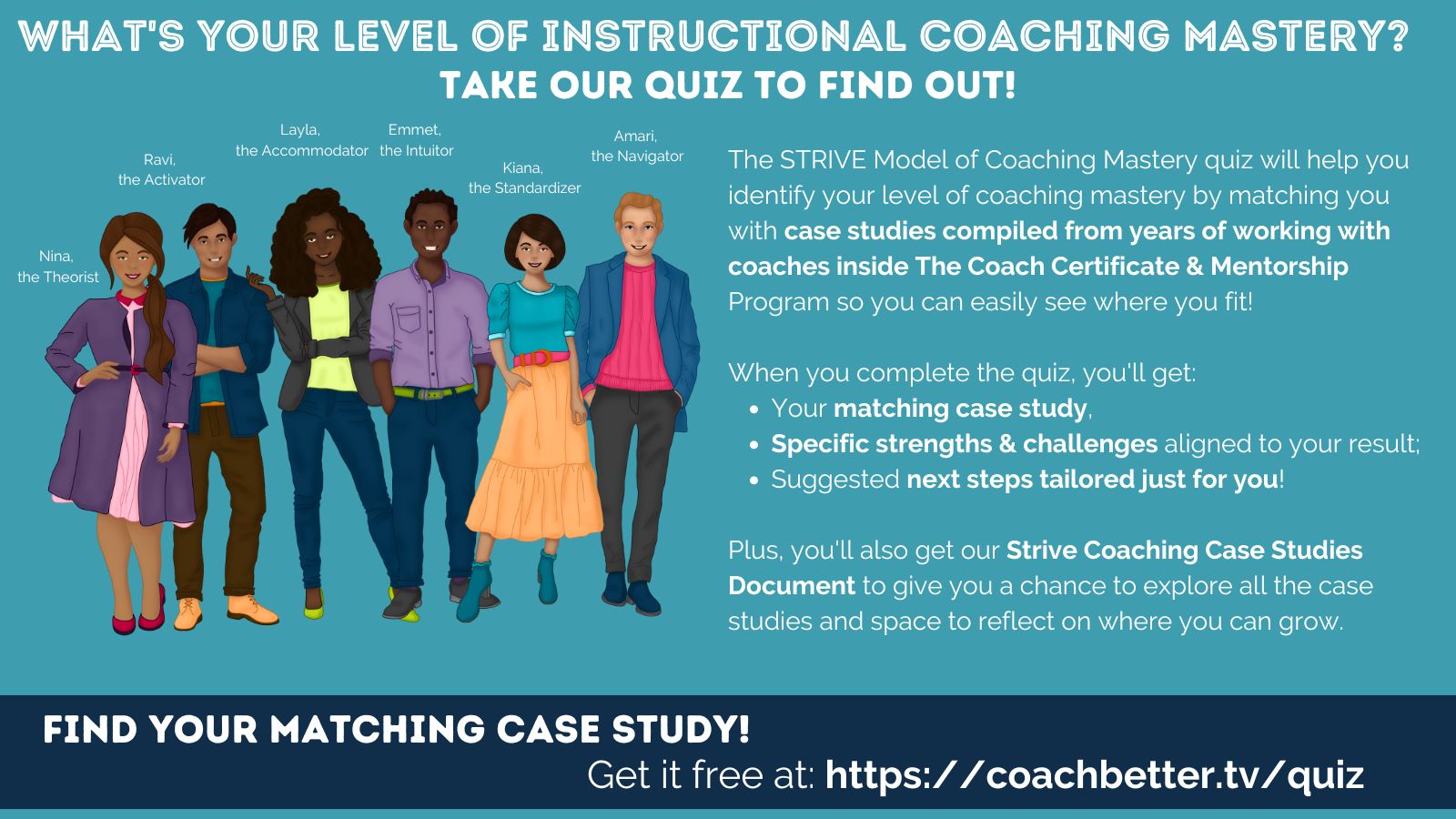 The STRIVE Model of Coaching Mastery quiz will help you identify your level of coaching mastery by matching you with case studies compiled from years of working with coaches inside The Coach Certificate & Mentorship Program so you can easily see where you fit!
When you complete the quiz, you'll get:
Your matching case study,
Specific strengths & challenges aligned to your result;
Suggested next steps for each stage;
Plus the Case Study Document includes:
Case studies leveled by coaching mastery;
A framework to identify essential stages of professional growth & key areas to focus on in your professional learning;
Alignment with the THRIVE Model for a Successful Coaching Culture;
Space for you to reflect & prioritize so you can take action immediately!
You'll go straight to the Quiz, and get the Case Study Document via email.
---
---
Show Notes continued…
Two new coaches, ES Principal, AP and Innovation Coach and I are doing a Jim Knight course together, important to do the 16 week course together for a grounding experience. To ground ourselves in our beliefs about coaching.
Moving to a new professional growth model that embeds many facets of coaching. Launching CFG. Feels like the perfect storm.
How does ACS use the Adaptive Schools model and/or cognitive coaching?
Trained the entire leadership team, learning leaders (dept chairs, grade level leaders) mid-level leaders (counselors) on Adaptive Schools, trying to embed little pieces of Cognitive Coaches in.
Any agenda that happens on this campus follows a agenda template (norms of collaboration at the top, intention for each agenda item). If they don't know Adaptive Schools, at least they know the Norms of Collaboration
Standardized job descriptions for educators who have the same job title. Jobs are on a 2 year review cycle, get re-interviewed every 2 years. 1:1 coaching session with a leadership partner (the person who works most closely with them focused on their work as a leader, not curriculum).
Learning Leader 22-person team practices the work as a cohort (planning, paraphrasing, pausing), so they feel like a team
I know you're interested in developing coaching skills and coaching in your school. Why is coaching so important in international schools today? How do you use coaching skills in your leadership practice?
The common view in education is that you must be "bad" if you need a coach, but when we think about elite athletes & high level executives (for example), they have coaches, that's the norm and we expect that. We should expect the same as educators.
The Board needs to understand why coaching is so important – they are the ones who decide on the position. Need to help them see the value of support for teachers. Everybody deserves a coach, someone to engage thoughtfully around their practice.
The time to sit down and think about what you're doing, to have those reflective conversations is so important. It needs to be normalized in schools. Teachers should want a coach.
Modeling that I'm asking for coaching conversations and then be explicit about how you're coaching them (especially if they don't realize they're being coached).
Opportunities to experience coaching with some of us, and some consultants. We've been doing it without naming it.
How does it just become a part of what we do? Professional Growth Model: come up with a goal + 3 opportunities (peer observation, CFG, PLC), in each of those there's elements of coaching. People are becoming exposed to it in ways that feels invitational and so that it doesn't feel liek a deficit.
In your leadership work, you talk a lot about being a learning leader. How do you & why do you think it's so important to demonstrate growth mindedness as a leader?
Anytime you're getting comfortable, switch it up. You're not growing if you're comfortable.
Interesting conversations about resiliency, do we need to be celebrating resiliency?
We want to try new things, we need to try new things. At the same time, do we have to try new things?
On a personal level, as a leader, or an educator, what's your uniquely endearing trait – that others recognize as making you special?
I'm all or nothing: super go, high energy, you can always depend on me. My energy level is high.
---
---
Level Up Your Coaching with The Coach!
If you are ready to dive deep into your coaching practice, to help you #coachbetter and build a thriving coaching culture in your school, please join us for our next cohort of The Coach!
Wherever you are in building a coaching culture in your school, The Coach will give you the strategies, skills and tools you need to make coaching a success and will empower you to confidently apply instructional coaching strategies in any situation – from building a coaching program, to having coaching conversations, to being a leader in your school community. We facilitate only one cohort each academic year so we can offer individualized support for each participant.
Coaches of all levels are welcome: you'll start the program with a self-assessment to determine exactly what the next steps are for you!
Registration for our next global cohort opens once a year – check the website for details!