In this #coachbetter episode, Clint & Kim chat with Becky Green, Associate Director of Professional Learning at Global Online Academy!
Becky has been working with GOA almost since the very beginning of the organization, and prior to that in public and international schools for many years – which is where we crossed paths! This conversation is absolutely essential for all educators because it helps clarify why we need to engage in online learning experiences for ourselves, what makes them relevant and engaging for students, and how we can build equity and empathy in our digital and physical classrooms by better understanding what online learning has to offer.
Subscribe to #coachbetter via your favorite Podcast Player!
Featured Guest
Bonus! Watch the Spotlight Version on YouTube!
SHOW NOTES
Please tell us about your work & your journey to get to this point in your career (as an introduction to you)
I have a colleague who says "Everything he learned, he learned from the classroom." In schools you get so many opportunities to lead…
Started in WA, then went international. "The classroom is next to me". I feel blessed to work alongside so many excellent educators. Started teaching for GOA (Global Online Academy) while I was in my classroom in SG, which led to raising my hand for many things, led to coaching with GOA. Getting to be part of a mission-focused organization.
What led you "raise your hand"?
So many students are facing this same issue. One thing that was incredibly helpful for me, was believing in the work that GOA was doing. I saw that it was transforming kids' lives, how to build community online was impacting my students in person. I was so excited about it that I was willing to take a risk of a skill gap. They supported their faculty with instructional coaching in a way that really supported me. Put in a context that made it safe for me to raise my hand.
Something I've struggled with, "I don't have the skills for this": "If you have the interest, you'll figure out the skills, so you need to take the risks that are bringing you joy."
This instructional coaching was "on another level" – tell us about that…
The first year teaching online was a big learning curve. Whether or not you feel on top of your game teaching in person, I felt like the rug was pulled out from under me.
You're put in a position of vulnerability, there's a spirit cultivated of "please ask the question" or "nobody knows exactly how this works". It's a new thing that we're all trying out together. To have a humbling experience as an adult, when you're well into your career, is very eye-opening.
Coaching was relationships first. How can we get to know these people and cultivate relationships?
What are the new experiences we can leverage, as coaches, to build that feeling of "figuring it out together?"
There was a framework. What is the starting point, what is the checklist, what is the best practice?
When you hear the phrase, from defining to refining, what does that make you think / how does that connect to your work? (When you think of your work over time, when and how did it look when you were able to clearly define your vision or your goals? How have you continued to refine your work, your vision, your communication over time?)
Tell us a little about your job
Mostly working with member schools & other schools who chose to participate in our PL.
---
---
What's YOUR level of coaching mastery?
All coaches go through various stages of coaching mastery. Once you identify where you're at, you can begin to build the skills needed to move to the next stage.
This quiz is based on real-life case studies compiled from years of working with coaches inside The Coach Certificate & Mentorship Program!
When you receive your results, you'll also get your matching case study from the STRIVE Case Studies to see where you fit in the stages of coaching mastery.
Ready to tackle your challenges and move on to the next level in YOUR coaching practice?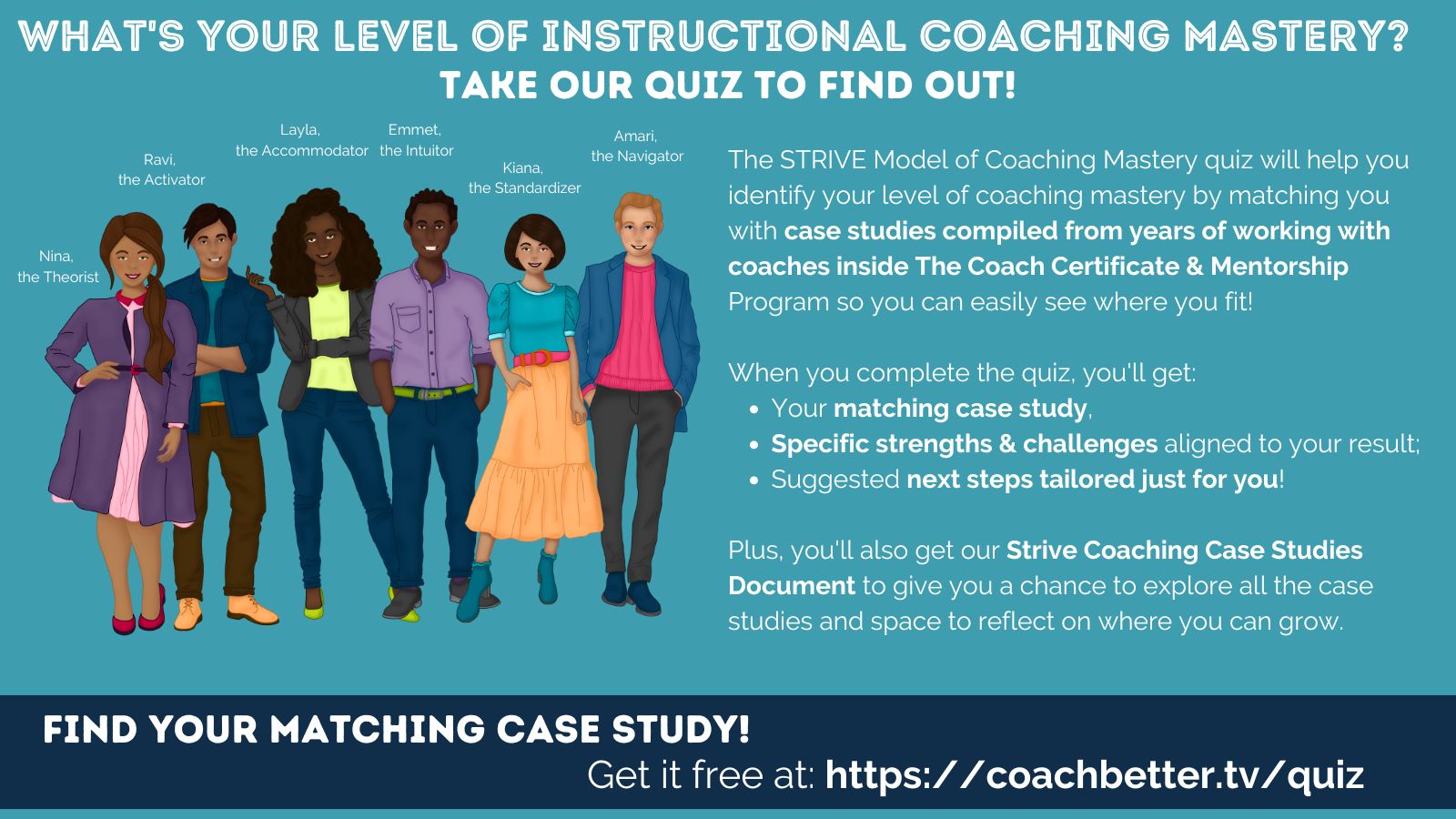 The STRIVE Model of Coaching Mastery quiz will help you identify your level of coaching mastery by matching you with case studies compiled from years of working with coaches inside The Coach Certificate & Mentorship Program so you can easily see where you fit!
When you complete the quiz, you'll get:
Your matching case study,
Specific strengths & challenges aligned to your result;
Suggested next steps for each stage;
Plus the Case Study Document includes:
Case studies leveled by coaching mastery;
A framework to identify essential stages of professional growth & key areas to focus on in your professional learning;
Alignment with the THRIVE Model for a Successful Coaching Culture;
Space for you to reflect & prioritize so you can take action immediately!
You'll go straight to the Quiz, and get the Case Study Document via email.
---
---
Show Notes continued…
What does excellent remote professional learning look like?
What works in in-person training also works in remote. How can we move from theory to practice as quickly as possible? Well-curated resources, how are we doing the lifting for teachers, lessoning the cognitive load, creating an experience that's easy to follow. Mirroring what should be happening for the classroom. Prioritization of good design has us thinking about access, so people can easily log into a space and get started. We need to harness what's special about online, which is being part of a global community. How can professional learning harness the voices and elevate their work. One of the shifts / challenges with online learning now is how can we offer action-based practical experiences that are highly relational and building cohorts and communities.
KIM: When you're building intentionally with remote experiences or online experiences in mind, you have to, or you have the benefit or pleasure or, advantage of taking in that uniqueness of online learning, which is getting connected globally. In all three of our certificate programs, the core of the program is the global cohort. It's the personal connections between the people, starting and being together for a period of time, feeling like you're building a community, you're connecting with these people that you have beyond just the scope of the course.
Sometimes it's hard to articulate the value of community in online spaces because we're so used to it being either self paced or teacher directed (for example: you come to this course at my time and you listened to me and maybe you get to ask a question) because that's usually what happens in online learning as we know it.
But when you're building these really relational environments, these really community driven environments, which is what's happening in my programs, you build this interconnected network of people on a global scale. It's that personal piece that takes away the frustration of being behind a screen, like the frustration of being behind a screen, it humanizes the experience.
When you're doing meaningful work with others, you start to connect and grow, and you can bring that work back to your school community. When you create true communities of feedback and authentic collaborative processes in professional learning, you can bring that back to your classroom.
Similar to in teaching in classrooms, when you're doing meaningful work with some, like in my classroom, when my students are doing something, they are really excited about their relationships are growing. Like that just happens at work, right Who you're doing your meaningful work with, you start to connect and you grow. And so how can we also focus then that professional learning and those cohort conversations on the work, like how can we elevate the work people are doing and create true communities of feedback and model those authentic collaborative processes that we hope for our students, between adults.
Challenge of showing how that has direct value. When you're doing meaningful work, you start to connect and grow. Create true communities of feedback and model authentic collaborative work.
How does this translate to hybrid learning
I have the chance to intentionally design an online course, which is a very different experience to responding to changes all the time.
A simple fix is having a clear priority, for example: "relationships before tasks".
Taking online structures for communication that we can put in place all year, to give students more access to communicate.
Put those structures in place in a very visible way, so your space is no longer "time bound".
Why is it important for educators to engage in online PD? (or is it?)
It's an empathy exercise for educators. Especially if they're not comfortable with online to experience an online learning situation. Do that with the lens of how does it feel to be a student in this moment. What does it even feel like to participate in the chat? What does it even feel like to get on zoom with these strangers? I feel like all of that is just so important for us to experience those stretches of our own comfort zones.
What are the pieces that are enduring, that regardless of what happens in the world, will we bring back to the classroom because it's part of designing for equity? It's part of designing for access. It's part of equipping students with relevant skills that they're going to use for the rest of their lives. Some say "online learning isn't for everyone." But if we switch that mindset around: Is this "online learning", or is this designing for access and equity? Is this designing for everyone to have a seat at the table? Online learning is not just staring at a screen. This is a way that you are providing equitable access to the learning that happens in your classroom. It's not online learning, it's equitable learning.
Note everything is for everybody.
But then going to someone else's space is a completely different experience. And it's the same as a body walking into a classroom. Obviously, if you are the teacher of the classroom, you're going to feel comfortable there because it's your classroom. But I think there is really something about this. If we're not looking at it as a temporary, like Clint was asking before, like going back and forth between the hybrid and the face-to-face. But actually, this is a way that you are providing equitable access to the learning that happens in your classroom. It's not online learning, it's equitable learning like boom, right. There is a reason for people to maybe see this as a positive way forward instead of a stopgap, dealing with our current kind of state of affairs. I think that was just gold.
What should educators look for when they're choosing remote PD?
We all need to be pushing ourselves out of our comfort zones. Not a one-size fits all. Is that experience student-centered and focused on enduring practices, skills that are rooted:
Immediate transfer to your classroom,
Competency-based learning – authentic demonstration of learning
Global and networked
Feedback on the work
Focused on the work – talking about what they're putting into practice
What is best for you as a learner (based on your needs for the time)
How does this empower me to lead others learning – sign up with someone else! This gives you something to bring back to schools, build capacity in you to build this in your community
What elements can be applied in classrooms for students?
When we think about what *might* be happening in classrooms right now (which I would call emergency remote instruction), how is that different from effective online learning?
Even if it's not working, folks are trying so much.
For the emergency situation, you just can't do it all. You don't have as many informal conversations with students. You have to have absolute clarity, that if we were to trim everything, these are the things we care about.
Every single thing that a student does creates an artifact and you don't have those systems in place to manage all of that.
Engagement & students showing up
Starting the semester, in GOA, we devote time to get to know our LMS, each other, cultivating belonging. We do that in our brick-and-mortar structures
Clint: Everyone who's been teaching for the last few years, has had those experiences knows that we need those skills. How do we make the intentionality of your skills, your environment, your artifacts part of your practice and part of how school works – now that we're 3 years into the pandemic? It's refining that practice of what we've historically done as educators. When you replace "online learning" with "equitable learning", why isn't this part of our everyday practice?
Harvard Course from Clint: https://www.gse.harvard.edu/ppe/program/universal-design-learning-explore
What can coaches & leaders do to support teachers in designing effective online learning?
Defining those starting points. Clarity is a kindness. Providing a structure that works, so teachers can give their trust to the process. Clear the clutter.
The more programming we're offering for leaders, the more impact that's having.
On a personal level, as a leader, or an educator, what's your uniquely endearing trait – that think of when they think of you?
I'm a post-party apologizer, I'm going to leave this conversation and send a message about what I "should have done". I think slowly and then realize what I wanted to say much later.
Where can people find you online?
https://twitter.com/onegreenbee
GOA becky.green@globalonlineacademy.org
---
---
Level Up Your Coaching with The Coach!
If you are ready to dive deep into your coaching practice, to help you #coachbetter and build a thriving coaching culture in your school, please join us for our next cohort of The Coach!
Wherever you are in building a coaching culture in your school, The Coach will give you the strategies, skills and tools you need to make coaching a success and will empower you to confidently apply instructional coaching strategies in any situation – from building a coaching program, to having coaching conversations, to being a leader in your school community. We facilitate only one cohort each academic year so we can offer individualized support for each participant.
Coaches of all levels are welcome: you'll start the program with a self-assessment to determine exactly what the next steps are for you!
Registration for our next global cohort opens once a year – check the website for details!