In this #coachbetter episode, Kim talks with Ange Molony, Secondary School Vice Principal at Discovery College in Hong Kong! Ange has been teaching internationally since 2003, starting in Bangkok, moving to Brazil, then Brussels, and now Hong Kong. She stepped into leadership early in her career, and then after graduating from COETAIL, she started coaching, and later bringing her coaching experience to additional leadership roles. This conversation focuses on how she found her voice as a leader, how we can recognize and support women leaders, how we can advocate for equity in our schools, and what it's been like leading through crisis. If you're curious about growing your leadership, this episode is for you!
Subscribe to #coachbetter via your favorite Podcast Player!
Featured Guest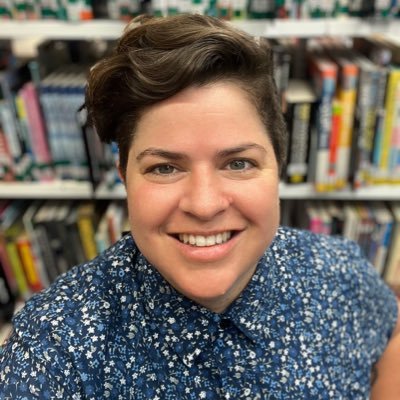 Bonus! Watch the Spotlight Version on YouTube!
SHOW NOTES
Please tell us about your work & your journey to get to this point in your career (as an introduction to you)
Have always been teaching internationally. Taught in London & discovered international teaching. Teaching abroad since 2003. Started in BKK. Maths teacher, started at KIS, got my foot in the leadership door early there. CAS Coordinator. Moved to Brazil, Brussels & then HK. After COETAIL is when I started doing tech coaching.
Tell us about finding your voice as a leader…
I was lucky to have someone who saw leadership in me, before I saw it in myself. It wasn't even on my radar at first. Started with HOD at Graded.
Small, middle leadership position, sideways step into coaching & curriculum coordination. On the interview panel for incoming VP – another way to recognize how you might fit in as a leader. As they were asking the questions, I started realizing I could do that.
It always seemed like there was a pathway, and it wasn't my turn yet. It's not a linear pathway.
Tapped on shoulder, put my hand up, sat on interview panels & realized that I was passionate about all of those things. Thought that I needed a masters already.
What were the things on the interview panel that sparked your interest?
I like to build relationships, so I knew what was going on in different areas of the school. Knowing what's going on around you was really beneficial. Instead of being focused on "what I would do", i could talk about my conversations with others.
Being student-centered, not settling. Not satisfied – nothing gets me fired up more than someone saying: "it's just always been that way"
The door that got me from middle leader to formal leader into something that had a much wider influence was instructional coaching. While it started by leaning on my strength of tech, the school asked me to broaden it. It was those conversations and that ability to move seamlessly between conversations might be the right word. The ability to move between departments or grade levels, and you realize, "oh, I need to talk to all different types of people at all different divisional levels of the school in all different capacities of the school." It's another lens that is unique to coaching and then formal leadership, because obviously as a leader you have to talk to everybody in every subject area, you have to liaise with your colleagues at different divisional levels.
Recognizing and Supporting women leaders
I look at a job description and think, I don't have those last 2, so I'll wait. Male colleagues don't think the same thing.
How do I encourage and remind the women that I work with that they can do this? Look at resumes & cover letters for aspiring leaders, encourage them to apply.
Apply early so it's not so scary. Apply for internal opportunities – and talk to the leaders at your school, if they say "not likely" get on the interview panel
Follow up if you didn't get the job and be really specific about why you didn't get this job. What questions could I have done better? In what ways wasn't I prepared?
Advocating for equity in schools – as leaders, and as teachers or coaches / influential leaders,
Has become more at the forefront of my thoughts, in order to find the right place for me and my wife. During interview process, there were times when I felt like I had to emphasize parts of myself that I didn't
When I was authentic to myself, I felt much better about the interview.
If you are applying, tell stories. Don't quote "edubabble" Tell me a story about a student you connected with, or a unit that went very well. That's what makes your interview a conversation.
Not hiding that I'm working to be an anti-racist educator
Int'l schools are systems of white supremacy
In the interview process, if you are lucky and fortunate enough that you can be honest and transparent with who you are and what it is that you bring, do that.
I represent a queer educator / queer leader, my wife works at the same colleagues know
Empathy can be a first step
Came to this school with a gendered dress code for teachers
If you hire diverse people, they're going to see things that you wouldn't see. No offense to the leaders that were there before, they just never experienced it.
---
Ready to begin YOUR leadership journey?
Want a preview to Women Who Lead?
Curious about the 70+ women featured in the Certificate Program? Try this FREE sample week to see what learning is like in the program AND meet all of our Women Who Lead.
Meet all of our Women Who Lead in this FREE sample week of the Certificate Program!
In this FREE sample week, you'll…
get to see what learning is like inside Women Who Lead.
meet all of our Women Who Lead and hear about their individual leadership journeys.
recognize where YOU are in your unique pathway to leadership.
---
Show Notes continued…
Have the confidence to have the hard conversations with the leadership team. In recruiting, you're actively checking your bias and you're getting other people to be part of that. On the leadership panel, who is sitting next to you. Make sure you have different people on the panel (students, teachers, counselors interviewing new teachers). If you have diverse people hired in, and you only have white cis people interviewing, you have that bias
In the recruiting process, make sure you have different people, as much as you can on the panel: students, teachers, counselors, as many different people as you can interviewing new teachers, because you may have done everything you can to get diverse teachers an interview to come to your school but if you then only have white CIS straight people interviewing you can't remove that bias, so you kind of opened the door, but you closed it already.
We need more diversity on our leadership team. but that's, that can be really, really hard because of your own, your own bias when you're having these conversations with people. And you're looking at the experiences they had in the schools that they've had, and not to mention the, the hurdles that you then might face in terms of visas and things that are a little bit outside of your control.
Be true to who I am. Continue to speak up. Dress the way I want to dress. Talk about my family the way that my straight colleagues might talk about their family. Speak out when I see or hear things, and keep raising it. That can be challenging, because people start with the eye rolls, and say "not everything is…"
Leading through crisis (Groundhog Day)
We just went through 2020 again, a few months ago (in 2022).
Early on, aside from the international travel lockdown, not being able to leave HK, the city was quite open. Felt like others were living in an alternate reality.
We can do hard things. We are far more flexible and resilient than we give ourselves credit for.
Looking at timetable / schedule. Tried to do this when I first got to HK. We had 20 variations of the timetable over 2 years, which helped us realize that we can do hard things.
The importance of communication. More face-to-face conversations. When you can have F2F conversations, have them. Not having that for so long has reminded me how much easier it is.
On a personal level, as a leader, or an educator, what's your uniquely endearing trait – that people think of when they think of you?
I try to see the humor and the light in all situations. I get really worried if a place is not fun. When was the last time you laughed. When was the last time you had a conversation that was not stressful with anyone at school. How do I say the unexpected thing, so I don't get in trouble. Try to be unexpected in a fun way.
---
Level Up Your Leadership With Women Who Lead
As coaches, we are so fortunate to have so many opportunities to demonstrate "little L" leadership. If you're feeling like now is the time for you to jump into a formal leadership position. Women Who Lead is the program for you! Women Who Lead is an online certificate program designed for growing and aspiring leaders, featuring the voices and experiences of over 70 successful female leaders from around the world.
Women Who Lead will empower you to articulate your leadership potential so you can overcome the many challenges faced by women seeking leadership positions in the field of education.
We facilitate only one global cohort each year, so we can create connected, collaborative, and community-driven global cohorts. Now is your chance to level up your leadership and reach for your dream job!
Find out more here: https://edurolearning.com/women/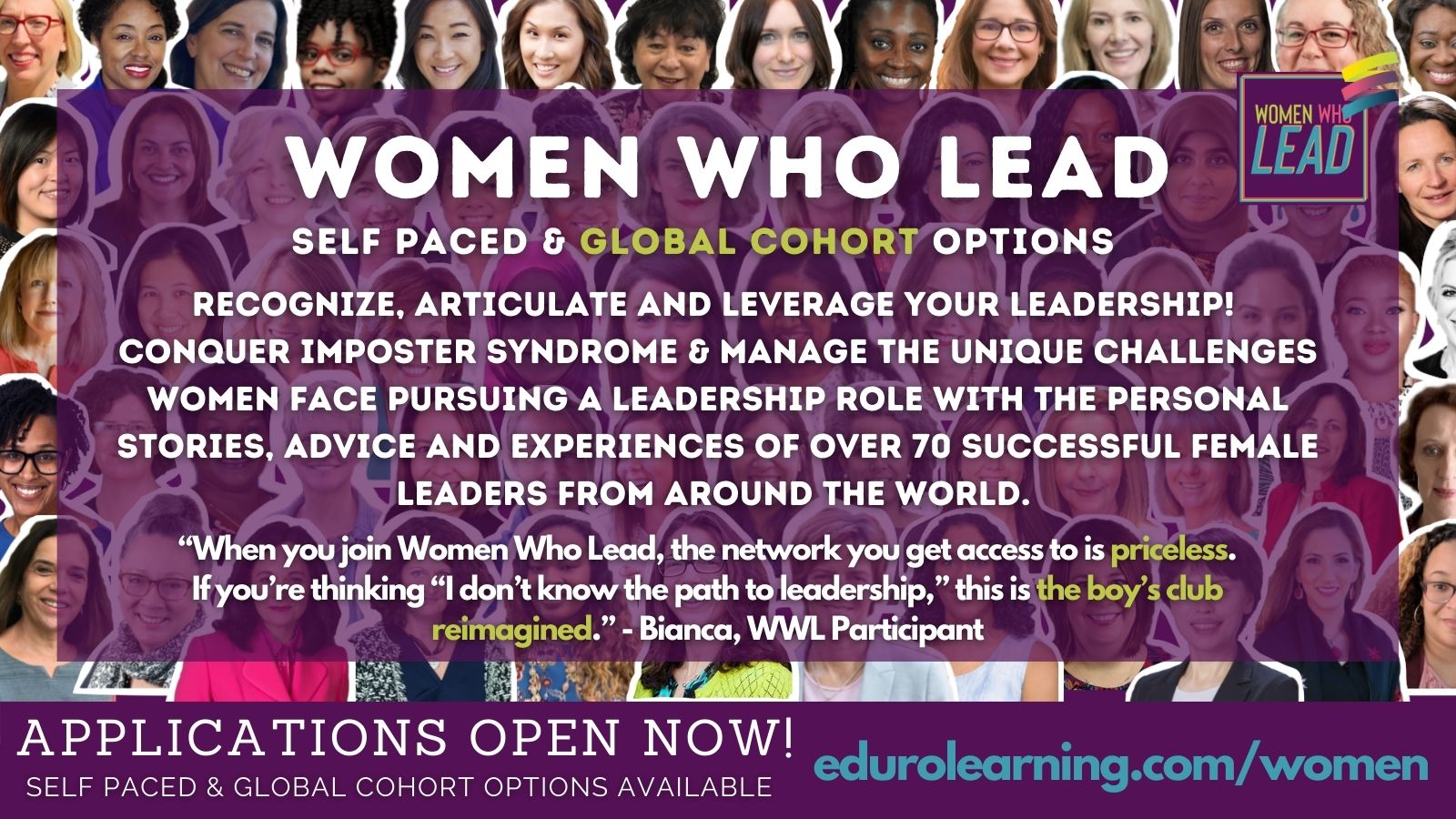 ---