In this #coachbetter episode, Kim chats with Kawai Lai about what it means to be a leader today, how we can create responsive teams, use visual facilitation to prompt courageous conversations, find comfort with ambiguity as a leader, and how polarity management can help us manage organizational challenges. Kawai's work focuses on helping teams and leaders rethink culture, strategy, and leadership using the power of visuals. She has worked in both corporate and educational spaces, and she shares so many unique and insightful strategies today, to teams and leaders to take action and find purpose in creating a more equitable world.
If you are learning to leverage your influential leadership as a coach or moving into a formal leadership position, this conversation is full of inspiration to get you thinking!
Subscribe to #coachbetter via your favorite Podcast Player!
Featured Guest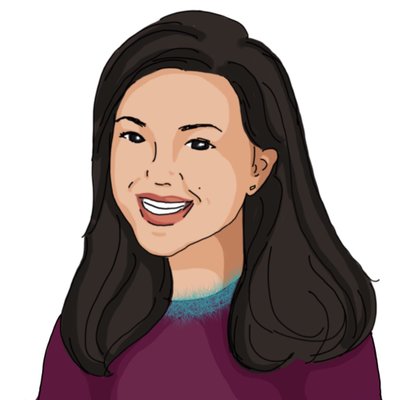 Bonus! Watch the Spotlight Version on YouTube!
SHOW NOTES
BIO: helping teams and leaders rethink culture, strategy, and leadership
I use the power of visuals to bring joy and clarity in planning for the future, designing more inclusive spaces, and leading diverse teams. More than anything, I hope my work inspires teams and leaders to take action and find purpose in creating a more equitable world
How did you get to where you are today?
Independent consultant, strategic planning with schools & non-profits, integrating DEIJ into every aspect of my work, as well as leadership development. Do all of that using visuals as a thinking tool for vulnerability, for clarity. Started in corporate doing large-scale implementations of technology in Fortune 500 companies. Always wanted to do something that I'm passionate about and makes a difference in the world. Went to business school, then transitioned to education. When I graduated, started working in an ed-tech company. Then wanted to more directly with schools. Found NAIS, VP of Innovation. Thinking about what innovation means for independent schools. Past 5 years, on my own. Next: new position August Public – org design consultancy, about creating more agile, inclusive & human-centered ways of working. Helping businesses, leaders rethink what professionalism is.
What does it mean to be a leader today?
What it means to be a good leader will never change. The things that work as being a good leader, should work in other aspects of your life.
People being human, showing up as themselves, belonging, bringing their full selves. As a leader having the ability to create a space that allows for that is a shift. It looks different in 2023 than it has ever in the past. Having Self-awareness. Understanding the cultural and social trends and norms, and understanding different perspectives.
Emphasis on the human side of work.
Challenge our definition of professionalism, what it means to show up at work. Unlearning / rethinking what it means to be your full self, show up, be professional, follow the "norms". For some people, the "old way of working", the world of professionalism has worked for a small subset of people. Women, People of Color, marginalized identities are not part of the subset where the status quo has worked. Those people were able to bring their full selves because the culture was their norms. Now when we talk about inclusion, it's about widening that circle of what it means to be a leader, what it means to be professional, to be a colleague.
We all have feelings, we're all human. It baffles my mind how we could leave any part of ourselves at the door and expect our children to leave that at the door when we come in. We want to bring our best selves, but it's reality, we are human.
The pandemic forcing everyone to go online gave us an opportunity to change the way we work. You can see my home.
How do we create responsive teams (tell me about your new book!)
The concept of psychological safety (Amy Edmonson, Harvard Business School): a work environment where one can speak up with their questions, ideas, concerns without fear (of punishment, retaliation).
Creating an environment where there's psychological safety, where all voices are heard, with not only equal talk time, but you can elevate voices that have been marginalized, or rarely heard.
Name your values, describe what that looks like in terms of behaviors, and then put it in practice and make it a habit. Have habits that promote these things.
Learning organizations ask each other questions, they don't just make assumptions, validate them. A habit might be, we ask questions before we make statements. We talk about mistakes.
Please tell me about visual facilitation and you facilitate courageous conversations using visuals? How can coaches & leaders use these tools to facilitate engaging professional conversations?
Our mindsets about art, drawing, and visuals, we expect that people are either gifted or not. We don't teach drawing. We learn to read, then we read to learn. Imagine if we spent the same amount of time in our education systems learning to draw so that you can draw to understand, draw to think, draw to learn.
Graphic recorders for conferences inspired me, I did a lot of Googling to learn how to make these types of drawings. Drawing is not only art, it's a thinking piece, and it's like words.
Bringing visuals into conversations (about race, power, your vision for your school, to make sense of your team dynamics, make sense of what's happening). Visuals with words, give you more clarity. They give you a tool for vulnerability, especially in conversations that feel uncomfortable or courageous. It's a freeing way to allow people to express themselves differently.
I think about visuals like vegetables, if you tell people they're going to eat one, they don't want it. So just bring out the visual. Have different visuals to help us understand what we're talking about.
How do visuals help you have deeper understanding? It could be putting it into a framework, drawing it out,
---
Level Up Your Leadership With Women Who Lead
As coaches, we are so fortunate to have so many opportunities to demonstrate "little L" leadership. If you're feeling like now is the time for you to jump into a formal leadership position. Women Who Lead is the program for you! Women Who Lead is an online certificate program designed for growing and aspiring leaders, featuring the voices and experiences of over 70 successful female leaders from around the world.
Women Who Lead will empower you to articulate your leadership potential so you can overcome the many challenges faced by women seeking leadership positions in the field of education.
We facilitate only one global cohort each year, so we can create connected, collaborative, and community-driven global cohorts. Now is your chance to level up your leadership and reach for your dream job!
Find out more here: https://edurolearning.com/women/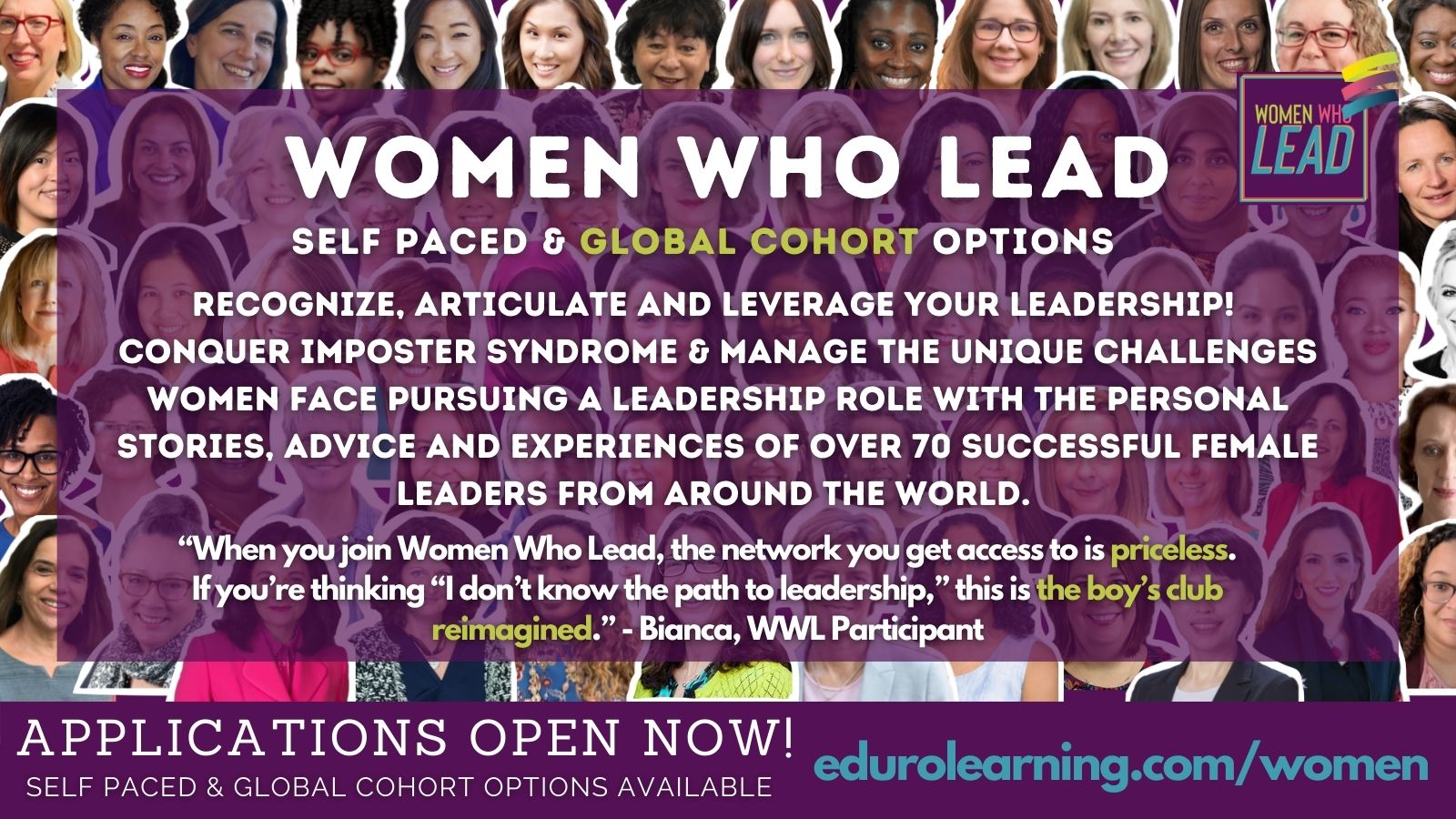 ---
Show Notes (continued)
As leaders, how do we get comfortable with ambiguity, failure, and change?
Physiological safety. There are shifts that have to happen to build physiological safety.
1: Moving away from avoiding failure to how do you recognize it and what do you want to do about it. If you try to avoid failure. Mistakes will happen, failure will happen, how do you recover from it and move on?
2: Thinking about your strategy as a fixed plan. Your strategy needs to be a hypothesis and be willing to let go and change and shift when you have new information coming in.
3: Instead of holding on to a culture of rule-following and obedience, prioritize truth and candor, over "are we doing what we said we would do." As you get more information, as you discover the truth, you have to be able to shift and adapt.
Some of it is mindset, if you want to make these shifts, if you want to be someone who is more agile, someone that can have a plan but adapt, a practice could be using a KanBan board. To do, Doing, Done. I have a plan, but I use post it's because in the 5-6 hours we're going to spend together and something can come up.
When you think about these mindsets and behaviors and think about the habit and then practice
Tell me about polarity management, and how you use this approach to manage organizational challenges
Polarity Management (Barry Johnson), the concept of "both, and", it's about balance.
Trying to move away from a fixed mindset (either/or), coming from a place of abundance and thinking about both and. Not every problem you're trying to solve is actually a problem. A clear problem would be what should I make for dinner or which LMS should our school implement? A polarity is something bigger that can cause tension and it's never solvable.
One example of polarity in schools is prioritizing the student experience and balancing that with teacher autonomy. Another one is asking for permission vs ask for forgiveness. Another in DEI work is dismantling the system vs supporting marginalized children who are in the system that marginalized them in the first place.
Polarity maps have shifted my way of thinking about problem-solving. Polarity maps are visual. When you see anyone interacting with a polarity map, it gives them a thing to talk about. You will come out of it with a productive way to have a conversation
Looking at the top of the map, both sides of the polarity have the same purpose. It's the shared purpose that brings.
https://www.linkedin.com/in/kawailai/
---
Embrace Your Leadership
One of the things we're most proud of here at Eduro is that there's no one-size-fits-all learning – you always have choice and voice in how you learn with us. Today's video highlights one of the key themes that you'll find in three of our programs, and if you're curious to take your learning deeper, we have three great options for you.
New Coaches:
If you're just getting started as a coach, and you want to learn how to make these mindset and skillset shifts, watch our New to Coaching Workshop, which will also tell you all about our brand new course, Getting Started as a Coach.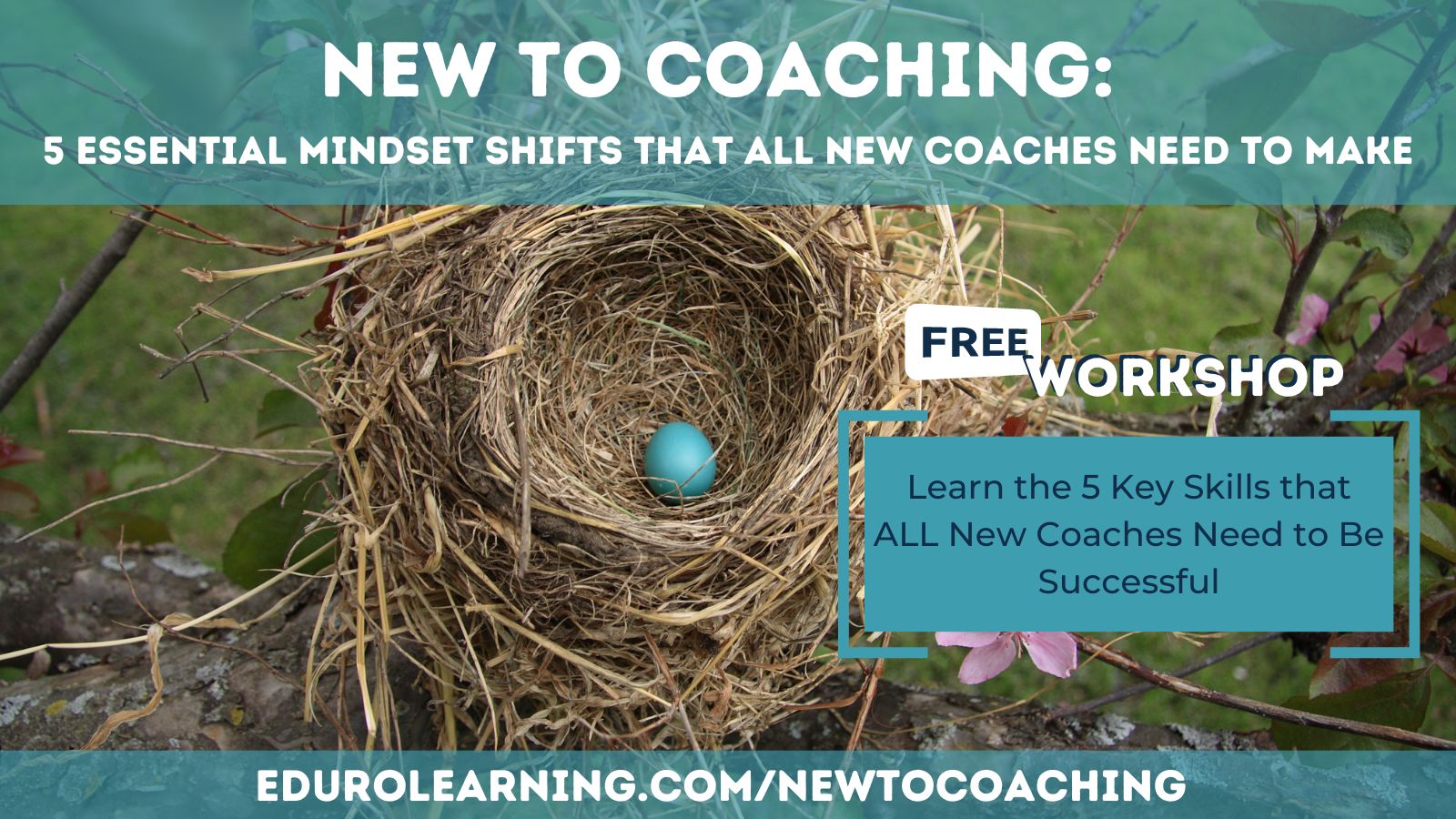 Experienced Coaches:
If you're already a coach & you want to think about being more intentional & strategic in your practice, watch our workshop on the Thrive Model for Coaching Success which will help you evaluate your program to see where you may have room to grow – and help you decide if our year-long mentorship and certification program, The Coach, is right for you, right now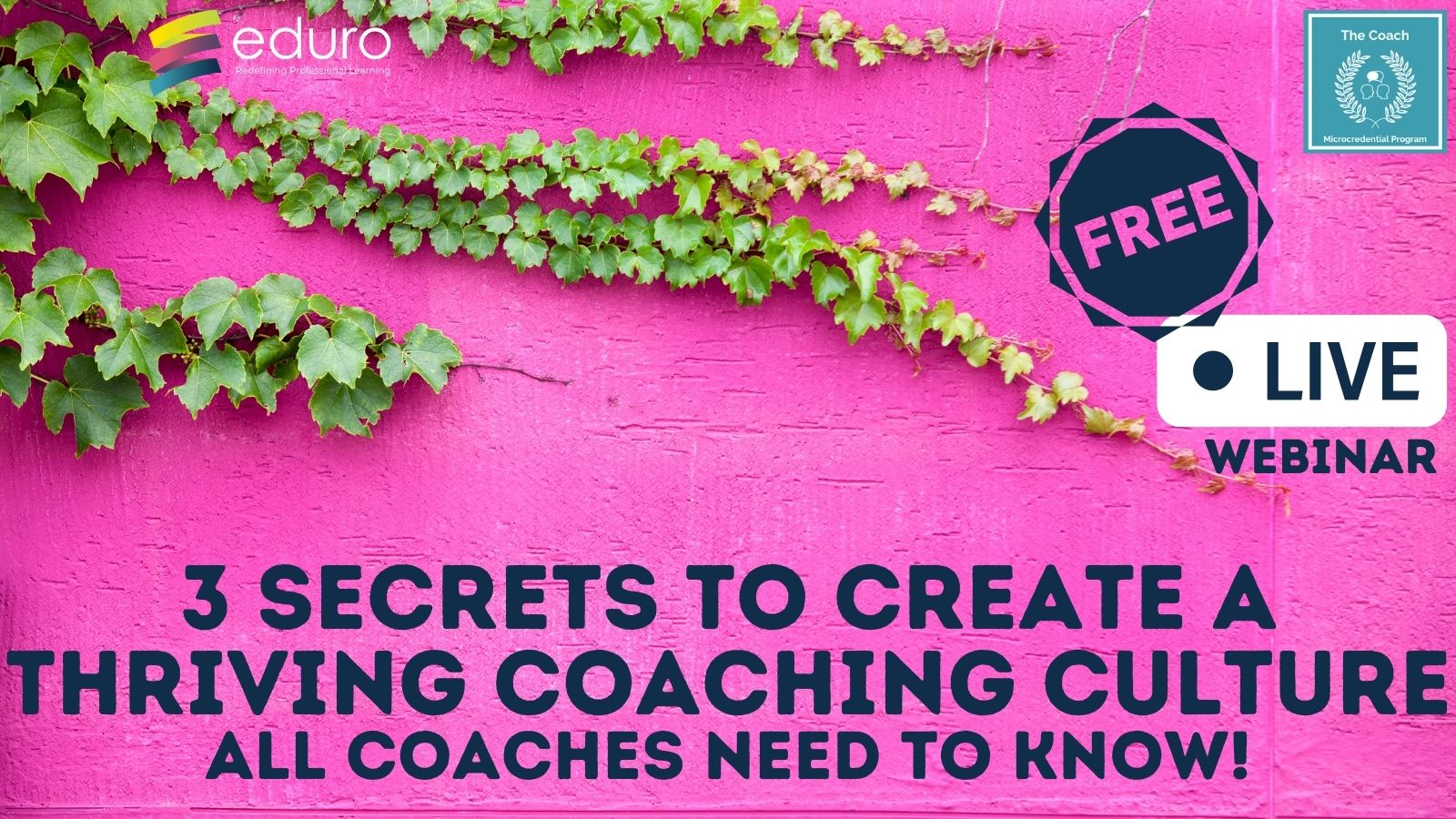 Aspiring Leaders:
If you're curious about positional or formal leadership & you want to start learning more from that angle, watch our workshop on the Realities Women Face Pursuing a Leadership Role in Education which features videos from our Women Who Lead interviews, so you can see if Women Who Lead is the right next step for you.