In this episode, Kim talks with Eric Hudson, Chief Program Officer for Global Online Academy about what excellent remote professional learning for educators looks like, why it's important for educators to engage in this kind of PD, as well as what competency-based learning means, and how schools can create that kind of environment. This is a really valuable conversation for educators who are considering either participating in or developing online learning experiences – for educators or for students.
Subscribe to #coachbetter via your favorite Podcast Player!
Featured Guest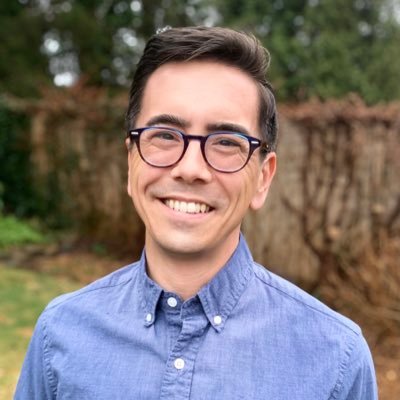 Bonus! Watch the Spotlight Version on YouTube!
SHOW NOTES
Eric's Bio
Eric leads Global Online Academy's strategy around programming for students, educators, and school leaders. He believes that learning experiences must be human-centered and research-based, principles that drive his work with learners of all ages. Prior to joining GOA in 2013, Eric lived his passion in the classroom, teaching English and Spanish to middle school, high school, and college students. Eric is an author and frequent speaker on topics including modern approaches to leading teams, competency-based education, online/hybrid learning design, and connecting what we learn in school to making an impact on the world beyond it. He currently serves on the board of the Association of Technology Leaders in Independent Schools (ATLIS), an organization devoted to preparing schools for the future. Eric lives on Cape Cod, MA.
Please tell us about your work & your journey to get to this point in your career (as an introduction to you, and your work at GOA)
New position. Been at Global Online Academy (GOA) for 9 years. Created to oversee all of programming. Passion-based courses for High School for students. Professional learning for educators. Classroom teacher for 15 years, MS/HS English. Employee number 4. Instructional coach, working with teachers. Have had every job at GOA. Ended in this role, because I started on the student side, and did a lot of professional development stuff. Making sure the same values
How does this look at GOA?
GOA began for students. Hired great educators to train them to teach online. PL program came from feedback that the way we were teaching them to teach online was having a positive impact on how they were teaching in person. Feedback loop. Trying to model our pd on what we valued with students: relationships, meeting teachers where they are, respecting their expertise, model what it looks like to work online in relationships connected way.
Competency-based organization.
What does excellent remote professional learning look like?
We are already learning online, even if we're not aware that we're learning online. Every time you click a link. It's not something that we sometimes do, and most of the time, don't. Online is woven into the fabric of our existence.
Start: you're already doing this. We'll ground this in a way that shows what your job is like so it will feel relevant.
To make online learning relevant to educators we lean into what online offers and in person can't: accessibility (content available anytime), flexibility (self-paced), networking (access to a community that you wouldn't have access to in person).
In online learning environments, you can learn about another person's experience, and hear their perspective. We can invite people to not just do work, but also share work. It's an environment where you can take but also give.
Why is it important for educators to engage in online PD? (or is it?)
We're already learning online all the time. The awareness of that – how do my students engage, do I know how they learning online, do I ask them what they get out of online learning. Ask your students questions, and listen to the answers.
Research:
If the purpose of PD is to shift educator practice in order to improve student learning outcomes, it has to be ongoing, job-embedded, and relevant. On a practical level, I don't see how you achieve all that for all teachers unless high-quality online learning plays a pretty prominent role.
Think about the online learning environment as a menu, not a checklist. Find the styles that work best for you and lean into those. If you can lean into the online component of PD, it will help you grow in a more sustainable and sustained way.
Offer experiences in different modes & modalities: cohort, 2-day asynchronous facilitated course, self-paced fully asynchronous content delivery. Give educators different looks at the kind of online experiences they want to have. Intentionality + meta piece, here's what it is, tips & tricks, single source of truth, face & voice.
Start of pandemic changed. 2019 + before: huge interest in asynchronous. Pandemic: 2020-21: intensity (I'm at home, I'm in a crisis, please help me – 2-5 days intensive learning). Post-pandemic: demand for synchronous. People want to talk, they want to hear about other people's experiences.
---
Getting Started as a Coach
The move from a classroom position to a coaching role can be tricky because there are so many challenging elements to being a coach that are not part of classroom teaching.
If you want to know what to expect in your coaching role – grab our brand new freebie full of real-life coaching scenarios that have surprised me, or the coaches I work with at some point in their career. These scenarios are all real-life stories from either my own professional experience or the stories I hear from clients on a daily basis.
These scenarios will help you recognize how ready you are for your new role! Grab the freebie today & see if you're ready to be an instructional coach!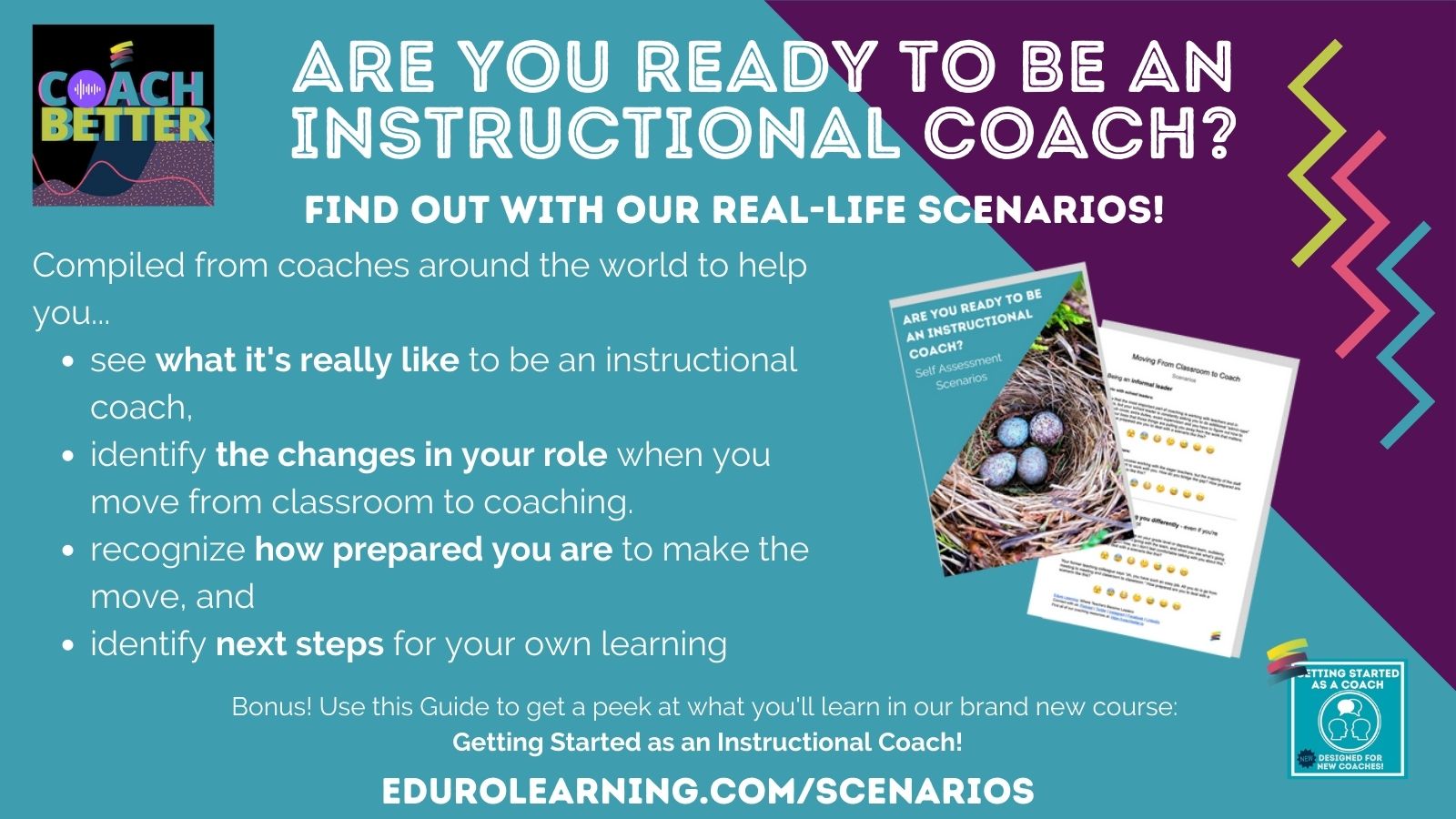 ---
Competency-based learning
Measure learning according to evidence of learning, not seat time. More flexibility, personalization, creates an environment that adapts to the student, rather than the student adapting to the environment.
2016 started to get into competency-based learning. 5 years of student feedback data: Liked the topics, but what they were walking away with transcended the content: collaboration, real-life experiences, independent learning. The way you design a learning experience both delivers content and can exercise and develop transferable skills.
6 Core Competencies: content agnostic skills.
5 Core Educator competencies – modeled on what we do with students, built from student level up. 5 indicators, sub-skills. Single-point rubric. Offered as a constraint, within which they can be created.
Build collaborative communities: I can help students learn to collaborate by prioritizing process over product. What does it mean to you to prioritize process over product? Grounding the teacher in something applicable to their practice. Give everyone a common learning language on which to operate. Setting broad but clear constraints that offer a clear vocabulario
Simple is really hard. You have to go through the complex to get to simple. We underestimate how hard it is to create things that are simple, clear, and usable.
What do leaders do to make this successful?
Traditional environment: students in age-based groups, teacher experts, bells, standard assessments
Competency-based environment: the idea of school as a designed environment is reframed away from convenience sake toward personalized learning.
Longer meetings with an advisor, time for independent learning, internships, online learning, designing their own projects. Schedule is not as regimented. Designed by the student. Culture may be the work of everyone in the school but it is the responsibility of the school leader.
What do we believe about students, what do we believe they're capable of and how do they inform the way we do things? Align with research, and then redesign or reframe.
A common misconception is that you have to go a big pillar (like grades). Start with clarity of intent and clarity of purpose. What are we working towards, and how do you articulate those?
Helping leaders change culture
Kuai Lai: leadership program: modeling through leadership the kind of environment that you want.
Chris Sturgess: Culture is the daily manifestation of our values and core beliefs.
Start with daily behaviors. What are habits you can get into as a leader that model a human-centered approach? Name concrete daily skills that are a part of the workflow of a leader.
For educators struggling to get into online learning, try several small things, don't throw all your eggs into one online learning basket. Try different types of learning experiences. Figure out what works for you. Take an omnivorous approach and find the style that works for you. Seek out perspectives that are different from your own.
---
Ready to Grow Professionally as an Educator and Coach?
And if you're ready to dig deeper into being more intentional in your coaching practice – or if you're new to instructional coaching and you're curious about getting started, join us for one of our courses for coaches!
One of the things we're most proud of here at Eduro is that there's no one-size-fits-all learning – you always have choice and voice in how you learn with us. Today's video highlights one of the key themes that you'll find in all of our courses for coaches, and if you're curious to take your learning deeper, we have two great options for you.
New Coaches:
If you're just getting started as a coach, and you want to learn how to make these mindset and skillset shifts, watch our New to Coaching Workshop, which will also tell you all about our brand new course, Getting Started as a Coach, which is open for registration RIGHT now – so don't wait if this sounds like it's right for you! This course is specifically designed for classroom teachers that are moving into a coaching role. It's focused on exactly the skillset & mindset shifts you need to make to be successful as an instructional Coach.