In this #coachbetter episode, Kim chats with Kaitlyn Pettinga, Assistant Principal of the Middle at the International School of Panama about creating a positive school culture through coaching when it's well-implemented and structured. They talk about the coaching model at ISP, the impact of coaching, what makes it successful, and how schools can create a similar structure. This episode speaks to the heart of what we're focusing on for this season of the podcast, how instructional coaching can create a sense of belonging and community. If you are curious about how to develop a culture of coaching, from the admin perspective, this episode is for you!
Connect with our Featured Guest
Subscribe to #coachbetter via your favorite Podcast Player!
Bonus! Watch the Spotlight Version on YouTube!
Background in Education
Wanted to be a family therapist. Worked in child welfare & became interested in education. In working with them in their schools, came to the realization that a teacher may have a greater impact in children's lives. NY for 7 years, Thailand, Vienna, Panama
Your coaching model – how it works, and how you built it
We are beginners at this also. Have had an MS Coach for 3 years (as long as I've been here). We don't have a specific model. Role first started in the Dept of T&L, under the Director was a K12 Reading Coach and K12 Math Coach, more curricular, didn't get into classrooms as much as they'd like to. Lack of clarity around whether the role was curricular or coaching. Changed the role to 3: ES, MS and HS, Instructional Coach, title is now Curriculum and Instructional Coach.
In the MS our coach has pulled in a lot of Jim Knight's practical strategies
Each does things in their own way, don't follow a theoretical model. Inspired by Jim Knight.
What was the transition like:
New people for those roles, so what was challenging was figuring out what the role was. The director was new so there was a lack of clarity there too. Determining how much of hte coaches role is to help teachers with curriculum and to review curriculum and to norm on assessments and how much is instructional practice and classroom strategies.
As a school leader, you really want your coach to feel successful. It's an easy trap for administrators to fall into, the people who apply for coaching roles have initiative, they're innovators and they're going to find the work, but they won't have a clear feeling of success if the role is not clearly defined. Defining the role is part of our job as school leaders.
As a school leader, one of our buckets of work is observing and evaluating teachers. As much as I want to have coaching conversations, I know those conversations need to be non-evaluative to allow the teacher to be truly vulnerable. The coach dynamic gets fuzzy. So we might not always be thinking in that way and a coach is someone who is unbiased and non-evaluative and it's important that admin is looking towards what models that work and is not expecting the coach to figure it out
What is the impact of coaching in your setting
Teachers feel supported because there's in house PD available every day, any time, PD is available whenever you need it
Less anxiety – culture of adults entering and leaving the room – open door culture
Facilitating team meetings – looking at different departments work – looking at one anothers work – culture of sharing
Running instructional rounds – K12 – coaches can not just serve personal goals and classroom goals, but also K12 goals. Coaches will pinpoint key strategies in classrooms and allow you to sgn up and see it in different classrooms. It's amazing to get out of your own classroom and dvision and see it in a different way
Safe space to explore and fail and innovate and receive feedback from admin and peers
Always new teachers, a lot of international schools are always working on a pipeline to empower local teachers who want to be classroom teachers, equipping nad empowering them
The impact of coaching is a sense of belonging. When you're involved in a culture that is so collaborative around teaching and learning, through coaching, we have teachers and students that feel like they belong.
What makes coaching so successful in your context
Our corer leadership team is: Principal, AP, Coach and Counselor – she's part of every meeting
She's non-evaluative, seen as a teacher
A teacher who was really well respected and accomplished at our school
Leads and delivers PD
Seen as an instructional leader
K12 Core Leadership: all principals and APs and directors – meet once a week, call in 3 instructional coaches when we're talking about curriculum and teaching and learning
She meets with instructional coaches and director and coordinator of inclusion, helping teachers identify high leverage practices
What I Need Block (WIN) block: she does that and is an advisor, she stays connected to what's happening in the class by choice, to live in the MS world
Fuzziness
At the end of the day, as an administrator, I have to evaluate teachers, that's part of the role, therefore coaching conversations can't happen the same as they would with our instructional coaches because teachers know that at some point I will evaluate them.
PLP: Professional Learning Pathway: teachers choses a goal, meets with supervisor 3 times a year, teachers chose a goal and are encouraged to work with a coach (not mandatory)
We don't want there to be situations where coaching is mandatory
---
EXPLORE THE THRIVE MODEL
Are you working on building a coaching culture in your school setting?
To make coaching both sustainable and successful, you need clarity, consistency, and community.
Unfortunately, most schools are missing at least one! Is yours?
Use the Thrive Model to find out!
Developed after working with hundreds of coaches and leaders in international schools around the world, the Thrive Model incorporates both the macro view of a coaching program, and the micro view of a coaches practice, to bring together the three essential elements to make coaching both sustainable and successful.
Explore all of our resources about the Thrive Model at edurolearning.com/thrive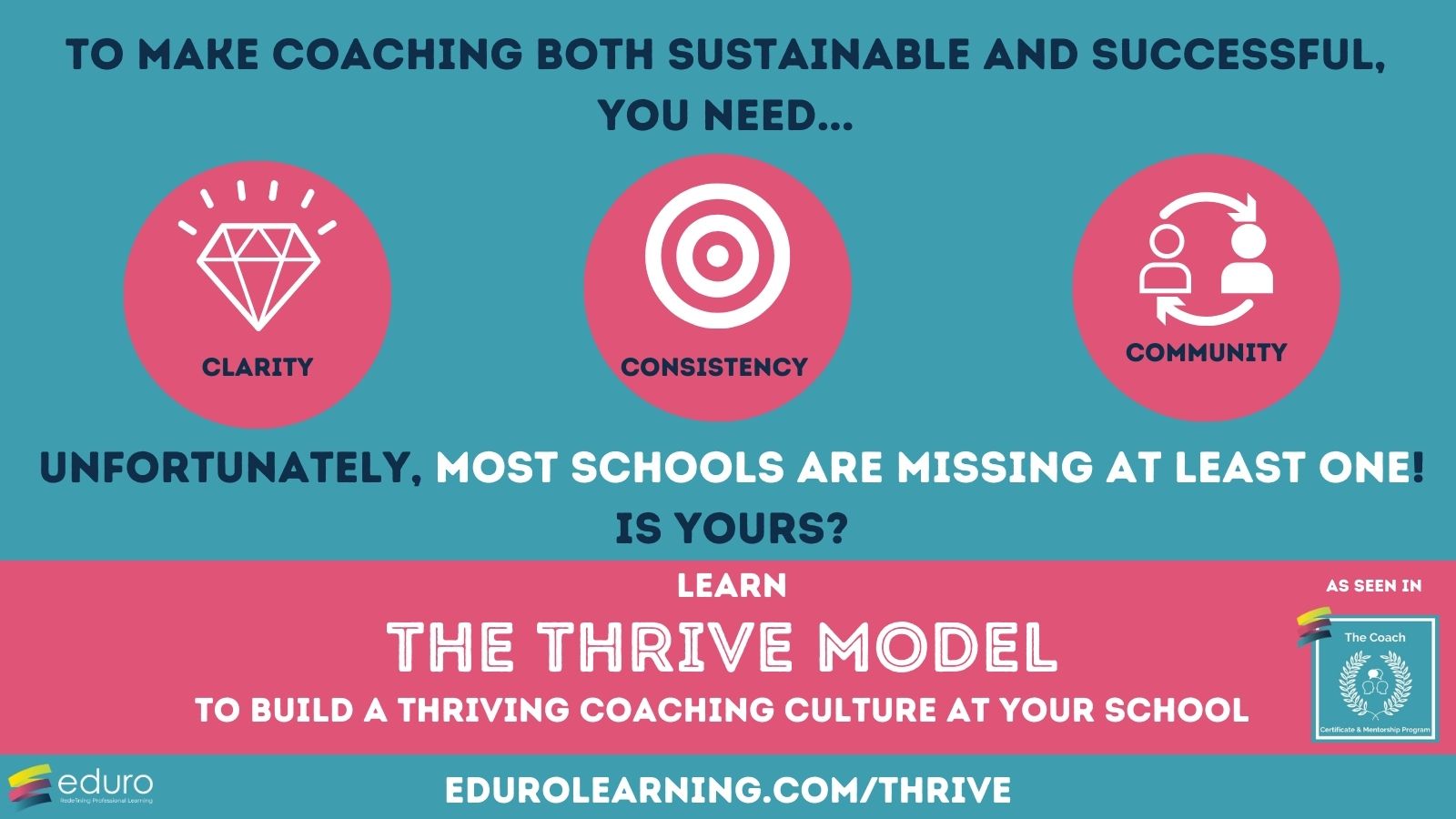 ---
Show Notes continued….
How your coach is part of your leadership team & what that looks like
She's in every leadership meeting we have, and many of them K12
Connected to K12 Director of Inclusion
One of the structures that supports the success of coaching is allowing our coach to create the schedule that's going to allow her to support teachers in the best way she can.
She's in most department meetings, those meetings are more curricular, 1:1 tends to be more instructional practice
What can other schools do to create this kind of environment for their teachers (What's one thing you recommend)?
Be flexible, needs to be dynamic as your school needs change
Don't wait until you have all the pieces, try one part first – instructional rounds has been really powerful for us
Building relationships – the most important role of the coach is building trust, time to develop those first before asking them to
Instructional Rounds
Ask teachers about certain practices they'd like to highlight – if you'd like to observe sign up here, if you'd like to showcase sign up here (sometimes we ask people)
Teachers are allowed to observe as well as showcase work – goes cross divisional
Class visits are 15 mins, unbiased, completely silent, just taking notes on what you saw, when the team leaves the classroom (no more than 6) there's a short debrief, all strength based, any observer sends a note to teh teacher after the observation
Coaches reconvene after the session
8 session each
All 3 coaches send out an invite to all teachers across the school (around 150 staff)
Have targeted practices
How did you develop your understanding of coaching
My first experience with coaching was a TC lab school in NYC. I had a visitor to model practices in my classroom, so helpful to see her, give me strategies and apply them in real time
Didn't see much abroad, until ISP
Our first year as an admin, I thought "great, we have a coach"
When our coach was new to the role, she didn't have clarity around the expectations. The same challenges happened in all 3 divisions, which led to frustration. Hearing them talk about their work gave my principal and I the motivation to define what we wanted coaching to be in the MS, to empower her and give clear expectations of what to expect. Coaches need a clear path and a lot of encouragement from school leaders.
Look at what your needs are and determining percentages, and letting your coach know what's expected when
---
Ready to impact school culture in your coaching practice?
If you're ready to dig deeper into how Clarity, Consistency, and Community can help you impact instructional coaching in your coaching role and school culture in your school or organization – or if you're new to instructional coaching and you're curious about getting started, join us for one of our courses for coaches!
One of the things we're most proud of here at Eduro is that there's no one-size-fits-all learning – you always have choice and voice in how you learn with us. Today's video highlights one of the key themes that you'll find in three of our programs, and if you're curious to take your learning deeper, we have three great options for you.
New Coaches:
If you're just getting started as a coach, and you want to learn how to make these mindset and skillset shifts, watch our New to Coaching Workshop, which will also tell you all about our brand new course, Getting Started as a Coach.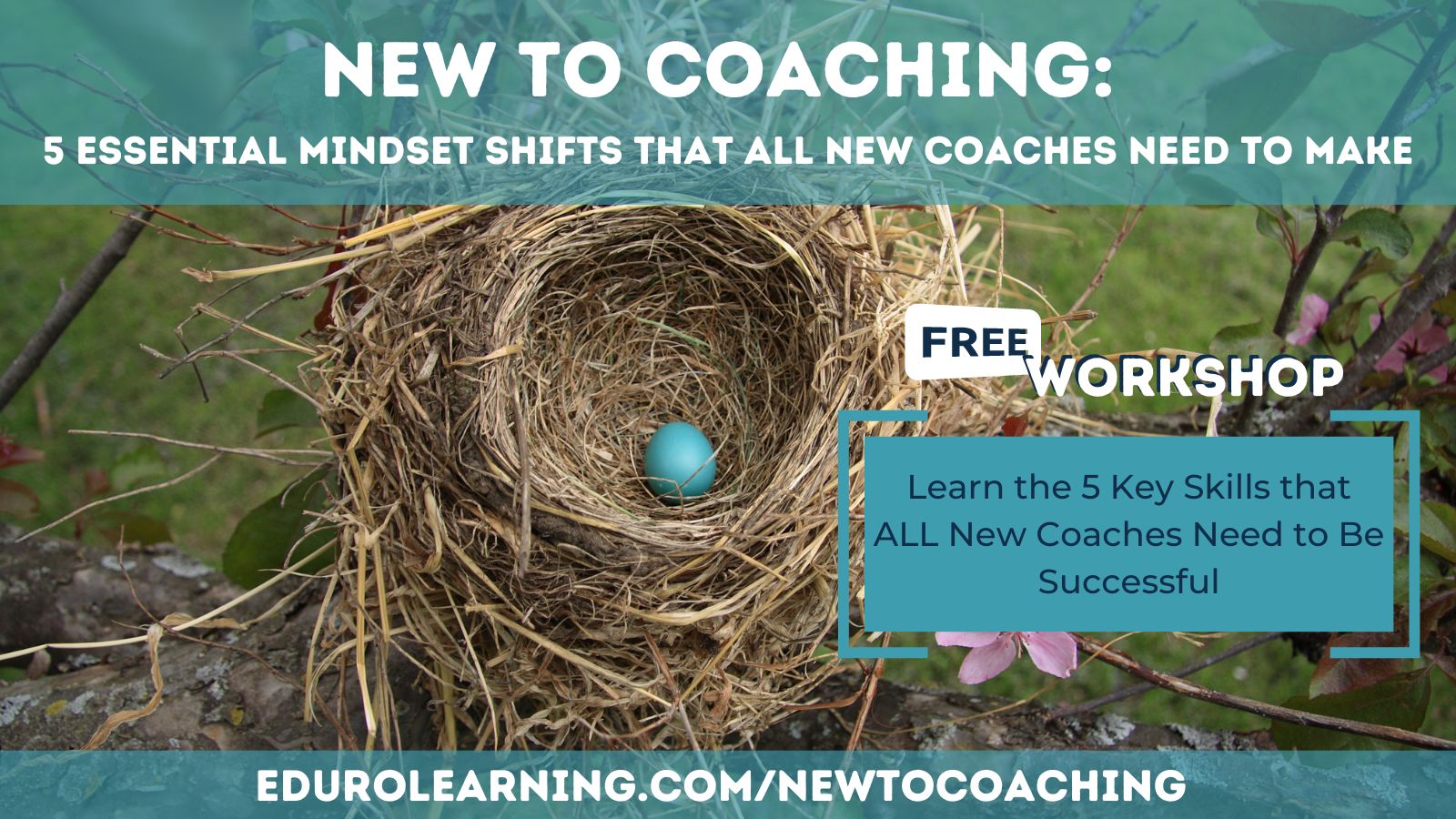 Experienced Coaches:
If you're already a coach & you want to think about being more intentional & strategic in your practice, watch our workshop on the Thrive Model for Coaching Success which will help you evaluate your program to see where you may have room to grow – and help you decide if our year-long mentorship and certification program, The Coach, is right for you, right now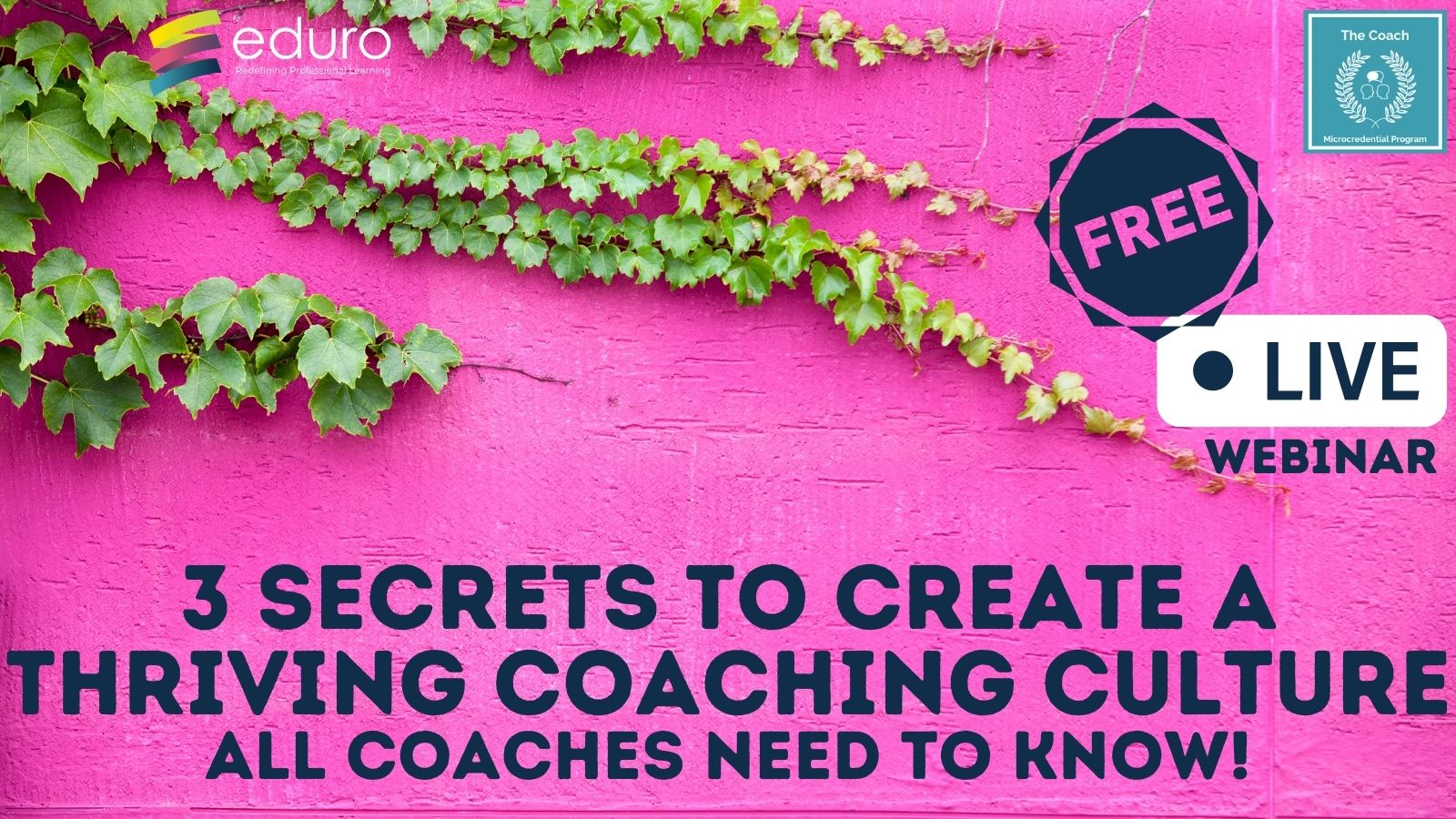 Just like all our learning experiences, the content in both of these courses is self paced so you get access to everything immediately – but you get so much more: when you join the course, you get access to our #coachbetter global community with optional group coaching calls at various time zones to meet & connect with other coaches PLUS private office hours with me to get all your questions answered & work through anything coaching related in your unique school context.
Wherever you are in your coaching journey, we can support you!
For All Coaches
Connect with us!