This #coachbetter episode is part of our special series featuring real-life coaching conversations with one of Kim's amazing clients, Danieal Longanetti, who, at the time of recording, had just accepted a coaching position for the following school year. HUGE thank you to Danieal for being willing to record this session to share with all of you!
We're so excited to share this conversation with you because the topics Danieal and Kim talk about are exactly the kind of questions that we get asked all the time, particularly from experienced classroom teachers who are moving into a coaching role for the first time. In fact, this exact conversation is what prompted Danieal to join our course for new coaches called Getting Started as an Instructional Coach!
Connect with our Featured Guest
Subscribe to #coachbetter via your favorite Podcast Player!
Bonus! Watch the Spotlight Version on YouTube!
SHOW NOTES
Kim: So start us off, tell us a little bit about the context at your school, where you're coming to in terms of this conversation today.
Danieal: I am coming from being a grade three classroom teacher at an international school in Africa. And my new position next year is going to be technology integrationist. And I'm doing that, along with my current position in grade three. So, the position was not filled this year. We had somebody leave late, and so I've taken on both roles, classroom teacher and technology innovation support. and so it's, it's very busy. and next year I'm moving out of the classroom and going full into technology innovation integration teacher. So,
Kim: I know that moving into the tech innovation role, the coaching role is new for you at this point in time. And so you're trying to figure out how can I build this coaching culture in a school where the role is new to me and perhaps the experience of coaching is also new to your colleagues. Is that kind of where you're at
Danieal: Absolutely. Yeah. I would say that, you know, we've had, in previous years we had,  instructional support like with math and literacy, but never as an instructional coach if nobody's ever had this title of instructional coach. we've, we've had people there and then COVID happened and things have just gone away and the technology position has become something that is either push-in or standalone. 
We've never had this title of instructional coach. I really want to focus on, as an educator, what is the best way that I can support my colleagues? And from having a little bit of an understanding of what coaching is, it goes beyond just integrating and beyond just co-teaching, into the coaching aspect.
After 16 years as a teacher, I'm going to walk into this coaching role that's completely new to me and I feel there are so many different elements of the role. I don't want to drop the ball and let people down. I want to lead them the way they need to go. It's a huge transition.
And so that's where I'm at in my journey and how to step into this role that I've not done. I've taught for 16 years in primary classrooms and now I'm gonna walk into this role that's completely new to me and I feel there are different elements to the role. Absolutely. that I don't wanna miss out on that I don't want to, I don't wanna say fail, but I don't wanna drop the ball and, and let people down. I also wanna be able to lead Them the way they need to go. It's a huge transition.
Kim: There's an interesting dynamic that comes with tech coaching too, because probably teachers have a lot of experience with tech support in various different schools, in various different models. So when you just kind of like add the word coaching on top of that, or even try to bring in a coaching connotation to it, even without the label in there, you're also changing the preconceived notions of maybe we were kind of stuck in more of a like tech support or a classroom support, like you were saying, that kind of push in support. So there's a lot of layers to the transition you're making now. Yes.
I think the first thing, the first question you specifically asked was setting up a path to develop a coaching mindset. And I think the first thing about that, like just kind of thinking about the transition from the classroom to a coaching role, first I wanna say that I do have a workshop on this. I will make sure that I send it to you and I'll have it in the show notes here. It's called New to Coaching and it's got what I think are the five key mindset and skillset shifts that teachers need to make when they're moving into a coaching role. And I'll talk about just a couple of them for you now just so we can maybe see what might be interesting to kind of dig deeper into.
One of the things you mentioned in your list of questions that you sent was how, not to seem like an overachiever, but someone who's passionate about what's best for all learners. And I think that's kind of one of the key, maybe even the first mindset shift when you're moving from the classroom to a coaching role is recognizing that although this role might not have formal or positional leadership, it does have relational and influential leadership. So you are making that transition from just a peer to someone who's trying to shape how things are happening in the school.
And especially when it's tech, there's often a push for change coming from beyond just you. So it's not the typical coaching where everything is driven by teacher goals and teacher interests. Sometimes there's also something, you know, coming down from above, we need to also be doing whatever this specific thing is about technology.
---
EXPLORE THE THRIVE MODEL
Are you working on building a coaching culture in your school setting?
To make coaching both sustainable and successful, you need clarity, consistency, and community.
Unfortunately, most schools are missing at least one! Is yours?
Use the Thrive Model to find out!
Developed after working with hundreds of coaches and leaders in international schools around the world, the Thrive Model incorporates both the macro view of a coaching program, and the micro view of a coaches practice, to bring together the three essential elements to make coaching both sustainable and successful.
Explore all of our resources about the Thrive Model at edurolearning.com/thrive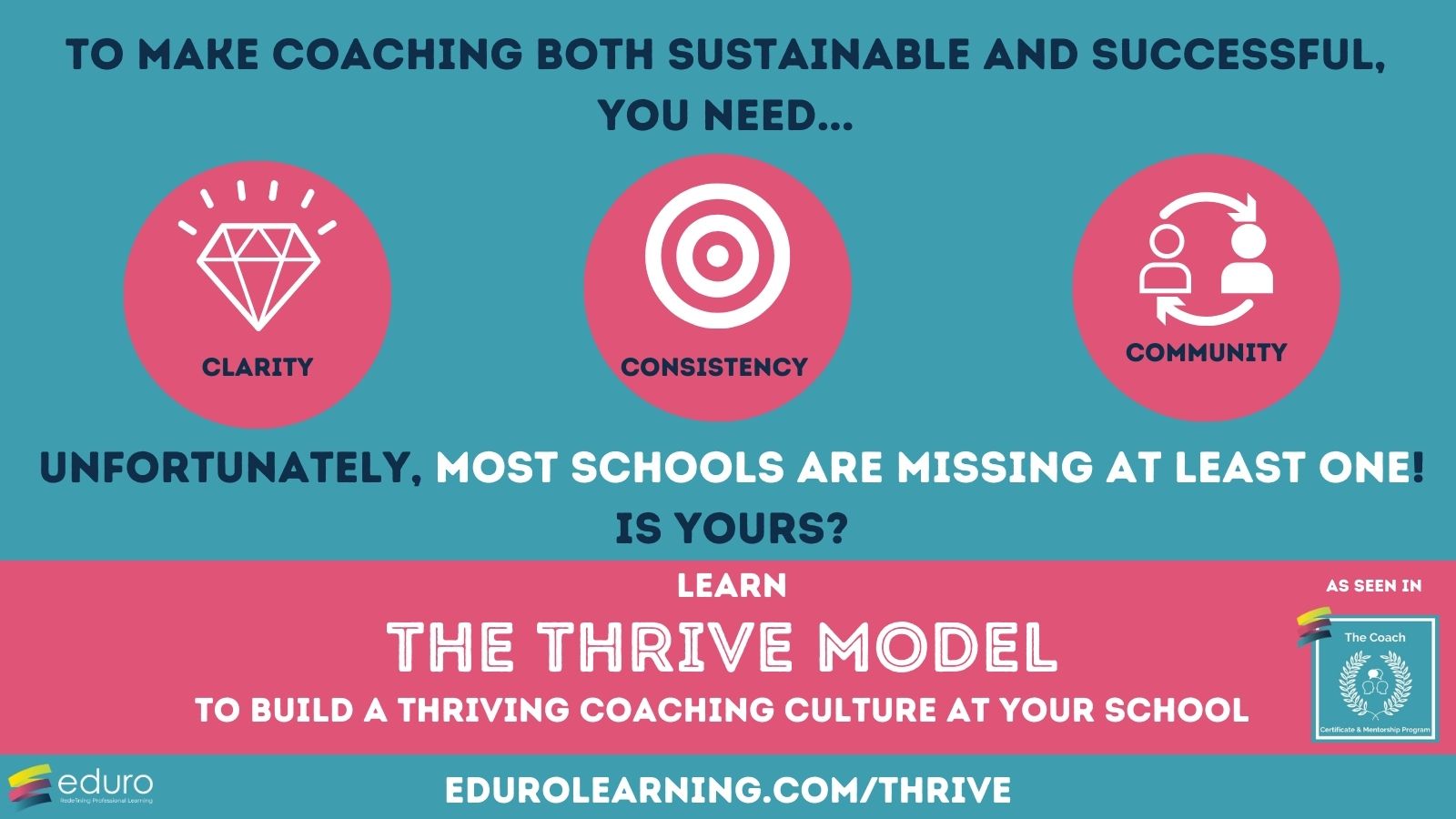 ---
SHOW NOTES continued…
Kim: So recognizing that the position is going to kind of put you out on a limb a little bit in good ways and in challenging new ways where you have a lot of opportunities to step into that feeling of influential leadership. You have no positional power, you have no authority, but you are going to be able to shape conversations and influence conversations in that role. So I would say that would be the first thing.
And then a couple of other things to think about. You already mentioned, I can't remember if it was on the recording or before, but just like being prepared for things like understanding different coaching stances, knowing how to navigate and coach coaching questions, knowing how to, ask the right question in the moment, how to be a listener. Like those kind of coaching skill things, that's all like in a box there.
And the importance of building relationships. You have been a teacher for a long time, you already have been a teacher at this school. You probably have a lot of relationships, but it's likely that you're also going to need to tweak or look differently at the relationships that you already have because people are gonna be seeing you in a different light so that they're changing perceptions of you and your changing requirements in the role. Maybe now you work with a lot of grade three teachers because you're on the grade three team, but when you're a coach, maybe you're gonna need to work all the way down to kindergarten and you haven't really interacted with them, with them as much or all the way up to grade five and you haven't talked to them as much. So how are you kind of strategically and intentionally building those relationships
And then one more thing and that is like, how are you managing balancing your time? Because in a teaching role, our time is very directed to us. You are in the classroom at this time, you are on duty at this time, you are with teachers in team meetings at this time. Suddenly as a coach you have a lot of free time , but you have so many things to get done. And really understanding how to manage all of that is, is a lot. That was just a ton of information. Give me some thoughts and let's go from there.
---
Ready to make a transition from classroom to coaching or be more strategic in your current coaching role?
If you're ready to dig deeper into how Clarity, Consistency, and Community can help you impact instructional coaching in your coaching role and your school or organization – or if you're new to instructional coaching and you're curious about getting started, join us for one of our courses for coaches!
One of the things we're most proud of here at Eduro is that there's no one-size-fits-all learning – you always have choice and voice in how you learn with us. Today's video highlights one of the key themes that you'll find in three of our programs, and if you're curious to take your learning deeper, we have three great options for you.
New Coaches:
If you're just getting started as a coach, and you want to learn how to make these mindset and skillset shifts, watch our New to Coaching Workshop, which will also tell you all about our brand new course, Getting Started as a Coach.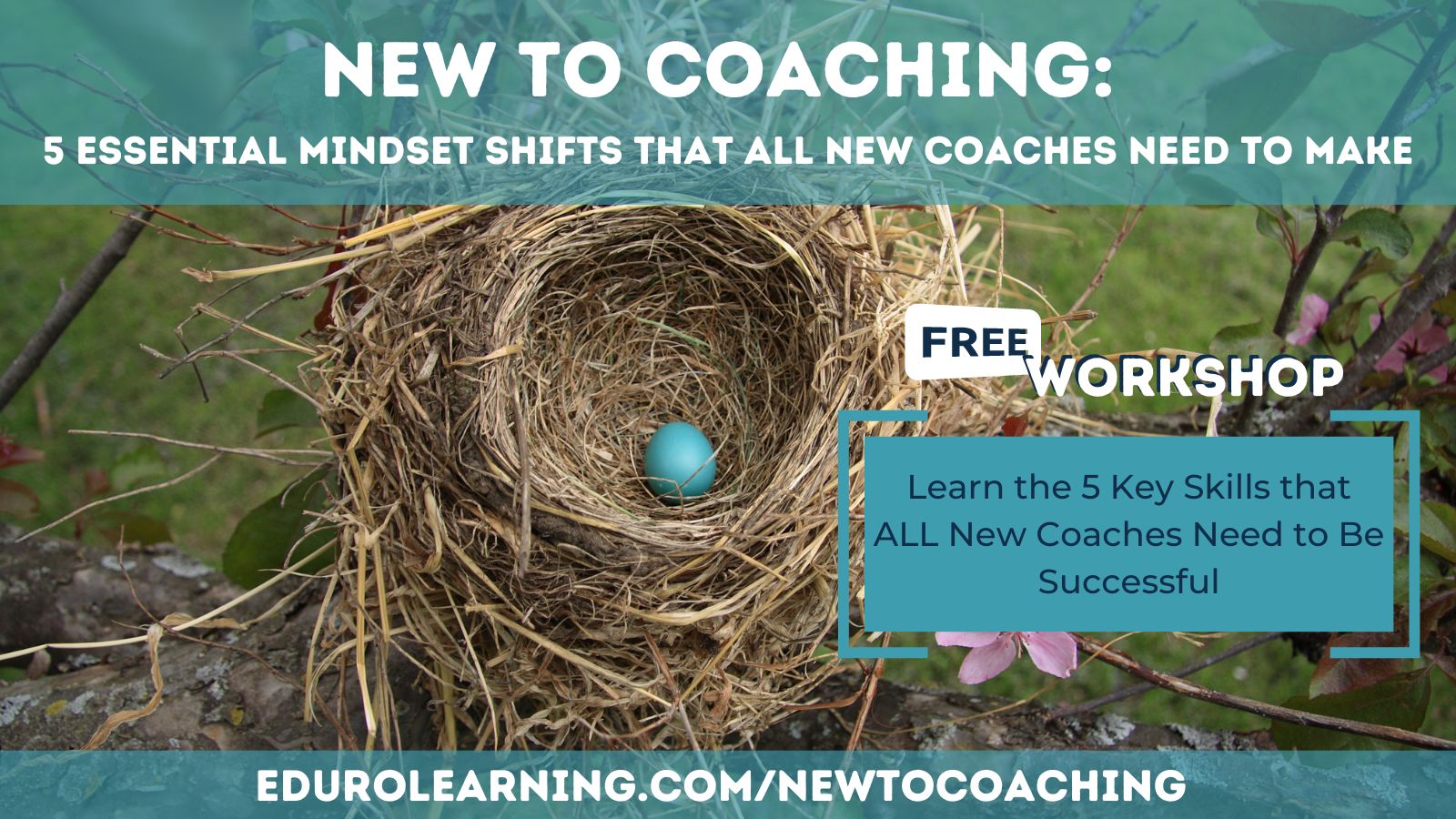 Experienced Coaches:
If you're already a coach & you want to think about being more intentional & strategic in your practice, watch our workshop on the Thrive Model for Coaching Success which will help you evaluate your program to see where you may have room to grow – and help you decide if our year-long mentorship and certification program, The Coach, is right for you, right now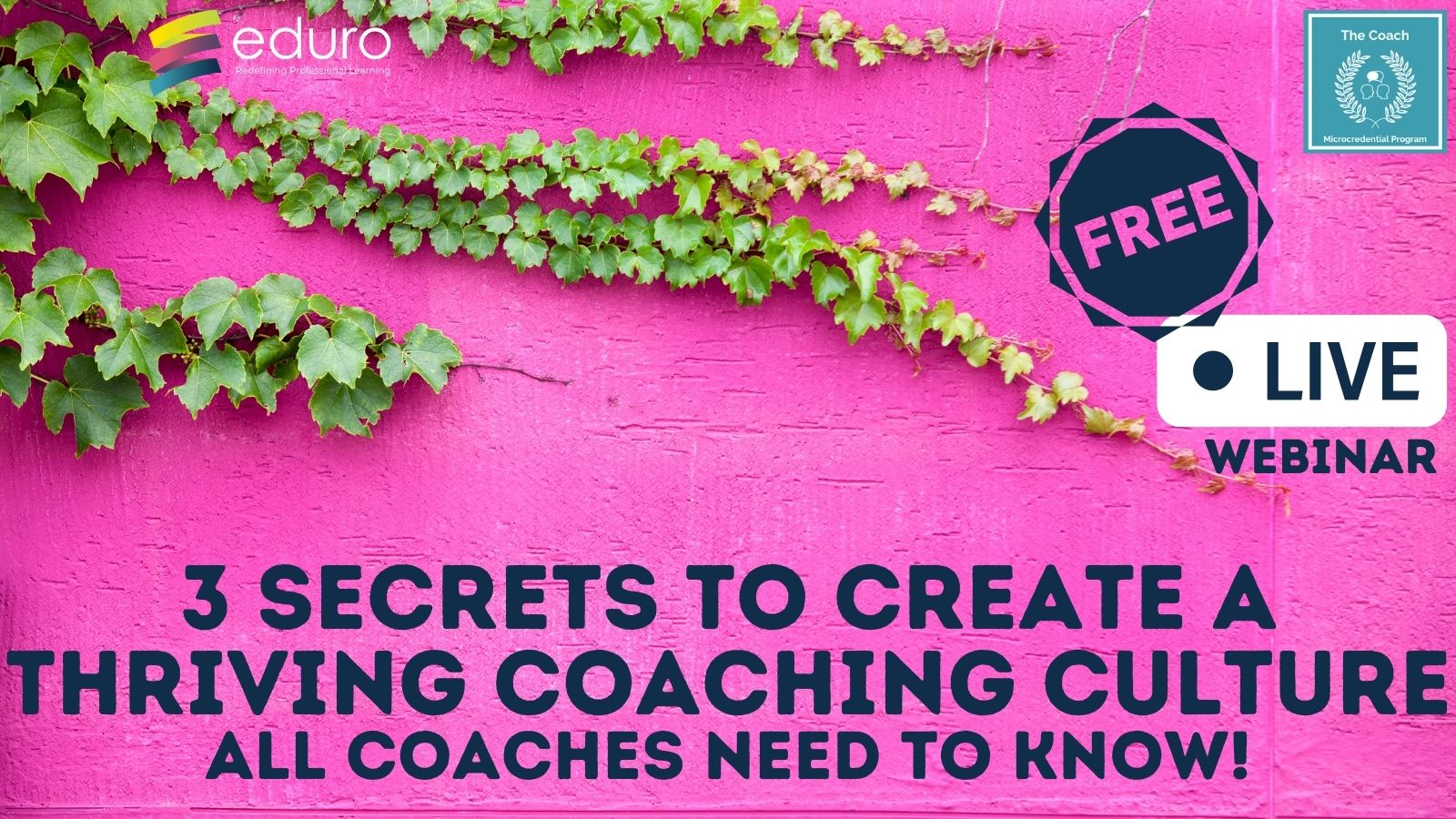 Just like all our learning experiences, the content in both of these courses is self paced so you get access to everything immediately – but you get so much more: when you join the course, you get access to our #coachbetter global community with optional group coaching calls at various time zones to meet & connect with other coaches PLUS private office hours with me to get all your questions answered & work through anything coaching related in your unique school context.
Wherever you are in your coaching journey, we can support you!
For All Coaches
Connect with us!