I like to say that coaching should be like Starbucks: customized to you, and consistent every time.
One of the things that makes a custom but consistent experience is having a structure for the process of coaching.
In today's post, I'm going to share exactly the structure I use in coaching conversations.
In fact, everything in today's post is customized to exactly to the way that I facilitate coaching conversations, so you can see exactly what it would be like to be coached by me!
Hopefully this will also give you a really great insight into the value of having a coach, as a coach and how you can use these elements of a coaching conversation in the work that you do with your teachers!
Disclaimer: This is the way I structure the coaching conversations, it's not meant to be a one-size-fits-all format. Please feel free to take, adapt, adjust, and use any part of this that feels right for you. You will find a process that works just right with your personality, with your coaching experience, that feels natural and comfortable for you. This is something that's evolved over time for me. So take or leave what seems right for you.
Framework for a Successful Instructional Coaching Conversation
1: Have an Agenda
I personally struggle to go to meetings when I don't know what is going to happen. So even if it's a very simple agenda that just structures out the phases of the meeting that I'm going to talk about today, at least there's something there.
This way, both you and the teacher know what's going to happen during this time that you're together, and there's a space to document anything that comes up in your conversation.
For me personally, I like to use a Google doc and I share that with my coach E so we both have access to the conversation and the documentation from that conversation.
If you're interested, I have included a sample template in the description box below. So please feel free to download that. There's a PDF version that you can just print and use. And there's a Google docs version, if you want to adapt and adjust for yourself!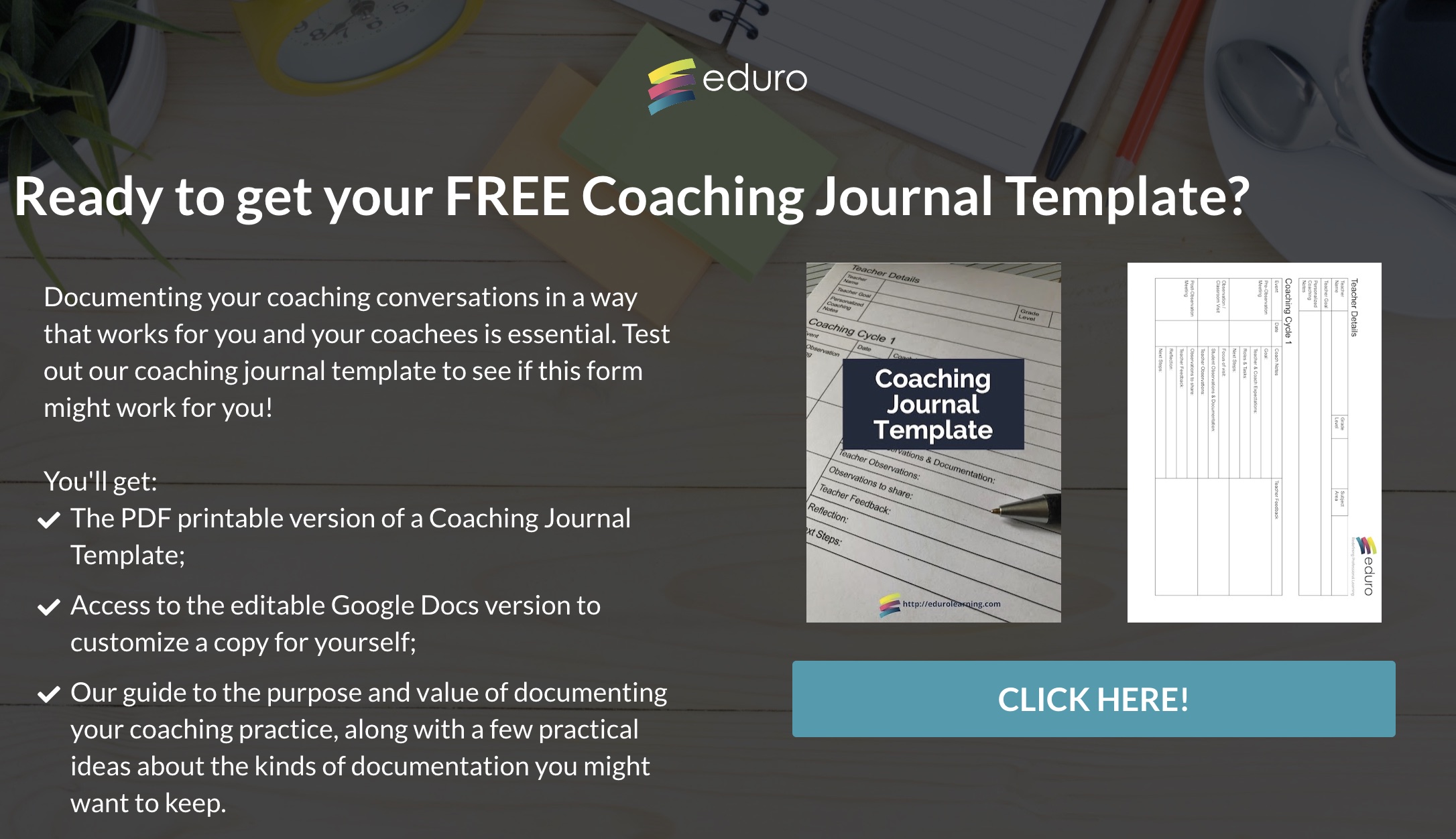 At the beginning of that agenda, I always start with a little personal, check-in a, catch-up a reconnect and opportunity to just see what's going on with that teacher what's on their mind, how are they feeling, what is today like for them?
Right after that, I also have an opportunity for teachers to share burning issues that are going on in their mind right now, just basically that kind of brain dump moment of these are all the things I'm thinking about right now in this moment that are relevant to this conversation. From that I go to our second element of a coaching conversation, and that is…
2: Set the Focus for the Day
Every day as a teacher is busy and there's so many things going on. So we might have planned this conversation to talk about one thing, but several other things have come up in the meantime. So now is the opportunity to really figure out based on those burning issues, based on the purpose for our meeting, what is the focus for today's meeting.
I usually I ask a question like what's most important for us to talk about today, or what would you like to tackle first or even something like, what do you want or need to leave this conversation with? The idea is that both you and the coachee know in that moment the purpose of this meeting, so that you can both identify when the meeting is over and that you've achieved your goal set for that day.
Of course, this can be a normal meeting that's just follows from previous conversations, or it can be something that is based on those burning issues for the day, whatever the teacher and you decide is important to focus on for that day. That's the conversation.
3: Listen
The most obvious part, but also sometimes the hardest part about this is to allow for pauses and wait time to just let the teacher talk. So many times in the day, we are so busy with so many things happening to us. We don't even have a moment to sit down and think through what's going on. We don't have that moment for someone to just listen to us. So many of the coaching conversations I have start with the teacher, just talking for a really long period of time about all of the different things that have happened either between our last conversation or just on this individual day or what they've been thinking about based on their professional goals. Just that opportunity to have someone to genuinely listen and care about what they're talking about, that is so valuable.
For me personally, it also really helps to take notes on what they're saying, because that allows me to go back to things that they talked about when I, when it's time for me to ask them some questions. So if you feel that that's appropriate in your context, you could take notes in that Google doc, which is what I normally do. Sometimes it's not appropriate, so you just listen. But if you have that opportunity to take notes, I find it's really helpful for me to go back and say something like "you mentioned that X, Y, and Z", or "when you were talking about X, Y, and Z, you said both this and this, and those are contradictory, what do you really think?"
Giving yourself some documentation of what was said is so helpful, because sometimes it can be quite a lot having that documentation and listening thoughtfully also includes asking the right questions (check out this post for more on The Anatomy of a Great Question!)
---
What's YOUR level of coaching mastery?
All coaches go through various stages of coaching mastery. Once you identify where you're at, you can begin to build the skills needed to move to the next stage.
This quiz is based on real-life case studies compiled from years of working with coaches inside The Coach Certificate & Mentorship Program!
When you receive your results, you'll also get your matching case study from the STRIVE Case Studies to see where you fit in the stages of coaching mastery.
Ready to tackle your challenges and move on to the next level in YOUR coaching practice?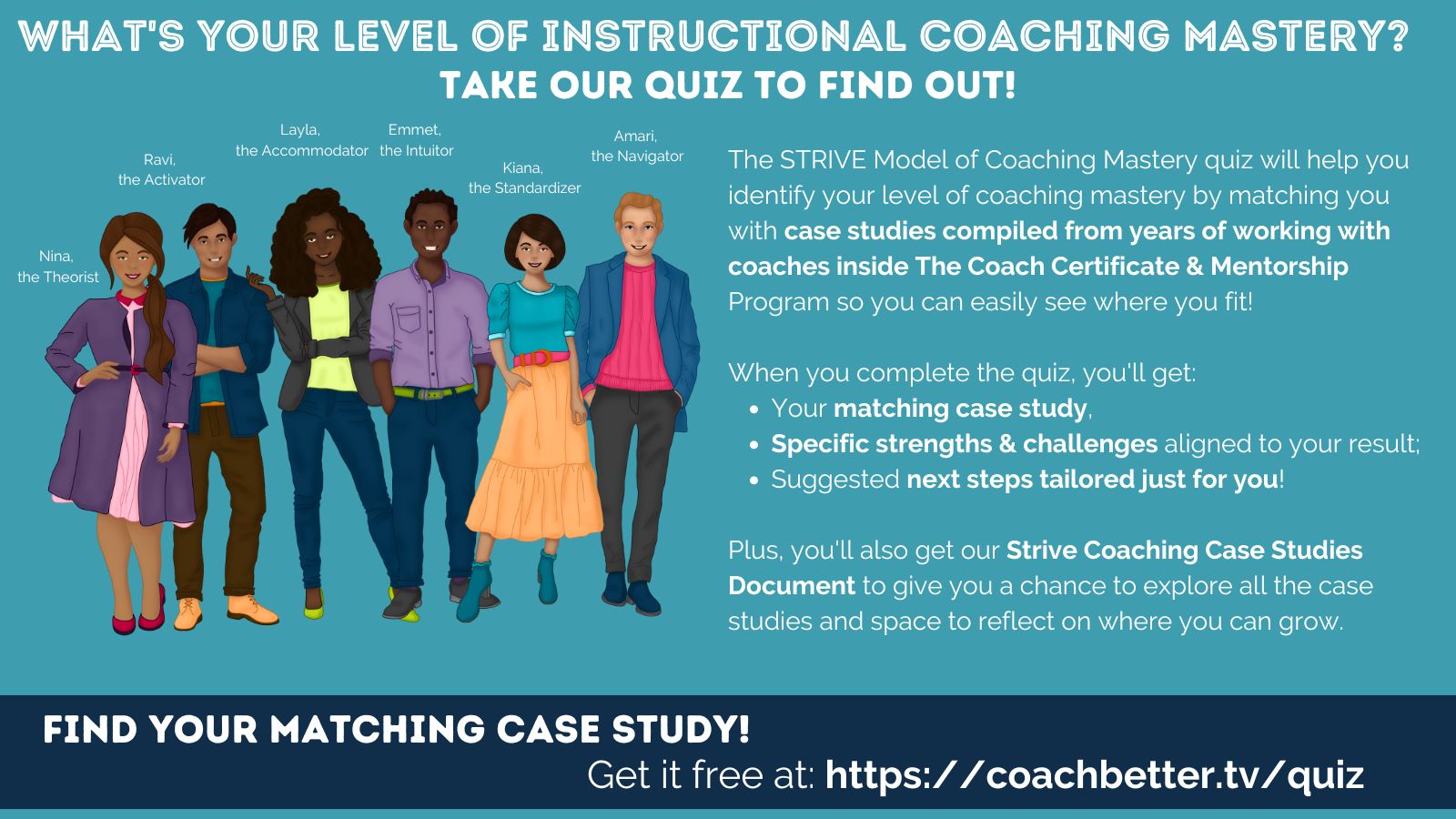 The STRIVE Model of Coaching Mastery quiz will help you identify your level of coaching mastery by matching you with case studies compiled from years of working with coaches inside The Coach Certificate & Mentorship Program so you can easily see where you fit!
When you complete the quiz, you'll get:
Your matching case study,
Specific strengths & challenges aligned to your result;
Suggested next steps for each stage;
Plus the Case Study Document includes:
Case studies leveled by coaching mastery;
A framework to identify essential stages of professional growth & key areas to focus on in your professional learning;
Alignment with the THRIVE Model for a Successful Coaching Culture;
Space for you to reflect & prioritize so you can take action immediately!
You'll go straight to the Quiz, and get the Case Study Document via email.
---
4: Providing Time for Feedback
I think that sometimes we have a very rushed coaching conversations because of our limited time. And that's the reality of working in schools. But if there is an opportunity to ask your coachee for feedback I like to ask: "What was the most valuable part of our conversation today?" That gives them a moment to reflect on everything they've achieved, even if it is only a 20 minute conversation! Because that deep, reflective coaching conversation that you have can have really tangible outcomes that can help them be better prepared for the day or the week ahead.

Another thing I also like to ask again, if there's time, is: "Is there anything you would like me to do differently next time?" I know that every person I coach is individual and I want to make sure the process is right for them. So if there's an opportunity for you to customize your coaching conversations, you can grab that feedback right there in the very end of that conversation.
5: Set the Next Meeting
Make sure you've got the next step in whatever you're doing to work together with this teacher. You might be deciding some tasks or some, two dues. You might be setting some follow-ups and clarifying expectations about who is doing what and determining your next step in working together. That way everyone knows that that meeting was not only productive and purposeful, but there's more to come and you're working together over a period of time.
Hopefully those key elements were helpful for you and you can take and adjust and adapt them to your coaching conversation model in whatever way works best for you.
Watch the Video
---
Level Up Your Coaching with The Coach!
If you are ready to develop your coaching practice over the next academic year, and explore topics like transitioning your work from individuals to teams, please join us for our next cohort of The Coach!
Wherever you are in building a coaching culture in your school, The Coach will give you the strategies, skills and tools you need to make coaching a success and will empower you to confidently apply instructional coaching strategies in any situation – from building a coaching program, to having coaching conversations, to being a leader in your school community. We facilitate only one cohort each academic year so we can offer individualized support for each participant.
Registration for our next global cohort opens once a year – check the website for details!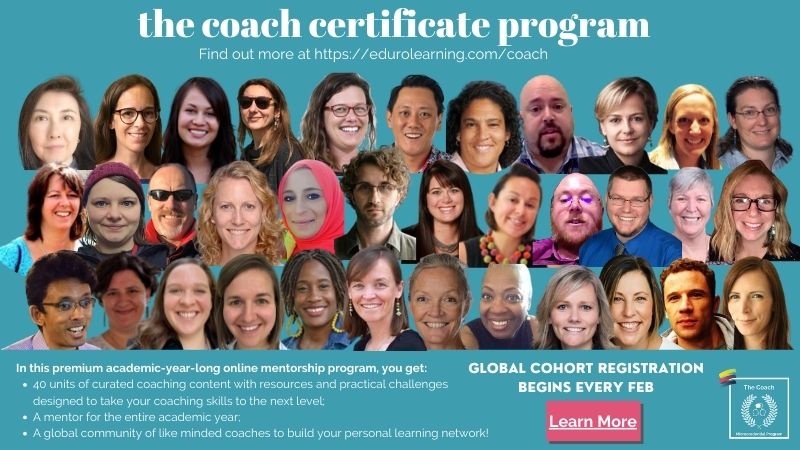 Find out more at: https://edurolearning.com/coach/