We want to give you a peek inside our Coach Certificate & Mentorship Program. Coaches taking part in this academic-year-long journey have graciously given us permission to post some of their learning and reflections from the private coursework they are undertaking during this program. Where possible, we have shared the course and the action task to give context for the guest post.
Read Nancy's Post
This post neither ticks task 1 or 2. I just needed to reflect on the module/question "What is Coaching?" itself.
Reading through the material and resources given for this module I have realized: I am not a coach. I might be on the way, but I am not there yet.
It started off good with reading the expected learning outcomes of this module. Great, I ticked all the boxes: I am a leader at my school through my actions, vision and expertise. I am working in collaboration with teachers, administrators and parents. Board members are not on my radar, but I guess it will be one day. I have identified a colleague to work with.
Reading the New Yorker article increased that feeling of being a coach. It is a slippery business: I am not a teacher, but I teach. I am not a boss, but I can be bossy, and I observe, judge and guide the teachers I work with and I am an editor of their teaching practice.
Going through Kim's article "Lessons Learned: Tips for New Tech Facilitators" I felt comfortable again: I have good relationships with the teachers. I believe I am approachable, dependable, collaborative, friendly and above all, willing to support. The projects are not small anymore since I have reached a position at my school where I spent a lot of time with my fellow EdTech coach colleagues, heads of subject, middle management and senior management figuring out how to enhance teaching and learning at our school. Something I admire one of my colleagues for (and I am aware of how important it is) is to celebrate, praise and publicize. I am doing this more on an individual and conversation level but not necessarily on a "viral scale".
Kim, thank you for pointing out to "not be a pusher". I have seen this backfire at our school when other colleagues tried to push a little too much. I must remind myself more often that not all colleagues will have the same passion, interests and beliefs that I do. I have a lot of ideas that I would like to see happening, but I often realize I don't have the resources or the "willing" teachers for that. Holding back is difficult. Following that, I would like to give new coaches this additional advice: Learn to say no (in a friendly way). You can't be working with everyone at the same time. I am still failing constantly at this.
My turning point was when I was reading Diane Sweeny's "Top 5 Practices for Student-Centered Coaching". I don't think I have practiced any of these five steps or maybe I just did not realize I did. I'll try that from next week onwards.
---
What's YOUR level of coaching mastery?
All coaches go through various stages of coaching mastery. Once you identify where you're at, you can begin to build the skills needed to move to the next stage.
This quiz is based on real-life case studies compiled from years of working with coaches inside The Coach Certificate & Mentorship Program!
When you receive your results, you'll also get your matching case study from the STRIVE Case Studies to see where you fit in the stages of coaching mastery.
Ready to tackle your challenges and move on to the next level in YOUR coaching practice?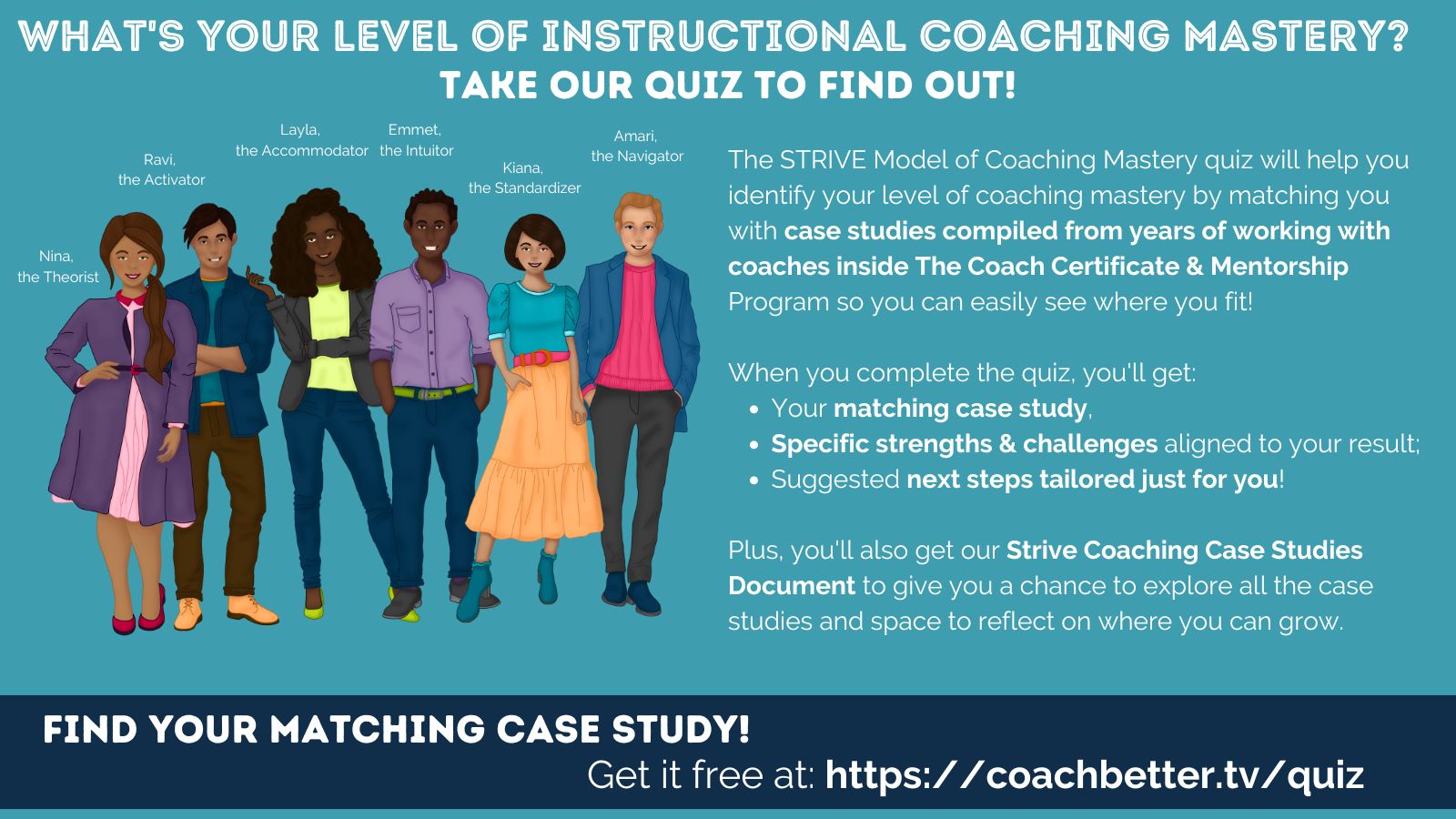 The STRIVE Model of Coaching Mastery quiz will help you identify your level of coaching mastery by matching you with case studies compiled from years of working with coaches inside The Coach Certificate & Mentorship Program so you can easily see where you fit!
When you complete the quiz, you'll get:
Your matching case study,
Specific strengths & challenges aligned to your result;
Suggested next steps for each stage;
Plus the Case Study Document includes:
Case studies leveled by coaching mastery;
A framework to identify essential stages of professional growth & key areas to focus on in your professional learning;
Alignment with the THRIVE Model for a Successful Coaching Culture;
Space for you to reflect & prioritize so you can take action immediately!
You'll go straight to the Quiz, and get the Case Study Document via email.
---
My final realization that I am not (yet) fitting the role of a coach was while listening to "Coaching Fundamentals 3: Defining the Role of the Coach". I am a consultant, not a coach. Although I have used methods of coaching conversations, my check-boxes were ticked mainly on helping others solve a problem by applying my ideas. I guess in a way, teachers would become more self-directed in the use of technology, but I don't think I was an advocate for a teachers' best learner self, standing on the side lines, achieve their goals or help teachers to learn how to solve their own problems.
I am more in the dilemma as Marcello Mongardi has mentioned: I am more promoting my own ideas instead of promoting a teachers' own inquiry. A lot of times teachers approach me like this: I have a unit coming up about topic a, b or c – Do you have an idea of how to integrate technology. I used to just answer the question by either yes, you could do this or that, or "I'm not sure, let me do some research and get back to you".
For a while I have asked the question "What is the learning goal?" or "What would you like to achieve with this unit?" and then we have a longer conversation about the possibilities of how we can enhance the unit by using technology. I guess in a way I am helping the teachers to "maximize personal and professional potential, while concomitantly upgrading their own professional proficiency" (Harry Wong) but for me this still sounds more like consulting instead of coaching.
I have talked to our MYP coordinator recently about the role of edtech coaches and asked him for advice on how to do my job better and get the teachers in the second wagon into the first wagon (THOUGHT LEADERSHIP). I first gave him the answer myself by using some of the things I have been acknowledging from the course on coaching conversations and how I realized that listening and paraphrasing was such an important step. I have seen him doing this in a few meetings and told him that he is one of the only people I've noticed doing this and how helpful in a group conversation it was. He said yes, that is important but more important is the passion, energy and enthusiasm for your work, which you have, the other things will come automatically once you realize you are missing them.
I wish I had realized this earlier, but everything comes in its own time. I wonder how I will react on this post a year from now.
---
Level Up Your Coaching with The Coach!
If you are ready to develop your coaching practice over the next academic year, and explore topics like transitioning your work from individuals to teams, please join us for our next cohort of The Coach!
Wherever you are in building a coaching culture in your school, The Coach will give you the strategies, skills and tools you need to make coaching a success and will empower you to confidently apply instructional coaching strategies in any situation – from building a coaching program, to having coaching conversations, to being a leader in your school community. We facilitate only one cohort each academic year so we can offer individualized support for each participant.
Registration for our next global cohort opens once a year – check the website for details!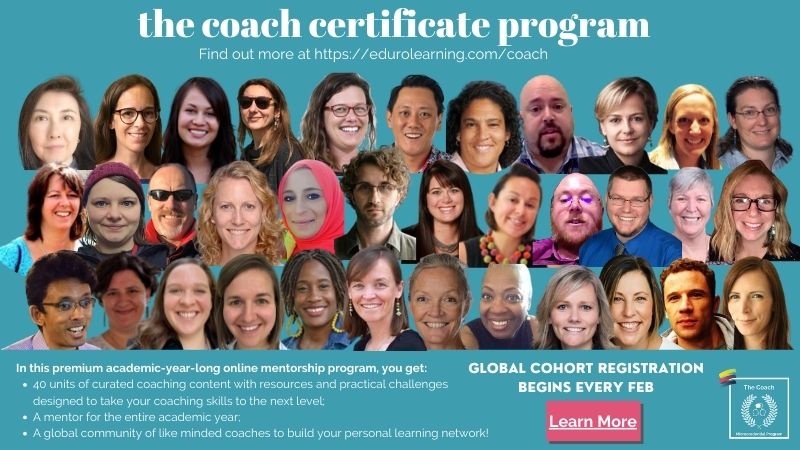 Find out more at: https://edurolearning.com/coach/