We want to give you a peek inside our Coach Certificate & Mentorship Program. Coaches taking part in this academic-year-long journey have graciously given us permission to post some of their learning and reflections from the private coursework they are undertaking during this program. Where possible, we have shared the course and the action task to give context for the guest post.

The Coach Learning Journey Video Reflection
The Learning Journey Video Reflection is a chance for you to reflect on everything you've learned and/or discovered throughout this Certificate Program.  You will create an 8-10 min video sharing on the goal that you set, documenting the process of working towards your goal, reflecting on your achievement and sharing the process/outcome with our learning community. The most important part of your personal project is that it's relevant to you, and you can demonstrate, through documentation and video, the impact your work has had on your school.
Watch Kelly's Video
Maximizing Impact: A Math Coach's Journey to Effective Instructional Practices
What goals did you set for yourself at the beginning of the program?
At the beginning of the coaching program, one of my primary goals was to improve my communication skills as an instructional coach. Specifically, I wanted to become better at communicating my role and how I could help coachees continue their work with me in coaching conversations and/or cycles, rather than just being a provider of resources. In addition to this, I aimed to improve my ability to use data to drive decision-making in my coaching practice and become more proficient in using various coaching strategies to support the growth of my coachees.
How did each milestone support you in reaching your goal?
Each milestone in the program provided me with opportunities to practice and refine my coaching skills. As I progressed through the program, I was able to apply the strategies and techniques I learned to real-life coaching scenarios, which helped me become more confident and effective in my coaching practice.
Milestone 0 – Equity: This was a crucial milestone for me because it helped me understand the importance of coaching with an equity lens. I learned how to recognize and address biases and to have vulnerable conversations in my coaching conversations. This milestone also helped me develop strategies for promoting equity and inclusivity in my coaching practice.
Milestone 1 – Creating a Vision and Providing Clarity: By creating a clear coaching mission statement and coaching menu for math, I was able to utilize various coaching stances to support my coachees around a strong math community, equitable, engaging, and rigorous math instruction. This allowed me to effectively facilitate conversations, provide feedback, and challenge assumptions as needed to help my coachees achieve their goals.
Milestone 2 – Collecting Feedback: This milestone helped me understand the importance of gathering feedback from my teachers to inform my coaching practice. I learned how to use various tools and techniques to collect and analyze feedback, and how to use that feedback to improve my coaching practice.
Milestone 3, Growing Community with Building Thinking Classrooms Video: I had to step into the role of a change agent. My goal was to empower teachers and students to think differently about teaching and learning. To achieve this, I had to seek out testimonials from teachers and students who had successfully transitioned to the new teaching framework. By doing this, I was able to provide evidence of the benefits of the thinking classroom approach and encourage others to consider making the switch. The thinking classroom approach encourages students to take ownership of their own learning and use discourse and modeling of their thinking to take their learning to the next level. Through various coaching techniques, I was able to help coachees see the value in this approach and successfully implement it in their classrooms.
Learning Journey Video – Reflections and Growth in Creating a Video: This milestone was an opportunity for me to reflect on my growth and development as a coach throughout the program. Creating the video helped me synthesize my learning and reflect on how I could apply my new knowledge and skills to my coaching practice. It also helped me develop my communication and storytelling skills, which are important for sharing the impact of coaching with others.
What has been your biggest area of growth in the program?
My biggest area of growth in the program was creating clarity in my role as a coach. Initially, I was seen more as a resource provider, but through creating a mission statement for myself, creating a coaching menu, and sharing success stories with Building Thinking Classrooms, I was able to clearly explain my role in supporting teachers on their journey. This helped teachers better understand what I could offer them and led to more successful coaching experiences and continued.
Where do you still have room to grow?
While I feel that I've made significant progress in my coaching practice through the program, I recognize that there is always room to grow and improve. In particular, I'd like to continue building my skills in providing effective feedback to coachees and in using questioning techniques to deepen their thinking and problem-solving.
---
---
What's YOUR level of coaching mastery?
All coaches go through various stages of coaching mastery. Once you identify where you're at, you can begin to build the skills needed to move to the next stage.
This quiz is based on real-life case studies compiled from years of working with coaches inside The Coach Certificate & Mentorship Program!
When you receive your results, you'll also get your matching case study from the STRIVE Case Studies to see where you fit in the stages of coaching mastery.
Ready to tackle your challenges and move on to the next level in YOUR coaching practice?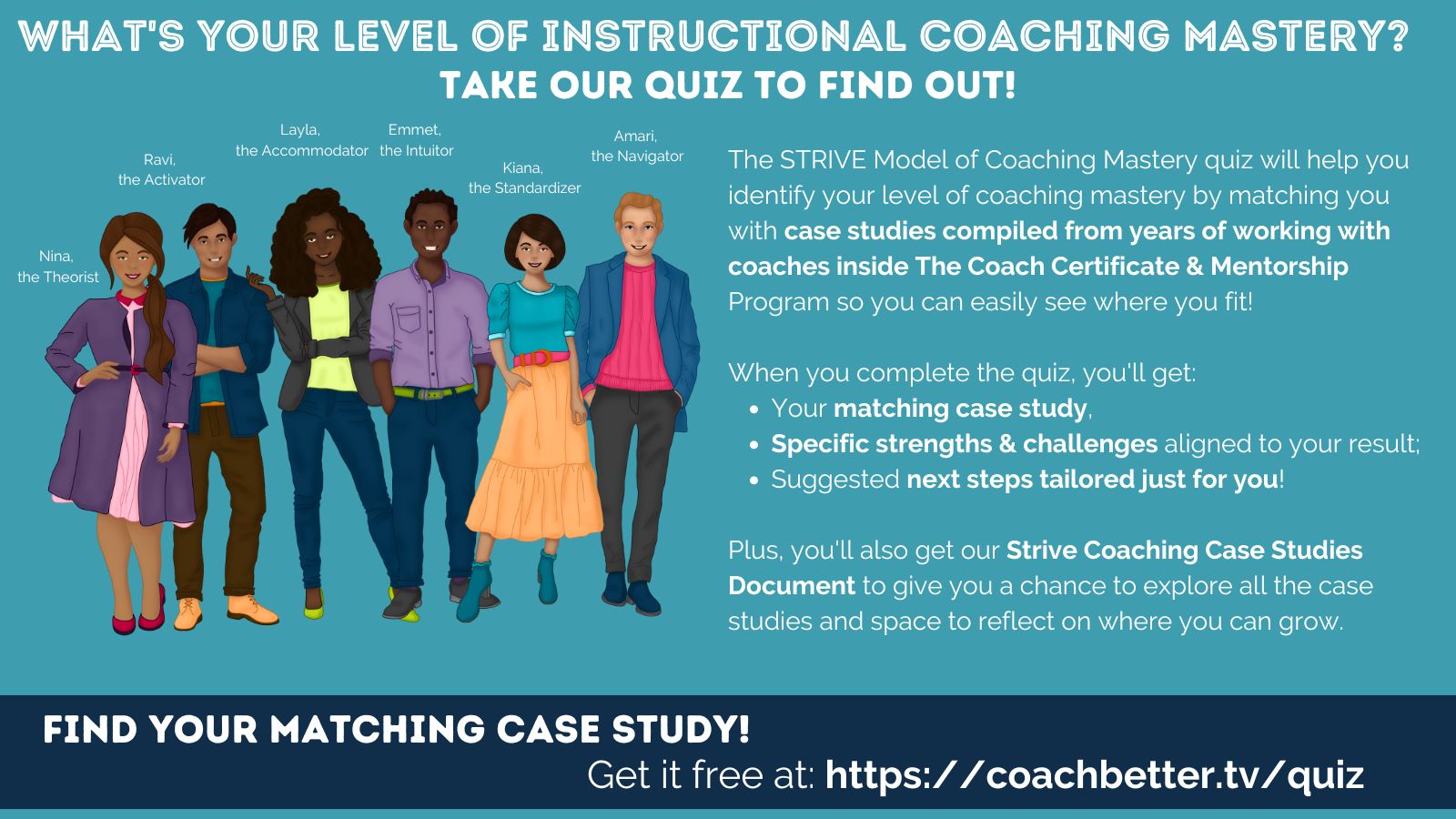 The STRIVE Model of Coaching Mastery quiz will help you identify your level of coaching mastery by matching you with case studies compiled from years of working with coaches inside The Coach Certificate & Mentorship Program so you can easily see where you fit!
---
What surprises and/or challenges have you had along the way?
One of the biggest surprises for me was how much I enjoyed collaborating with my fellow Cohort participants. I initially thought of coaching as a practice between coach and coachee, but I found that working with and learning from my cohort was a valuable source of support and inspiration. In terms of challenges, I struggled at times with balancing my coaching practice with other responsibilities, but I was able to overcome this by setting clear priorities and boundaries.
What would you do differently next time? What did you learn?
Reflecting on the course, I feel satisfied with the progress I made and the effort I put into each milestone. I can't think of anything I would do differently, as I believe I stayed focused and remained committed to the work. Throughout the program, I gained a deeper understanding of the value of reflection in coaching and how it can help me grow as a coach. I plan to continue making reflection a priority in my coaching practice, as it has proven to be an essential tool for learning and improvement.
How did the Coach support you in your learning journey?
Throughout the program, Kim and Diana played a crucial role in my learning journey by providing me with invaluable support and feedback on my coaching practice. Their guidance helped me identify areas for improvement and growth as a coach. Moreover, they led stimulating discussions that challenged me to think critically about coaching strategies and how they can be applied in practical situations.
How has your learning inside the Coach impacted your coaching practice & program in your school setting?
The coaching program had a profound impact on my coaching practice and my school program. It has given me greater confidence and ability to engage in coaching conversations and use questioning techniques effectively. Additionally, my comprehension of the 10 coaching stances has enabled me to deliver more purposeful and relevant support where coachees require it.. Through sharing my milestones and learning journey video with my administration, they have been able to see my growth and support my ongoing development. I feel that the program has helped me to become a more effective coach and positively impacted my performance.
What's next for your professional learning?
Although I've made considerable progress in the coaching program, I recognize that there is always room for growth and development. To continue refining my coaching practice and supporting coachees, I intend to pursue further professional development opportunities and collaborate with my colleagues. My district values the work I've done with Kim and The Coach, and we plan to continue our partnership with the program. Additionally, I am considering taking a leadership course through Eduro Learning in the future as I believe it may be the next step in my career progression.
---
Level Up Your Coaching with The Coach!
If you are ready to develop your coaching practice over the next academic year, and explore topics like transitioning your work from individuals to teams, please join us for our next cohort of The Coach!
Wherever you are in building a coaching culture in your school, The Coach will give you the strategies, skills and tools you need to make coaching a success and will empower you to confidently apply instructional coaching strategies in any situation – from building a coaching program, to having coaching conversations, to being a leader in your school community. We facilitate only one cohort each academic year so we can offer individualized support for each participant.
Registration for our next global cohort opens once a year – check the website for details!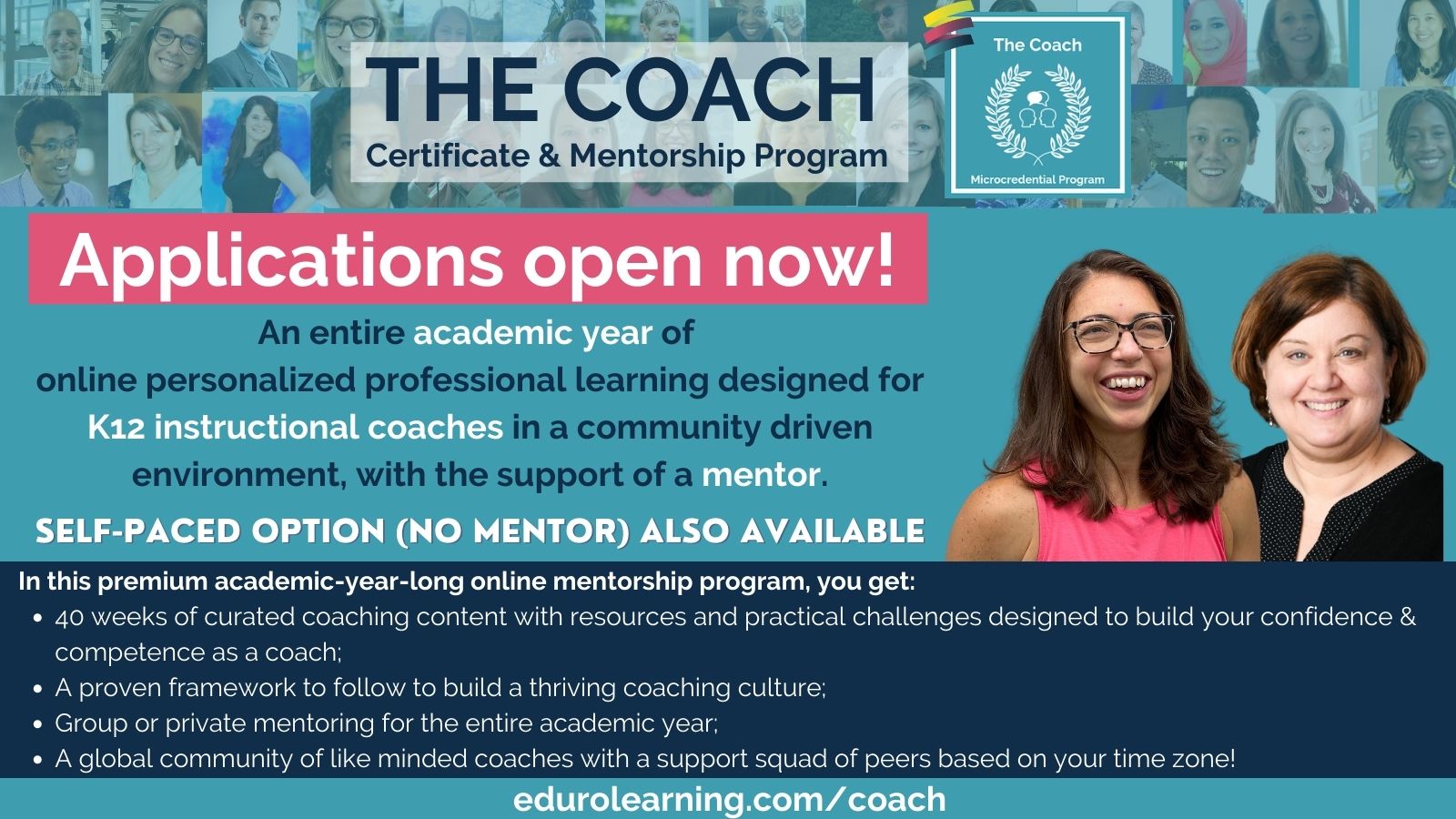 Find out more at: https://edurolearning.com/coach/