We want to give you a peek inside our Coach Certificate & Mentorship Program. Coaches taking part in this academic-year-long journey have graciously given us permission to post some of their learning and reflections from the private coursework they are undertaking during this program. Where possible, we have shared the course and the action task to give context for the guest post.
The Topic: Innovative Pedagogical Approaches
The Task: Reflect on different models of project-based learning and identify which one you feel will work best for you and the teacher(s) you work with.
I have written and revised this response a few times this morning. The more I wrote, the more I realized things and made connections. So in the end, this may read like a haphazard journey through my mind filled with conflicting thoughts and ideas permeated by a desire to find meaning…meaning that will impact what I do each day as I enter life in my school and a colleague's classroom. I am trying to "make it work". Hopefully, it does for you as well.
This is probably one of my favorite modules thus far in The Coach, simply because it encapsulates the type of teacher I am and would like to become. It is a bit of both actually, in one instance it is a mindset hinged on a bias towards action and on the other a desire to want to learn and grow in order to become more adept at crafting environments of authentic learning for my students.
As I typed, actually I was taking a break after drinking way too much coffee, I suddenly pictured Kim sharing the steps to Transforming Learning. It went something like this…focus, relevancy, real-world & share. And it hit me…my coaching journey needs to follow the same process. To eventually be transformational, I need to have a focus within the work I am tasked to do, the work needs to be relevant for the teacher, it needs to be rooted in their real-world, and we need to share it so that what we learn within the individual coaching cycle ripples out into the wider community.
Which brings us back to the second paragraph above. Transferring this mindset to our community will be the challenge. Maybe it is not a transfer we are looking for, but more of an uncovering. My colleagues are inspiring. They want to grow and they are focused on student learning. However, I often feel we are not harnessing that collective power effectively. Therefore, I need to explore how I may connect with teachers in such a way that it draws from their individual experience and transfers it into one of these pedagogical frameworks that will best fit where they and we as a school are at in our learning journey. I need to uncover relevancy for the teachers I am serving.
I remember My Own Small Steps into the world of project-based learning many years ago while completing COETAIL. I researched Project-Based Learning and used my newfound understanding to redefine a science unit to become a vehicle for learning on many different levels, both for me as a teacher-learner, but also for the students. Instead of a teacher-focused unit, as it had always been taught, I chose to change the unit to a more student-focused learning journey incorporating 21st-century skills which culminated in a symposium where students shared their work in front of an authentic audience.
---
Find YOUR Unique Voice as a Coach!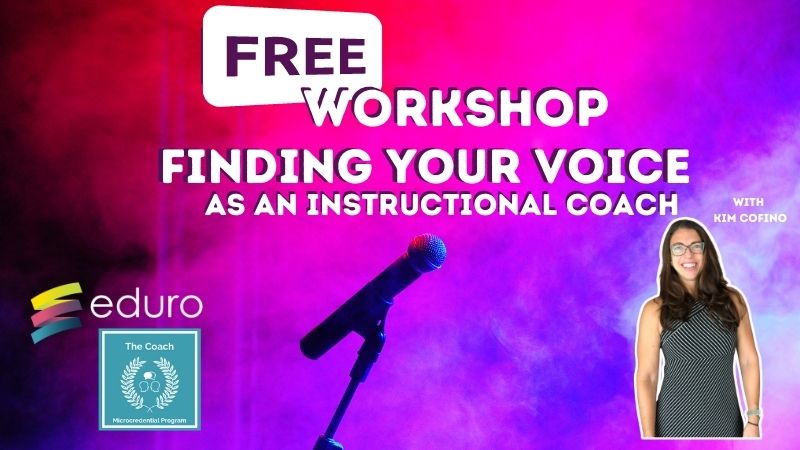 We know that coaching conversations are an art. Finding just the right questions, just the right tone, and just the right phrases for YOU as an instructional coach, that work just right with your coachees, is a special skill. When we hear highly experienced coaches having a coaching conversation, their conversational choices seem so natural and easy. That's because they have found their voice as a coach! Are you ready to find yours?
Join Kim for a free workshop, available right now, to learn the concrete strategies that I use with my private mentoring clients and inside The Coach Certificate and Mentorship program! Bonus: it's pre-recorded, so you don't have to wait to watch – and you can pause & replay whenever you need it! Are you ready to feel just as natural and confident in your coaching conversations as your coaching idols? Check out the Finding Your Voice as an Instructional Coach workshop at http://edurolearning.com/voice to get started!
---
In my current context, I believe that either the Project-Based or Problem Based approaches could work depending on the teacher's comfort level with change and the resulting "messiness" that accompanies it. When I tried Project Based in my class the first time, I really struggled with the noise and "feeling" of I am losing control of this environment. However, once I realized that this was part of the journey, it became a much more exciting experience for me as well as the students. Letting go of the control to a certain extent, allowed them to flourish.
As my role as Integration coach in the middle school develops I am able to have conversations with teachers and teams about current units of study and practice. This in turn could lead to unit redesign within teams. I am excited about these prospects. Using either Project or Problem-based approaches would support much of the transition from independent courses being offered within "silos" to more of an interdisciplinary and later trans-disciplinary approach. I already have a few individual teachers ask me for help with units. They are my early adopters. I plan on developing a deeper relationship with them. During this process, I am endeavoring to practice my coaching skills, and as we work together to create a new unit, I will use this work as a prototype and model for other teachers to observe.
By doing it this way, I will be growing alongside a colleague and we will become a resource for other teachers, which will create a platform from which to launch discussion and future roll-out of PBL across a grade level. From one class too many, linked together, offering a transformational experience for students.
The main struggle will be overcoming instructional latency. New approaches are uncomfortable realities. Teachers are tired and burdened by many other responsibilities. Why would they want to take on something new? That is where these early adopters come in. Work with them, document the results, create the pathway to overcome the inherent latency within the system to bring about the change. Easy wins-finding and exploring connections and practices that are already being implemented that serve as building blocks for PBL.
In conclusion, these models offer starting points for conversation. They offer a way to harness the collective. I do believe that these models, tried and applied, will lead to growth both for teachers, teaching teams and students. It is just a matter of "Making it Work".
Read more from The Coach participants as they share their learning from the certificate & mentorship program…
Abby's post: How Do Coaches Work? Learning from Coaching Styles
Debra's post: The Coach Approach
David's post: What is Coaching? (Coaching as Leadership)
Cary's post: Why Do Schools Need Coaches?
Level Up Your Coaching with The Coach!
If you are ready to develop your coaching practice over the next academic year, and explore topics like the coaching balance, building and sustaining coaching relationships, and enhancing professional learning, please join us for our next cohort of The Coach! Wherever you are in building a coaching culture in your school, The Coach will give you the strategies, skills and tools you need to make coaching a success and will empower you to confidently apply instructional coaching strategies in any situation – from building a coaching program, to having coaching conversations, to being a leader in your school community. We facilitate only one cohort each academic year so we can offer individualized support for each participant. Registration for our next global cohort opens on the 21st February and closes on the 14th of March.