We want to give you a peek inside our Coach Certificate & Mentorship Program. Coaches taking part in this academic-year-long journey have graciously given us permission to post some of their learning and reflections from the private coursework they are undertaking during this program. Where possible, we have shared the course and the action task to give context for the guest post.
The Coach Final Project
The Final Project is a chance for you to reflect on everything you've learned and/or discovered throughout this Certificate Program.  You will create an 8-10 min video sharing on the goal that you set, documenting the process of working towards your goal, reflecting on your achievement and sharing the process/outcome with our learning community. The most important part of your personal project is that it's relevant to you, and you can demonstrate, through documentation and video, the impact your work has had on your school. 
Watch Mark's Final Project
Mark says: "I now have frames and tools to use and I had time to practice them in the real world – this was not an academic exercise for me, but a practical one. Thank you for all the work that led to this product. It is powerful and meaningful!"
What were your goals for this course and how did you plan to meet those goals?
I want to develop a clear stance as a coach.  I want to find alignment between my core values and beliefs and this work.  I want to find and develop practices and ways of being that support my clear stance.  I want to gain transferable skills and dispositions that will carry me forward in my career. In order to reach those goals i will:  ENGAGE in the content, PRACTICE with the teachers I am coaching, COLLECT the evidence along the way.
What has been your biggest area of growth in the program?
I have grown the most in my skills of facilitation. Because our work has not grown very much in the individual coaching realm, but we have had access to teams, I have grown in my skills there. I also took a couple of courses during this year about facilitating teams and I have found much alignment between them in terms of skills and approaches.
I always go into a meeting with a plan as I did with an individual coaching situation. I include opportunities for planned collaborative learning, discussions, and if decisions are anticipated, I plan for how the team can make those as well.
Where do you still have room to grow?
My biggest area of growth is listening. I am learning its power and working to make my silence and non-talking times into really listening. Some of the tools in this course like question prompts and conversation planning suggestions have helped me to be more intentional. I am discovering that when I don't have a plan, I tend to talk too much.
What surprises and/or challenges have you had along the way?
My biggest surprises were how similar my story or my journey as a coach has been to others experiences.  The undefined nature of the work, the lack of administrative support, the challenges in working with adults compared to the challenges of working with students.  These have helped me to change my mindset.  Rather than being frustrated with my school or my situation, I have been able to set up and participate in conversations with my leaders from the frame of helping our school to maximize the coaching frame for our institution and I have been better at recognizing where I need more learning, more practice, and/or feedback.  It has helped me to be deliberate in my growth and change.
View Mark's Course Engagement Slideshow
Level Up Your Coaching with The Coach!
If you are ready to develop your coaching practice over the next academic year, and explore topics like transitioning your work from individuals to teams, please join us for our next cohort of The Coach!
Wherever you are in building a coaching culture in your school, The Coach will give you the strategies, skills and tools you need to make coaching a success and will empower you to confidently apply instructional coaching strategies in any situation – from building a coaching program, to having coaching conversations, to being a leader in your school community. We facilitate only one cohort each academic year so we can offer individualized support for each participant.
Registration for our next global cohort opens once a year – check the website for details!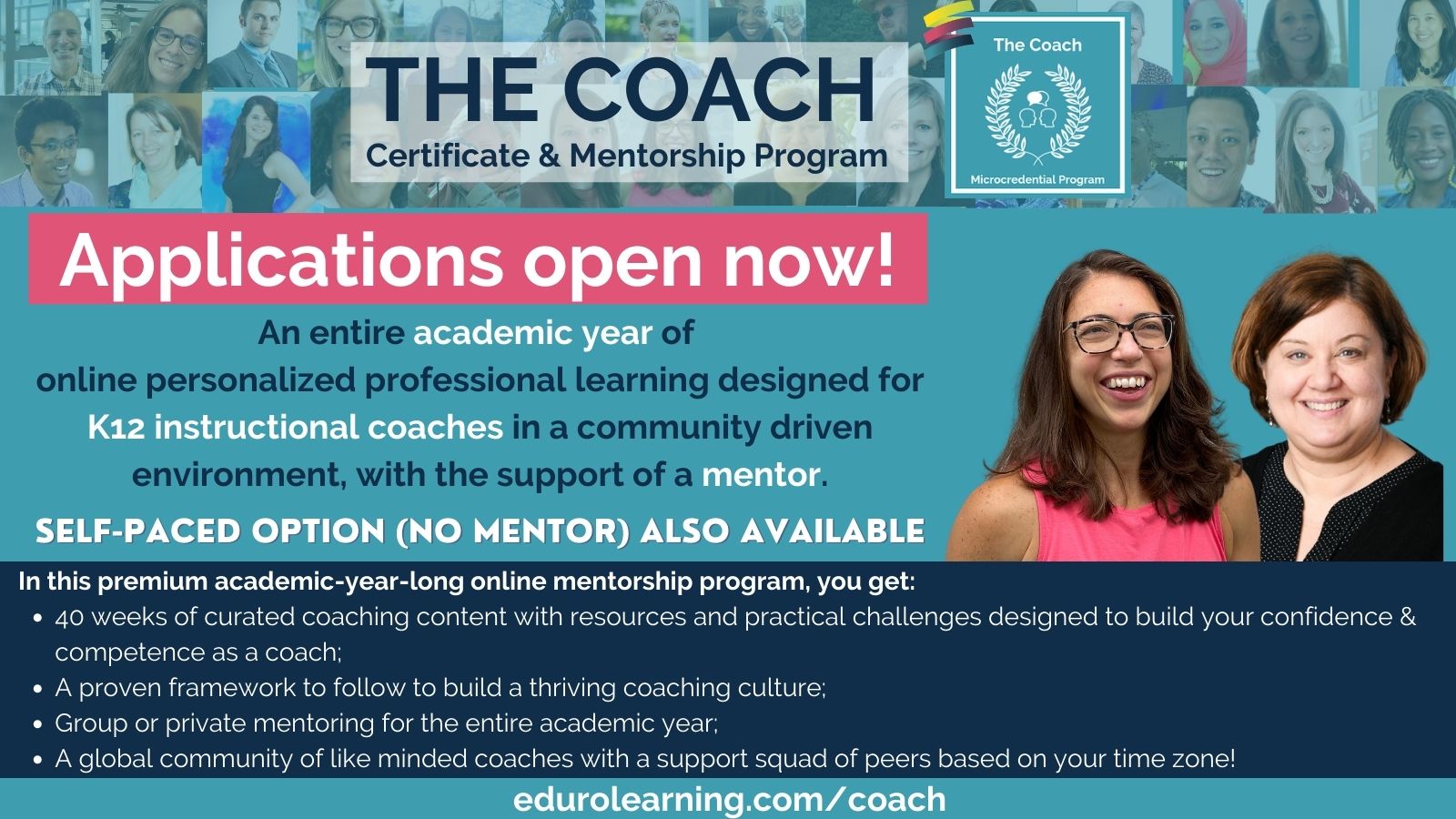 Find out more at: https://edurolearning.com/coach/