Sometimes as coaches, we get stuck in the mindset that because coaching is based on individual teacher goals, they will come to you to seek support. That would be amazing, but it doesn't always work that way – for lots of reasons, including everything from how busy teachers are to what they really understand about our role and how they think we can help them.
This means we need to shift our mindset from expecting teachers to come to us, to reaching out to them – and, because we know that everyone has a different preferred way of learning, if we can do this in lots of different ways, we'll be even more successful!
Shifting our perspective from being reactive to being proactive not only helps our potential coachees recognize how we can support them, but it helps us clarify our own purpose.
Teachers and coaches are so busy, when teachers know exactly what they're going to get in a coaching cycle, and exactly how it's going to support student learning or their own professional growth, they will be so much more likely to opt into a coaching cycle with you.
When, you as a coach have coachees who fully understand the coaching process, they're going to be engaged at a deeper level, working with you as a coach, rather than just short term problem solving, or consulting. These are the relationships you're trying to build – and you can do that by being more proactive in your coaching role.
Bringing clarity to your role as a coach is the first step in building a thriving coaching culture – and that's why we focus on Finding Clarity in Phase 1 of The Coach Certificate and Mentorship Program. If you're feeling a little hazy about the role of a coach, or how to work with your school leader as a coach, or how to communicate and be proactive in your role as a coach, you will find clarity inside The Coach Certificate and Mentorship Program.
So, if you want to see what one week of learning looks like inside The Coach, before you jump in to our academic-year-long program, grab the sample week at the link in the description box below or https://edurolearning.com/coachpreview
This sample week is one of the "hot topics" that come up in conversations inside The Coach: The Coach-Principal Partnership – so you'll learn how to bring clarity to your work with your school leader too!
---
What's YOUR level of coaching mastery?
All coaches go through various stages of coaching mastery. Once you identify where you're at, you can begin to build the skills needed to move to the next stage.
This quiz is based on real-life case studies compiled from years of working with coaches inside The Coach Certificate & Mentorship Program!
When you receive your results, you'll also get your matching case study from the STRIVE Case Studies to see where you fit in the stages of coaching mastery.
Ready to tackle your challenges and move on to the next level in YOUR coaching practice?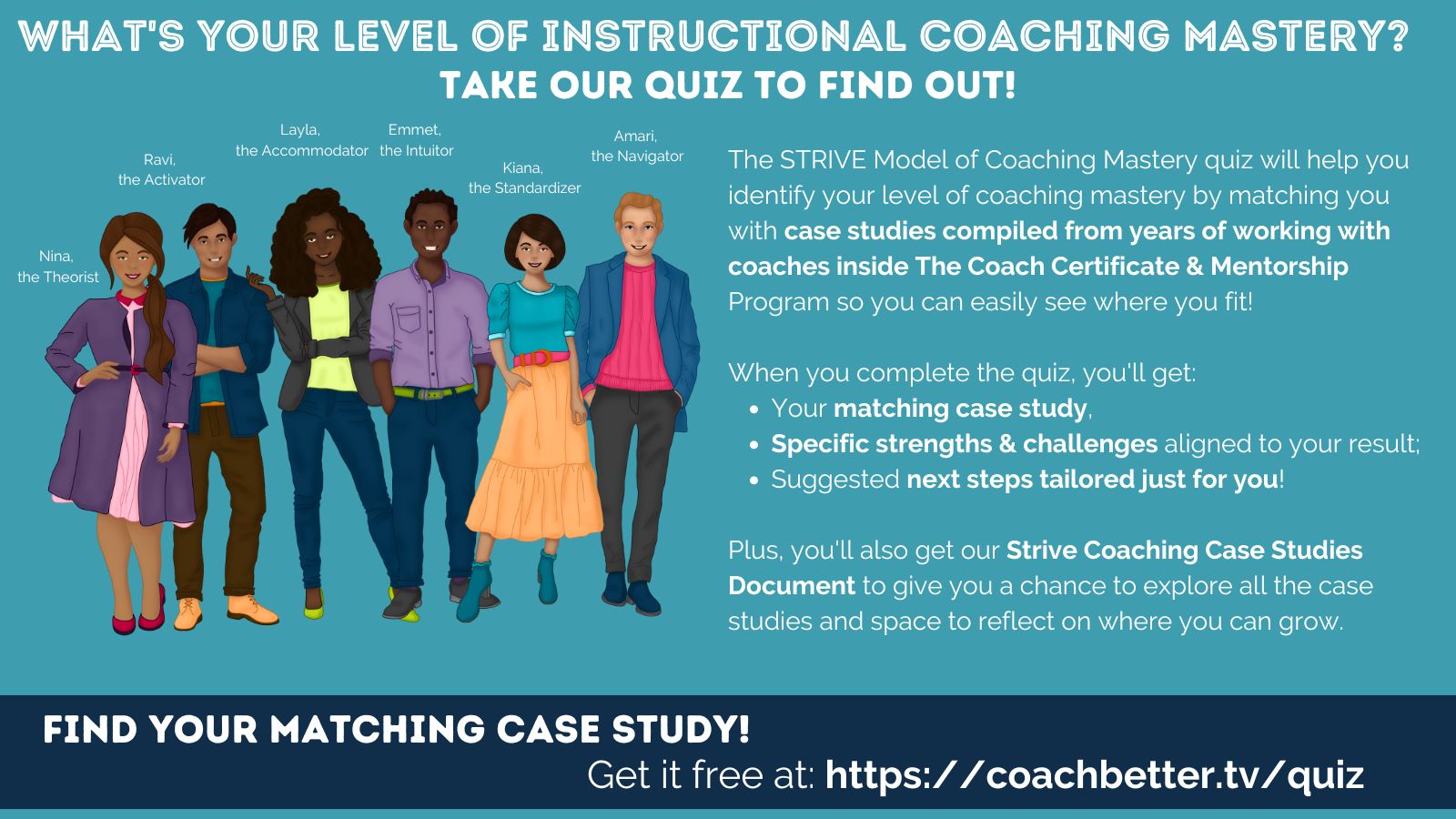 The STRIVE Model of Coaching Mastery quiz will help you identify your level of coaching mastery by matching you with case studies compiled from years of working with coaches inside The Coach Certificate & Mentorship Program so you can easily see where you fit!
When you complete the quiz, you'll get:
Your matching case study,
Specific strengths & challenges aligned to your result;
Suggested next steps for each stage;
Plus the Case Study Document includes:
Case studies leveled by coaching mastery;
A framework to identify essential stages of professional growth & key areas to focus on in your professional learning;
Alignment with the THRIVE Model for a Successful Coaching Culture;
Space for you to reflect & prioritize so you can take action immediately!
You'll go straight to the Quiz, and get the Case Study Document via email.
---
---
8 Strategies to Move from Being Reactive to Proactive in Your Coaching Role
1: Start Communicating Your Services:
Teachers need to know what services you offer as a coach. They won't be able to ask for support if they don't know what to ask for. Lots of coaches use a coaching menu to help teachers get an idea of what they can do to support teachers. Creating a simple graphic with examples of ways that you work with teachers is an easy way for teachers to recognize their own needs and realize that YOU can support them. You can share this anytime you get the chance! In team meetings, curriculum planning meetings, and in 1:1 conversations.
2: Getting the pulse of what teachers need
To build an effective coaching menu, it's important to know what teachers need – and even more importantly, what they think they need and how they would describe it. You want to make sure you're making a coaching menu that includes options that teachers will recognize as an area of interest or need. That means you want to be using teacher language (even if you have terms that are technically more precise). You may want to do a needs assessment before creating a coaching menu so you are confident in how teachers might need your support. Then, create your menu to match those needs.
3: Share coaching success
Once you start having coaching cycles – no matter how short or small – build in a process for sharing teacher success. Could you ask teachers to share in team meetings, or divisional faculty meetings? Or could you create a newsletter or blog that highlights the great work that teachers are doing? Any format that feels right for your school community to share and celebrate coaching success will help potential coachees see what working with you is like – and give them specific teachers to ask about their experiences.
4: Connect teachers to each other
As you're starting to work with more and more teachers, you'll find that you have a good idea of what's going on in different classrooms around the school. You'll know which teachers are in a similar place in their practice and you can start connecting teachers to each other. Sometimes those connections are surprising – a lower elementary teacher may benefit from connecting with an upper elementary teacher or a Math teacher may benefit from connecting with an English teacher. As a coach, you are in a unique position to see across grade levels and subject areas to make these connections – there are very few other people on staff in non-evaluatory positions that have this lens – take advantage of it!
5: Share "just in time" resources
Now that you know so many teachers, and what's going on in so many classrooms, you can start to be very proactive and intentional about sharing "just in time" "just right" resources for teachers. This is an especially effective strategy when trying to reach teachers who aren't ready for a full coaching cycle yet. Demonstrating that you understand where they (and their students) are at, and exactly what resources will support them in taking the next step shows how personalized coaching can be!
6: Be intentional
Keep track of who you're working with. Consider organizing this by grade level or department so you can quickly see who you have worked with, and who you haven't supported yet. Track what's working to get teachers engaged in coaching – and stop doing things that aren't working. Start intentionally reaching out to teachers who may not have worked with you in the past so you can continue to maximize your impact.
7: Track your time
Along these lines, track the kind of work you're doing with teachers (consider noting whether it's consulting, collaborating or coaching and how much time you're spending in each stance). At certain milestone points in the year, you may want to reflect on the actual hours to see data / percentage of time spent doing what and in which buildings with which teachers, and see how this changes over the course of the year. This will help you know exactly how to adapt your communication about your role.
Where are you operating right now?
Which of these are you already doing? Which are opportunities to be even more proactive in your role? Let me know in the comments below!
It's easy to stay in reactive mode – just responding when people reach out. But if you are ready to maximize your impact as an instructional coach, if you want to make a bigger impact in teaching and learning at your school, and you want to start having enthusiastic coachees engaged in coaching cycles with you – start being proactive about seeking out clients.
These 7 strategies are a perfect example of the kinds of conversations we have inside The Coach Certificate and Mentorship Program. In Phase 1, we focus on Finding Clarity, so that you can clearly communicate your role – to your teachers and your school leaders. Being clear about your role is the number one way to get more teachers enrolled in coaching cycles with you.
Watch the Video
---
Get out of reactive mode & embrace proactive mode with The Coach Certificate & Mentorship Program!
Are you ready to work with more teachers in your school? Join us for the next cohort of The Coach Certificate and Mentorship Program so you can start building the skills you need to begin working with more teachers than ever before!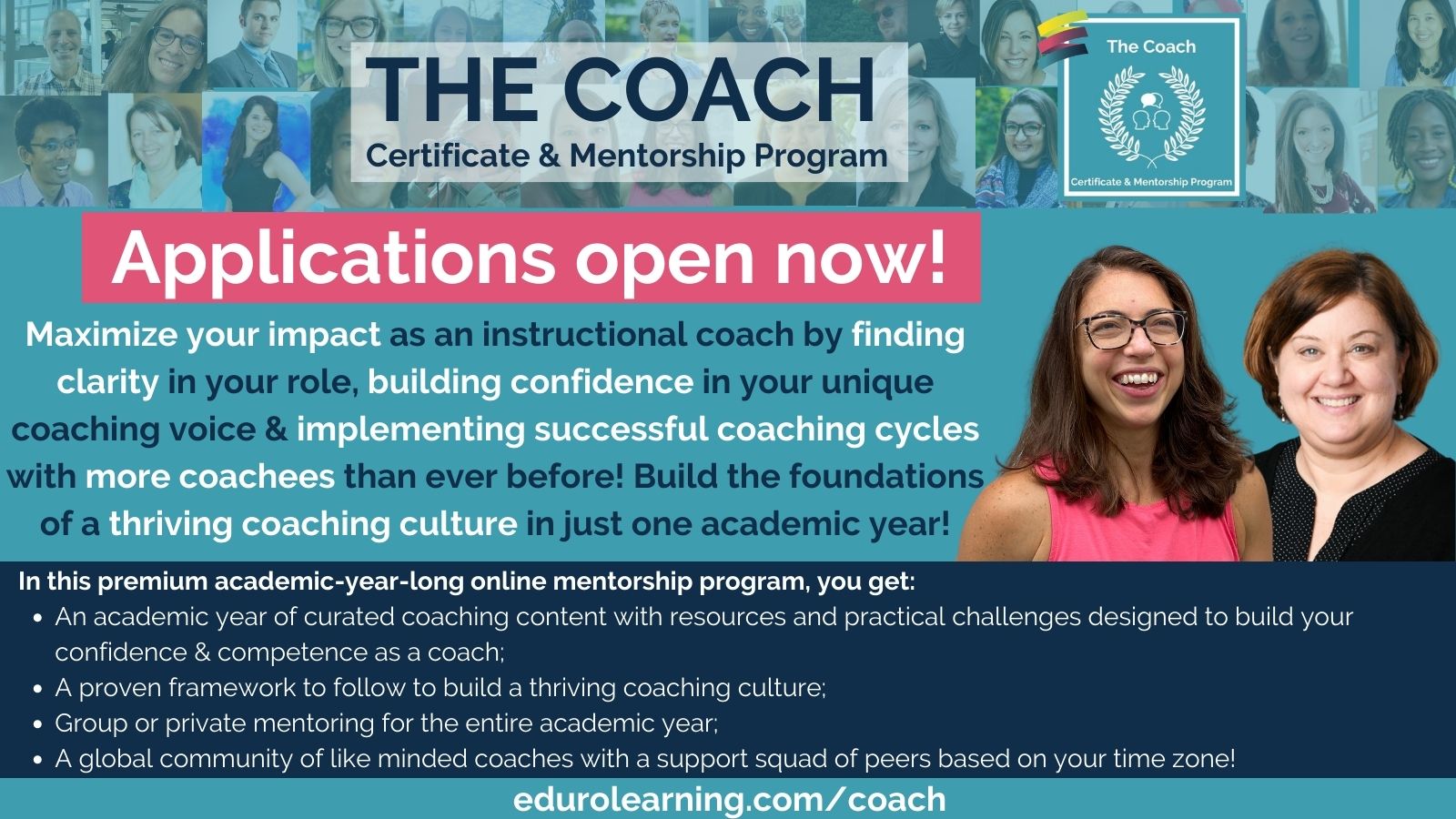 The first phase of the program is called Finding Clarity, because we know how important it is, not only for you to truly have a deep knowledge of what coaching is, and what it isn't, but because we know you want the confidence to be able to share that with others. Everything from defining your role (for yourself, your school leaders and your colleagues) to creating a coaching menu is included in Phase 1, so you can start from wherever you are in your school setting and take that next step forward. Defining & articulating your role clearly & confidently to others is a HUGE step forward in working towards engaging more teachers in more coaching cycles.
If this sounds interesting to you, and you're ready to have more clarity in your role, so you can work with more teachers than ever before, come join us in the next global cohort of The Coach Certificate and Mentorship Program!
Not only will you learn everything you need to be successful as a K12 instructional coach, with an entire academic year of curated coaching content, but you'll also get the support of a mentor to adapt your learning to exactly your needs & experience level for the entire program!
The program is truly personalized – because we know you're coming to The Coach with your own experience and expertise. So wherever you are in your coaching journey, we can support you in taking the next step forward.
Plus, inside our private community, you'll learn with a global cohort of coaches from schools around the world, so you can see how coaching really works in other schools – and build your network of coaches!
Our global cohorts open only once a year – get all the details for our next cohort at edurolearning.com/coach
For All Coaches
Connect with us!