I really believe that coaching is the best job ever. I love being a coach. I love the position in schools. I truly believe coaching is the key to sustainable professional growth, but as a really complicated position to be in.
I often say it's the "messy middle" because you're no longer in the classroom with really clearly defined expectations, but you're also not a school leader, with clearly defined authority. You are learning and building new leadership skills that stem from your expertise as a classroom teacher, and can definitely be the bridge to a leadership position, but you're in a gray area as a coach. This is often not part of instructional coaching professional development opportunities.
But is a part of The Coach Certificate & Mentorship Program! The Coach is the only online certificate program designed for K12 instructional coaches that includes an entire academic year of mentorship to provide personal professional learning in a global, community-driven environment.
Inside The Coach we focus on building your coaching skills ALONG with being prepared for the changing dynamics of moving into a coaching role. So if you are facing any of these challenges, as you're going through this video and you're listening and you're thinking, "oh, that's so me or that's happening to me right now" know that there is a community out there to support you – and it is in The Coach Certificate & Mentorship Program! Registration for our next cohort opens soon. So head over to edurolearning.com/coach to find out more about that, or hit me up in the comments or in the DMs. I'm happy to tell you about the program.
Today I'm sharing four surprises or challenges that teachers moving into a coaching role often face. And it's not just your first year as a coach. Sometimes these challenges can be more present or more surprising, even when you're an experienced coach and you're moving to a new school or working with new school leaders. All of the experiences I'm sharing today are inspired by experiences of my clients inside the Coach Certificate and Mentorship Program, and in my private mentoring packages.
As a coach you're:
expected to lead, without being a leader;
learning to see the big picture of where the school is going (often without having all the pieces to the puzzle),
trying to inspire your colleagues without having a class of your own, and
still feeling like a teacher, but are often perceived as a leader by your colleagues.
As I address each of these challenges, I'm going to highlight
how they might present or manifest in your school environment, and
what you can do to start addressing them & how we support you in doing that inside The Coach Certificate & Mentorship Program
1: Expected to lead without being a leader
When you move into a coaching role, you often expect teachers to engage with you as a coach, the way they did when you were a teacher, but not everyone wants to be (or is ready for) coaching, so you might experience some reluctance.
Lots of coaches talk about the surprise that they felt when they realized that not everybody wanted to be coached – not everybody wants to work with a coach. Coaching isn't necessarily perceived in a positive light. So those positive experiences that you may have had as a peer teacher may not continue.
So, the expectation is that you're going to lead professional learning, to engage teachers in coaching cycles, to build a growth minded professional learning culture, without any positional power or formal leadership to make that happen. You need to learn how to tap into your influential leadership skills.
Plus, when you move into a coaching role, you might find that while you're experiencing this surprise, that teachers are reluctant to work with you, your admin might also be surprised, wondering why are teachers not choosing to be coached.
If that means they may not be seeing you do as much coaching as they expected you would do they may:
give more tasks to fill up your schedule (like sub cover, or exam supervision, or duties),
or even worse, they may require that teachers to be coached, because they have a lack of understanding that coaching is non-evaluative, and invitational.
If your schedule gets filled up with administrative tasks, like duties and sub cover, that means you have less time to coach. And so the cycle just kind of keeps repeating.
If admin forces teachers to be coached, the reluctance increases, just in less visible ways. And so the cycle keeps repeating.
And now you need to lead your school leader to understand how coaching works. So you have expectations for leadership in two ways: with your colleagues to get them engaged in coaching AND with your school leader to help them understand what you should be doing as a coach – again with no positional power or formal leadership authority. This can become REALLY complex.
This is probably the biggest challenge that most new coaches face and it can happen to coaches at all different experiences levels:
Brand new coaches,
coaches working with new/different school leaders AND
to coaches moving to a new school.
Regardless of how the school was presented in the interview, you may find that there is less of a coaching culture than you expected, less common understanding of what coaching is, and that means you may have to reset your own expectations. Plus, in a new school you may not be established as a teacher, so your new colleagues may not see you as a successful teacher from your previous experience because you're coming in as a coach.
All of this means that your expectations of the role may not be aligned with what the school, and your colleagues expectations are.
So, how do you start to solve this challenge?
The most important thing to do is clearly define your coaching role. First for yourself, then with your school leadership team, and then with your colleagues. Start with the vision for coaching (if you don't have one, start there) and then clearly define what coaching is and is not, and make sure that your principal is in alignment with this vision.
This is one of the very first things we do inside The Coach Certificate & Mentorship Program . We believe that with clarity comes purpose. In Phase 1, you'll define or refine your role as a coach so you can clearly articulate your role with your school leaders & community. When you have a clearly defined role, everyone has shared expectations, and can operate based on those.
Also in Phase 1, we'll also discuss the foundational skills necessary to create a successful coaching program, including:
Building a Coaching Program
Essential Skills for Coaches
Defining the Role of the Coach
The Coach Principal Partnership
Exploring Coaching Models
A challenging part about this process is that you may have to work with your school leaders to align your vision and expectations. I call this "coaching up" and these conversations can be intense. It can be scary to essentially tell your boss what your job is & what you need to know to be able to be successful in your role – but this is essential. Both for you to be successful and for your admin team to fully understand the value of the work you do. And we have lots of strategies to help you do that inside The Coach – and you'll get the support of your mentor & the global cohort to help customize those strategies for your exact school context.
When you work with a coach, it doesn't mean there's something wrong or there's something you need to fix. It's actually a great opportunity for professional growth. And we all have room to grow that piece of clarity. That is a very early in building a successful coaching role is something we often forget because we have this expectation that everybody understands what we're doing and why doing it. And that's often not the case. So when you're struggling to lead without being a formal leader, the first solution there is to find clarity.
2: See the big picture, often without all the pieces
The second reality of being a coach that nobody ever tells you before you start is that you need to see the big picture, often without all the pieces.
This is really interesting because as a coach, as I mentioned before, you're kind of in that messy middle, you're not in the leadership team and you're not quite a teacher, even though for the most part, you usually feel like a teacher.
As a coach, you often have new insight into the big picture of what's going on in the school. You might be invited to more meetings with the school leadership team. You might be given the freedom to develop professional learning for teachers. You might be working with school leaders to achieve school or division goals.
This means you have a much broader understanding of where the school leaders might want teachers and student learning to go. As a coach, you're now looking at professional learning, and school goals, beyond just your grade level or your department. That's a whole new perspective on schools that we often don't have when we're still in the classroom.
Now we have to think about
what do teachers in other grade levels need,
what do teachers in other subject areas think about,
how do all these things fit together?
That's a new perspective and even with this new insight, you might not be part of all conversations where decisions are being made.
You might not know exactly why things are moving in this direction or why the admin wants you to say this or do that. Again, you're in this hazy middle ground where you're expected to facilitate professional learning, but you don't always know the answers to all the questions teachers might ask, or you might be just as confused about certain things as teachers are.
This often makes you, as the coach, the "boots on the ground" for new initiatives, but you might not have even been part of the planning process. Now you have to navigate those complicated conversations and relationships between teacher and admin to see both sides.
When you're facing that second challenge of seeing the big picture without all the pieces and having to navigate that complicated relationship and communication structure between teachers and school leaders, the solution again is to Find Clarity, which we do Phase 1 in The Coach Certificate & Mentorship Program.
Another piece of clarity is understanding the vision for coaching in your school, and the alignment of your role, and how it fits in the school hierarchy and aligning your role with what the school vision is and what your school leader, your individual school leader is kind of expecting of you so that you can have clarity about your mission as a coach in your school and how that fits with the big picture in terms of the school leadership.
When you have that clarity around the school-wide vision, your place in the structure, and the frameworks that are in place for success, you can better articulate your needs to be able to do your job well and meet expectations. When you're clear on the boundaries of communication, you won't be stuck floundering in the messy middle without direction. You'll know what to say, how to say it and why it's so important.
---
What's YOUR level of coaching mastery?
All coaches go through various stages of coaching mastery. Once you identify where you're at, you can begin to build the skills needed to move to the next stage.
This quiz is based on real-life case studies compiled from years of working with coaches inside The Coach Certificate & Mentorship Program!
When you receive your results, you'll also get your matching case study from the STRIVE Case Studies to see where you fit in the stages of coaching mastery.
Ready to tackle your challenges and move on to the next level in YOUR coaching practice?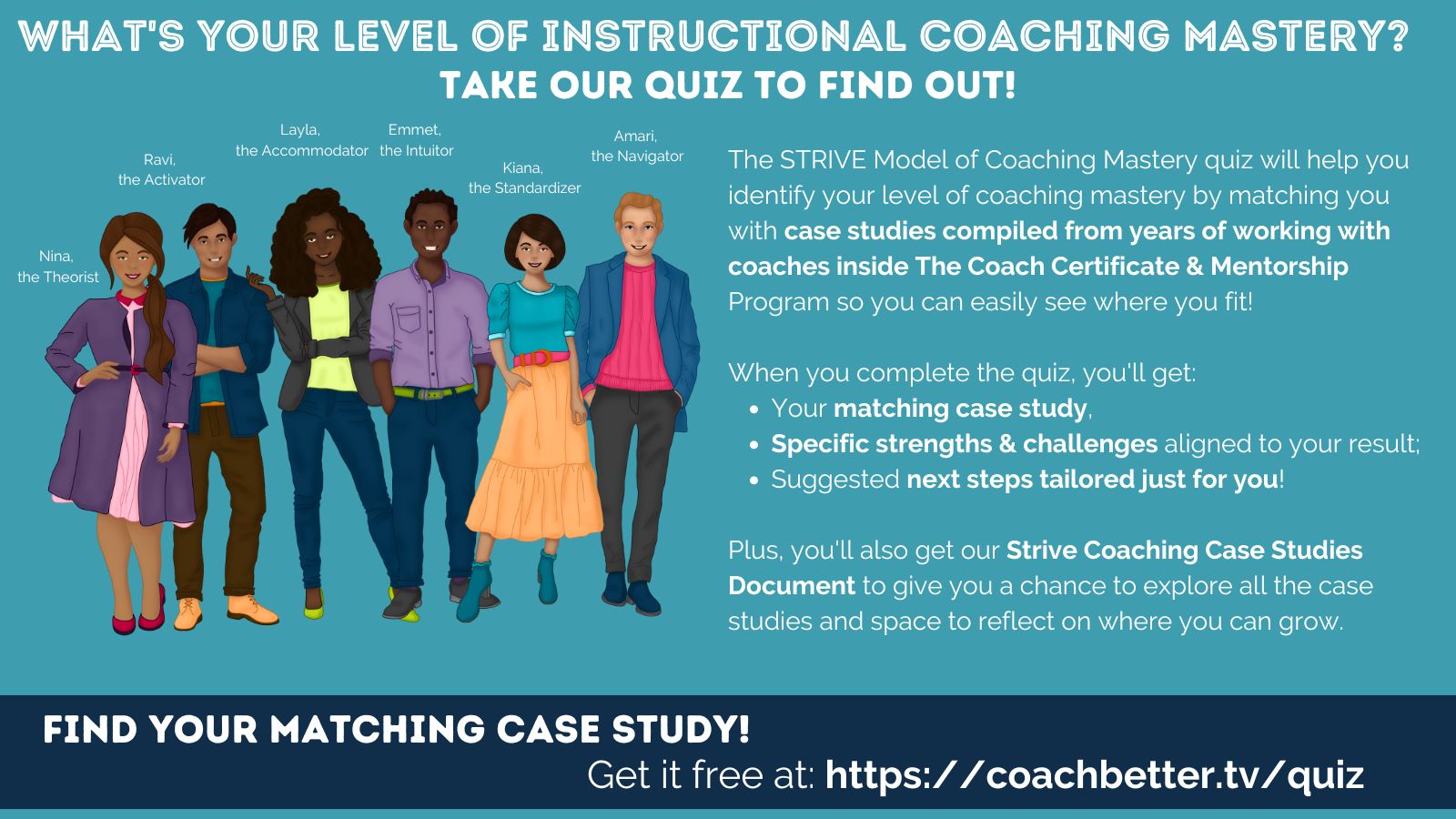 The STRIVE Model of Coaching Mastery quiz will help you identify your level of coaching mastery by matching you with case studies compiled from years of working with coaches inside The Coach Certificate & Mentorship Program so you can easily see where you fit!
When you complete the quiz, you'll get:
Your matching case study,
Specific strengths & challenges aligned to your result;
Suggested next steps for each stage;
Plus the Case Study Document includes:
Case studies leveled by coaching mastery;
A framework to identify essential stages of professional growth & key areas to focus on in your professional learning;
Alignment with the THRIVE Model for a Successful Coaching Culture;
Space for you to reflect & prioritize so you can take action immediately!
You'll go straight to the Quiz, and get the Case Study Document via email.
---
3: inspire your colleagues without having a class of your own
The third reality of becoming a coach that no one tells you before you start is that you need to build peer relationships. Oh no, everybody tells you that. Sorry, you need to build those peer relationships without having a classroom of your own, to inspire others, to demonstrate that you can actually do it, to prove that you know what you're talking about, you need to help teachers understand and see the value of coaching without having your own classroom to demonstrate how powerful it is.
This can be a really hard part for classroom teachers who really love the classroom. Sometimes they move into coaching and they're like, oh, now I have to do all these things that I loved doing with my kids. But I have to convince another teacher that let me do it with their kids. And that puts so much extra pressure on you because now it's harder to make mistakes. You don't feel like you have a space where you can kind of take risks and try new things. You aren't able to have like a proof of concept before you start something. You have to risk it with someone else's students every single time. And that can feel really uncomfortable. And oftentimes you kind of get lumped into this perspective of, of course you can do it. You're the coach, you're the expert. Teachers see you as someone who obviously they can do these things, but that doesn't mean I can, or I should in my own classroom,
The solution to this one is in phase two of the coach and it's called Implement Consistently.
The idea here is to begin by working with the willing to build trust with small teams or individuals so that you can start showing the success of coaching and build your coaching community beyond the individuals who are ready to be risk-takers. So you can start thinking about those teachers who may be a little bit more cautious, who may be not as invitational with you as a coach who may be curious, but you know, concerned about what might happen when you come into their classroom.
Inside The Coach in Phase Two, we dig deep into coaching skills, getting you prepared to have coaching conversations. We talk about things like:
paraphrasing,
using an approachable voice,
understanding different states of mind,
using different sentence stems,
using different coaching stances,
understanding mirror neurons, and h
ow you can help people feel comfortable and build rapport,
knowing what questions to ask,
how to adapt and adjust during a coaching conversation,
being approachable,
knowing which type of coaching role to take during your different coaching conversations,
being able to support everyone from beginners to advanced
Aaaaallll of the coaching skills you want to become proficient at. And if you're already an experienced coach, you have the opportunity to reflect on what aspects of your practice is already strong, and where you need to grow.
In this phase you'll also learn about:
Building Relationships
Communicating Your Role
Working with Adults
The Coaching Cycle
Coaching Conversations
Coaching Stances
You'll be implementing those skills consistently, and reflecting on how each conversation goes. Not only will this build your confidence in your own coaching capacity, but you'll also be developing a culture around coaching, you'll be helping other teachers see what coaching is and how it works, you'll be creating and defining the expectations for coaching, so those teachers that may be been reluctant at the start, will begin to see what they can expect so they feel more comfortable taking a risk with you. You're building trust and demonstrating your value so that more teachers recognize the value in being coached by you. That's the beginning of building a coaching culture!
4: Be the connection between leadership & teachers AND advocate for your role
The fourth reality of becoming a coach that no one tells you before you start is that you often become the connection between leadership and teachers. Similar to being a leader, you may now be having conversations with teachers and leaders beyond the scope of what you may have become comfortable with.
So if you were maybe a head of department or a team leader, or a really successful grade level or subject area teacher, you probably knew how to communicate with your team, how to spread good ideas and contagious energy and inspiration on your team. But now you're starting to bridging the gap between leadership and teachers…
But you're no longer in the classroom. You're no longer kind of part of that team. And you're not on the senior leadership team. You're not a formal leader. So again, you're in this gray area, this messy middle. And the hard part here is that you're not really perceived as one of them or part of the team by either group – and that can feel really isolating.
You can feel like you used to have this team that you felt really connected with, and now you may need to work more independently. You may need to be more self-motivated and self-directed. You may not have a built in support community because you may be the only one on your team.
And, because coaching is usually a non-contact-time position, it's an easy job to cut from the budget. So you have to learn to advocate for your role, to document and share the impact you're making so others can see the value of your role. Learning how to use data to improve student learning on a school-wide level, being able to collect and analyze data on your own coaching work so you can see what's working and what's not. Then, using that data to validate and retain your position actually becomes part of your job, as a coach.
How do you start building this culture of coaching, and being an advocate for your role, when you may feel so isolated?
We focus on this theme in Phase 3 of The Coach: Building Community
One of the strategies we focus on here is finding and building your network of support in your school community.
Who are the individuals on teaching teams that are passionate advocates for coaching that want to work with you that will spread the amazing things about the work you're doing?
Who is your ally on the senior leadership team who's going to advocate for coaching in those meetings that you're not part of?
In the Coach we'll teach you how to intentionally and strategically start building that network, finding those connections so you can build capacity in the school and start creating (or growing) a positive coaching culture.
Also Phase Three: Building Community, includes:
In Practice: Finding a Coachee
In Practice: Setting a Goal
In Practice: Observe a Lesson
In Practice: Post Observation Reflection
Measuring Your Impact
Building a Coaching Culture
Phase 3 is when the pieces are all starting to come together. You're feeling clear and confident in your role as a coach, you're able to navigate coaching conversations with colleagues in all different areas of the school, and you're starting to see the impact of your work as a coach grow into the wider community. At this point, you will have everything you need to create a thriving coaching culture – even if you may not get there all in one academic year!
Those are my four realities of becoming a coach that no one ever tells you before you start, they were that you're:
expected to lead, without being a leader;
learning to see the big picture of where the school is going (often without having all the pieces to the puzzle),
trying to inspire your colleagues without having a class of your own, and
still feeling like a teacher, but are often perceived as a leader by your colleagues.
We talk about all of those inside The Coach Certificate & Mentorship Program!
If this is something you are ready to build, something you are ready to dig deeper in your coaching practice, please join us for the next cohort of The Coach!
Watch the Video!
---
Level Up Your Coaching!
If you're ready to dig deeper into being more intentional in your coaching practice – or if you're new to instructional coaching and you're curious about getting started, join us for one of our courses for coaches!
To learn more about these options, I have two FREE workshops to share with you today.
New Coaches:
If you're just getting started as a coach, and you want to be successful in your early years, watch our New to Coaching Workshop, which highlights the key mindset and skill set shifts you'll need when moving from the classroom to a coaching role. The workshop will also tell you all about our course for new coaches, Getting Started as a Coach.
This short course is specifically designed for classroom teachers that are moving into a coaching role so you're prepared for the transition. It's focused on exactly the skillset & mindset shifts you need to so you can be successful in your first years as an instructional coach.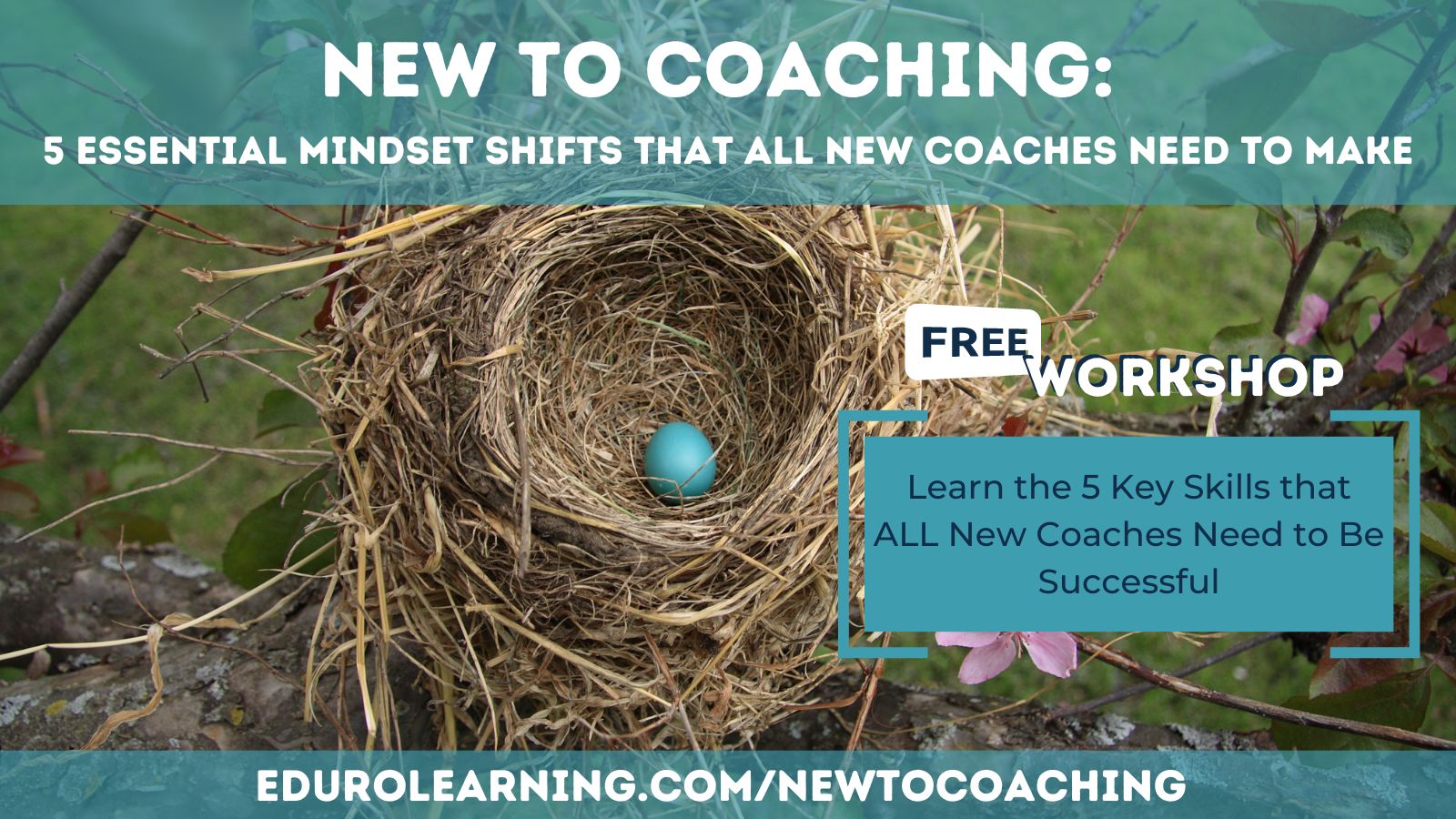 Experienced Coaches:
If you're already a coach & you want to think about being more intentional & strategic in your practice, watch our workshop on the Thrive Model for Coaching Success which will help you evaluate your program and your practice to see where you may have room to grow. You'll walk away with a clear picture of exactly what you need to focus on to build a thriving coaching culture – and help you decide if our year-long mentorship and certification program, The Coach, is right for you, right now. This program is designed for current coaches who are focused on building a coaching culture through intentional and strategic coaching work at all levels – with teachers and school leaders.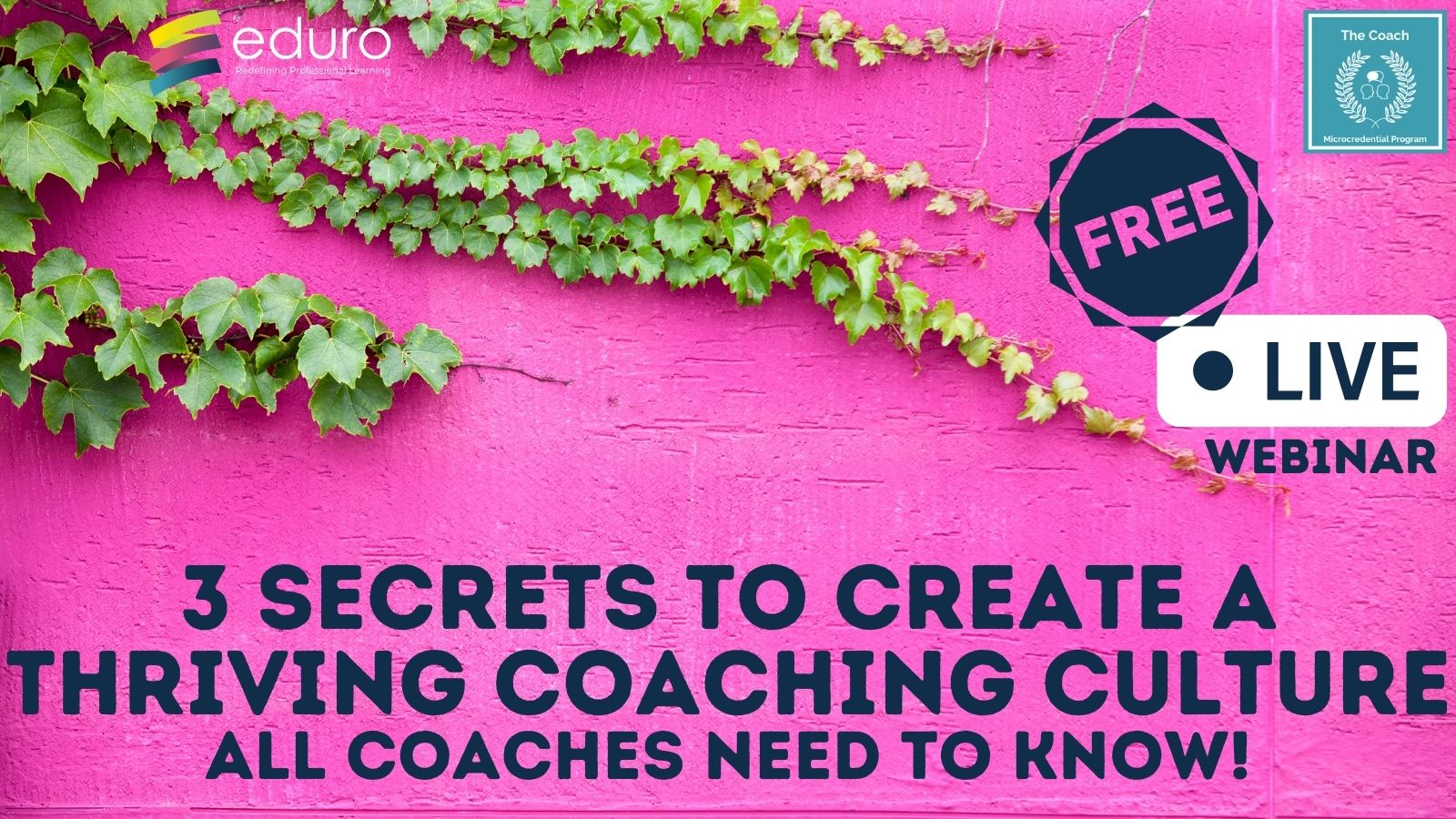 Wherever you are in your coaching journey, we can support you!
For All Coaches
Connect with us!