Are you interviewing for an instructional coaching position this year?
Curious what they might ask in your interview?
In our work with coaches and school leaders, we often talk about finding the right fit during the hiring process. It's essential to take time during the interview process to see if coaches and schools are in alignment about their vision for coaching.
Today, Diana is sharing how to approach an instructional coach interview as a school leader including a list of 10 questions to ask coaching candidates regarding the clarity of a coaching role in your school, consistent implementation of coaching strategies, and how coaching is built into your school community.
In a previous #coachbetter QuickTips episode, Diana shared our Top 10 Questions to ask in an Instructional Coaching Interview (as the Coach) to help coaching candidates get clarity on the role they are interested in and how it works in a specific school or organization. We prepped them to ask targeted questions to help them find out if a coaching position aligns with their vision of coaching and how they would be set up for success in a school.
As the interviewer, you may be wondering:
how to prepare just the right questions…
how to better understanding instructional coaching and how it works in your school or organization…
how to develop and communicating your school's vision of coaching…
The Importance of Clarity in Determining Interview Questions
All of these questions are part of the process of finding Clarity in a coaching role & program, which is where we start in Phase 1 of The Coach Certificate and Mentorship Program.
The Coach is not limited to those in or interested in coaching and supporting their colleagues in the classroom. Everyone benefits from a strong culture of coaching and the more educated and experienced instructional leaders and administrators are about coaching, the more successful it will be in their school.
The Coach Certificate & Mentorship Program provides an opportunity to level up on the role of coaching and how it can be effective in your school setting.
Let's take a closer look at interviewing coaching candidates and a bank of questions you might use to clarify what your school or organization is looking for and the role of coaching in your community.
There are all sorts of questions you can ask in an interview, but because the expectations around coaching can vary from school to school, you'll need to be very clear about what a coaching role at your school looks like. Chances are that coaching candidates are interviewing for multiple schools and organizations, and how you present coaching at your school is critical in finding the 'right fit' between your school and a new coach.
How coaching works within the vision of your school is essential in building (or sustaining) a successful coaching culture. When there is that alignment in the school's vision and implementation of coaching, coaches are empowered to be consistent in their coaching practice, which is what ultimately builds a coaching culture.
As a school leader, you'll need to ask targeted questions to get an understanding of the coaching candidates' experience and mindset and evaluate how they will meet the expectations of the role.
Communicating About Your Coaching Program
Also, as a school leader, consider how you will communicate the state of your coaching program. You need to be honest about what your school needs. Do you need the coach to come in and help you build the program, or do you have your program defined? What are the opportunities and challenges for this role? What is in place to set the coach and your staff up for success? These conditions should be reflected in the questions you ask.
You may already have answers to some of these questions from your search and selection of candidates, but you might still want to ask them to dig deeper into coaching with the coaching candidate. And, since you will probably have multiple interviews for a position like this, consider which questions would be important for a first-round interview, and which might serve best for follow-up interviews.
---
Ready to Create a Thriving Coaching Program?
The Coaching Program Evaluation is designed to help you identify the gaps (and the strengths) in your school coaching culture using the THRIVE Model for Developing a Successful Coaching Culture.
This interactive guide provides a framework for self-assessment, discussion and goal setting while guiding you through the 14 essential elements of a thriving coaching culture so you can determine next steps for your coaching practice.
You'll get a link to copy a Google Docs editable version and a PDF to download and print.
Are you ready? Get the Evaluation now!
---
Top 10 Questions for Interviewers to Ask
We're sharing a selection of questions for your consideration. This is not a prescriptive or exhaustive list, it's designed to prompt your thinking about what you might want to ask a candidate to gain information and insight for you to consider how well they would match with your school's vision and plan of how coaching is implemented at your school. You'll note that these questions are grouped according to the stages of the Thrive Model for Instructional Coaching Success: Clarity, Consistency, and Community (download the Thrive Model Program Evaluation here to see where your school fits):
Regarding Clarity you might want to ask…
What's your coaching philosophy or coaching vision?
What do you think makes a coaching program successful in a school setting? What do you think makes a coach successful?
How do you see yourself working with school leadership?
Regarding Consistency, you might want to ask..
As a coach, you'll be working with all community stakeholders, how do you reach out beyond your "comfort zone"?
Tell us about how you communicate your role to the whole school community?
As a coach, you're going to have a primarily "open" schedule, how do you manage your time, and priorities?
How do you adjust your coaching style or approach for adult learning?
Regarding Community, you might want to ask…
Tell us about a time when a coaching interaction has gone "wrong", how did you resolve it?
When teachers aren't ready for coaching yet, how do you build those relationships?
What's the hardest part about being a coach for you? What do you love about it? How do you continue to grow as a coach?
You'll need to evaluate the responses to these types of questions, and any additional information you get from the coach candidate to help you identify if they are the right fit for your school community right now.
Need Help?
If you aren't sure what your school needs right now in regards to coaching, we can help you define it at Eduro Learning. Book a free discovery call with us to get started! Find the details at edurolearning.com/discover
Watch the Video
Build a Thriving Coaching Program in Your School!
Curious to dig deeper into how clarifying your own vision of coaching and expand your knowledge, skills, and experience as a teacher, coach, instructional leader or administrator? Please join us for our next cohort of The Coach!
We'll follow the Thrive Model for Instructional Coaching success so you can build a thriving coaching culture!
We start with Phase 1: Clarity, where you're looking at defining your role, aligning that with your school leadership and communicating that with your colleagues.
We continue with Phase 2: Implement Consistently: where we talk about implementing consistently how you practice coaching, developing your coaching skills, asking better coaching questions, being able to manage coaching moments and making the right moves when you're in a coaching conversation, what that looks like from an individual and then a school-wide scale.
We finish with Phase 3: Building Community: building capacity in your school, so that you're creating a thriving coaching culture that goes beyond just you. Including sharing, celebrating your success and measuring the impact you're making as a coach.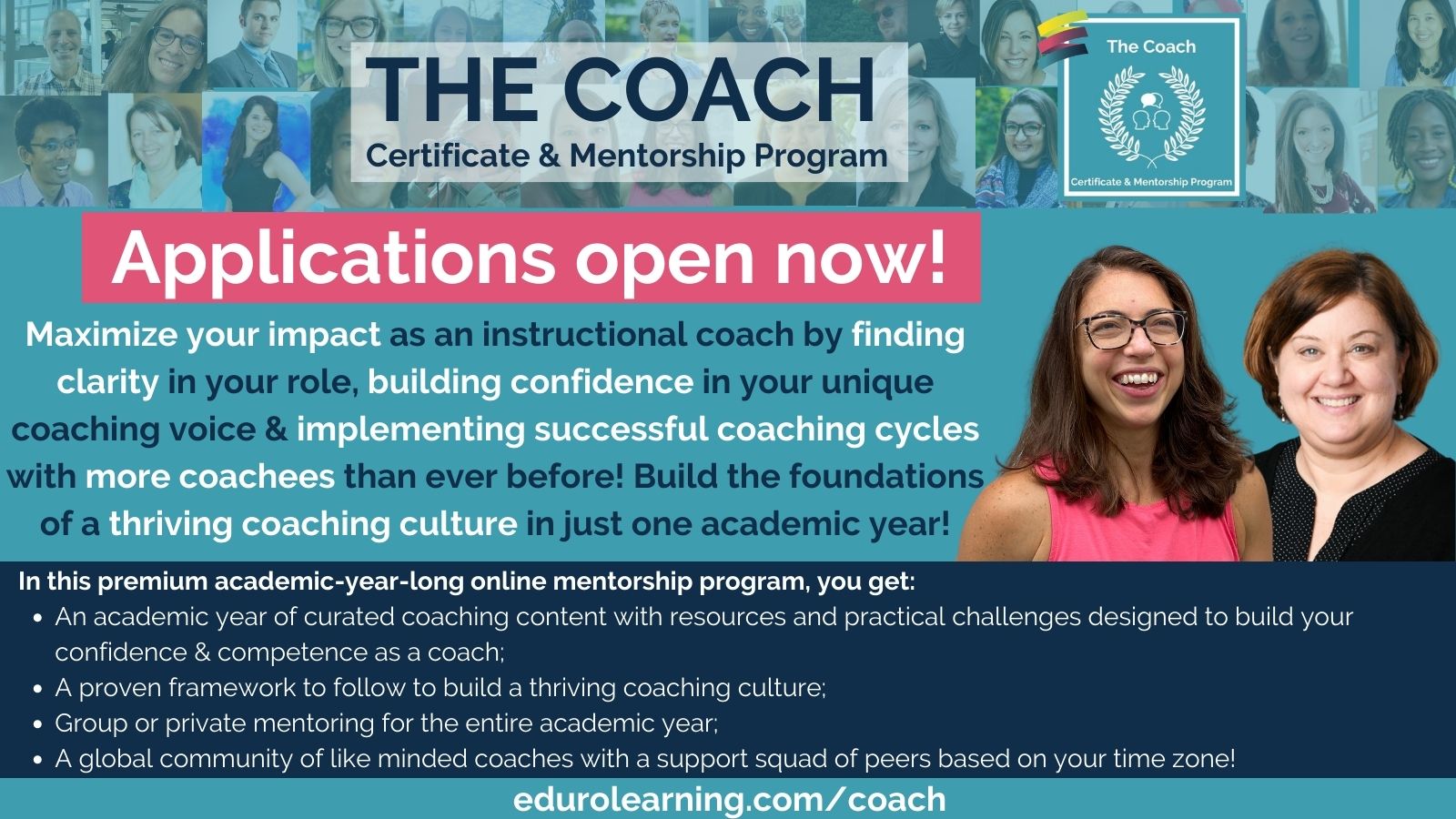 If any of that sounds interesting to you and you are curious and ready to dive deeper into your coaching practice (maybe you're just getting started as a coach, or maybe you've been a coach for years)and you're really ready to elevate and refine your coaching practice), you can do that in The Coach!
You have the support of a mentor throughout the program, so you really get the opportunity to personalize and customize your learning all the way through. There's no point where everyone has to do exactly the same thing. You get a lot of opportunity to personalize, customize, and reflect on the implementation of your coaching skills as you go through the program, our next cohort, for the coach.
The Coach Certificate & Mentorship Program opens for registration once a year. Find all the details at edurolearning.com/coach
---
Subscribe to #coachbetter via your favorite Podcast Player!