As coaches, we are often the only advocate for our subject area in our building, school or district. Sometimes this can feel isolating and overwhelming. We may be the only person advocating for a specific aspect of learning, and our goals for student learning may be perceived as important as other initiatives.
Many times we feel like we're the only ones who understand how our goals support school wide goals, and we wish we had more time to share these ideas and work with our faculty members on developing that deeper understanding.
All in all, sometimes being a coach is hard. And sometimes that makes it hard to stay motivated. But don't worry! We're sharing 4 strategies for staying motivated as instructional coach today – because every once in a while, we all need a little pick me up!
4 Strategies for Staying Motivated as an Instructional Coach
1. Keep track of milestones
We're always working towards our goals, but at times it can be hard to see the progress we're making because we quickly forget the achievements (especially the "little wins") along the way. So our first strategy is to keep track of the milestones. You can do this in lots of different ways, but the main purpose is to remind yourself of all of your (and your colleagues) achievements over time.
When you're thinking about tracking your progress, remember to include things like:
Reminding yourself how far you've come (e.g. last year no one wanted to use the iPads, but this year we don't have enough).
Celebrate daily accomplishments (e.g. find a buddy to give a high five to when something great happens).
Keep track of the "small wins" on a Milestone Tracker.
Keep data on the work you're doing (e.g. track the percentage of teachers you're working with over time).
---
Get started with our FREE Milestone Tracker!
Let us help you build your motivation! Download our FREE milestone tracker – designed by and for instructional coaches, so you can start recognizing the amazing ways you're growing & achieving as a coach right now (even if it doesn't feel like it!)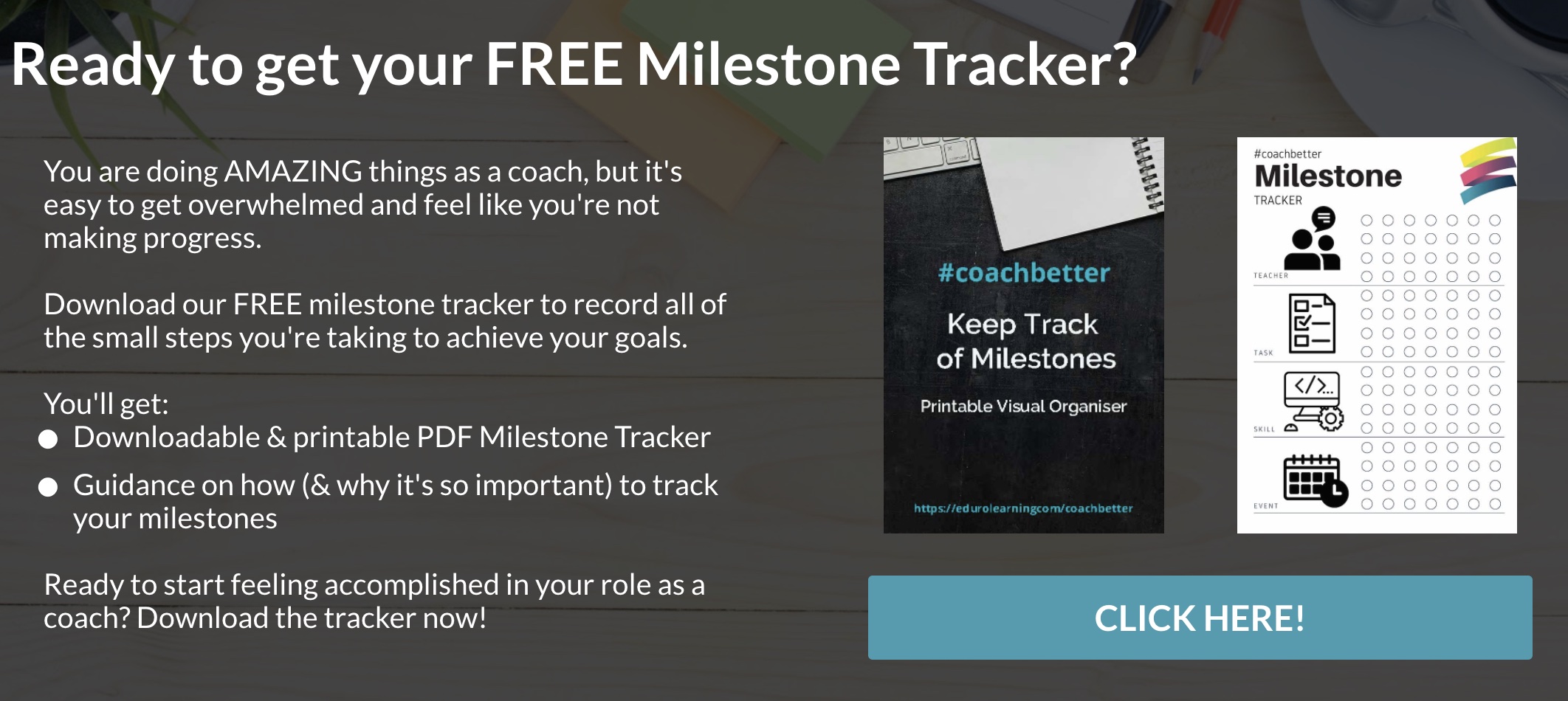 In the #coachbetter tip in our newsletter next week, we will highlight one specific way you can visually track your progress, called a Milestone Tracker, and you can download it right now! Click here to download!
---
2. Surround yourself with a positive team
It may sound silly, but make sure you have your own support network of colleagues – even if they aren't coaches. You can seek out the teachers that are willing to take risks and try new things, and build in structures to both support them and ensure that you have a team you can turn to when you need advice or support too. The goal here is to connect and collaborate with colleagues who are moving forward, and to create a self-sustaining community of like-minded and positive colleagues. You can do this by:
Scheduling (and making time in your day for) time to connect with these colleagues on both a personal and professional level. It might be as simple as visiting a specific classroom each day, or planning to eat lunch with a specific teacher.
Providing opportunities for these teachers to connect with each other. You can create a team of passionate teachers who want to share and learn and make it part of the professional development offerings at your school. Here's a two-part example from when I was at Yokohama International School: Are You a Tech Pilot? and Tech Pilots Taking Off!
3. Be clear about your goal and priorities
In order to recognize how far you've come, you need to stay relatively consistent. As coaches, we often feel like we're moving too slow as soon as we start to make new progress. And as soon as we make one step forward, we see many more opportunities to move even faster. Although it's unlikely we'll be able to change our constant desire to improve (that's why we became coaches, right?), it's important to be both strategic and consistent so that you can track development over time. You can do this by:
Focusing on the long term view. Don't get distracted by new ideas that come up as you're working towards a large scale goal. Make sure to keep track of new ideas in a central place so you can come back to them, but keep your goals and priorities in focus so that you can make improvements over time.
Remember that "your pace is not the school's pace". Look at the steps towards meeting your goals with the perspective of one of your colleagues. If you know there has been movement towards that goal, it's ok if it's not as fast as you would ideally like it to be.
4. Celebrate and Share
One of the best things about being a coach is having the opportunity to see the amazing things that are happening in so many different classrooms. Make sure to stop and take some time to empower and encourage all of your colleagues to share their achievements. We talk about this often, but here are a few ways to get started:
Compile examples of great learning in action in a central digital place people can access any time (a website, a blog, a pinterest board).
Ask teachers to share in a faculty meeting using the "popcorn" method, where teachers "pop" up and share something quickly.
Run a speedgeeking session where several teachers share with small groups about what they've been doing in their classroom.
Take pictures of great learning in classrooms, and use "your" time in a faculty meeting to tell a quick story.
Record quick snippets of students talking about their learning and show the video in a faculty meeting.
---
Stay Motivated as You Tackle Coaching Challenges
If you want to dig even deeper into how to stay motivated as a coach, check out our new online course: Coaching In Practice.
In this recommended bundle, we have included three individual online courses, all of which tackle some of the key challenges of coaching, in practice. From building a culture, to dealing with coaching challenges, to building momentum, we have a lot of expectations for ourselves as coaches.
This course can help you meet your goals – and it's perfect for those who are already in a coaching role and want to take that next step to level up your coaching!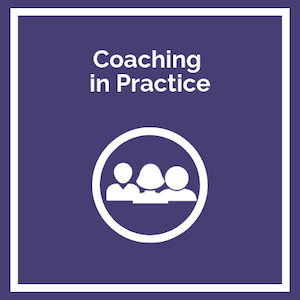 ---
Watch the Video!
Recently we shared a 5 Minute Friday episode called How to Stay Motivated as an Instructional Coach. This short video highlights all of the key elements in today's blog post, so if you'd rather watch, than read, check it out here!
We know it can be challenging to be the only cheerleader for a specific subject area or discipline, but there are also so many rewards. If you can focus on the positive steps forward, keeping track of your "little wins" and surround yourself with a positive team, you'll be able to build momentum towards your long term goals and find great ways to celebrate those accomplishments with the wider school community.
If you have some great strategies to stay motivated, please share them with us! What works for you?
---
Level Up Your Coaching with The Coach!
If you are ready to develop your coaching practice over the next academic year, and explore topics like transitioning your work from individuals to teams, please join us for our next cohort of The Coach!
Wherever you are in building a coaching culture in your school, The Coach will give you the strategies, skills and tools you need to make coaching a success and will empower you to confidently apply instructional coaching strategies in any situation – from building a coaching program, to having coaching conversations, to being a leader in your school community. We facilitate only one cohort each academic year so we can offer individualized support for each participant.
Registration for our next global cohort opens once a year – check the website for details!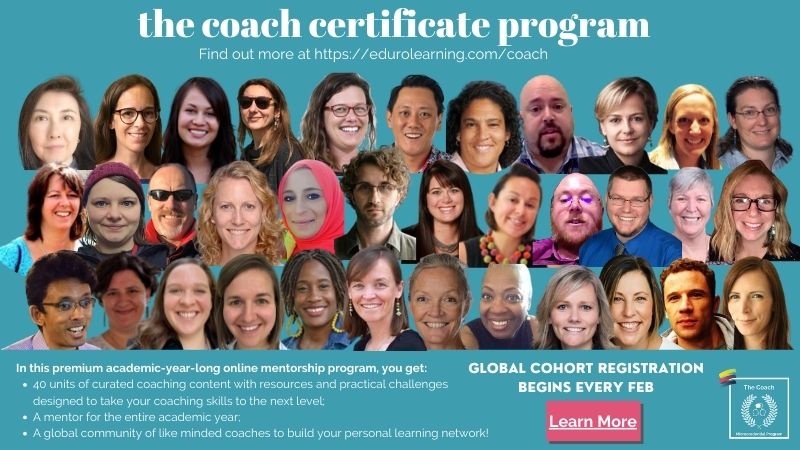 Find out more at: https://edurolearning.com/coach/