When we're using technology in the classroom and as an instructional coach, and when we're advising teachers on how to use technology in the classroom, the tools are always changing. It's easy to get caught up in wanting to use the next best thing, or the tool you heard about at a conference, or from a colleague, but that doesn't always mean it's the right tool for the task.
Ultimately, it's really not about which tool you use, but it's about how you use it, and oftentimes how you select it. Most tools can do lots of different things. So finding the right tool actually depends more on the criteria that you're looking for than actually what the tool does.
Today I'm going to the 8 criteria I use to help teachers select the best tech tools for the task!
8 Criteria For Choosing Tech Tools
1: Open Ended
Is this tool something that you can do lots of different things with? Can you create a variety of types of products, so you're not limited by the platform or the format?
2: Intuitive
Is the tool is intuitive and easy to use? You don't want to choose something that's so hard that there's such a big learning curve to get over it, that it takes more time to figure out how to use it than it does to create something with that tool.
3: Shareable
Are the products created with this tool something other people can see outside of users of the tool, and not trapped inside the box of that tool? Can you get a link to share somewhere else, or does someone have to be using the app to access the finished work?
4: Relevant
One thing that's like a little bit of a pet peeve with me is when teachers try to find like school-based tools to replace a tool that exists out in the real world, rather than using the one that real people actually use. Do you want to do microblogging with your students? Use Twitter. You might need to get parent permission, but that's the tool that people really use in the real world. So use that relevant tool and see how you can help students developmentally understand that tool so that when they're ready to use it for themselves, they actually know how it works.
Maybe using Twitter, as an example, in kindergarten, you wouldn't want each student to have their own account, but you could have a class account that students contribute to. As students get older, they get a gradual release of responsibility, just like you would, when you put them in the swimming pool.
5: Exportable
Is there a way to export the content? I mentioned that I think it's important for it to be sharable. You can do that with just a link for example, but I also often want to be able to take that content out of whatever tool that is and have it on my computer. So if that tool goes under and doesn't exist anymore, I have the content on my computer. I can put it on a showcase portfolio or wherever we save student work so that we have the work that students have done, and it's not trapped inside that box of that tool.
6: Built-in Community
Is there a way to help other people in this space find the work that your students are doing, like hashtags? When I see hashtags, I know that there's an opportunity for my students or my teacher's students to get a wider audience for their work, because there will always be somebody searching for that hashtag.
7: Opportunity for Commenting and Feedback
Can users comment or share feedback within the tool? Oftentimes we're using technology to give students an authentic audience and when we provide them a space where they can get commenting and feedback from others, not just within their class, it helps them get that wider audience for their work.
8: Works Cross Platform
Does this work on all devices? We want students to be able to use these tools, whether they're at school using our school provided devices, or whether they're at home using their own devices, or maybe even we have a bring your own device model where students are coming in with lots of different devices. Being able to use this tool on windows or Mac on a phone or a tablet, that's really important.
What are your strategies?
Those are the eight criteria that I use as an instructional coach when working with teachers to help them choose the best tool for the task. The idea is to provide a space for students to have authentic audience, agency and purpose, and lots of tools can do that.
If you have other great strategies for selecting the best tech tool for any purpose, please let me know down in the comments below! Those eight criteria were the ones that I use on a regular basis, but I'd love to hear what you're using with your teachers to help them select the right tool for the task!
Ready to get started? Download our FREE Infographic Guide!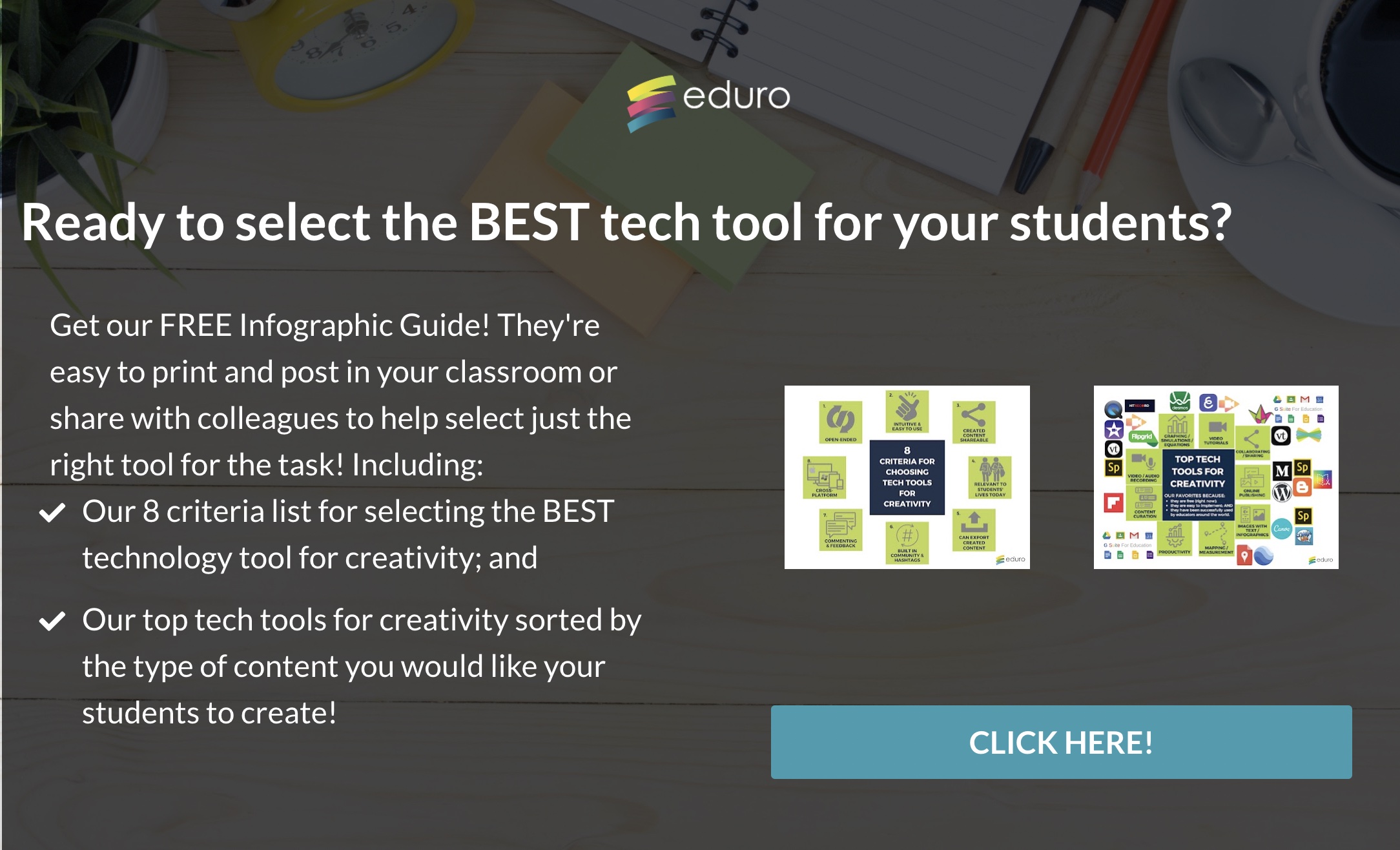 Bonus: 3 of My Favorite Tools for Creativity
While I know that any tool I share will likely be outdated almost immediately, I currently like these three because I personally use them all the time and I see other content creators using them as well, so I know they're authentic to real world use.
Of course, these are not my only favorite tools so I actually have kind of a honorable mention list that I'm going to pop in here today. but there's lots of great tools to be used. These are just three that I find really relevant and purposeful in my work today, and therefore they can be really relevant and purposeful for students as well.
1: Working with Images & text: Canva
It's really simple and easy to use and students can create lots of different types of content that combines images and text.
2: Building Community: Instagram
I know it sounds crazy. It's just a photo sharing platform, but actually you can do a lot on Instagram and lots of people are almost using it as a blog today. You can post video, you can post the images and texts you create with Canva. You can post just images that you create and you can have sets of images and video. So students can be sharing their learning over a period of time with all different types of content, including images, video written, text, audio, and sets of content, and they can hashtag it. There's a space for community building because Instagram is designed to be a community space
3: Building Audience: YouTube
Along exactly those same lines but very specific to video is YouTube. If you ask almost any student today, what they want to be when they grow up, it's a YouTube star. So let's start helping students understand how challenging it actually is to become a YouTube star by giving them a purpose, to creating a YouTube channel right now and seeing how we can work on building those skills. Because building a community through that little camera, that's not easy, but it's a great skill for students to learn.
Bonus: My Favorite School Specific Tools
So my three faves are Canva, Instagram and YouTube, and my honorable mentions because they're very specific to education, and I think they work really well in lots of different classrooms are:
Adobe spark for creating images, websites, or video
SoundCloud for working with audio
Flipgrid, for working with video and getting lots of student input really quickly
Screencastify for allowing students to be able to share what's going on on their screen.
Want to dig deeper? Read the book!
If you're taking time this summer to do a little professional learning, and you're focusing in on how you can best support your entire stakeholder community from students and teachers, to parents and school leaders check out our book, your connected classroom, a practical guide for teachers. It has everything we use when we're working with all members of our school community to help them embrace technology, rich learning.
We wrote this book for teachers. So it's full of practical tips and strategies, exactly the way we would use them with our teachers as coaches, you'll have everything you need to support technology, rich learning in one book!
The companion website has tons of resources and practical downloads that you can use in your school community. As soon as you get back to school, plus when you're done with the book, you can share it with another teacher or a school leader, or maybe even a parent in your school community. Our book is available right now on Amazon and Kindle or paperback format!
Watch the Video
Leverage technology to transform your practice with COETAIL
The Certificate of Educational Technology & Information Literacy is a 5-course online certificate program designed for educators ready to embrace innovative, technology-rich learning. COETAIL will empower you to leverage the technology you have to transform your practice in order to positively impact learning for all students. COETAIL embraces a community approach to learning through annual global cohorts that connect you with engaged educators, and supportive facilitators, around the world. Graduates of COETAIL are confident, adaptable, connected educators ready to tackle any new challenge that comes their way!
All educators are welcome: classroom teachers, coaches, specialists, school leaders. The program is customizable for educators in any setting. COETAIL is for educators who are ready to transform their practice through innovative pedagogical practices, and committed to a 1.5 year professional learning experience in a global cohort.
Our annual COETAIL cohorts begin in January every year. The cohort will run from January through to the following May (1.5 years). Registration opens the October before the cohort begins.
Find out more: https://coetail.com