Are you finding that teachers may be reluctant to work with you as a coach?
This may be because the balance of power is out of alignment.
In today's post, we're sharing an overview of The Coaching Balance Scale developed by former instructional coach Kevin Schlomer that helps assess how teachers are working with instructional coaches productively or what might be causing hesitation in developing  a meaningful coaching relationship. 
This topic, that relates to the roles of coaches and how those roles play out in practice, is discussed at length among coaches and is addressed in The Coach Certificate and Mentorship program. The Coach is our academic, year-long online certificate & mentorship program designed to help you #coachbetter. Inside the Coach we talk about how coaches can support their coachees through a variety of coaching stances that are all part of the Coaching Balance Scale.
Today's episode will give you a peek into those kinds of conversations so you can see if The Coach is right for you! Registration opens only once a year – head over to edurolearning.com/coach to find out more
Exploring the Coaching Balance Scale….
The opportunity to work with our colleagues through mentoring, collaboration, and coaching can be energizing and productive. However, many coaches are curious about why some teachers might be hesitant to engage in a coaching relationship.
What caught my attention with Kevin Schlomer's explanation of The Coaching Balance Scale and its different categories was the role power played in teachers' experiences and perceptions in working with instructional coaches and how that could explain why some teachers might be hesitant to work with a coach.
To clarify, Schlomer refers to power as control over decision making. Based on this, Schlomer expanded on Steve Barkley's evaluation & coaching continuum, adding new categories centered on Peer Coaching.
Kevin Schlomer's article covers a lot about power around decision making and its impact on teacher-coach relationships. In this episode I'm going to focus on the five main categories of the Coaching Balance Scale. In each of these categories, notice where the responsibility and power lies between the coach and the teacher…
1: Supervision
In this role, as a coach, you are responsible for implementing programs, policies, and procedures for the school or division. You are generally trained on certain programs or are oriented to new school policies and then go on to inform teachers and follow up to make sure implementation is taking place.
2: Mentoring
This is usually when you are in charge of supporting and guiding new teachers. There is a focus on providing one on one or group support for teachers new to teaching and/or new to the school district or organization. With formal mentoring, the coaches and teachers are often required to document their work to share with administration.
In both cases of Supervision and Mentoring, You are basically in charge of leading any learning and related actions while teachers are given the topics to be learned and implemented. Where does the power lie in decision making in these categories?
---
Find YOUR Unique Voice as a Coach!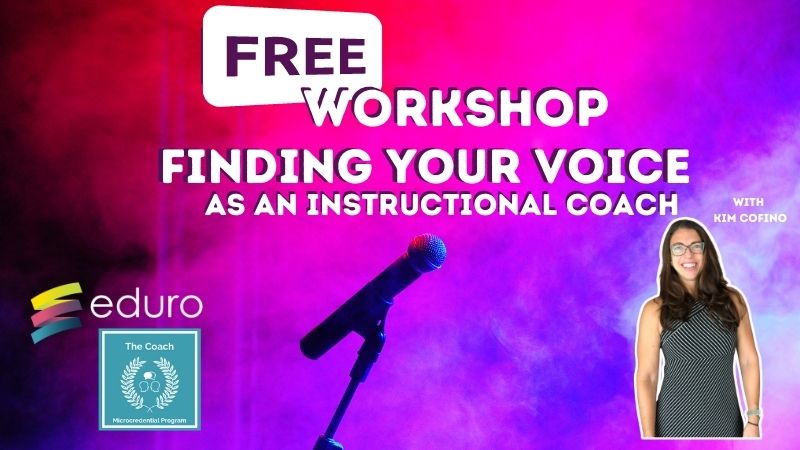 We know that coaching conversations are an art. Finding just the right questions, just the right tone, and just the right phrases for YOU as an instructional coach, that work just right with your coachees, is a special skill. When we hear highly experienced coaches having a coaching conversation, their conversational choices seem so natural and easy. That's because they have found their voice as a coach! Are you ready to find yours?
Join Kim for a free workshop, available right now, to learn the concrete strategies that I use with my private mentoring clients and inside The Coach Certificate and Mentorship program! Bonus: it's pre-recorded, so you don't have to wait to watch – and you can pause & replay whenever you need it! Are you ready to feel just as natural and confident in your coaching conversations as your coaching idols? Check out the Finding Your Voice as an Instructional Coach workshop at http://edurolearning.com/voice  to get started!
---
3: Peer Coaching
Schlomer places Peer Coaching at the center of the Coaching Balance Scale because this is where coaches and teachers are truly working as a team. Schlomer states that, "True peer coaching interactions between coaches and teachers demonstrate equal professional status, equal give-and-take, and equal respect." Any movement to the left or right of this category illustrates a shift in the balance of power and responsibility between the coach and teacher.
Of course, in any school, you might have other roles and responsibilities outside the Peer Coaching category. But Schlomer emphasizes this is where you, as a coach, should be spending the majority of your time and where coaching programs should be focused.
4: Consultation
In this category, you and the teacher might discuss resources, strategies, and ideas for use in the classroom but you may not necessarily be involved with the students and teacher in the classroom. The teacher makes decisions about what to use with their students. And may or may not share the results or provide you with feedback.
5: Information Gathering
Information gathering involves very little contact between you and a teacher. They may ask some basic questions or inquiry about some resources, but any discussions or interactions with the teacher are limited.
It's important to note that the Consultation and Information Gathering categories are ways to categorize interactions between you and teachers. It's not to judge the teacher or the coach but to provide a basis for diving deeper into what is happening, how often and why, and its impact, positively or negatively, on a coaching program and ultimately teaching and learning in your school or organization.
Understanding the Role of Power in a Coaching Relationship
When you become familiar with these categories and their place in the Coaching Balance Scale, you can start to understand the role of power in a coaching relationship. And from there you can better understand why some teachers may have negative perceptions about coaching when they've been in situations where there has been a huge imbalance on a personal level or a school-wide level.
I encourage you to take a closer look at the Coaching Balance Scale and consider how it might work in your context. You could use it for some self-assessment of your own work with colleagues or for a discussion with leadership about coaching in your school. It could also be used to organize feedback from teachers about working with a coach. Make sure to check out Kevin Schlomer's article, hosted on Steve Barkley's website for more details. And, if you'd like to hear more about The Coaching Balance Scale and its application to coaching and professional learning, please let us know. 
Watch the Video!
Resources Referenced:
The Coaching Balance
Contact Kevin Schlomer > kevin.schlomer@gmail.com
Steve Barkley's blog > https://barkleypd.com/
Please share your questions, comments, ideas and resource recommendations in the comments below or via Twitter @edurolearning and #coachbetter.
Level Up Your Coaching with The Coach!
If you are ready to develop your coaching practice over the next academic year, and explore topics like the coaching balance, building and sustaining coaching relationships, and enhancing professional learning, please join us for our next cohort of The Coach! Wherever you are in building a coaching culture in your school, The Coach will give you the strategies, skills and tools you need to make coaching a success and will empower you to confidently apply instructional coaching strategies in any situation – from building a coaching program, to having coaching conversations, to being a leader in your school community. We facilitate only one cohort each academic year so we can offer individualized support for each participant. Registration for our next global cohort opens on the 21st February and closes on the 14th of March.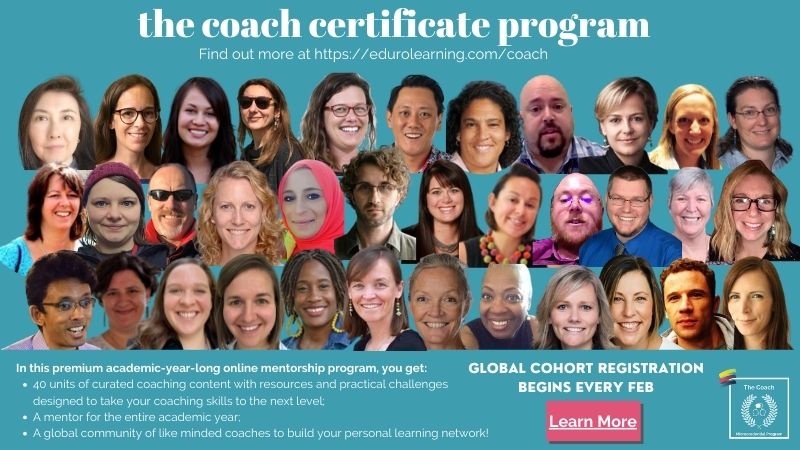 Find out more at: https://edurolearning.com/coach/