In this post, Diana is sharing three coaching frameworks that can be used to assess how the role of the coach is, or is not, balanced given the different responsibilities, situations, and contexts they may be involved in within their school or organization. 
The main goal of a coach should be to support and facilitate teacher growth with the end result of improving student learning. Ideally, this would be done through regular, focused coaching cycles and professional development. However, we know that coaches fill a variety of roles in their schools which can be very clearly defined in some cases to being very flexible or even uncertain depending on the clarity of their role or the needs within the school. To really dig deeper into how the role of the coach is being balanced given all the different responsibilities they take on, we must consider not just who they are working with and when, but HOW they are interacting with others as a coach. By taking a closer look at how to categorize or frame the types of coaching that is happening, there can be more discussion and targeted action about the most effective use of their time and energy.
Here are three frameworks that could be used to assess, reflect on, and modify the role of a coach so it is balanced and truly focused on coaching.
1: Coaching Heavy v Coaching Light
Joellen Killion, co-author of Coaching Matters (one of my go-to resources), has discussed these two coaching approaches that differentiate the purpose, focus, feedback, emphasis, and involvement in the coaching process.
Coaching light focuses on the teaching with teacher self-assessment, feedback on teaching practice, adapting, refining, and implementing instructional strategies, and an emphasis on support. In many cases, coaching light involves voluntary participation by teachers. This is also often what we see with new coaches or in loosely defined coaching programs.
However, coaching heavy is more focused directly on student learning and engagement within the context of instructional frameworks, standards, and curriculum. There is more use of student data and evidence and transforming teacher practice and developing expertise. With coaching heavy, there is an expectation of all teachers engaging in coaching cycles or partnerships.
2: "Three Models to Approach Coaching"
This model comes from Jim Knight and the Instructional Coaching Group's. If you have any familiarity with Cognitive Coaching you could draw similarities with their support functions for coaching which include cognitive coaching, collaborating, and consulting. 
The first model is Directive coaching when the focus is on supporting teachers to master some specific skills or strategies. The coach has the expertise to share with the teacher. This would be a common approach with new teachers or when there is a new initiative or new technology that needs to be learned. This would be similar to consulting or mentoring.
Dialogical coaching is a more collaborative approach where the focus is on coaching conversations to identify goals and strategies to implement in the spirit of peer coaching. There is a sharing of ideas and the coach can bring in coaching strategies to support the teacher's decision making. As Knight points out, "The dialogical coach balances advocacy with inquiry."
Facilitative coaching is focused on the teacher's goals and thinking. This is similar to Cognitive coaching as the coach facilitates the teacher's thinking through active listening, paraphrasing, and questioning. However, in this approach, the coach does not share their expertise or suggestions. 
3: The Coaching Balance Scale
This model, developed by Kevin Schlomer, incorporates aspects of other coaching models but also organizes them by how power or expertise, who has it and how it is used, impacts each category. He includes categories such as mentoring, consultation, information gathering, and supervision but puts peer coaching in the center as this is an ideal situation because "It is a mutually respectful and beneficial experience in which two professionals of equal status approach an instructional challenge together." Mr. Scholmer has used this scale to gather data about teachers' experiences with coaches which can reveal not only the work that is happening but the teachers' perceptions of the coach's role. 
Overall, a coaching model or framework can help guide and reflect on how coaches are using their time and energy with teachers and students. Keep in mind that each category in a coaching framework has its purpose and benefits based on the context of the coaching interaction. There are times when teachers need a consultant and mentor to learn a new skill or strategy. Coaches need to spend some time gathering information and resources. And in the right circumstances a coaching conversation is incredibly powerful. And a variety of coaching approaches can be used in just one conversation or over a coaching cycle or even a year.
A coaching framework can not only be a model to help define a coach's role, but also provide a lens to document how a coach's time and energy is being used in relation to coaching that impacts teacher practice and student learning, and their other responsibilities. And from there, reflection and discussions can happen and goals can be developed to better address how the coach's time and energy can be best balanced among those truly targeted coaching experiences and other needs of the school.
Please share your questions, comments, ideas, and resource recommendations regarding coaching in the comments below or via Twitter @edurolearning and #coachbetter.
Also, consider joining our private #coachbetter Facebook group which is a space to learn, share and connect around being better coaches.
Watch the 5 Min Fri Video
Level Up Your Impact with Our Certificate Programs
There are so many ways to make an impact in your school community. If you're looking to level up your impact, either as a school leader, a coach or a teacher, explore our certificate programs: Women Who Lead, The Coach, and COETAIL. Or, if your goal is truly unique, register for a private mentoring package. If any of today's post resonated with you, join us for the next cohort of WWL, The Coach or purchase a private mentoring package! Registration for our global cohorts opens once a year, make sure you're on our mailing list to be notified as soon as they open! You can find all of these learning opportunities on the our website!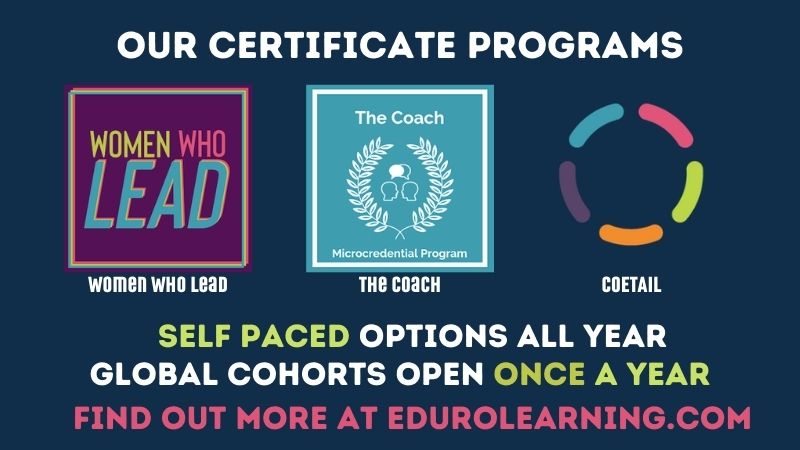 Resources