As coaches, we often talk about collaborating. But do we really know what that means? Are we truly collaborating?
In reality, there are lots of different ways that we work together: from communication, to cooperation, to coordination, to collaboration – but we often refer to all of these collaboration.
In today's post, I'm going to share the differences between these four ways that we work together & why it's important to name them accurately.
Understanding these different ways of working together is one of the topics we address inside The Coach Certificate and Mentorship program. This academic, year-long online certificate & mentorship program will empower you to confidently apply instructional coaching strategies in any situation – from having coaching conversations, to building a coaching program, to being a leader in your school community. Registration for our annual global cohort opens only once a year and the date is coming soon! This episode will give you a peek into the kinds of conversations you can experience and if The Coach is right for you! Head over to edurolearning.com/coach to find out more.
Now, let's take a look at communication, cooperation, coordination, and collaboration and how they might impact how a coach works with their colleagues and within their school.
We frequently hear the terms "collaboration" and "collaborative" within the education community. It's used in a variety of contexts to describe approaches, organizational processes, strategies, and teams.
I've worked in situations that felt "collaborative"; basically the individual or group I teamed up with worked well together and goals were met. But were we truly "collaborative"?
As coaches, we want to be clear about the verbiage we are using to describe goals and strategies so that those we work with can have confidence in what we are trying to accomplish. It's important for teachers to know what to expect when we're working together. This is why it's important to clarify the difference between communication, cooperation, and coordination – instead of using them interchangeably with 'collaboration'.
Let's look deeper at each of these terms:
1: Communication
The basic exchange of information. As coaches we get and share information with our colleagues in a variety of ways, in person and digitally. We may share ideas and strategies based on needs and/or interests. This may be done formally through newsletters and websites, or informally through conversations with colleagues.
2: Cooperation
This is when there are various goals within an organization that may or may not overlap. Those involved cooperate by sharing resources, accommodating each other with a focus on efficiency and effectiveness. As coaches, we're often involved in many of these types of situations, providing input, guidance, and resources.
---
Find YOUR Unique Voice as a Coach!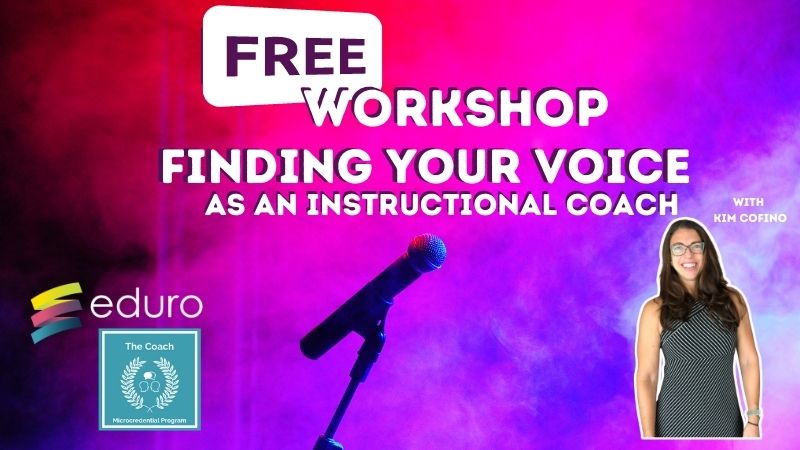 We know that coaching conversations are an art. Finding just the right questions, just the right tone, and just the right phrases for YOU as an instructional coach, that work just right with your coachees, is a special skill. When we hear highly experienced coaches having a coaching conversation, their conversational choices seem so natural and easy. That's because they have found their voice as a coach! Are you ready to find yours?
Join Kim for a free workshop, available right now, to learn the concrete strategies that I use with my private mentoring clients and inside The Coach Certificate and Mentorship program! Bonus: it's pre-recorded, so you don't have to wait to watch – and you can pause & replay whenever you need it! Are you ready to feel just as natural and confident in your coaching conversations as your coaching idols? Check out the Finding Your Voice as an Instructional Coach workshop at http://edurolearning.com/voice to get started!
---
3: Coordination
This involves a common goal for an individual or group but someone takes the lead – the coordinator – to guide the process. As a coach, we may be asked to lead a group, or even the whole school, through the implementation of a new program or policy. Or when working with individuals, they may look to us as a mentor or consultant.
4: Collaboration
What differentiates collaboration from these other ways of working is a shared vision coupled with interdependence and trust and a focus on exploring and discovering problems and developing solutions. Collaboration is more complex than just working well together. As coaches, we can participate in collaborative teams or relationships bringing our perspectives and expertise. Additionally, we can coach others to facilitate their thinking as they work through problem-finding or problem-solving processes.
Of course, there is much more to each of these ways of working with others that would call for more exploration and discussion which in turn leads to more questions, such as….
How could we self-assess our work as coaches through these four lenses?
What are the opportunities and challenges in working towards goals using communication, cooperation, coordination, and collaboration?
How might we organize our approach to a specific goal based on these four ways of working together?
Why is it important to clarify and communicate these four different approaches for educators and leaders?
I hope I've piqued your interest in the value of exploring, understanding, and identifying how and why we work with others and the impact it has on our work as a coach, whether it is a one on one coaching relationship, leading a team, or as part of a school-wide goal. All of these topics are explored inside The Coach Certificate and Mentorship program!
Watch the Video
Level Up Your Coaching with The Coach!
Are you curious to dig deeper into the different ways that coaches work with teachers and teams, and how you can make a bigger impact in your school community? Please join us for our next cohort of The Coach! Wherever you are in building a coaching culture in your school, The Coach will give you the strategies, skills and tools you need to make coaching a success and will empower you to confidently apply instructional coaching strategies in any situation – from building a coaching program, to having coaching conversations, to being a leader in your school community. We facilitate only one cohort each academic year so we can offer individualized support for each participant. Registration for our next global cohort opens on the 21st February and closes on the 14th of March. Find out more at edurolearning.com/coach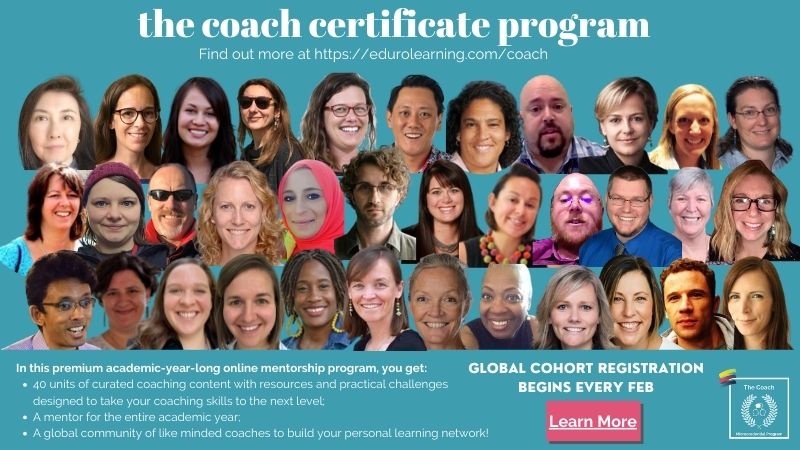 Find out more at: https://edurolearning.com/coach/
Resources for Today's Post