Do you help your students share their learning with an authentic audience?
Does their learning go beyond the 4 walls of your classroom?
If not, keep reading for some ideas about why you might want to bring this kind of experience to your classroom!
In a previous post, I talked about the value in your voice and the reasons why you feel empowered to share your learning in public spaces. And the truth is it doesn't really stop with you as an educator sharing your learning, sharing your thinking, sharing your reflection, and connecting with others.
It begins there.
The next step is actually to empower your students to connect and share and reflect on their learning in shared spaces with an authentic audience, and given the fact that we have had a lot of time behind screens over the last two or so years, may not sound super exciting to you right now, but I promise there is so much power in developing, finding, building, and creating an audience for, with, by your students.
Ideally your students will work to build that audience for themselves, but depending on the age level of the students that you're working with, you might be providing an audience for them. Maybe that audience is entirely authentic and organic built by the student themselves, or maybe it's something you're helping create for them. So they have the experience of sharing their work with an authentic audience, regardless of how it needs to be set up (which should be dependent on the developmental age of the students or learners that you're working with) having an audience and understanding how to communicate and connect with others through a screen like I'm doing right now is a really important skill.
---
Bring New & Innovative Tech into Your Classroom Without All the Stress!
Are you or your teachers feeling overwhelmed & stressed by trying to "keep up" with all the new tech you're expected to use in your classroom? Do you wish there was an easier way to test things out, try new things and allow your students to be creative with technology tools – without taking tons of your own planning time? Good news! There is! Join me for a FREE workshop available right now: 5 Stress Free Ways to Transform Learning in Your Classroom with technology – without all the stress!!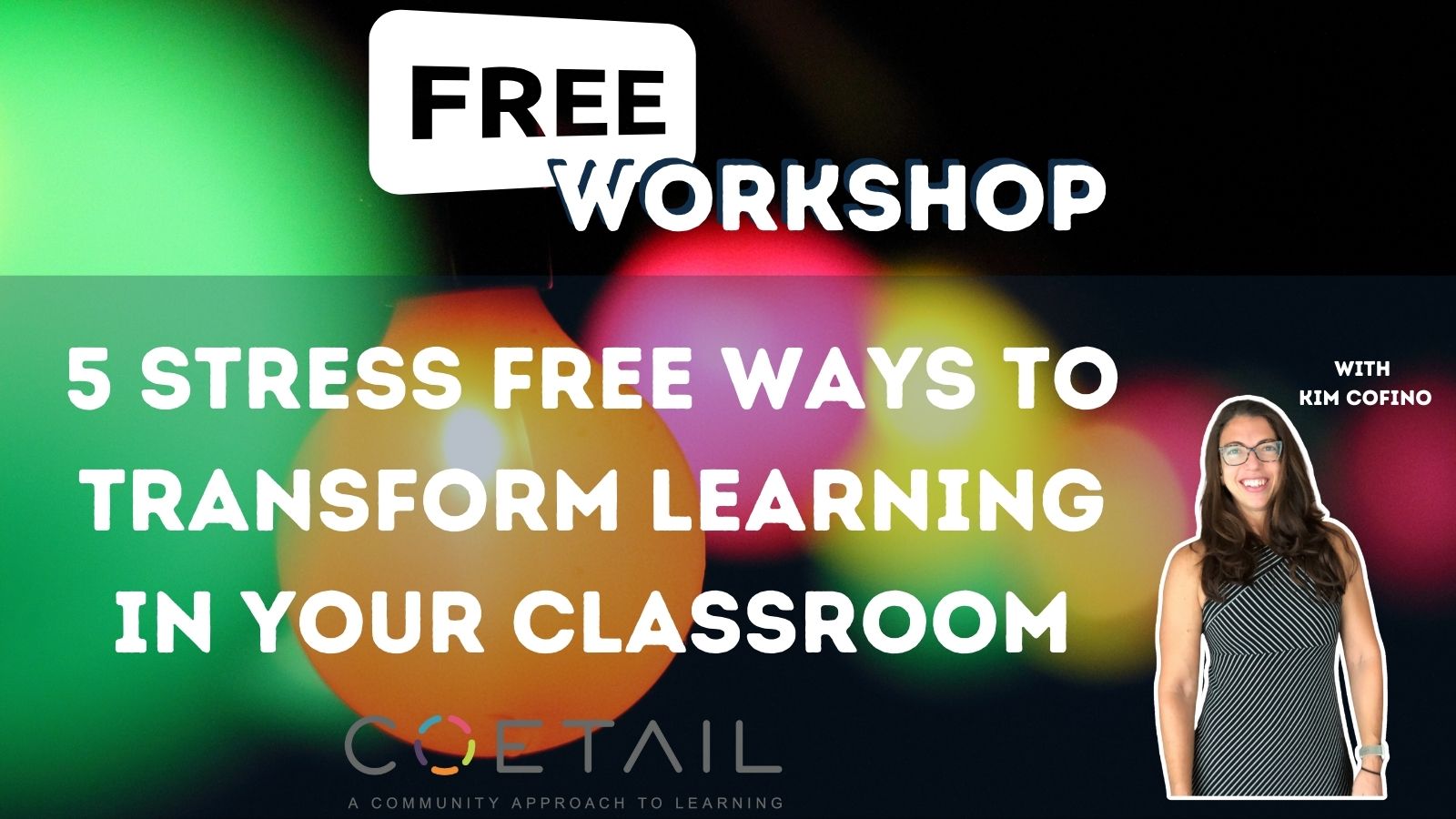 In this workshop you'll learn some of the key strategies we teach inside the COETAIL program to help you (or your teachers) smoothly bring new and innovative learning strategies into your classroom with almost no extra planning time required and the least amount of stress possible. In just 35 mins, you'll walk away with 5 concrete strategies you (or your teachers) can apply in your classroom immediately!! Click here to access the workshop – but don't wait too long, the workshop is only live until Nov 14th!
Click here to access the workshop!
---
5 Reasons to Have Your Students Share Their Learning
In today's post, I'm going to share five reasons why you might want to consider helping your learners build an audience for their work beyond your classroom.
1: Authentic Audience
The very first reason is to provide an authentic purpose that they are writing, that they are reading that they're speaking, that they're communicating, not just for a grade. There's a reason for producing this work and for putting effort into the quality of work that you produce. It's not just for your teacher or for your colleagues in the classroom. It's for a real authentic audience, who's actually interested in the work your students are producing.
2: Online Communication is a Skill
The second reason that an audience is really powerful for your students is that to communicate to an audience beyond your individual classroom or your school community, you really have to understand the content and your message. To be able to communicate your new learning to an audience that may not be learning the same thing as you means that you really have to understand that content. You have to understand what you have learned, and you have to understand how to communicate it to others.
3: Building Engagement Online is a Skill
The third reason why having an authentic audience is so powerful for your students is that they will need to learn how to engage with that audience. They will have to build a relationship with the people who are looking at their work to connect to their needs, their interests, their concerns, to understand what that audience is looking for, and to be able to deliver that content in a way that meets those needs. Being able to build community, build relationships and build connections in digital spaces is a new skill.
4: Becoming Prosumers
The fourth reason why having an authentic is so powerful for your students is because we consume so much content already. However, we really have very little understanding of what it takes to produce that kind of content. So ultimately in this space, we can create prosumers, consumers who are also producers of content. And when you're producing that content, you better understand the creative process. You become a more critical and aware consumer of content yourself when you understand how to create the very same or similar content to what you consume. We know our students are constantly consuming content online, but do they really understand the creative process that goes behind creating that kind of content?
5: Voice
The fifth reason why having an authentic audience is so powerful for your students is to give them a voice for those students that might not share much in class. You might find that once they have an authentic audience, they're suddenly so much more engaged in sharing their learning with this authentic audience, because they have a connection and a community that they're sharing with.
Start Small!
I know that sharing learning in public spaces can seem intimidating. But my number one piece of advice is to start small, start simple and make sure you're keeping it developmentally appropriate for the age of the learners that you're working with. Once you get through the beginning stages of figuring out how this works, I promise you will find lots of opportunities to help your students build an authentic audience, to find their voice, to connect with others and to reflect and share their learning with a wider audience that goes beyond just the four walls of your school.
Watch the Video
Learn How to Build & Leverage Your PLN with COETAIL!
If the idea of empowering your learners to find their authentic voice and share with a global audience is in any way interesting to you. I know you will love the COETAIL program. The Certificate of Educational Technology and Information Literacy will empower you to leverage technology, to create a student driven, innovative, and authentically connected learning environment in your school community. Please join us for our next global cohort of COETAIL.
The Certificate of Educational Technology & Information Literacy is a 5-course online certificate program designed for educators ready to embrace innovative, technology-rich learning. COETAIL will empower you to leverage the technology you have to transform your practice in order to positively impact learning for all students. COETAIL embraces a community approach to learning through annual global cohorts that connect you with engaged educators, and supportive facilitators, around the world. Graduates of COETAIL are confident, adaptable, connected educators ready to tackle any new challenge that comes their way!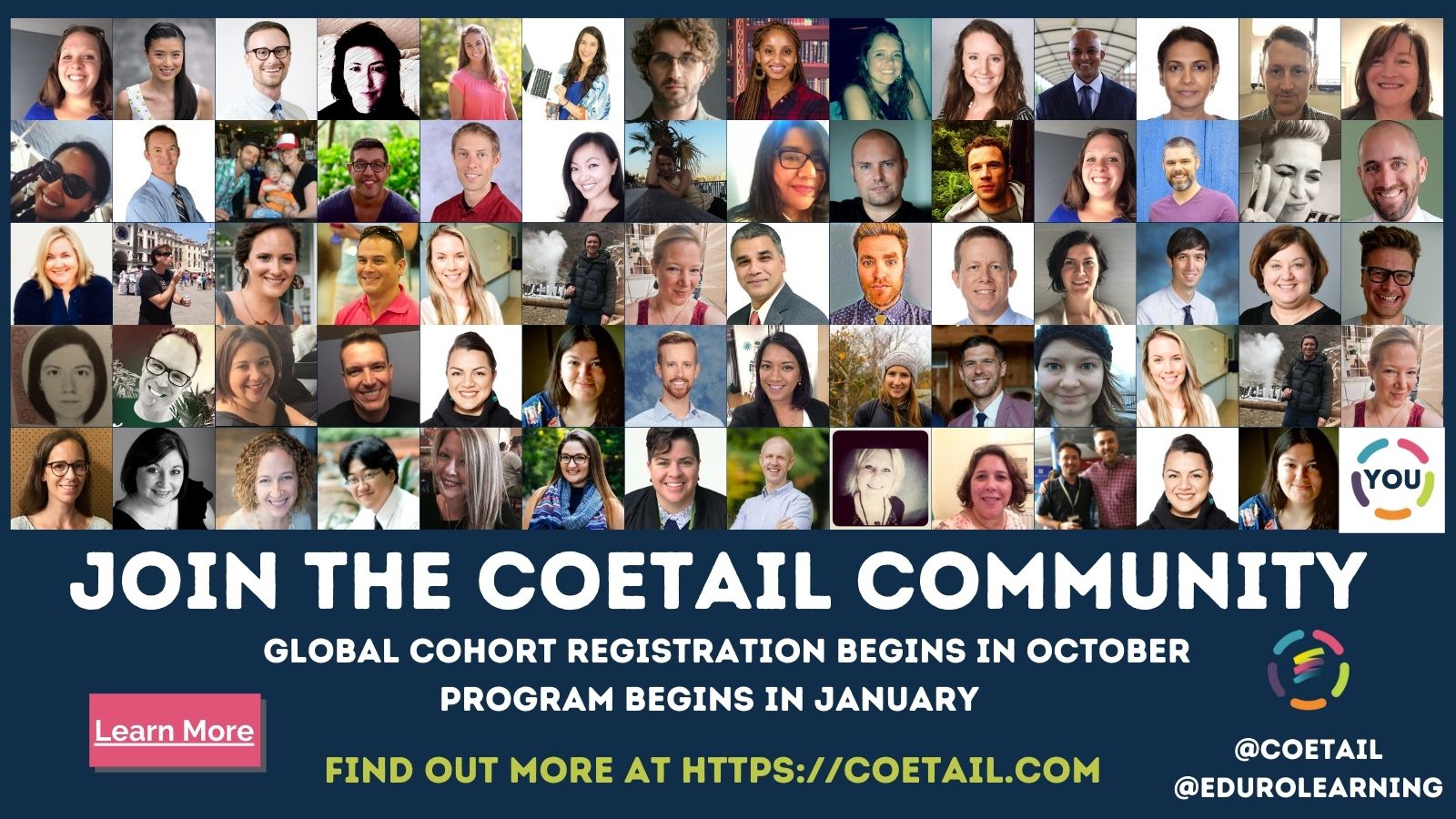 All educators are welcome: classroom teachers, coaches, specialists, school leaders. The program is customizable for educators in any setting. COETAIL is for educators who are ready to transform their practice through innovative pedagogical practices, and committed to a 1.5 year professional learning experience in a global cohort.
Our annual COETAIL cohorts begin in January every year. We facilitate only one cohort a year so we can create connected, collaborative and community driven global cohorts. Now is your chance to be part of the global movement to transform learning for all students. The cohort will run from January through to the following May (1.5 years).
Registration for our next global cohort opens is open now and closes on the 14th of November.
Find out more: https://coetail.com