We want to give you a peek inside our Coach Certificate & Mentorship Program. Coaches taking part in this academic-year-long journey have graciously given us permission to post some of their learning and reflections from the private coursework they are undertaking during this program. Where possible, we have shared the course and the action task to give context for the guest post.
The Coach Learning Journey Video Reflection
The Learning Journey Video Reflection is a chance for you to reflect on everything you've learned and/or discovered throughout this Certificate Program. You will create an 8-10 min video sharing on the goal that you set, documenting the process of working towards your goal, reflecting on your achievement and sharing the process/outcome with our learning community. The most important part of your personal project is that it's relevant to you, and you can demonstrate, through documentation and video, the impact your work has had on your school.
Watch Tracy's Video
What goals did you set for yourself at the beginning of the program?
My two main goals at the beginning of this course were:
To develop a clear picture of my identity as a coach and leader, as well as
To build sustainable practices and systems to make aspects of the role consistent and dependable.
How did each milestone support you in reaching your goal?
Each of the milestone artifacts helped me to build towards these goals. For example:
In Phase 0 – The Foundations it was important for me to spend time thinking about who I was an educator, my identity as a coach and PLC leader, and what I believe or stand for. I knew this was an important place to start because the ideas I grew in this phase could serve as an anchor throughout, not only the course but, in my daily work. So the belief statements I created were very important in framing my next steps and growth. When faced with decisions, I could come back to these beliefs and think about the best way to align with them. When I look back on those belief statements that I created at the beginning, I can really see them reflected in my work and interactions this past year as a coach.
In Phase 1 – Getting Clarity, I created a coaching menu. I chose to create a coaching menu in order to have a concrete tool to support me in my role, and also a tool that would help communicate the role. This tool gave an initial vision of what the coaching experience could look like for teachers. The menu also served as a tool to build trust. One aspect of trust is competency. This menu served as a way to say I have many tools in my toolbox to serve teachers in various capacities. The menu also helps to bring a level of comfort for myself since it sets some boundaries. I know I can do all these things on the menu, so I'm less likely to be pulled into stuff outside my range or that deviates from a coaching stance. It also served to position coaching as a vehicle to help us achieve our strategic goals since the menu was framed under the umbrella of our strategic focus.
In Phase 2 – Implement Consistently, I created a visual representation of a coaching cycle. The process of creating the coaching cycle infographic was instrumental in helping me to become very clear about the important parts of a coaching cycle and what they look and sound like. It helped me feel less disjointed with the work I was doing with teachers especially in the area of our team goal. Having a clearly articulated coaching cycle helps me to be consistent in the approach I take both with individual teachers and with our team. And while I don't always go through this cycle with every teacher I work with, certain parts are always evident in the various ways I work with teachers. This visual representation helped to communicate the coaching process to teachers.
In Phase 3 – Grow Community, I created three visual artifacts. These artifacts are all connected to each other and played a role in helping me to articulate aspects of my role and bring it to life. This was another tool that I could use to articulate my role including the types of ways I support teachers and the impact I have had. This will be helpful next year when I will have new teachers to work with. In hindsight, I think it helps to bring the coaching menu to life.
Analyzing the work I've done this year and categorizing it helped me to see where I've spent most of my time. This is very useful as I can be intentional going forward and will help me to set goals. Case studies helped to bring those roles to life but also led me to see that some works have many interwoven roles. And the third artifact used teachers' voices to speak to the impact of having a coach. It has been important for me throughout the year to consider the impact I've been having both at the team level by building community and the program, and the impact on individual teachers and their students. Through surveys and reflection, I've been able to get a sense of where we are at and collect data to know to keep doing the things that were working and make adjustments when needed.
The team has grown this year and the impact that I've had in building morale, meeting teachers where they are at, balancing team needs with individual needs, working with unique perspectives and diverse personalities, and being intentional with building long lasting structures as a team. Creating this artifact helped me to reflect on my initial goals and look for evidence of growth with respect to these goals. It helped me to see the sustainable practices and approaches I'd created and fulfill my goal.
---
---
What's YOUR level of coaching mastery?
All coaches go through various stages of coaching mastery. Once you identify where you're at, you can begin to build the skills needed to move to the next stage.
This quiz is based on real-life case studies compiled from years of working with coaches inside The Coach Certificate & Mentorship Program!
When you receive your results, you'll also get your matching case study from the STRIVE Case Studies to see where you fit in the stages of coaching mastery.
Ready to tackle your challenges and move on to the next level in YOUR coaching practice?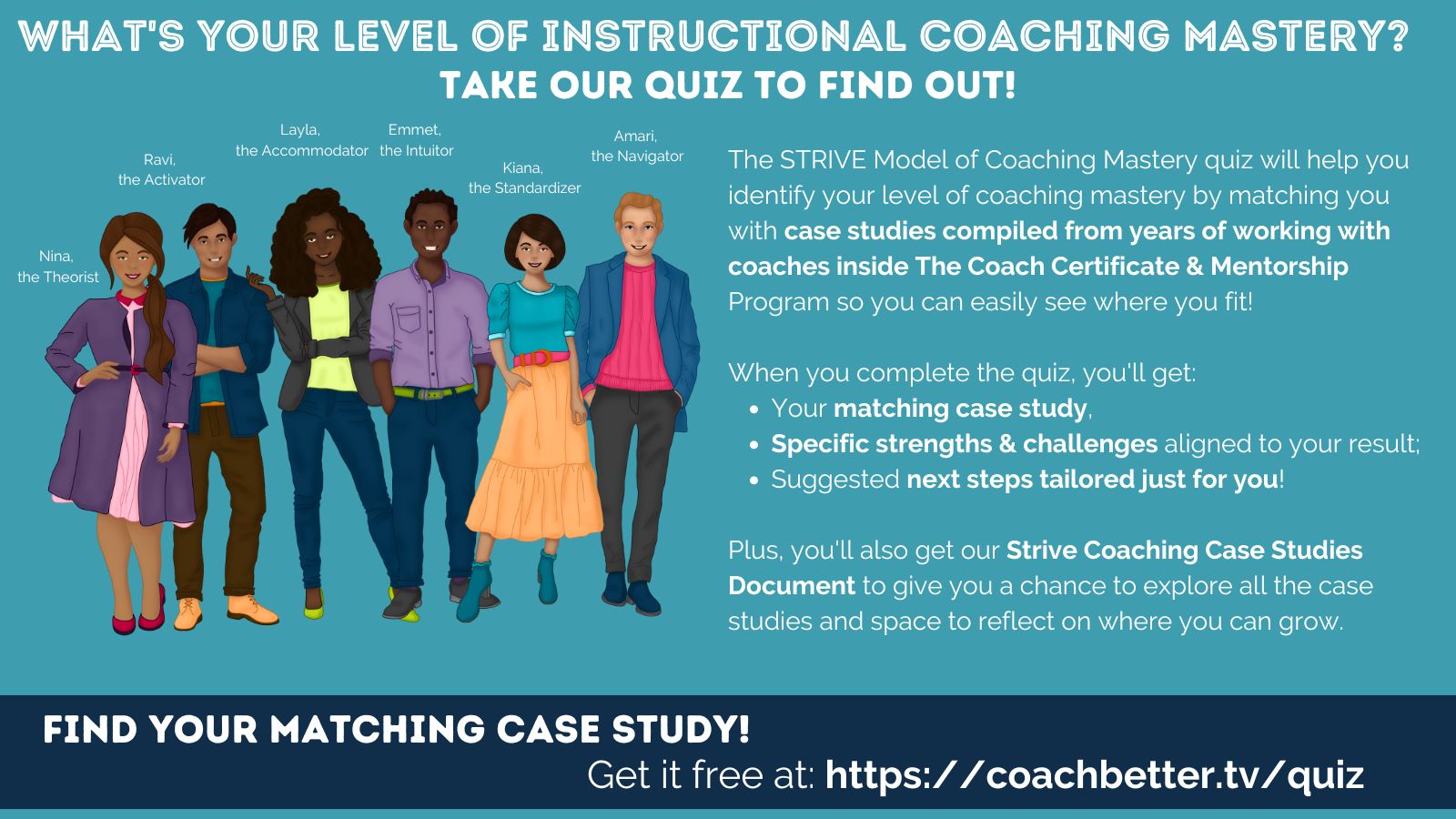 The STRIVE Model of Coaching Mastery quiz will help you identify your level of coaching mastery by matching you with case studies compiled from years of working with coaches inside The Coach Certificate & Mentorship Program so you can easily see where you fit!
---
What has been your biggest area of growth in the program?
One of my biggest areas of growth this year has been building my identity as a coach as I moved from classroom teaching to a blended role (teach/lead/coach). I feel much more confident in myself and clearer about my roles and responsibilities.
Another area of growth has been drawing on my skills and dispositions to be responsive to the teacher's needs and find a balance in this blended role. One thing that became very evident was that every teacher is different and has different needs or preferences for working together. So while I am trying to bring consistency to the role overall, I am also trying to stay responsive to these individual differences. So my work looks different with different teachers. What is always the same is the overall approach and my overall style. That includes being my authentic self whilst having a focus that centers on enhancing students' learning and their learning experiences.
Where do you still have room to grow?
While I have made a lot of growth in this first year, there are still areas that I want to continue to focus on to develop deeper understandings, and enhance skills sets. This includes:
Improving the quality of coaching conversations
Develop iterative coaching cycles
Develop my leadership lens and skill set and examine the intersection between coaching and leadership
Shift conversations from teacher centered growth to student centered growth using data (coaching heavy)
What surprises and/or challenges have you had along the way?
Across this year, I discovered that working with adults adds another emotional layer on top of that which comes with teaching children. My aha around this is how important it is to take care of yourself, so you can continue to show up as an enthusiastic and inspiring leader.
Something else that was eye opening was seeing all the leadership aspects that are embedded in a coaching role. I'm still grappling with this identity piece for myself and it is my area of focus going forward.
What would you do differently next time? What did you learn?
I've come to learn that reflection is a form of self care and we all deserve the time and space to take care of ourselves in this way. So, something I would do differently would be to keep all my reflections from across the year in one place. This year it was so hectic that reflections were completed in so many places (sticky notes, digital spaces, notebooks) that it was not possible to go back and look at all the reflections in sequence to uncover the story woven through them all.
How did the Coach support you in your learning journey?
The Coach supported in so many ways. Firstly, the content was just what I needed. It was organized around modules that I could work through at my own pace. Having curated libraries of articles and videos around important topics related to coaching was amazing. I think I could go back and read them all again and get a different and deeper level of understanding just because of where I am now compared to where I was. Secondly, the amazing facilitation and organization by my mentor, Kim, was incredible. Both large and small group chats, and 1-1 sessions with Kim were always valuable. Kim was a constant source of support and encouragement.
How has your learning inside the Coach impacted your coaching practice & program in your school setting?
The impact has been huge. I've been able to feel successful and supported in my first year as a coach. Therefore the team's experience was positive. This helped overall to build a new program like this into the existing structures of a school. My hope is that having a coach just begins to feel like a normal part of school life.
What next for your professional learning?
I am starting the Women Who Lead course. This will really support me on the leadership aspects of my role, and not only that but continue to support me in my original goal around identity. I have a ton of books to read that I did not get time to read this past school year, so I will also dig into some of them. Anyone interested in doing a book club together, feel free to connect with me.
---
Level Up Your Coaching with The Coach!
If you are ready to develop your coaching practice over the next academic year, and explore topics like transitioning your work from individuals to teams, please join us for our next cohort of The Coach!
Wherever you are in building a coaching culture in your school, The Coach will give you the strategies, skills and tools you need to make coaching a success and will empower you to confidently apply instructional coaching strategies in any situation – from building a coaching program, to having coaching conversations, to being a leader in your school community. We facilitate only one cohort each academic year so we can offer individualized support for each participant.
Registration for our next global cohort opens once a year – check the website for details!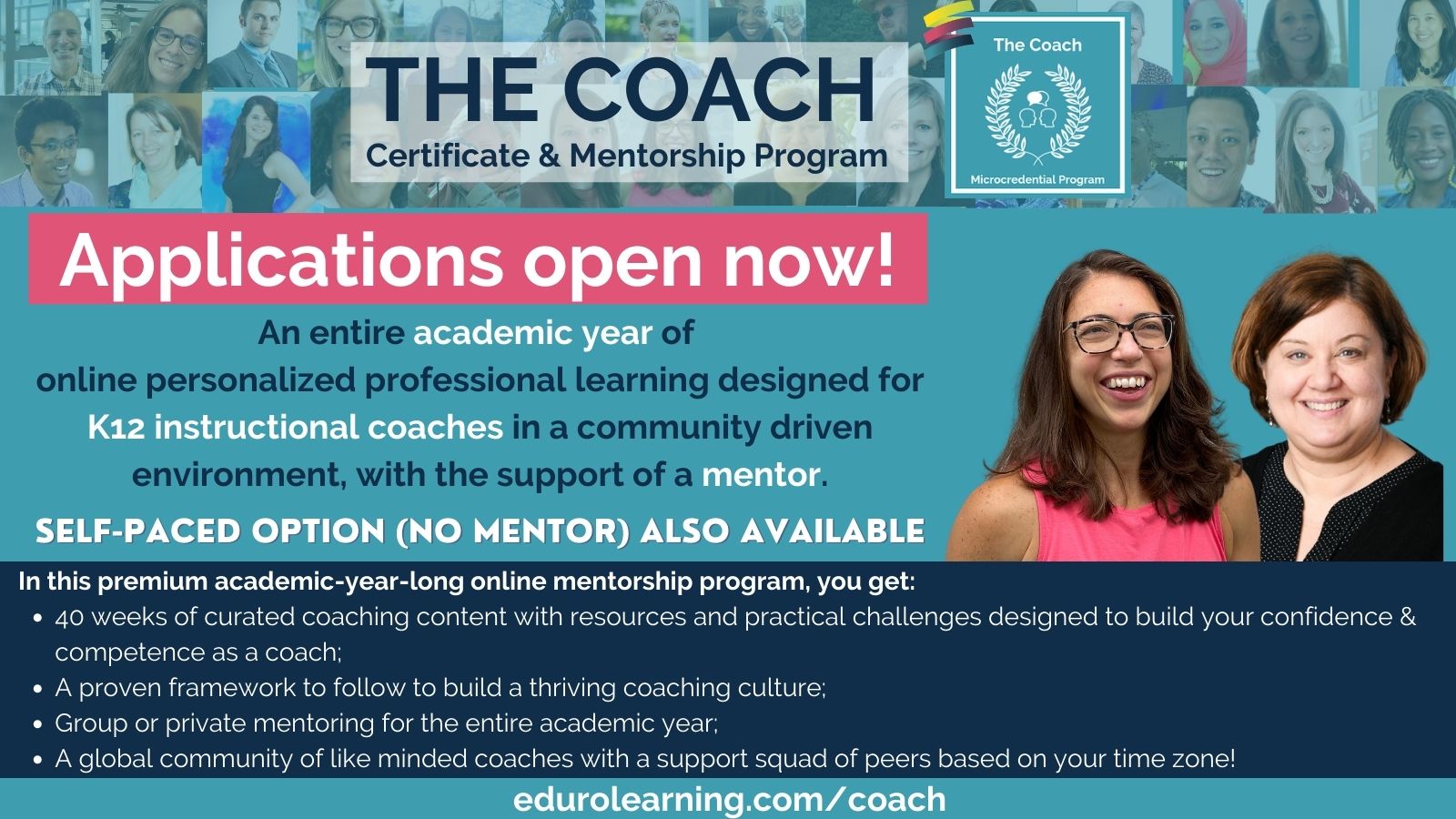 Find out more at: https://edurolearning.com/coach/