As coaches, we all know how important our work is in supporting teachers to improve outcomes for students. We've read the books and articles, and we've experienced the results – we know the power of good instruction and how to help teachers do more of it. Our work matters. A lot.
But for those who do not understand the magic of the work we do, we have to prove how much we matter in different ways that make sense to the uninitiated. This week, I've got 5 suggestions to help showcase your work and let everyone who doesn't know already just how important coaches are to a school community!
1: Maximize the use of your calendar
Do you record your meetings on your google or outlook calendar? If not, this is an easy and reliable way to document the work you do. Here's some tips to make your calendar work for you, especially if your principal / superintendent / school board is asking you to justify your hours. I guarantee you'll get some amazing insights when you look back on your month at how you spent your time.
-use different colors for different categories. On my calendar, I use a 4 color system: blue for leadership team meetings, green for elementary school sessions, orange for work with our secondary school, and purple for my own planning or other personal time that needs to be blocked off. It's super easy to change the color of a meeting, even if you are not the creator- click the icon to edit the event, and about half way down the window, you'll see an option to change the color!
-Be sure to name your meetings in a way that will also be easy to disaggregate. For example, you will want to differentiate between 1:1 coaching sessions and PLC or other collaborative meetings. This will help you provide a really comprehensive report to anyone who wants to know how you are spending your time!
-AND, if you haven't seen it yet, if your district uses gmail, your google calendar will actually do some of this tracking for you! Have you seen the 'time insights' on the left hand side of your calendar? Click that to get even more insights to who you are spending the most time with!
2: Send out feedback surveys – for EVERYTHING
-This is what google forms were REALLY made for!
lead a PD session? Send a survey.
End of a coaching cycle? Send a survey.
End of the semester? Send a survey.
Now, we all know how annoying surveys can be. So the trick is to make them EASY but USEFUL. Here are a few tricks for that:
Always use a 1-4 likert scale. This forces people to decide on whether something was somewhat effective or effective; no hanging out in the middle with a 'neutral' answer.
Use QR codes so people can scan your slides or a handout during a session and fill out the survey right then and there.
Keep the survey short – 2 or 3 questions at the most, with one, optional, opportunity for a comment. You're not looking for dissertation type data; but you do want to be able to say, over the course of 7 PD sessions, 90% of participants found the sessions directly applicable to their classrooms' (or something like that)
Some go to questions of mine are:

How useful was today's session to your personal classroom practice?
What is one new thing you are going to try tomorrow?
Or- my favorite, 'cognitive coaching' question: How has your thinking shifted since the start of our session?
Another Harvard Project Zero classic: I used to think / now I think – that could be your entire survey. And that provides you with:
Tip #3: Use quotes or other testimonials
Numbers and percentiles are great data, but using anonymous quotes about your coaching or PD sessions gives those numbers a more personal feel.
You can also also people to record a video testimony about the work you are doing. This doesn't mean solicit people to talk about how great YOU are, but how transformational the learning is for them as individual practitioners. People definitely like to talk about their positive changes, and if you just happen to be the one facilitating that change, well, that's some powerful evidence to let the powers that be know just how valuable you are!
---
What's YOUR level of coaching mastery?
All coaches go through various stages of coaching mastery. Once you identify where you're at, you can begin to build the skills needed to move to the next stage.
This quiz is based on real-life case studies compiled from years of working with coaches inside The Coach Certificate & Mentorship Program!
When you receive your results, you'll also get your matching case study from the STRIVE Case Studies to see where you fit in the stages of coaching mastery.
Ready to tackle your challenges and move on to the next level in YOUR coaching practice?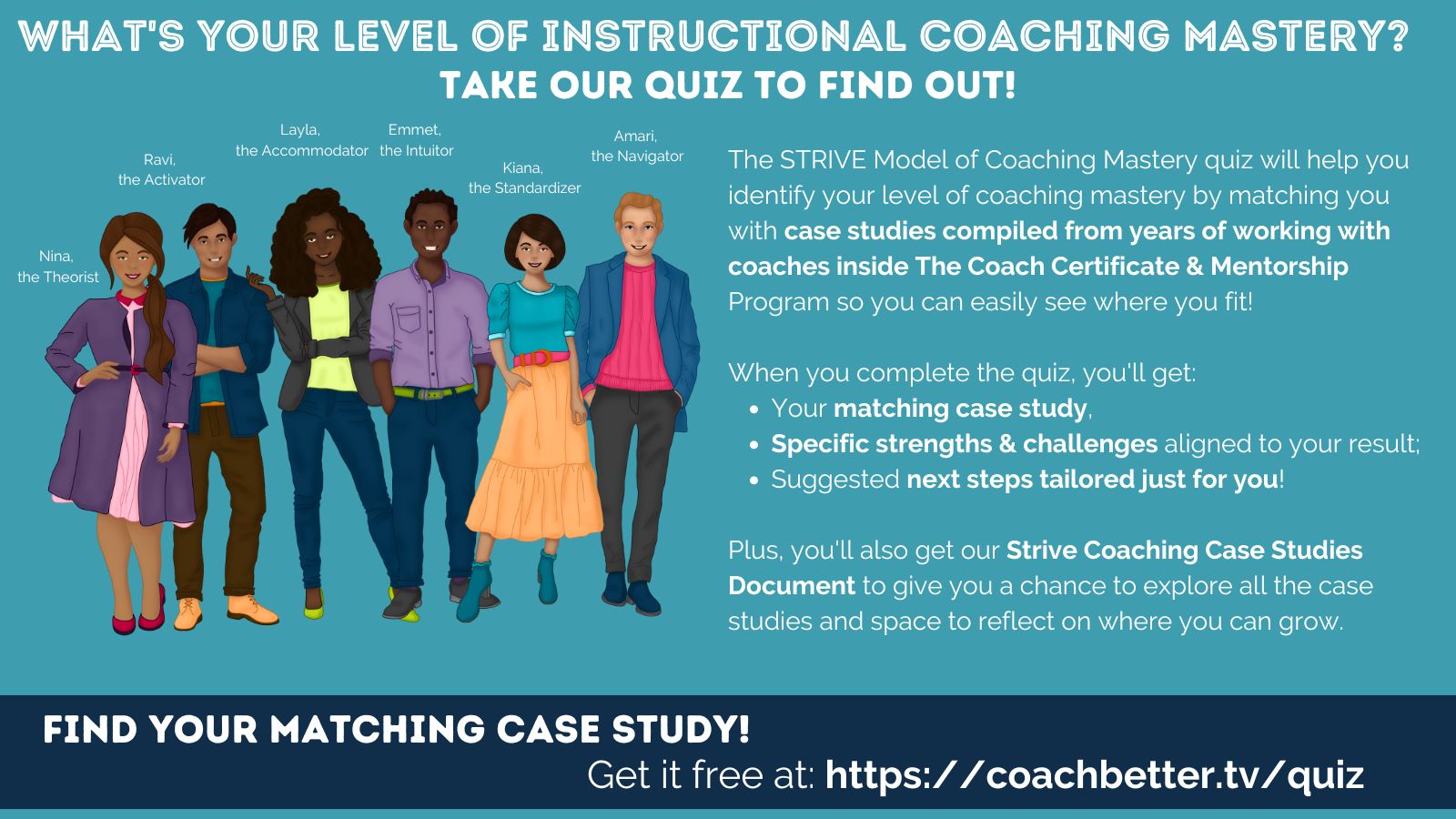 The STRIVE Model of Coaching Mastery quiz will help you identify your level of coaching mastery by matching you with case studies compiled from years of working with coaches inside The Coach Certificate & Mentorship Program so you can easily see where you fit!
When you complete the quiz, you'll get:
Your matching case study,
Specific strengths & challenges aligned to your result;
Suggested next steps for each stage;
Plus the Case Study Document includes:
Case studies leveled by coaching mastery;
A framework to identify essential stages of professional growth & key areas to focus on in your professional learning;
Alignment with the THRIVE Model for a Successful Coaching Culture;
Space for you to reflect & prioritize so you can take action immediately!
You'll go straight to the Quiz, and get the Case Study Document via email.
---
Tip #4 – Take pictures
Facilitating a data team? Take a picture of the teachers talking about student work! Observing a class where a teacher is trying out a new idea you talked about in a coaching session? Make sure it's ok with the teacher, but snap a photo of the new move in progress! Teachers generating ideas on chart paper? Take pictures of them all (sad but true: my phone has more pictures of random pieces of chart paper than it does of my dog. Oh, being a coach… but I digress)
Tip #5 – Share!
What to do with these charts and graphs and quotes and photos? Publish them somewhere -and keep it updated. I started small, with some google slides. I would make a bulleted list of monthly highlights – things like, 'engaged with 9 teachers in new coaching cycles," or, facilitated 8 data teams for the secondary school, or, co-created the monthly staff meeting with the elementary principal to focus on ——– (insert school initiative here). Then….you got it….follow up the bulleted list with your charts and graphs and quotes and photos. The trick is to keep this updated – so use your calendar to carve out some time at the end of each month to put together all of your documentation. In my current role, I never know when the board will ask to hear about my work, so I need to be prepared to showcase our success at a moment's notice. And yes – I totally get that it might feel like you are showing off, but this is how we spread the good word about the power of coaching. So embrace your inner awesome warrior, and share your impact with the world. The next time someone asks you to account for how you spend your time, your ready.
So, to recap – the 5 easiest ways to let others know how important your coaching work is:
Use your calendar
Send a survey for feedback on everything you do.
Get testimonials or other quotes from people who have been changed by your work
Take pictures
Publish
If you want to go deeper into this work, sign up for The Coach Certificate and Mentorship Program! The only online certificate program designed for k12 instructional coaches that includes an entire academic year of mentorship to provide personalized professional learning in a global, community driven environment.
Watch the Video
---
---
Level Up Your Coaching with The Coach!
If you are ready to develop your coaching practice over the next academic year, and explore topics like transitioning your work from individuals to teams, please join us for our next cohort of The Coach!
Wherever you are in building a coaching culture in your school, The Coach will give you the strategies, skills and tools you need to make coaching a success and will empower you to confidently apply instructional coaching strategies in any situation – from building a coaching program, to having coaching conversations, to being a leader in your school community. We facilitate only one cohort each academic year so we can offer individualized support for each participant.
Registration for our next global cohort opens once a year – check the website for details!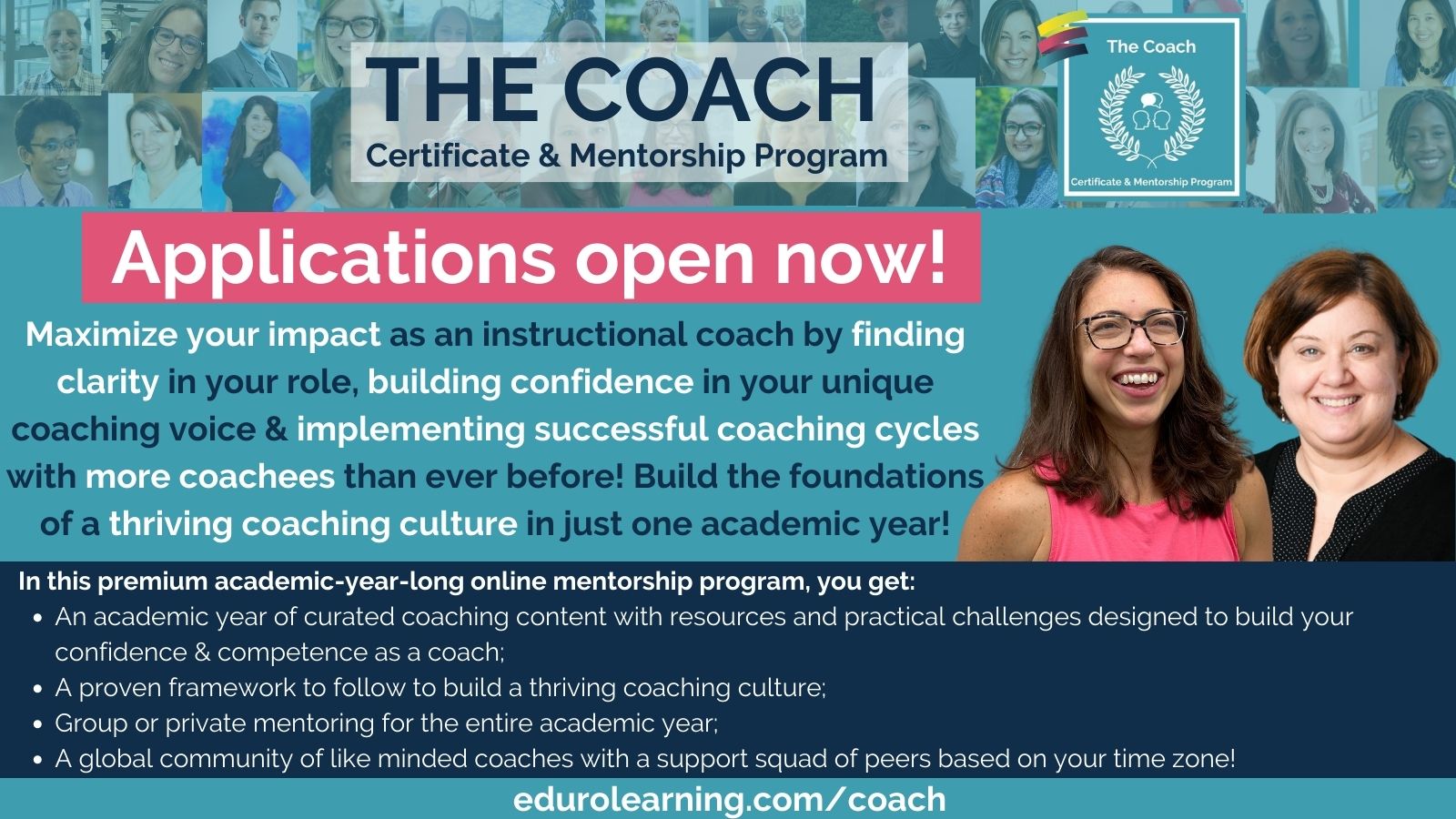 Find out more at: https://edurolearning.com/coach/