This topic is near and dear to my heart because I truly believe that instructional coaching is the key driver in continued, long term professional growth in schools. I know, we have tons of options for professional learning: conferences, in-house PD, consultants, online courses but I believe that coaching is the way to take all of that and make it achievable, personalized and sustainable.
This is a big part of the reason I created The Coach Certificate & Mentorship Program. I was a consultant for a long time. I spent a lot of time traveling to schools and "enjoying" the suitcase method: fly in, inspire people, fly out. But as much as I loved doing that work – and I am good at that work – I know that the schools that have full time coaches, and have structures in place for those coaches to do their jobs well, have much more success implementing everything I shared. And, in fact, in schools with thriving coaching programs, don't need to invest as much in outside consultants or external PD – and those communities are deeply inspired and engaged in professional growth.
I created The Coach so I can help educators in schools build the kinds of communities that are committed to professional growth and engage in ongoing professional conversations about learning.
So, if you're in a school right now, and you are a coach, or you want to be a coach, or your coaching program is struggling, you may find this topic helpful in working with your school leaders to help them understand why coaching is so valuable. And, maybe, even why they may want to invest PD funds to support you in joining our next global cohort of The Coach Certificate & Mentorship Program – which opens for registration soon! Head over to edurolearning.com/coach to get all the details about our next cohort!
To help ensure that you are able to get support to join The Coach, I've created a FREE resource for you to share with your school leader that highlights all of these 10 points, with quotes from other school leaders that have been guests on the #coachbetter podcast. This Quick Guide gives you the leadership language to have a purposeful conversation with your school leaders about investing in YOUR professional growth as a coach, and therefore maximizing the impact you can make in your school setting.
You can grab the download in the description box below, or head over to edurolearning.com/top10
And if you use it, let me know how it worked! Find me on social media at @edurolearning on Twitter & IG or join our #coachbetter Facebook group and tell me how it went! I'd love to know how things are developing in your school! If you have questions on how to use it, send me a DM and we can strategize how it might be best for your school community!
Top 10 Reasons Coaching is the Key to Sustainable Professional Growth in Schools
If you have more – or you disagree, let me know – leave a comment below or find me on social – I want to hear what you think too!
Oh, and to clarify what I mean by instructional coaching, before I start, I'm talking about informal or formal peer relationships that are:
Non-evaluative
Focused on teacher goals and student learning
Close to the classroom, and
Involve a cycle, structure or system for self-reflection, data collection and feedback
1: Enables Differentiation of Whole-School PD
Every school offers whole-school, mission-focused Professional Learning. Schools need to have these one-size-fits all sessions, usually at the beginning of the year, to set the tone and focus for our professional growth for the year. It's essential that everyone hear the same message and that we are able to communicate school goals and priorities to all staff.
However, by the very nature of these sessions, they are extremely hard to differentiate. Even with the best efforts, whole-school PD will often have educators with vastly different experience, understanding and preparedness attending the very same session.
Instructional coaches can take the big picture messaging of whole-school PD and customize the professional learning for teams, or individuals, based on need. They can build on full-faculty sessions with smaller, more focused, and differentiated sessions for groups as needed and within the school day.
2: Avoids The Suitcase Model of PD
When schools hire consultants, even highly experienced and effective consultants, the ideas and inspiration they bring with them (in a suitcase) often leave with them too. Even when the consultant has a long-term connection with the school, the time between visits, and the lack of depth of knowledge of the school community mean that their impact will be unlikely to be as deep and sustainable as educators who are on the ground, part of the community, and committed to the school.
Schools often seem eager to listen to the recommendations of consultants even though on-staff personnel have been saying the same thing for years. The consultant simply provides an easy way to "tick a box" and make sure we're "getting it done". But the reality is that consultants (including me) don't know the school community the way the actual staff do. Invest in the people that can actually make and sustain the change.
Plus, although at first glance hiring an outside consultant, or sending teachers away to conferences seems to be a cheaper investment, not only are you not able to reach every teacher at a personal and practical level, but the amount of time and energy need to see the implementation of those new strategies goes far beyond just the cost of attending a conference or bringing in a consultant.
While the cost of hiring coaches varies based on the host country, the long term investment in a coach will make a lasting impact on a much larger group of educators than any one-off conference or consultant visit.
3: Learning is Ongoing
Sending teachers to conferences often leads to one-off learning experiences that may impact an individual teacher's practice, but without the long-term, contextual support within the school setting, those ideas often end there. When schools require teachers to share what they learned with their colleagues, that is another step removed from the original inspiration. When teachers walk away from events of long lists of "things to try" but don't have the support to make that happen in their classroom, the lists stay "wishes".
Long-term personalized learning within the context of the school – held physically in the classroom spaces at the school, and with someone who knows the teachers, the school, the context, and can work with them over a long period of time – will make a bigger impact than traveling for annual conferences.
4: Learning is for Everyone
If you consider yourself a learning-focused school, the learning is not just for students, it's also for teachers. When schools make an investment in the professional learning of all educators, the value placed on learning is explicitly clear. When leaders model this growth-mindedness by being coached, they are doubling down on the investment in hiring coaches.
5: Schools are Dynamic
Schools are dynamic learning spaces. Every year things change, we face the unexpected and we learn how to adapt. Likewise, coaches grow with the school & their colleagues. They understand the changing nature of the school community because they are part of it. As school goals change, coaches can bring their experience & relationships with their colleagues to the changing needs of the school.
---
What's YOUR level of coaching mastery?
All coaches go through various stages of coaching mastery. Once you identify where you're at, you can begin to build the skills needed to move to the next stage.
This quiz is based on real-life case studies compiled from years of working with coaches inside The Coach Certificate & Mentorship Program!
When you receive your results, you'll also get your matching case study from the STRIVE Case Studies to see where you fit in the stages of coaching mastery.
Ready to tackle your challenges and move on to the next level in YOUR coaching practice?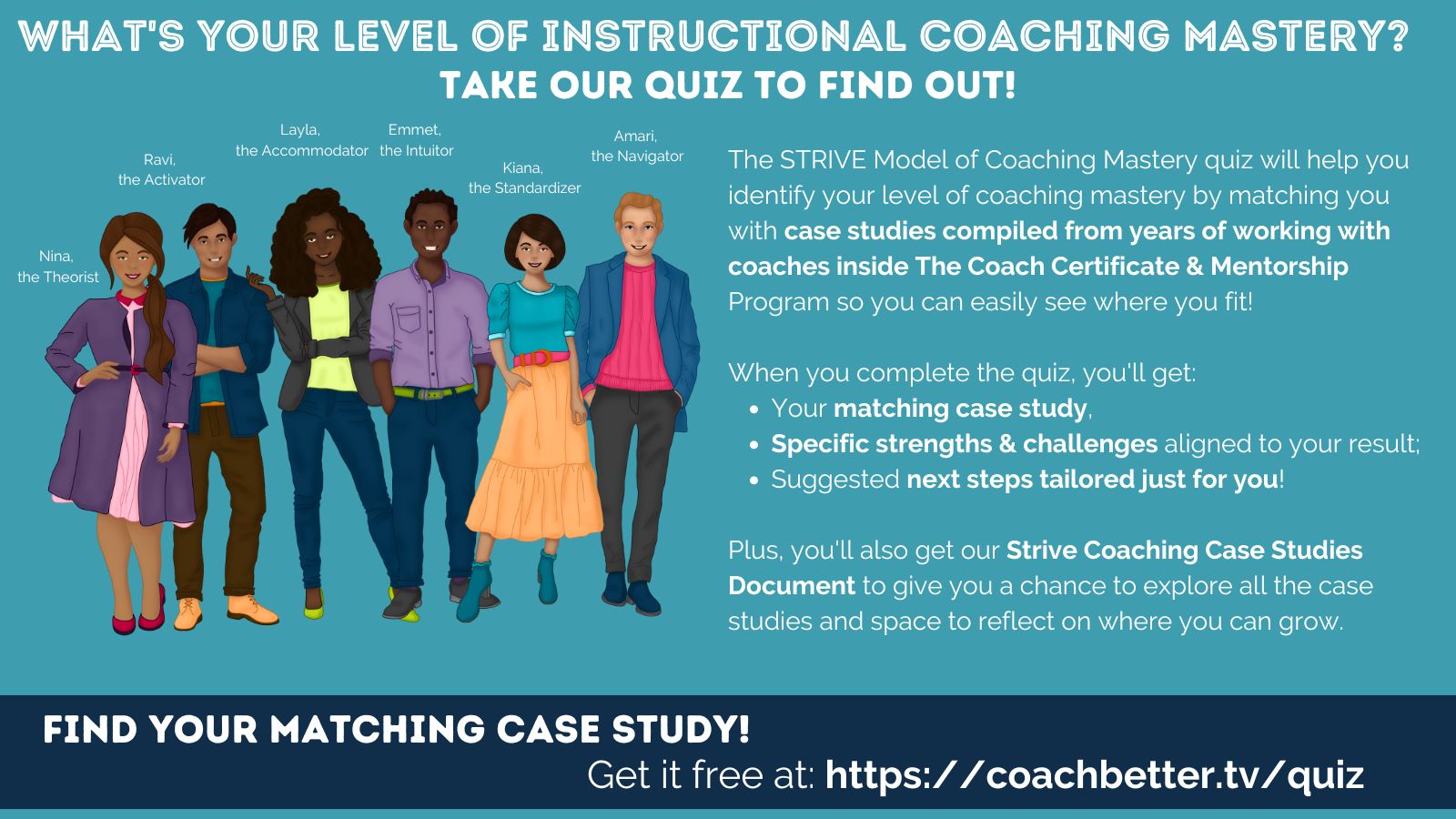 The STRIVE Model of Coaching Mastery quiz will help you identify your level of coaching mastery by matching you with case studies compiled from years of working with coaches inside The Coach Certificate & Mentorship Program so you can easily see where you fit!
When you complete the quiz, you'll get:
Your matching case study,
Specific strengths & challenges aligned to your result;
Suggested next steps for each stage;
Plus the Case Study Document includes:
Case studies leveled by coaching mastery;
A framework to identify essential stages of professional growth & key areas to focus on in your professional learning;
Alignment with the THRIVE Model for a Successful Coaching Culture;
Space for you to reflect & prioritize so you can take action immediately!
You'll go straight to the Quiz, and get the Case Study Document via email.
---
---
6: Schools are Unique
Every school has a unique school culture that's influenced by the community, the local culture, the host country and its history. Having experience living in and working in this environment is priceless. Although outside consultants may be experts in their specific field, and cross-culturally competent, it's unlikely that they will have the depth of understanding of your school-specific context, unless they have worked at that school before.
7: Keep Learning Close
We know that the closer professional learning is to the classroom, the more effective it is. When professional learning happens in the classroom context, with actual students, in the exact situation that teachers are managing on a daily basis, the process is clear and achievable and the impact is visible immediately. You can't get any closer than having coaches in the school working with teachers in their classrooms every day.
8: The Ripple Effect
When coaches work with one teacher on a team, the success builds to others. Teachers sharing about the value of their experience being coached helps build interest in engaging in the coaching process. Investing in coaches, when instructional coaching is supported appropriately, has a positive ripple effect of engagement and interest in improvement that radiates out to all the teachers they work with.
9: The School-Wide Perspective
Coaches are some of the only non-administrative positions that have a whole-school perspective. They have the opportunity to see what's happening in a variety of grade levels and subject areas. They have the availability to cross divisions and engage in deep conversations with teachers and leaders. Coaches have the time and focus to become experts in what teachers are doing, and know what works in THIS context by connecting teachers to each other & sharing & celebrating success (without evaluation pressure)
10: Focus on Growth Mindset
Because coaches are in a non-evaluative position, they can help teachers keep a growth mindset in a non-threatening way. When coaches invest in their own professional learning, they become role models for professional growth and risk taking. By engaging in coaching themselves, and by coaching leaders, they set the stage for coaching to be valued by all staff members.
All of these are dependent on school structures being in place to support effective and non-evaluative instructional coaching, so it's also important for coaches to know what they need to be successful, and to be able to articulate that to their school leaders (which we also talk about in The Coach Certificate and Mentorship Program!)
What do you think?
Do you agree? Disagree? Let me know in the comments below, or find me on social and start a conversation – I'd love to hear your thoughts on this!
If you think coaching is the key and you want to make a bigger impact in your school setting, please join us for the next cohort of The Coach Certificate & Mentorship Program! Registration opens on Nov 4th! You can find all the details at edurolearning.com/coach
I'm here to support you in making the change you want to see in your school community – and I know you can do that through coaching! So even if you're not in a coaching role just yet, you can learn everything you need to be successful as an instructional coach AND the process for creating a thriving coaching culture in your school in The Coach.
The Coach is the only online certificate program designed for K-12 instructional coaches that includes an entire academic year of mentorship to provide personal professional learning in a global community driven environment. It's the mentorship that makes this program so valuable – and you can only get that in our global cohorts.
I know it's a big commitment to jump into an academic year long program. If you're considering joining The Coach right now, I know you're wondering what learning will be like, to see how the program works, and to better understand what you can expect to be doing on a weekly basis in the program.
I totally understand! It's a big commitment to jump into an academic year long program, and I want to make sure it's the right choice for you right now.
So this year, we're sharing a sample week of The Coach for FREE for a limited time!
Ready to start? Get it at https://edurolearning.com/coachpreview
Watch the Video
---
Continue Your Learning!
Are you ready to advocate for the power of coaching in your school community?
If you're ready to dig deeper into being more intentional in your coaching practice – or if you're new to instructional coaching and you're curious about getting started, join us for one of our courses for coaches!
To learn more about these options, I have two FREE workshops to share with you today.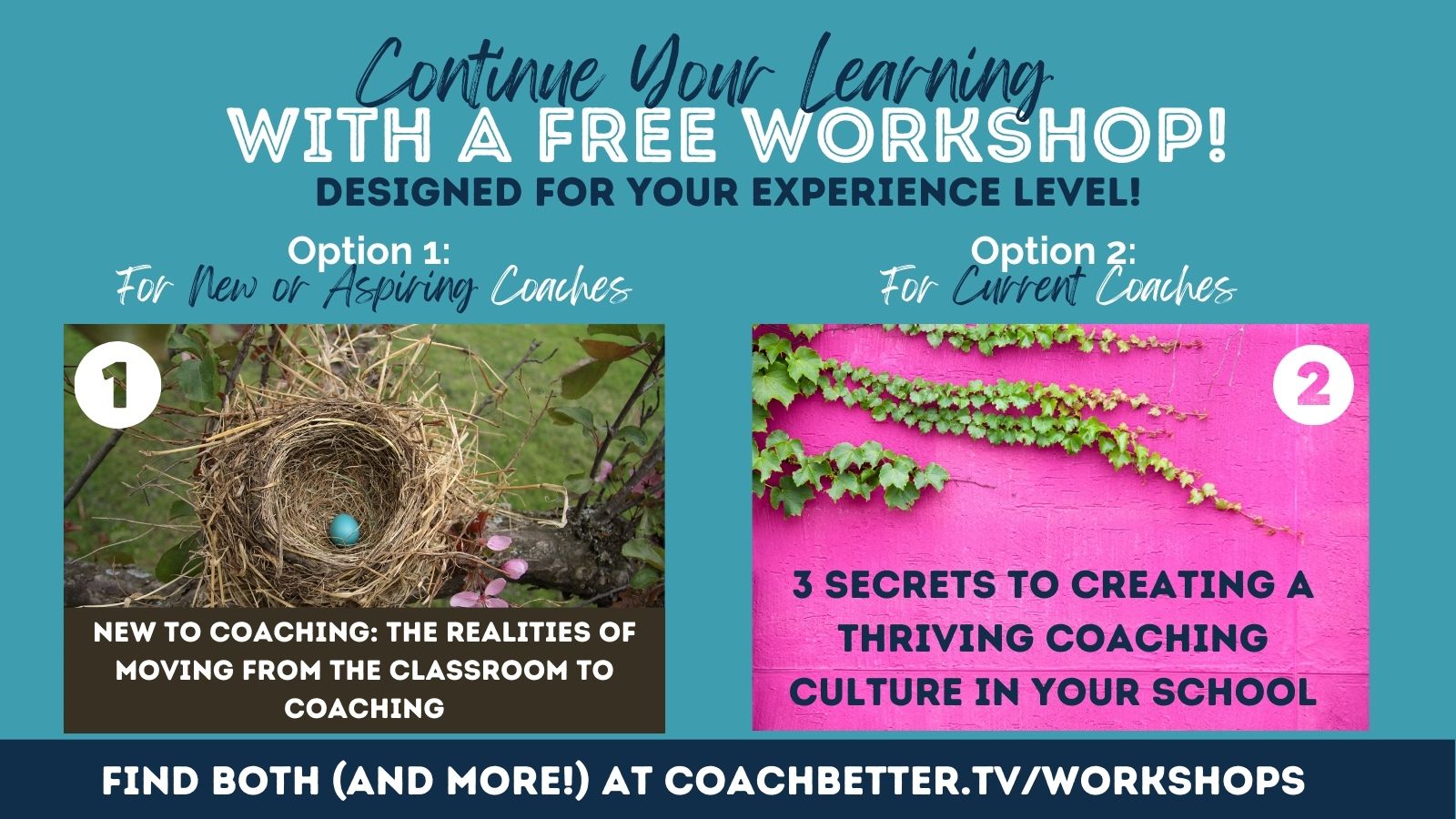 For New or Aspiring Coaches
If you're just getting started as a coach, and you want to be successful in your early years, watch our New to Coaching Workshop, which highlights the key mindset and skill set shifts you'll need when moving from the classroom to a coaching role. The workshop will also tell you all about our brand new course, Getting Started as a Coach. This course is specifically designed for classroom teachers that are moving into a coaching role so you're prepared for the transition. It's focused on exactly the skillset & mindset shifts you need to so you can be successful in your first years as an instructional coach.
For Experienced Coaches
If you're already a coach & you want to think about being more intentional & strategic in your practice, watch our workshop on the Thrive Model for Coaching Success which will help you evaluate your program and your practice to see where you may have room to grow. You'll walk away with a clear picture of exactly what you need to focus on to build a thriving coaching culture – and help you decide if our year-long mentorship and certification program, The Coach, is right for you, right now. This program is designed for current coaches who are focused on building a coaching culture through intentional and strategic coaching work at all levels – with teachers and school leaders.
You can find both workshops on our coachbetter website at coachbetter.tv/workshops
Wherever you are in your coaching journey, we can support you!
For All Coaches
Connect with us!