In this #coachbetter episode, Kim talks with Dr. Chaunté Garrett, Former Instructional Coach and currently Superintendent of a K-12 Charter School in North Carolina!
They talk about the intersection of coaching and leadership, how coaching can effectively prepare you for a leadership role, how coaches are leaders in their schools, dealing with impostor syndrome as coaches and leaders, how Dr. Garrett supports and grows her coaches in her school and how coaches can transition into formal leadership roles. As coaches, we don't often feel like leaders in our school setting, but this episode will help you recognize the leadership you're demonstrating right now, and how you can leverage it even further – either as a coach or a positional leader. If you're ready to take your leadership to the next level, this episode is for you!
Dr. Garrett is also featured in our Women Who Lead Certificate Program, and this conversation is like a window into one of the modules within the program – "Recognizing Your Potential to Lead". Women Who Lead is an 8-module online Certificate Program designed for aspiring and growing leaders, featuring the voices and experience of over 70 successful female leaders from around the world. Women Who Lead will empower you to articulate your leadership potential so that you can overcome the many challenges faced by women seeking leadership positions in the field of education. Registration for our next global cohort is only open from the 2nd to the 16th of May. Find out more at edurolearning.com/women today!
Subscribe to #coachbetter via your favorite Podcast Player!
Featured Guest
Bonus! Watch the Spotlight Version on YouTube!
Show Notes
Tell us about your journey in education. How did you get to where you are today?
Coaching was one of the most valuable experiences I had as an instructional leader. I started out as a teacher. I loved helping other teachers and learning. When I was looking for an admin position, I landed as a district instructional coach. I have so many thank you's and lessons from that role.
In our Women Who Lead conversation, you mentioned that your coaching role was the one that most prepared you for your leadership positions. Please tell us a little bit more about that.
"Instructional Coaching was a defining role for me in terms of who I wanted to be the rest of my career. I honed so many skills in that space. That is one of the most valuable spaces that I have served in preparation for any other space I have worked in."
Support first. I don't remember that being a hallmark in the admin training. What it truly means to support people. We grow educators, we support their growth, but what does that mean?. First, it's learning what feels supportive. The art of coaching, the difference between being an administrator and being a coach. It means you are being attentive to the focus you support and communicating what they need in terms of growth and development. Understanding how they see themselves and how we support them in fitting into the larger goals of the organization.
When I started as a leader, what is it that you need me to know today?
Coaching is about meeting everyone where they are.
I became a much stronger instructional leader. I had to look at instruction so much more deeply. Not just how do we make this work for kids, but how do we make it work for adults? How do we support the adults in growing within a framework? Encouraging them to look at data and letting the data be the guide.
Crucial conversations.Meet the person where they are, develop a game plan, accountability
In what ways are coaches leaders – even if they don't have the title of "leader"? (this may be addressed in the above question
I spend the most time with the coaches who serve our teachers because they work the most closely with teachers. I'm not in every conversation, so I will ask coaches, they spend the most time sitting alongside teachers. It's not "accountability", it's about how much closer are we getting to our goals. I lean into coaches.
It's a different type of accountability, teachers develop a different sense of accountability for the work they're doing with coaches. When I'm not able to have a conversation and get that feedback with teachers, I lean into coaches. It's part of that relationship
It's a growth-producing relationship. It takes the anxiety off, allowing teachers to ask questions, be vulnerable, not feeling like they always have to be on.
Coaches are leaders in the content areas. They lead not only by example, but through the constant modeling and PD, and being a resident expert. Taking some of that pressure off the admin to have to be the expert over everything.
Coaches lead in large-scale initiatives. What does our support model look like, what should this initiative look like? And they're right in there accelerating the work, alongside teachers.
Keep track of data on teacher growth. This is what good teaching means, this is what they've received feedback on, this is how they've grown. (teacher outcomes)
Looking at feedback, and outcomes of that feedback and where have we moved to. As that teacher continues to go, then looking at student data. How the teacher is growing is impacting learning. Seeing how we can connect the various impacts. Looking at indicators, to see how teachers can grow and progress.
Will identify where do we begin with our teachers, based on actual teacher needs.
We're not shooting in the dark anymore, we know exactly where teachers are fitting in with how we detail and indicate teaching & learning. Informs professional growth plans.
Gives them a starting place for themselves, what kind of reading do I want to do over the summer.
---
Is it time to embrace YOUR Inner Leader?
Many of us are building leadership skills without even realizing it! Are you already demonstrating leadership potential in your current role? Is it time to take the next step in your leadership journey?

Take this quiz to recognize your leadership potential and identify where you can continue to grow!

These questions highlight informal leadership skills that are highly valued in successful formal leadership positions. How many are you already building?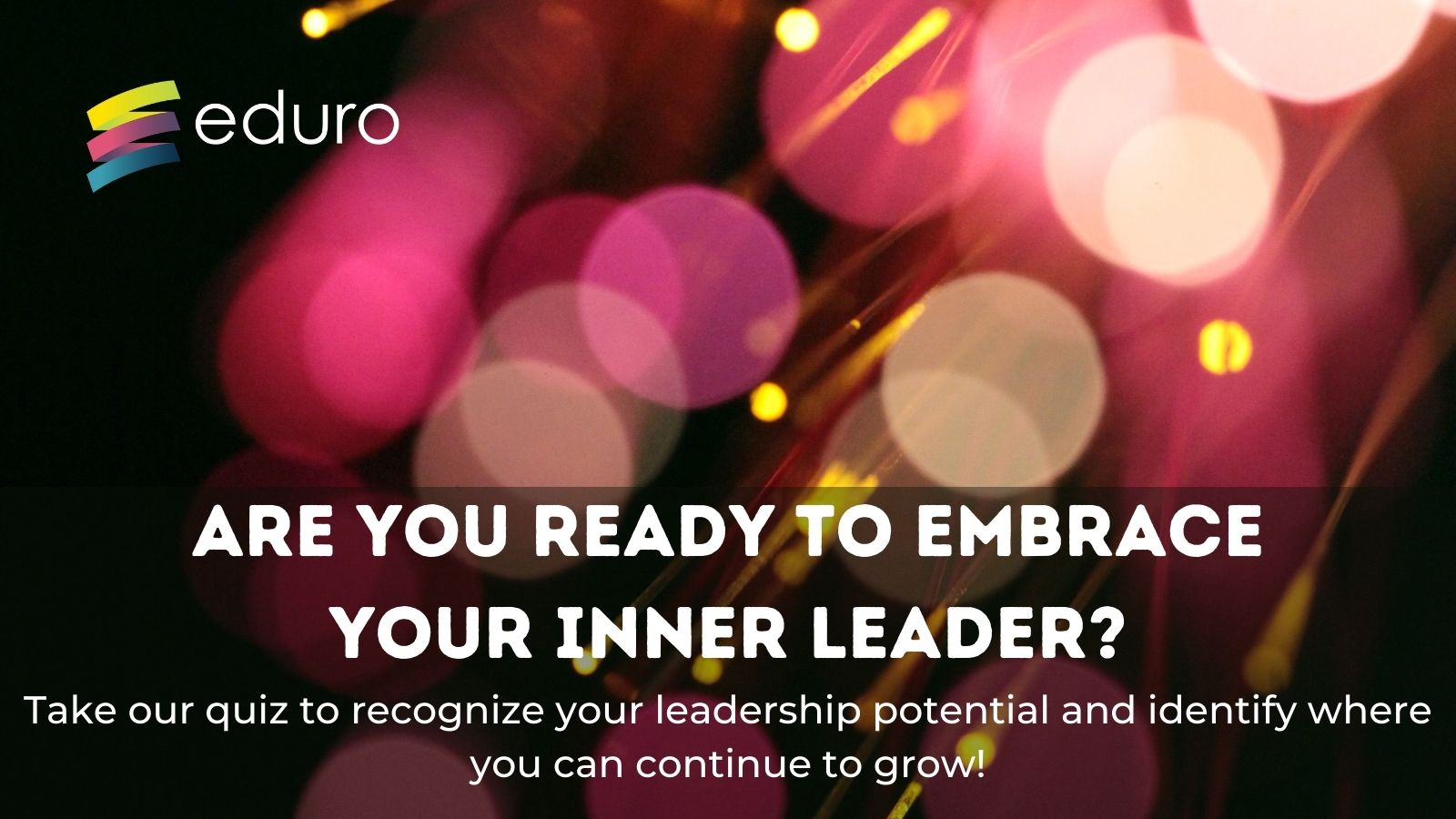 ---
Show Notes continued…
Many coaches I work with feel a sense of imposter syndrome, either that they're "not good enough" to be a coach, or that they're not a leader in their school. How do you help people get over that hurdle?
I have invested the most time in our coaches, because they invest the most time directly with teachers. It's extremely important to me that our teachers get authentic coaches, building capacity, non-evaluative completely supportive opportunity to be their best self."
Leadership is not inherent, there's positional leadership but that's not what you want to lean on. Leadership is connection, leadership is the ability to help people understand why, give them the support to do the how & the encouragement and affirmation to carry out the what.
Leadership does not just fall on the admin's shoulders. We have a director's leadership model, it falls on the shoulders of the person who carries the most expertise in that area, and the person with the ability to help everyone understand the why, the how and the what.
It's about uplifting the pieces that do qualify you to do this work.
Please tell us about what coaching looks like in your school. How do coaches work with teachers? What makes coaching successful?
We have traditionally had content area coaches, serving all grade spans. We now know, coaches are coaches in the authentic sense of coaching, of limited supply. We have learned to design our coaching process and selection so that our coaches have to do data analysis (leading those convos in a PLC), curriculum support, mock coaching sessions in the interview process,
Our interview process is very rigorous because it communicates how important the position is to the school community.
Everyone grows. Even I get coaching. So does every single member of the leadership team.
Piloting a virtual coaching process: All teachers have a coach that they meet with weekly, or in a small group every other week bi-weekly, and then on the off week, they meet individually. This is what's giving us such good data.
What does / should professional growth look like for coaches?
There is coaching training with teacher leaders to support the remote coaching. Teachers are receiving coach training.
As a coaching team, we met every other week, that was where we worked on data analysis, moving beyond reflecting on our data to digging into our data together to determine next steps.
Anything that we're seeing as a challenge in our classroom, we're talking about it as a coaching team, and are we prepared to lead this. Development to help them lead PD properly. What does this mean in our school community?
Coaches travel for trainings, too. Instructional team: coaches, directors, were part of the get better faster leadership cohort: all participating to make sure we're all getting the same info, and then processing together as a team
We work as a team.
If coaches want to move into leadership, what should they consider?
As a coach, you get so much exposure to so many aspects of leadership. Our coaches serve on some of our highest level leadership teams, either by expertise or by way of position. When you're getting that exposure, understand where you're truly marrying leadership. When you're in leadership, you don't want to be miserable. Find your alignment.
1: Understand your why, and how any role you pursue fits into your why.
2: Understanding what aspect of coaching do you love
3: In what ways are you intentionally positioning yourself to be able to take on different leadership roles, what other aspects of the school community / district are you participating in that gives you the exposure and the opportunities within that space that gives you the potential to take on a leadership role in that space,
4: Stay abreast, not just relying on your experiences and successes, you are constantly reading and researching, not just claiming a space as an expert, positioning yourself as a learner so you can share the things that you're learning.
---
Level Up Your Leadership With Women Who Lead
As coaches, we are so fortunate to have so many opportunities to demonstrate "little L" leadership. If you're feeling like now is the time for you to jump into a formal leadership position. Women Who Lead is the program for you! Women Who Lead is an an online certificate program designed for growing and aspiring leaders, featuring the voices and experiences of over 70 successful female leaders from around the world.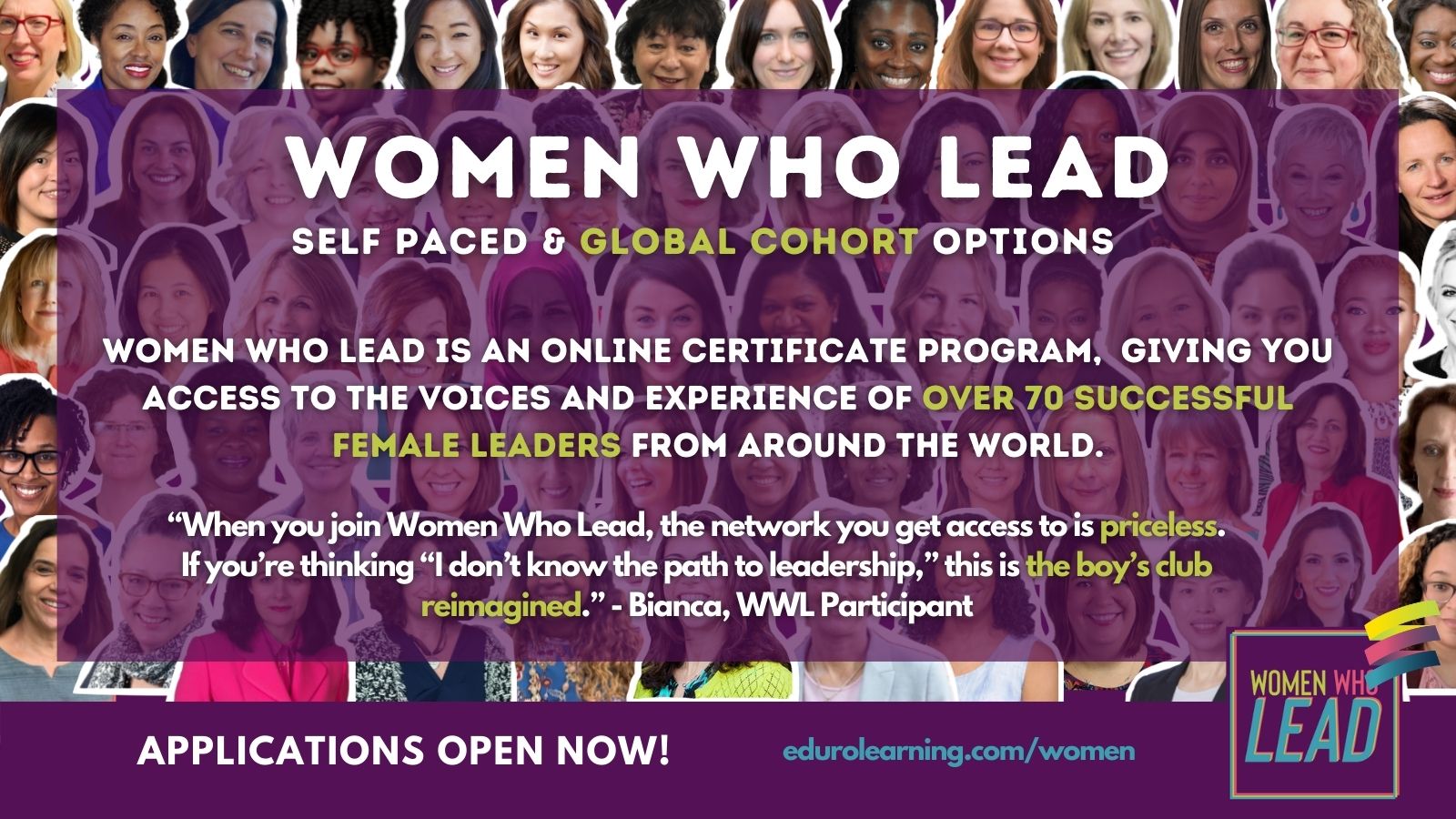 Women Who Lead will empower you to articulate your leadership potential so you can overcome the many challenges faced by women seeking leadership positions in the field of education.
We facilitate only one global cohort each year, so we can create connected, collaborative, and community-driven global cohorts. Now is your chance to level up your leadership and reach for your dream job!
Find out more here: https://edurolearning.com/women/