In this #coachbetter episode, we have a fantastic panel episode featuring four experienced international school educators who have recently returned to their passport country!
When we start teaching internationally, we rarely think about what the transition back "home" might be like. My guests today, Diana, Maggie, Kristen, and Emily have just been through that transition and they learned a LOT. We talked about the differences in their work, professionally between international and "home", what surprised them about the move, and what educators moving home should consider. If you're making the transition back to a "home" country this year, you don't want to miss this episode!
Subscribe to #coachbetter via your favorite Podcast Player!
Featured Guests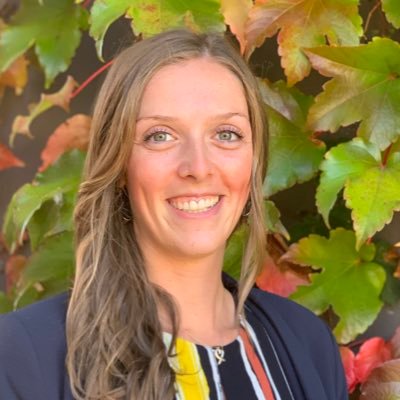 Bonus! Watch the Spotlight Version on YouTube!
SHOW NOTES
Tell us a little bit about your journey in international ed & what ended up drawing you back "home"
Diana: Denver, Colorado. Ended up overseas 12 years ago. Spent 9 years mostly in China & Qatar. Started as middle school, worked in EdTech. Came home because of missing family. Planned to move back in summer of 2020, ended up moving back in Feb 2020. Now back in the classroom teaching ESL.
Maggie: Before I moved here, I had never lived here. Worked overseas for 31 years: Netherlands (HS Geography), Thailand (Primary), Switzerland, India. Returned home 3 years ago for family reasons. Sad to leave India, because I kept thinking "this is the last time I'm going to be doing…" Now doing school visits & PYP workshop leading.
Kristen: Started as a Peace Corps in Cameroon volunteer right out of college (MS Teacher). Then, Istanbul, back to the US, Brazil. Came back during Covid to be closer to family. Now in New Hampshire. Getting out of the big city, getting back to nature. Dir of T&L.
Emily: Started in Toronto, China, Singapore, Australia. Thought Australia would be home for good, but pandemic came, and ended up going back to Toronto.
What are you doing now? How is it similar / different to what you'd been doing?
Emily: Head of JR, all-girls schools. Career progression. IB has been a thread the whole time. Stepping into jobs that promoted innovation, has provided a lot of consistency. Current school is welcoming and warm, made it easy to step into a big career.
Kristen: Was a full-time instructional coach in Brazil. Took on a lot of big picture projects, had a hand in a lot of different projects, got to focus on the instructional side of things, focusing on teaching & learning. That has been a consistent theme in the work I've done. Transitioning into this role, a lot of the work has been the same, but the environment is very different. Structurally the school is very different. Still a lot of strategy work, supporting teachers.
Maggie: When I left India, my job title was Director of Educational Technology PK-12. Now I'm not in a school at all. Stepped into an interim leadership position at a state school, with all kinds of constraints because of the national curriculum, which was quite different. Started building up consultancies with the IB, took on a range of schools from Dublin to Pakistan, working their way through to becoming PYP authorized. A lot of work was coaching. Leading workshops was an easy transition. Moving workshops online was a big transition. More school visits for authorization / evaluation.
Diana: Before I went overseas, I was at one of the largest school districts in Colorado, and have come back to a very similar position. I knew it might take a while to get re-established back in the same district. Had been doing edtech coaching overseas, but in the US, not a lot of public schools have that type of position, so I knew it would be unlikely to find a similar position. Was an easier transition to come back to ESL, and come back and work with some of the same people that I was working with before I left. EdTech experience came in handy to support their remote learning for Covid. Gained confidence & experience, to go back into a classroom position. Everything is built on something else, all my experience overseas really supports working with multilingual learners. Being successful overseas, you have to be adaptable. I'm learning a new culture, and taking it one step at a time.
---
What's YOUR level of coaching mastery?
All coaches go through various stages of coaching mastery. Once you identify where you're at, you can begin to build the skills needed to move to the next stage.
This quiz is based on real-life case studies compiled from years of working with coaches inside The Coach Certificate & Mentorship Program!
When you receive your results, you'll also get your matching case study from the STRIVE Case Studies to see where you fit in the stages of coaching mastery.
Ready to tackle your challenges and move on to the next level in YOUR coaching practice?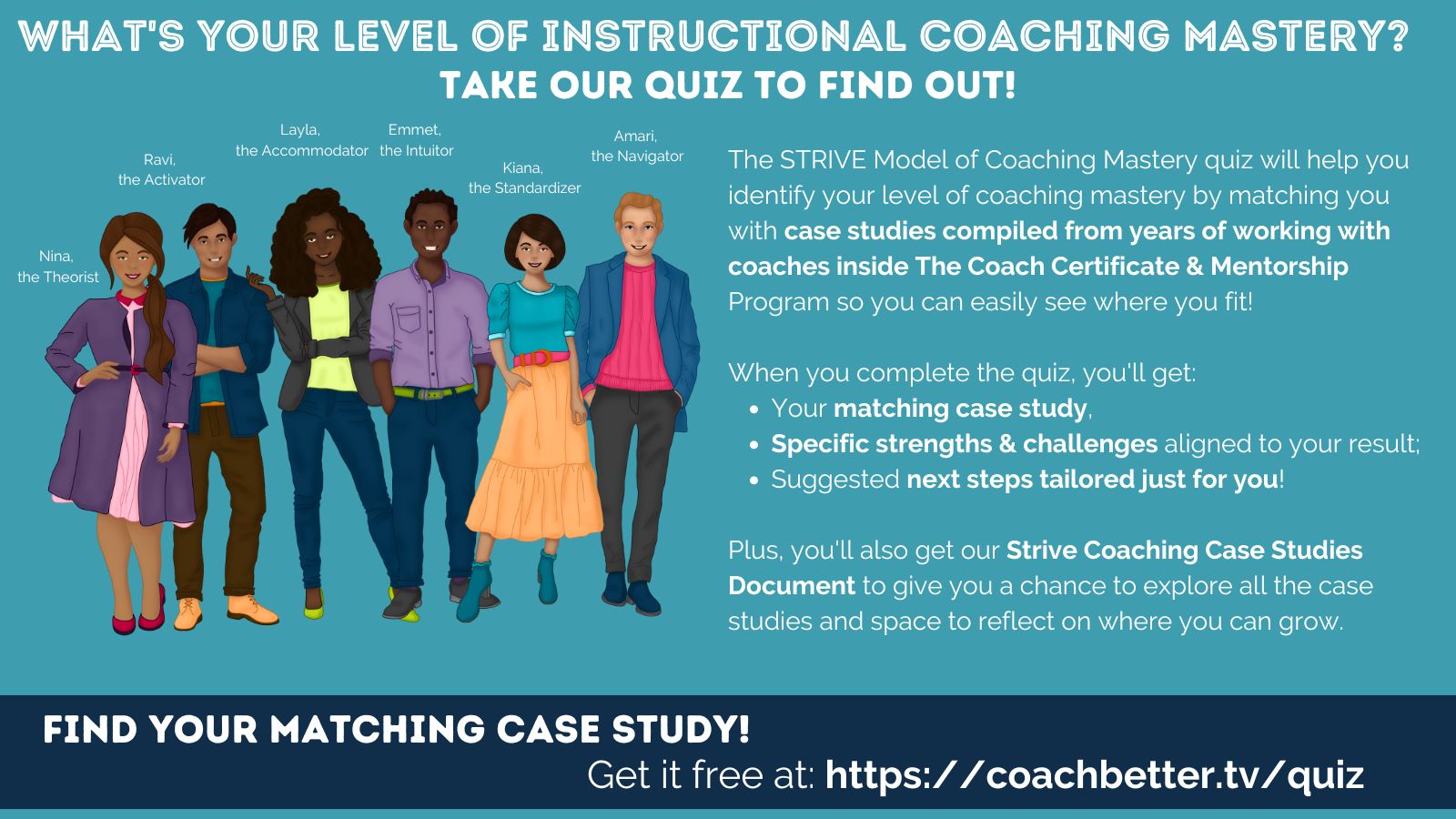 The STRIVE Model of Coaching Mastery quiz will help you identify your level of coaching mastery by matching you with case studies compiled from years of working with coaches inside The Coach Certificate & Mentorship Program so you can easily see where you fit!
You'll go straight to the Quiz, and get the Case Study Document via email.
---
Show Notes continued…
What were you expecting & how did reality shape up? What surprised you (in good ways / less good ways)?
Diana: Learning to make adjustments and be adaptable. Having lived overseas is exciting, but also stressful, so I have good skills to manage that. What I expected was to come back and take a year or two to find a position. When you're in an international school, you have a ready made community right there, but coming back to the US, there's no built in community. Had an expectation of a timeline, which ended up being surprising. Making the transition from living internationally, and the language I use stands out. When you're in a foreign language, and you can't understand people, it just becomes white noise and you tune it out. Now I understand everything, and I don't always like it.
Maggie: Went to school in the UK, and had worked in the UK, so I assumed the move would go smoothly. Suddenly they were expecting me to have all sorts of documentation about moving to the UK, that previously the HR of schools would have taken care of this. All my belongings were impounded. Look into these things before you set off from the "last" country. Overhearing things that people say, that are unpleasant is really hard. The most challenging part of moving back to the UK was being a "hidden immigrant" – people looked at me and I looked like them, and sounded like them, but inside I was very different and nobody understood that. They had the perception that I would do or say things that I wouldn't. Moving from big cities to a rural environment was also challenging. Previously had a doctor, National Health Number, etc, was so hard to get anyone to accept me as a patient.
Kristen: Biggest surprise: when you're in another country as a foreigner and you don't speak the language, and you're not deeply embedded in the culture, you can have a little bit of distance. I might have had an opinion, but I certainly wasn't able to vote. Now, I'm in a state where I do have a vote, I can't be a bystander. Now I feel a responsibility to help people see the other side, to protect educators and to have these conversations.
Emily: Moved out of the international world when I moved to Australia, so I had an experience similar to Maggie, not an immediate school community, not a lot of international move support. When I moved to Australia, there were a lot of assumptions that I would fit in really easily, and make friends easily, and it didn't go that way. What surprised me is that it was much smoother moving back to Canada. The pandemic was at its height when I moved, so saying goodbye and arriving back home was very different than I would have expected. Taking all those lessons from all my international moves helped me be organized.
What should educators returning home consider?
Emily: Bring your international life with you. Take that kind of adventurous, easy-go-lucky, approach to life back to "home" be a tourist in your own backyard.
Kristen: Consider why you're making a move. A move isn't going to solve all the world's problems. What is it that you're leaving, are you taking internal things with you. You can't expect to go back "home" and everything should be just as I left it. Bloom where you planted. If you're running away from something and you think it's a place, you might be facing those same challenges back "home".
Maggie: Be open to opportunities. Be open-minded and say yes, you don't know where they might lead you. Don't be fixed on it being one way, be prepared to be flexible and see where you fit in.
Diana: Plan as much as you can, but be prepared for things to not go according to plan, which can lead to amazing opportunities. Be true to yourself that you've had this amazing experience and you have new things to explore.
---
Continue Your Learning!
If you're ready to dig deeper into being more intentional in your coaching practice – or if you're new to instructional coaching and you're curious about getting started, join us for one of our courses for coaches!
To learn more about these options, we have two FREE workshops to share with you.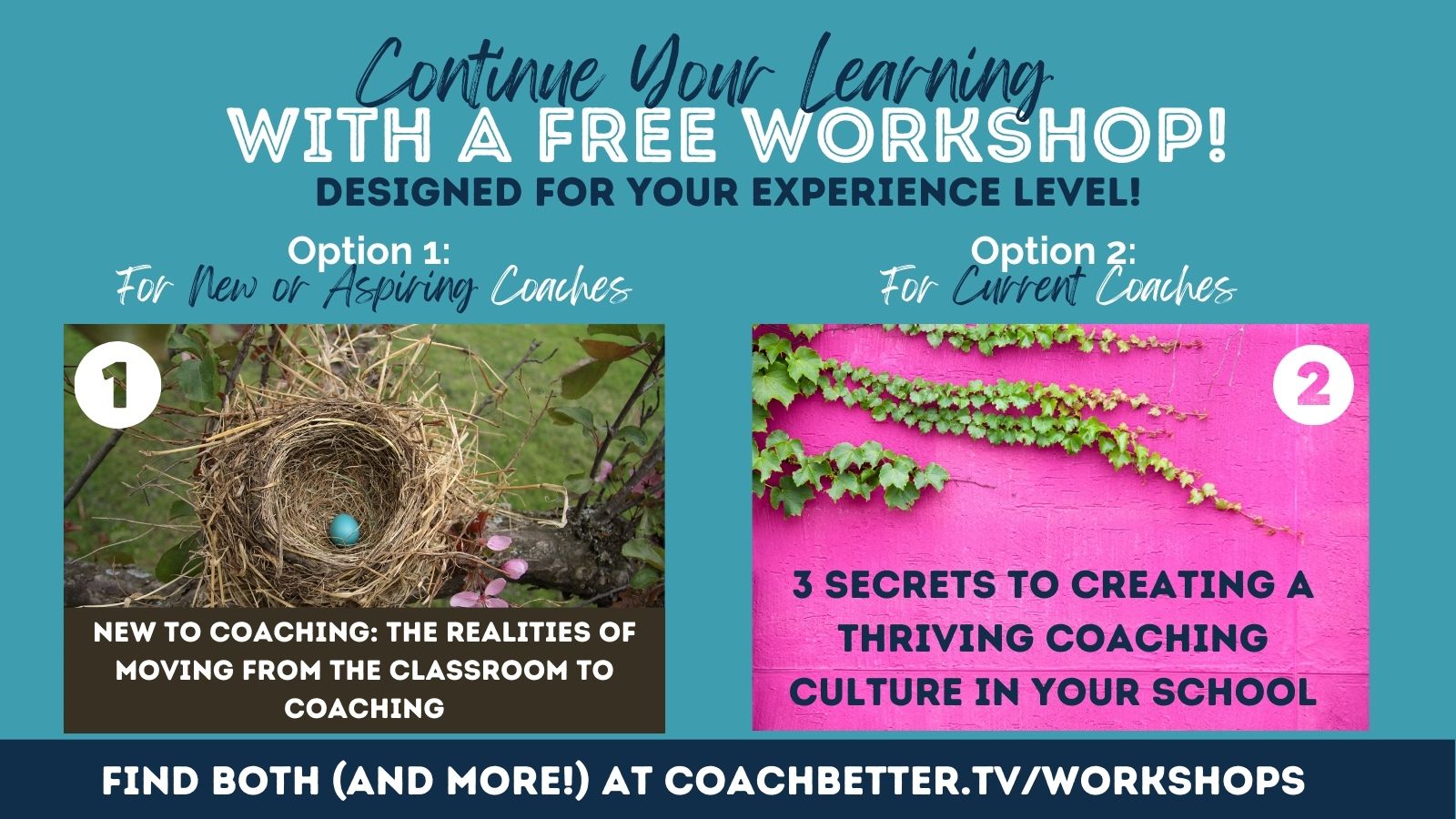 For New or Aspiring Coaches
If you're just getting started as a coach, and you want to be successful in your early years, watch our New to Coaching Workshop, which highlights the key mindset and skill set shifts you'll need when moving from the classroom to a coaching role. The workshop will also tell you all about our brand new course, Getting Started as a Coach. This course is specifically designed for classroom teachers that are moving into a coaching role so you're prepared for the transition. It's focused on exactly the skillset & mindset shifts you need so you can be successful in your first years as an instructional coach.
For Experienced Coaches
If you're already a coach & you want to think about being more intentional & strategic in your practice, watch our workshop on the Thrive Model for Coaching Success which will help you evaluate your program and your practice to see where you may have room to grow. You'll walk away with a clear picture of exactly what you need to focus on to build a thriving coaching culture – and help you decide if our year-long mentorship and certification program, The Coach, is right for you, right now. This program is designed for current coaches who are focused on building a coaching culture through intentional and strategic coaching work at all levels – with teachers and school leaders.
You can find both workshops on our coachbetter website at coachbetter.tv/workshops
Wherever you are in your coaching journey, we can support you!
For All Coaches
Connect with us!
Subscribe to the podcast iTunes | Spotify | Stitcher
Follow us on social media: Twitter | Instagram | LinkedIn
Join our #coachbetter Facebook group