In this #coachbetter episode, Kim chats with Rola Said and Nabila Bashir, both from the Queen Rania Teacher Academy in Jordan! Rola is the Director of Programs and Nabila is the Director of Business Development and Promotion – and they are both inspirational leaders!
Queen Rania Teacher Academy in Jordan is a non-profit organization committed to empowering educators in the region. Rola and Nabila are experts in designing effective and engaging professional learning for teachers. In this episode we talk about the importance of professional growth in retaining teachers, how to design professional learning that works, how to engage reluctant teachers in professional learning, and how Queen Rania Teacher Academy transitioned to, and learned from, remote learning during the pandemic. For educators interested in international education and leadership, this episode is full of fascinating insights into how to make an impact on a country- and region-wide scale.
Subscribe to #coachbetter via your favorite Podcast Player!
Featured Guests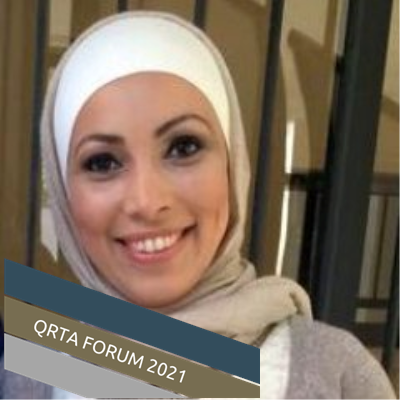 Bonus! Watch the Spotlight Version on YouTube!
SHOW NOTES
Bios
Rola Said is the Director of Programs at the Queen Rania Teacher Academy.
During her five years at QRTA, Rola led the Teacher Education Professional Diploma and took the role of the Quality Assurance Lead. She is an experienced subject head and classroom practitioner with a successful record of teaching mathematics for over 25 years. Rola is an accredited International Trainer and Examiner with CAIE (Cambridge Assessment International Education). She took part in reviewing the content of the online mathematics curriculum on EDRAAK Platform.
Rola is always driven with her passion to help the marginalized and vulnerable youth through voluntary work. She obtained her master's degree in Education from Framingham State College in the US. Stemming from her belief in continuous professional development, Rola obtained her fellowship in Education from Harvard Graduate School of Education Middle East Professional Learning Initiative and obtained the Certificate in Advanced Education Leadership from the same university in 2019.
Throughout her career, Rola received several recognitions including the Cambridge Queen Rania Outstanding Teacher Award for inspirational teaching and was featured by the Women in Business Arabia Group among the 365 most influential women leaders in the Arab World.
Nabila Bashir is the Director of Business Development and Promotion at Queen Rania Teacher Academy (QRTA), with more than 20 years of experience in teaching, innovation in education, EdTech, STEM, and project management of education development projects. She is an evaluator for The Council for the Accreditation of Educator Preparation (CAEP) from the US. Deploys corporate strategies and tactics to external partners via the development of proposals, promotional planning, and implementation, and program development based on customer-centric requirements.
Out of 3,500 nominees, she was chosen as a Techwomen fellow to represent Jordan in Silicon Valley as one of the leading women in STEM in 2018, an initiative of the U.S. Department of State's Bureau of Educational and Cultural Affairs (ECA), and is managed by the Institute of International Education (IIE).
Due to her work in education and technology, she was awarded the "Queen Rania Outstanding Teacher Cambridge Award" in 2012, she is also an international examiner from Cambridge Assessment International Education. She has experience in designing frameworks for the computer science K-12 curriculum and teacher professional development programs for the integration of technology in teaching. She is a MEPLI (Middle East Professional Learning Initiative) fellow at the Harvard Graduate School of Education since 2021.
She has a Master's degree in Multidisciplinary Studies in Education from the State University of New York (SUNY) and a B.Sc. in Computer Science from the University of Jordan. She has also obtained a Certificate in Advanced Educational Leadership (CAEL) from the Harvard Graduate School of Education. Truly believes in women empowerment and supports initiatives such as volunteering as a judge for Technovation in 2022, which is a global tech education nonprofit that empowers girls to become entrepreneurs, leaders, creators, and problem-solvers, through mentors, and educators looking to teach girls everywhere the skills they need to change the world with technology. Also, in 2022 she served as a reviewer in HundrED 2022 Global Collection and as a Country Ambassador for T4 Education group.
Rola Said & Nabila Bashir are experts in education at the Queen Rania Teacher Academy in Jordan. Queen Rania Teacher Academy is a non-profit organization established in 2009 to empower educators in the region to become creative educators.
Please tell us about your background in education and how you got to your current role.
Nabila: studied computer science, worked as a programmer, decided to start as a teacher. The minute I stepped into a classroom, I knew this is what I wanted to be. Seeing the impact on student lives is so rewarding to me. Became head of ICT Dept, and then Deputy Head of School. Then QRTA. Being a teacher helped me a lot in my current position because I know what teachers need and how to support students.
Rola: I started as a math teacher My passion for teaching math has never stopped. Graduated as an electrical engineer. 20 years experience as a practitioner. When I felt like I needed to share this experience I stepped into teacher training.
Why is teacher professional growth so important in nurturing schools? (Nabila)
Rola has been my mentor as a teacher. It's very important to have mentors who you can trust.
In today's world of continuous change, it's essential to provide students with equal opportunities to learn. Education should shape better citizens who are able to sustain themselves and others. We need broader education, social skills. This can only be achieved by empowering educators, by giving them skills, knowledge, latest trends, the ability to meet student needs. The best education systems in the world recruit the best teachers and then continuously support professional development and learning throughout their careers. They encourage creativity and critical thinking and that's reflected in their student learning.
---
What's YOUR level of coaching mastery?
All coaches go through various stages of coaching mastery. Once you identify where you're at, you can begin to build the skills needed to move to the next stage.
This quiz is based on real-life case studies compiled from years of working with coaches inside The Coach Certificate & Mentorship Program!
When you receive your results, you'll also get your matching case study from the STRIVE Case Studies to see where you fit in the stages of coaching mastery.
Ready to tackle your challenges and move on to the next level in YOUR coaching practice?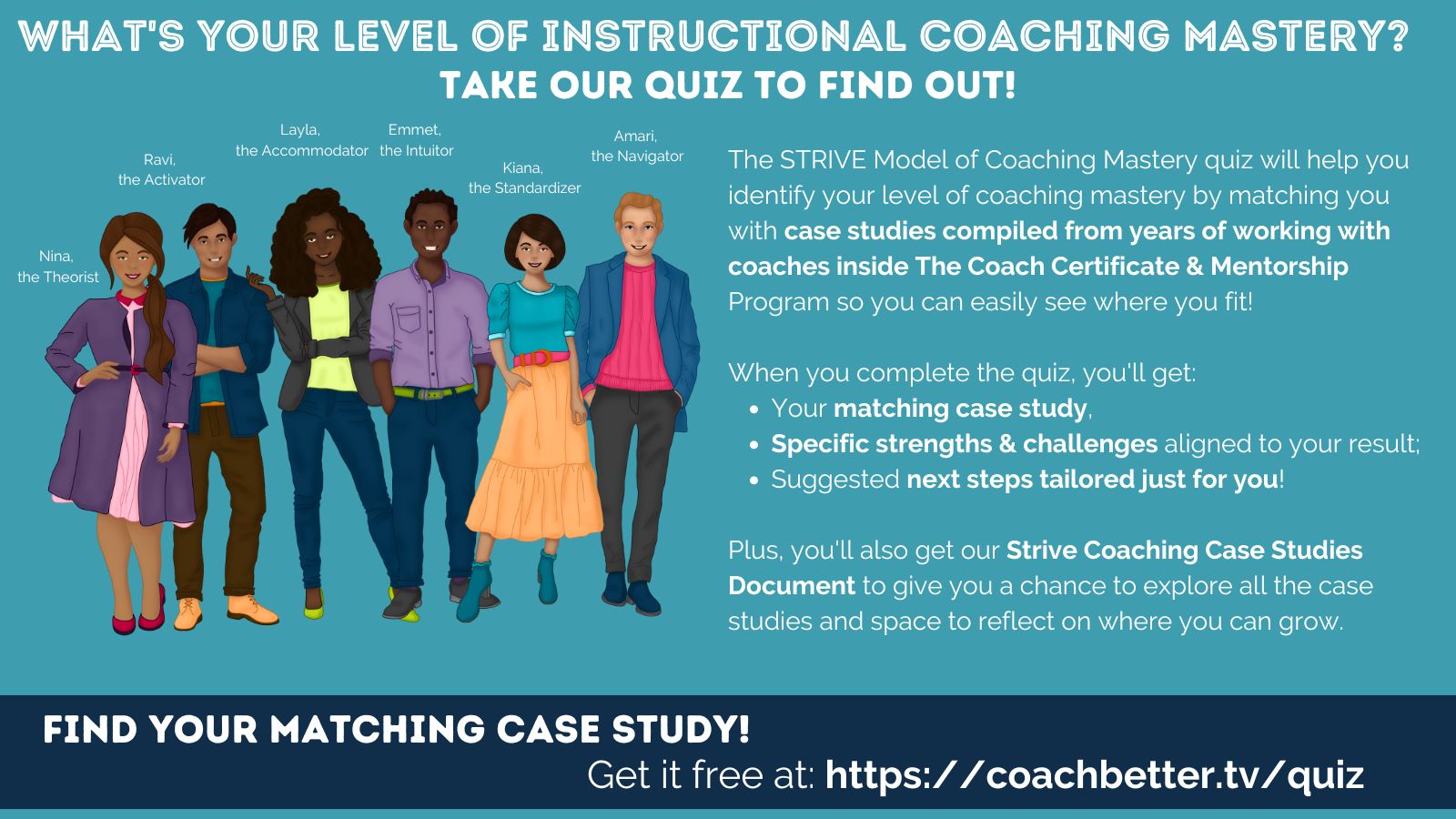 The STRIVE Model of Coaching Mastery quiz will help you identify your level of coaching mastery by matching you with case studies compiled from years of working with coaches inside The Coach Certificate & Mentorship Program so you can easily see where you fit!
You'll go straight to the Quiz, and get the Case Study Document via email.
---
Show Notes continued…
When you are designing professional development programs, what are the essential elements? (Rola)
The most important part is making sure that you're meeting the needs of your learners.
Start with a needs assessment.
Look into research, best practices, latest trends to make sure that what you're offering is really relevant.
Start with a pilot – so you can get feedback so you can improve and enhance the model to scale up and expand.
Monitoring and evaluating.
Sustainability – how do you make sure the training you're offering is ongoing, teachers appreciate it,
create professional learning communities to share with others
Change in mindset, create lifelong learners
Linking theory to practice
Continuous enhancement
Scaling needs to consider the context.
Please tell us about the transition to online learning for Queen Rania Teacher Academy: What did you learn? How is an online learning environment supporting your goals? How is it different than face-to-face? (Rola)
We believe that those challenging times have created remarkable opportunities for education. We have always believed that teachers should be empowered and ready to use digital systems.
Digital transformation: started establishing an e-learning department
Adopted a really distinctive online model of learning, adopting the skills gradually. iLearn model.
*Introduction
*Learn
*Engage
*Apply
*Professional Practice
Educators have become more self-directed. Online programs gave us all the opportunity to be exposed to different context schools locally, regionally and internationally.
Tell us about your achievements during the past two years and what plans do you have moving forward? (Nabila)
Created an opportunity for all educators in Jordan and the region to share their knowledge. Many participants from different countries, and increased our global presence
Building Forward Better: Transforming Schools Today: 27,000 participants from 97 countries, with 42 speakers.
School Networks for Instructional Improvement was selected for the 100 most impactful and sustainable impact.
CAPE accreditation
Online learning is now part of our strategic plan and it's our mission to enhance that. This is now the DNA of our programs. No more programs without the digital enhancement part.
3-4 impact studies
Last year's forum: Learning skills gained during the pandemic: student panel: become more flexible, adaptable, improved their digital literacy skills, become more independent, more self-learners, better time management skills (students asked why do schools need a bell). Similar skills for teachers, came closer together because they were sharing the same challenges. Connection has strengthened. Leaders said it enhanced their digital skills, became closer to teachers, better understanding of teachers challenges.
In every aspect of the system, there was a gain, a positive outcome at every level
Sometimes teachers are reluctant to engage in professional development. How can we help teachers recognize the valuable skills they are building, and see the value in professional learning? (Nabila)
The focus is on the daily work, daily task and that can prevent them from engaging in "extra work". It's essential that PD should be coupled with performance evaluation of teachers and student achievement and engagement. Teachers want to engage in professional learning when they can see the student achievement. Analyzing and measuring the difference it makes in student lives. Always look to the final outcome is student learning.
Sometimes school chose PD that is general, asking teachers what do you need, what areas do you want to improve will make them more engaged in PD. A focus on the inquiry-based learning.

Linking all of that in a professional learning community. The best way teachers learn is by working with other teachers, sharing knowledge and coaching other teachers
This will help them look at PD not as a burden, but also as an opportunity
Leadership: it is the school leader who drives the change, who motivates and inspires. We have all experienced coming out of our comfort zone. It's the leaders job to navigate out of the storm, this requires empathetic leadership. We need leaders who are focused on teaching and learning.
---
Continue Your Learning!
If you're ready to dig deeper into designing effective and engaging professional learning for teachers – or if you're new to instructional coaching and you're curious about getting started, join us for one of our courses for coaches!
To learn more about these options, we have two FREE workshops to share with you.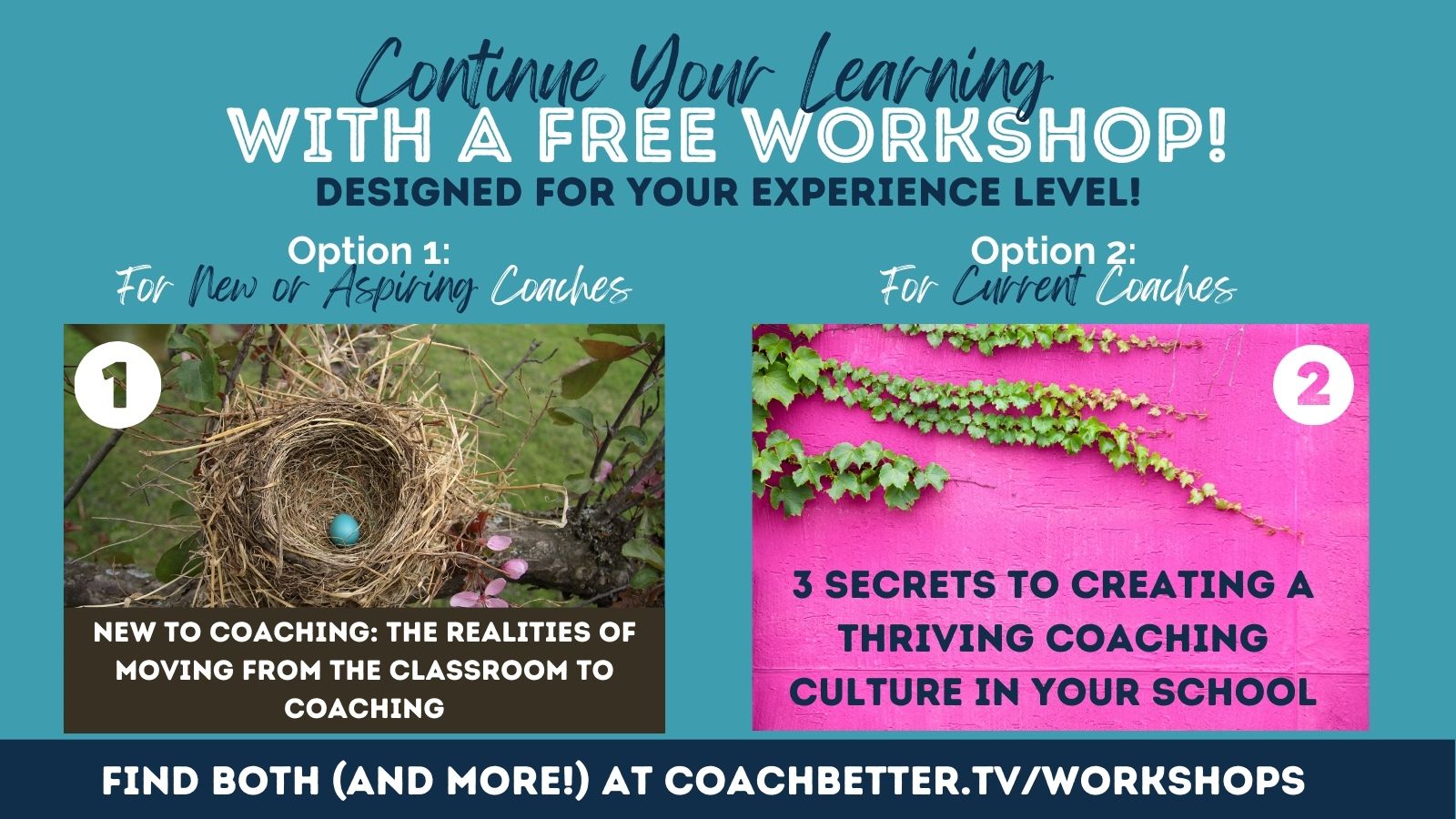 For New or Aspiring Coaches
If you're just getting started as a coach, and you want to be successful in your early years, watch our New to Coaching Workshop, which highlights the key mindset and skill set shifts you'll need when moving from the classroom to a coaching role. The workshop will also tell you all about our brand new course, Getting Started as a Coach. This course is specifically designed for classroom teachers that are moving into a coaching role so you're prepared for the transition. It's focused on exactly the skillset & mindset shifts you need so you can be successful in your first years as an instructional coach.
For Experienced Coaches
If you're already a coach & you want to think about being more intentional & strategic in your practice, watch our workshop on the Thrive Model for Coaching Success which will help you evaluate your program and your practice to see where you may have room to grow. You'll walk away with a clear picture of exactly what you need to focus on to build a thriving coaching culture – and help you decide if our year-long mentorship and certification program, The Coach, is right for you, right now. This program is designed for current coaches who are focused on building a coaching culture through intentional and strategic coaching work at all levels – with teachers and school leaders.
You can find both workshops on our coachbetter website at coachbetter.tv/workshops
Wherever you are in your coaching journey, we can support you!
For All Coaches
Connect with us!
Subscribe to the podcast iTunes | Spotify | Stitcher
Follow us on social media: Twitter | Instagram | LinkedIn
Join our #coachbetter Facebook group