In this first #coachbetter episode for Season 5, Clint and Kim talk about the focus for Season 5 so you can see where we're going with the podcast. They start out by defining instructional coaching and sharing why it's important to have a clear definition in your school community. They talk about how this process can be challenging, specifically for international schools, and how all schools can be prepared to build successful coaching programs. Throughout the episode, you'll hear highlights from this upcoming season. There are so many great conversations and we don't want you to miss any! If you haven't subscribed to the podcast, yet, you can subscribe wherever you get your podcasts after you listen – or find all of our episodes and show notes on our website at coachbetter.tv!
And if you're curious about building a coaching culture, make sure to head over to our website at edurolearning.com/thrive to get all of our free resources on the Thrive Model, so you can start building the foundations of a thriving coaching culture in your school community today!
Connect with our Featured Guests
Subscribe to #coachbetter via your favorite Podcast Player!
Bonus! Watch the Spotlight Version on YouTube!
Show Notes
1: What is coaching?
Instructional coaching is a formal or informal process that:
is non-evaluative and confidential (and not tied to appraisal)
starts with teacher goals and is invitational for teachers to access
involves a cycle, structure, or system of self-reflection
operates close to the classroom, with observation, co-teaching, or modeling as a central part of the experience.
Phrased slightly differently, instructional coaching is a structured, non-evaluative, reflective, confidential process that takes place over time, based on actual data and observation of in-classroom experiences, in partnership with the teacher and supported by an instructional coach who is also part of the school community.
Anyone can have coaching conversations, but not everyone should have the title of instructional coach. These skills can be applied in many different roles (Coordinators, HODs, etc), but that shouldn't impact the job title. (Reminds me of the ways we've adjusted the title of Tech Coordinator over the year, but never changed the job description)
2: Why is it important to have a clear understanding of the definition of coaching?
When we can define it, we can implement it and then we can measure it
Without a definition we're likely to THINK we're talking about the same thing (everyone has a preconceived notion of what coaching is), but without defining the term, we may not actually be talking about the same thing – clear in our communication
Kim: multiple conversations with school leaders and schools about preparing to implement a coaching program – so challenging to develop without a clear understanding
Just having a definition can prompt really powerful discussions
We need to know WHO is doing the coaching & then create job descriptions
(CBQT coming up next week about The Importance of Clarity in Your Instructional Coaching role that goes into more detail)
3: How is this different or challenging for international schools
Lack of consistency between schools
Unclear definitions & expectations
Frequent turnover
Culture of competition
Frequent curriculum or structural changes (always creating from scratch)
---
EXPLORE THE THRIVE MODEL
Are you working on building a coaching culture in your school setting?
To make coaching both sustainable and successful, you need clarity, consistency, and community.
Unfortunately, most schools are missing at least one! Is yours?
Use the Thrive Model to find out!
Developed after working with hundreds of coaches and leaders in international schools around the world, the Thrive Model incorporates both the macro view of a coaching program, and the micro view of a coaches practice, to bring together the three essential elements to make coaching both sustainable and successful.
Explore all of our resources about the Thrive Model at edurolearning.com/thrive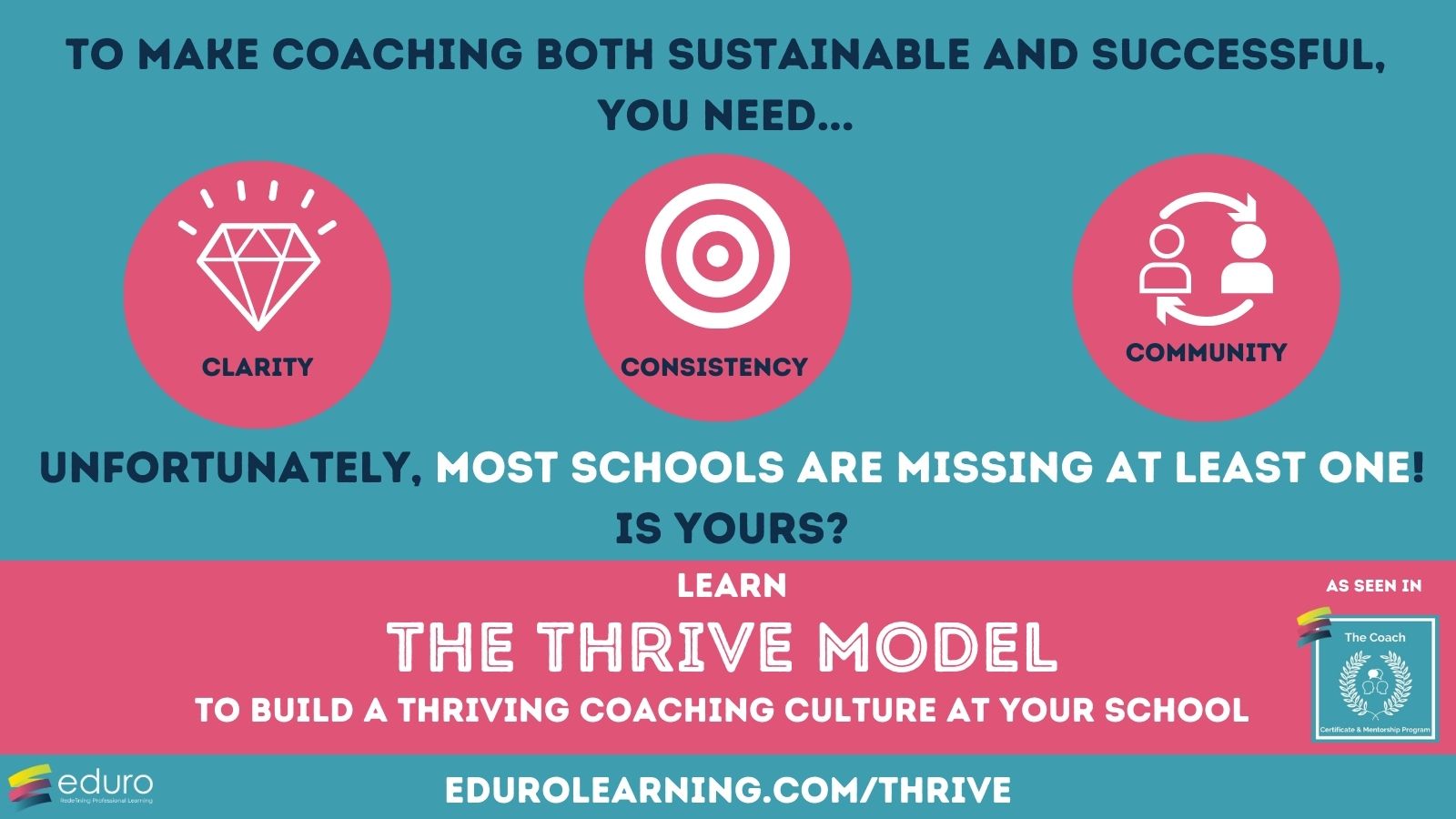 ---
4: What do schools need to think about first
Clarity: defining terms, shared language, shared understanding
Reminder of quote from Joellen Killion (Episode 146)
"If I can describe it with specificity, it is far more likely to be achieved than if I don't have the capacity to be specific. More time on the 'what,' and less time on the 'how.' We do that backwards in schools. We spend a lot of time on the 'how' without clarity on the 'what.'"
In schools where I've seen coaching be more effective is when there's more clarity, definition, clear purpose, clear roles and job descriptions. The opposite is when there's a lack of clarity and you talk to people and everyone has a different definition. The really struggling end is when they talk about using coaching as a "remedy" for teachers who need support in terms of appraisal.
5: Overview of the whole season
Focus: unpacking the hidden value of instructional coaching – (the why)
Why coaching matters: the impact of coaching – what coaching can bring to a school
Why instructional coaches are so essential in schools
How to unlock the power of coaching through the Thrive model: as a way to assess your coaching program and practice and a way to make a plan (the how)
We'll move through the phases of clarity, consistency and community throughout the year to explore each element of the Thrive Model
Structure of episodes:
Interviews
Coaching Case Studies / Coaching calls

What coaching looks like in schools around the world through client case studies
Inside Coaching Conversations with clients – recorded calls you can listen in on

CBQT + repurpose
Interviews with Carla Marschall, Kaitlyn Pettinga, Ji Han, the Coach Mentors
Community & belonging
Positive growth-minded culture
Space and time for reflective practice
Sustainable & contextual
Personalized & ongoing PD
Kaitlyn Pettinga:
The impact of coaching is a sense of belonging. When you're involved in a culture that is so collaborative around teaching and learning, through coaching, we have teachers and students that feel like they belong.
Carla Marschall:
Two aspects that sound different, but they're related. One is organizational effectiveness: if we can listen better and understand each other better, we will work together better. That's one piece, but we shouldn't just be goal driven and efficiency mavens because that's very dehumanizing. Coaching brings an element of selflessness and generosity, listening is an act of compassion because it is about removing the self from us and about providing space for the other individual. If we want to develop organizations that are humanizing but effective, coaching is one of the ways we can do that.
Ji Han:
A successful coaching culture is when the people who are being coached are some of the best teachers in the school. That school has made it very clear that coaching is a growth process. So often the superstar teachers are the ones who get the least amount of support. When the strongest teachers are excited and talking about coaching, they become the role models for the fact that we can always be lifelong learners.
Coming soon on a #coachbetter QuickTips episode
Viewpoint (macro & micro in an non-evaluative position)
Adult Learning is their superpower
Create a sense of belonging through relationships & respect
Spheres of Influence: coaching both teachers & leaders
Connections: building community by connecting teachers
Elements of a thriving coaching culture so you can build yours
The Coach (the what) as the product & the person doing the job
What do coaches really do – Doesn't have to be a coaching title
Adult learning – talking about the difference between working with adults & students (with Eduro grads)
---
Ready to find more clarity in your coaching practice?
If you're ready to dig deeper into clarifying instructional coaching in your coaching role and your school or organization – or if you're new to instructional coaching and you're curious about getting started, join us for one of our courses for coaches!
One of the things we're most proud of here at Eduro is that there's no one-size-fits-all learning – you always have choice and voice in how you learn with us. Today's video highlights one of the key themes that you'll find in three of our programs, and if you're curious to take your learning deeper, we have three great options for you.
New Coaches:
If you're just getting started as a coach, and you want to learn how to make these mindset and skillset shifts, watch our New to Coaching Workshop, which will also tell you all about our brand new course, Getting Started as a Coach.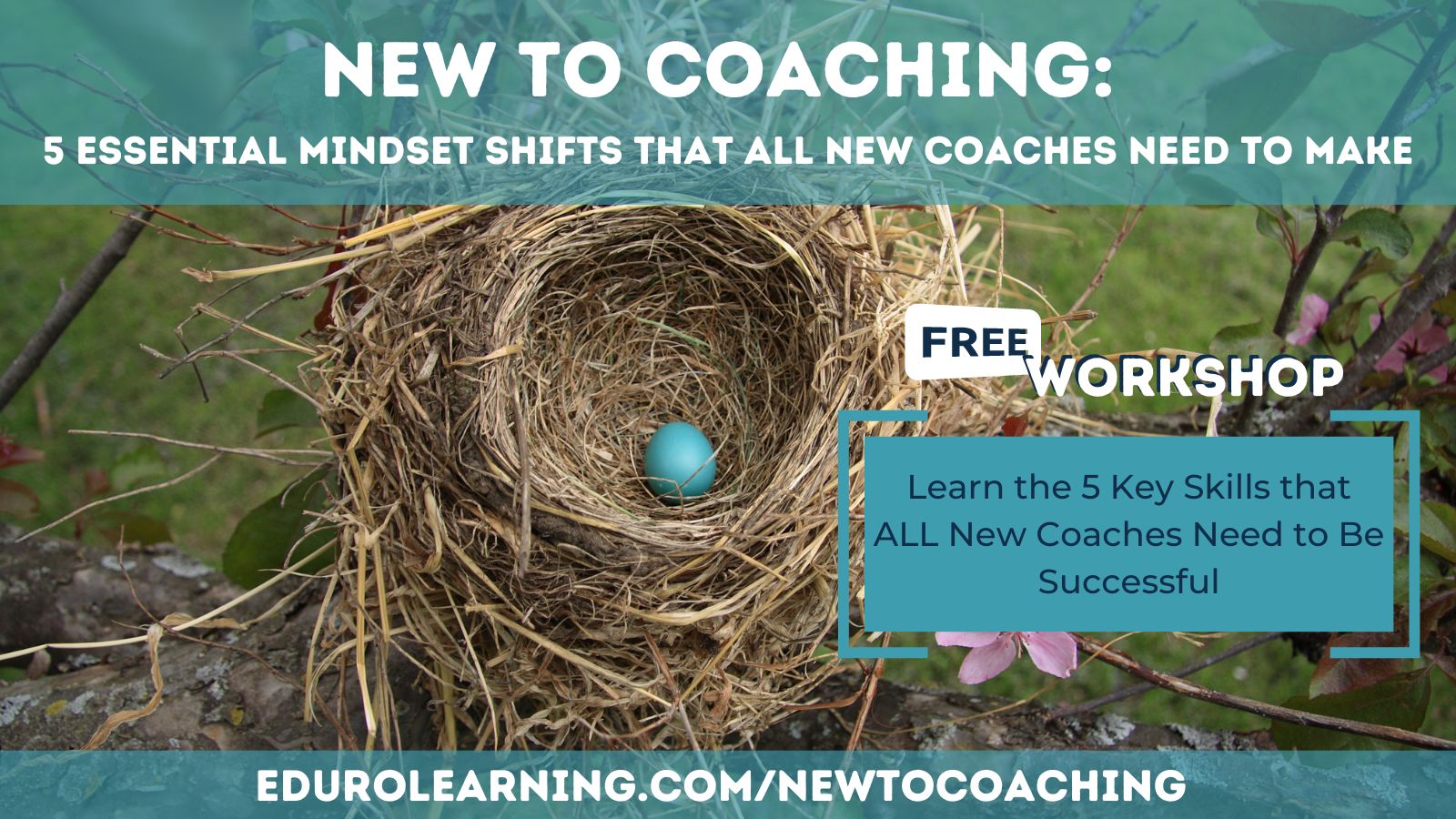 Experienced Coaches:
If you're already a coach & you want to think about being more intentional & strategic in your practice, watch our workshop on the Thrive Model for Coaching Success which will help you evaluate your program to see where you may have room to grow – and help you decide if our year-long mentorship and certification program, The Coach, is right for you, right now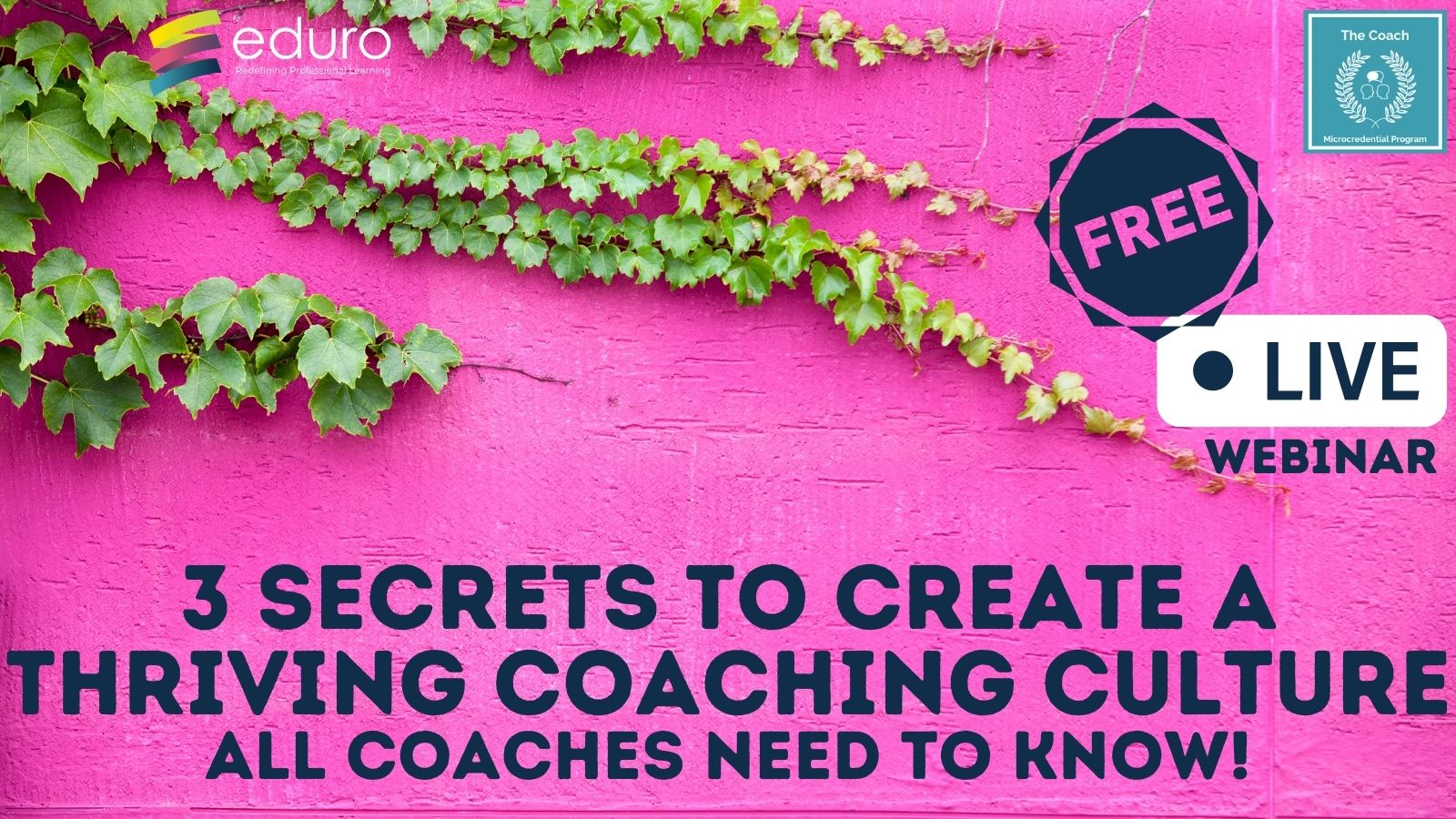 Just like all our learning experiences, the content in both of these courses is self paced so you get access to everything immediately – but you get so much more: when you join the course, you get access to our #coachbetter global community with optional group coaching calls at various time zones to meet & connect with other coaches PLUS private office hours with me to get all your questions answered & work through anything coaching related in your unique school context.
Wherever you are in your coaching journey, we can support you!
For All Coaches
Connect with us!