Wondering what some "unexpected" key skills are for instructional coaches?
Three of our graduates from The Coach Certificate and Mentorship Program share their top skills – and sometimes it wasn't what they expected before they started coaching!
1: Understand the Coaching Stances
Amy says…
As coaches, we wear a lot of hats, we're often asked to do different things. The three stances of consulting, collaborating and coaching. Being able to compartmentalize for myself. Sometimes I got caught up in worrying that I was spending too much time consulting. Being able to see how different parts of my day supported coaching in the big picture.
For more on coaching stances, check out these videos:
2: Understanding Adult Learning
Karli says…
The most important mindset shift for me was "it's not about me" and all the subset skills that go along with that. It's about the teacher with whom I'm collaborating and coaching. If that's my focus, the skills I need to develop are listening and questioning. When I started the role, I came in with this problem solver mentality and that doesn't work. When people are reluctant to be coached. My steepest learning curve was how adults learn. They're the focus, it's my job to listen to what they need & meet them where they're at. I'm of service to them. Also releases me from any tie to an outcome.
For more on adult learning & being a better listener, check out these episodes:
---
What's YOUR level of coaching mastery?
All coaches go through various stages of coaching mastery. Once you identify where you're at, you can begin to build the skills needed to move to the next stage.
This quiz is based on real-life case studies compiled from years of working with coaches inside The Coach Certificate & Mentorship Program!
When you receive your results, you'll also get your matching case study from the STRIVE Case Studies to see where you fit in the stages of coaching mastery.
Ready to tackle your challenges and move on to the next level in YOUR coaching practice?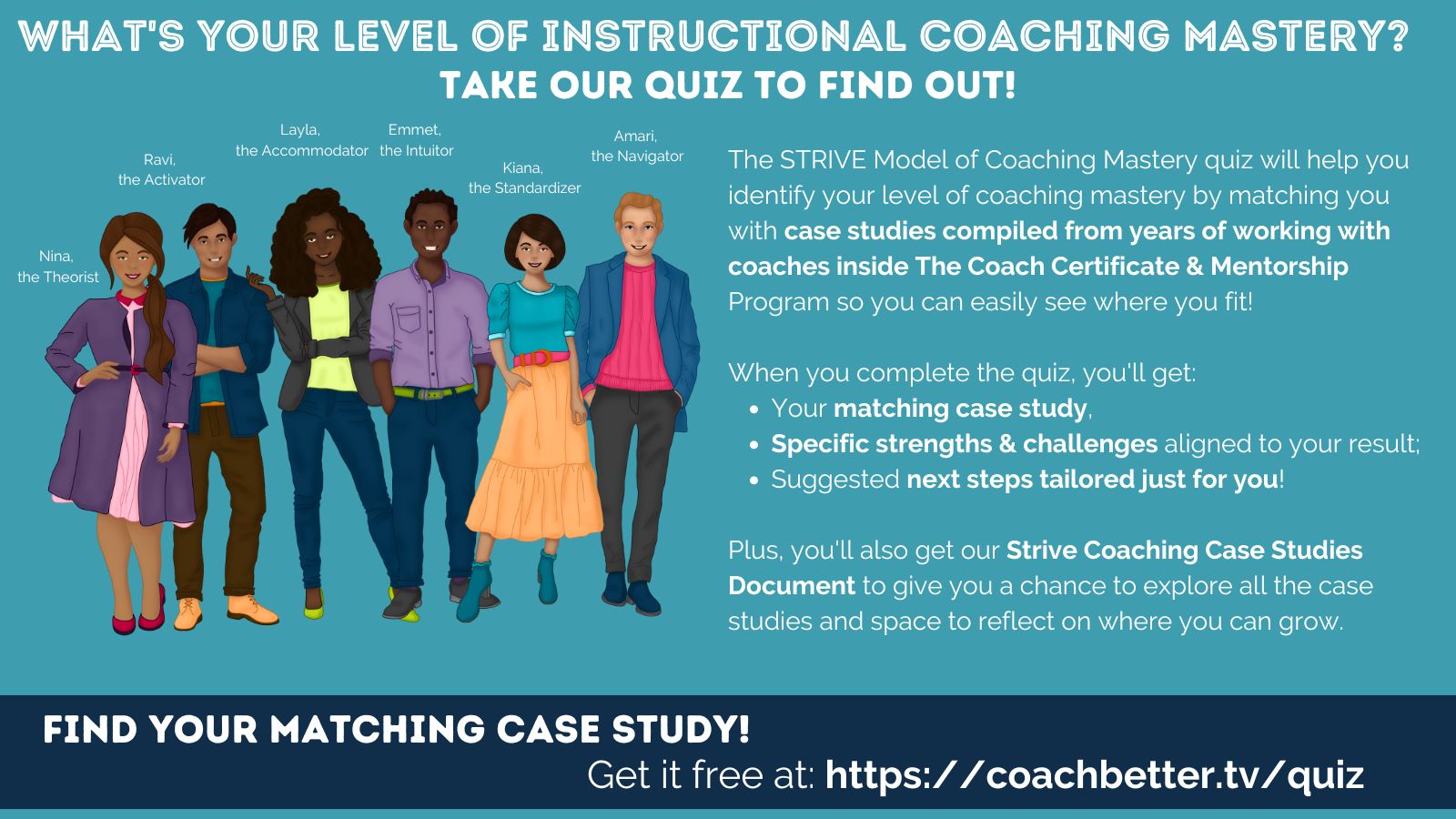 The STRIVE Model of Coaching Mastery quiz will help you identify your level of coaching mastery by matching you with case studies compiled from years of working with coaches inside The Coach Certificate & Mentorship Program so you can easily see where you fit!
When you complete the quiz, you'll get:
Your matching case study,
Specific strengths & challenges aligned to your result;
Suggested next steps for each stage;
Plus the Case Study Document includes:
Case studies leveled by coaching mastery;
A framework to identify essential stages of professional growth & key areas to focus on in your professional learning;
Alignment with the THRIVE Model for a Successful Coaching Culture;
Space for you to reflect & prioritize so you can take action immediately!
You'll go straight to the Quiz, and get the Case Study Document via email.
---
3: Learn How to Coach Heavy & Measure Your Impact
Abby says:
As a newer coach, I decided early on for my personal project to be about developing my coaching skills. I felt like I was coming in able to build relationships, for me it was about how I could push teachers more and really understand what they are needing. I focused on my questioning and listening skills. Focused on shifting to coaching heavy and relying on data.
For more on questioning and coaching heavy, check out these episodes:
Which skills are essential for you, right now?
These three skills are a great overview of how you can grow in your coaching practice. Even as experienced coaches, we can always continue to explore more ways to #coachbetter! That's what this podcast is all about!
Watch the Video
Ready to be more intentional in your coaching practice?
If you're ready to be more intentional and strategic in your coaching role and your school or organization – or if you're new to instructional coaching and you're curious about getting started, join us for one of our courses for coaches!
One of the things we're most proud of here at Eduro is that there's no one-size-fits-all learning – you always have choice and voice in how you learn with us. Today's video highlights one of the key themes that you'll find in three of our programs, and if you're curious to take your learning deeper, we have three great options for you.
New Coaches:
If you're just getting started as a coach, and you want to learn how to make these mindset and skillset shifts, watch our New to Coaching Workshop, which will also tell you all about our brand new course, Getting Started as a Coach.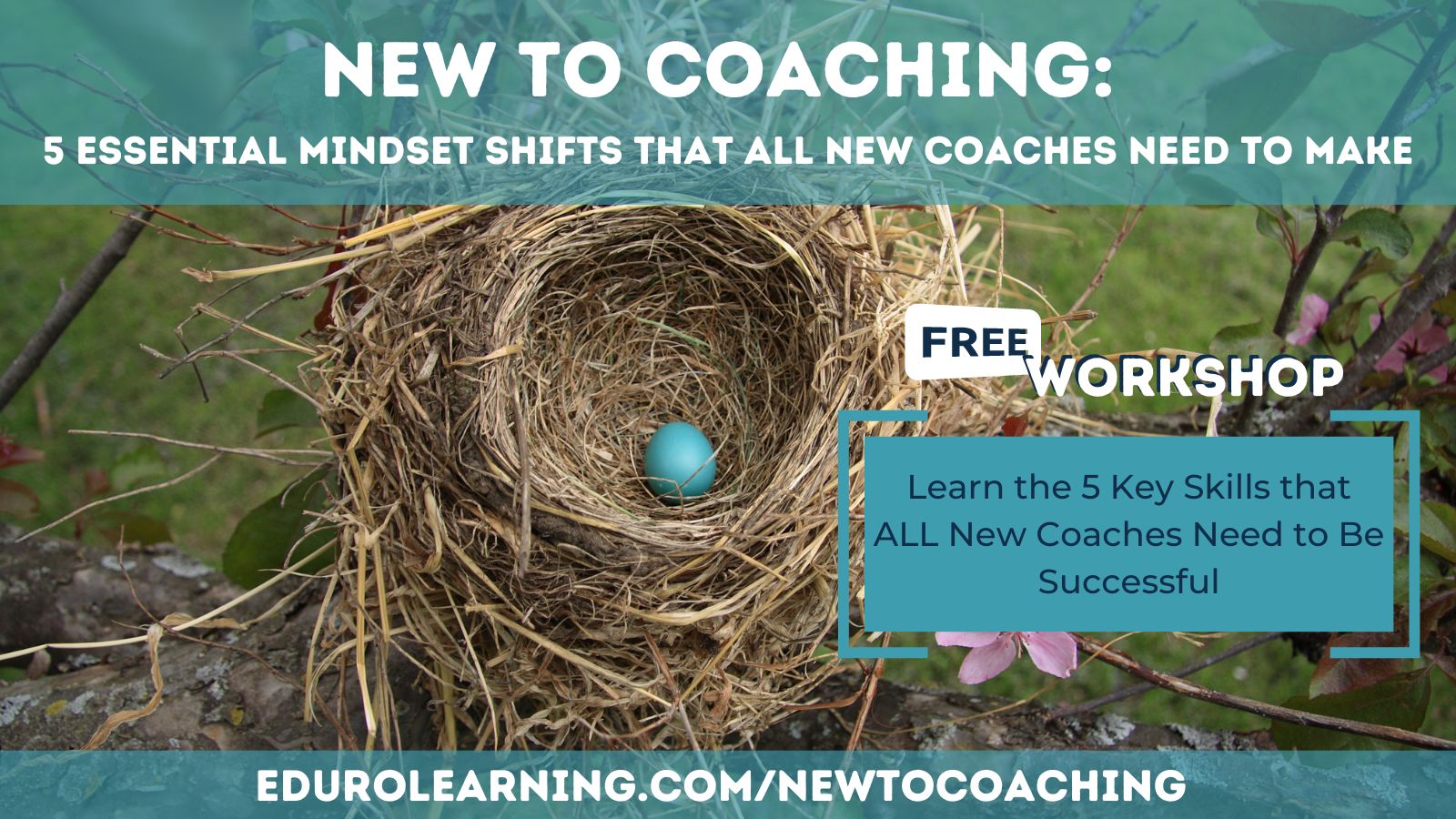 Experienced Coaches:
If you're already a coach & you want to think about being more intentional & strategic in your practice, watch our workshop on the Thrive Model for Coaching Success which will help you evaluate your program to see where you may have room to grow – and help you decide if our year-long mentorship and certification program, The Coach, is right for you, right now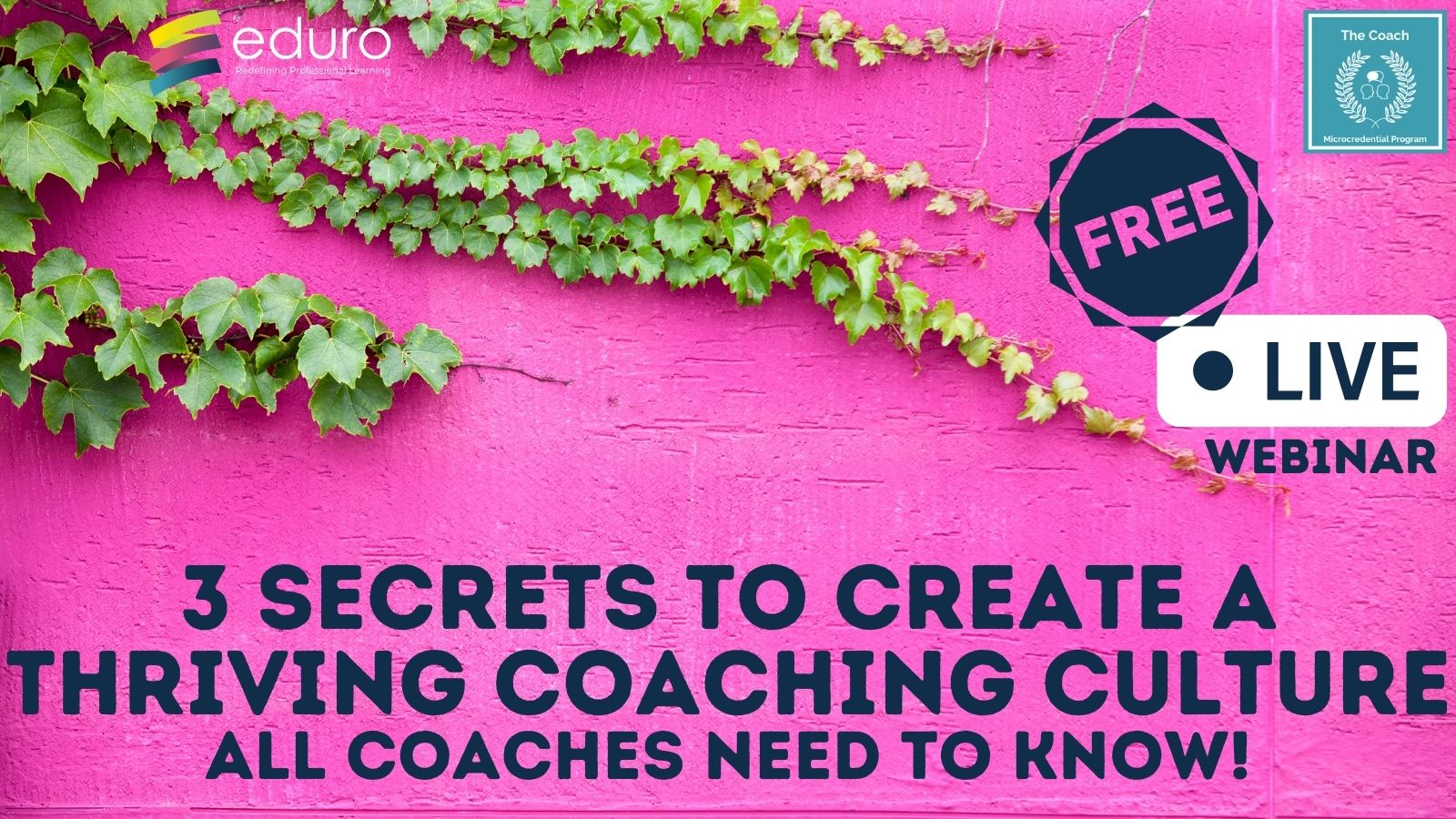 Just like all our learning experiences, the content in both of these courses is self paced so you get access to everything immediately – but you get so much more: when you join the course, you get access to our #coachbetter global community with optional group coaching calls at various time zones to meet & connect with other coaches PLUS private office hours with me to get all your questions answered & work through anything coaching related in your unique school context.
Wherever you are in your coaching journey, we can support you!
For All Coaches
Connect with us!