Are you planning Professional Learning for your colleagues as an instructional coach?
Making those sessions meaningful and motivating in a busy teachers schedule can be challenging.
This post is a follow up to our previous post, Preparing to Lead Professional Learning, where we talked about designing professional learning experiences that are connected, applicable, and focused for participants.
In this post, we're building on those ideas to address what you need to do as you get into the planning and implementation of professional learning experiences so that they are MEANINGFUL and MOTIVATING for participants.
Being Prepared to Lead Professional Learning
When you are in a coaching role, you will most likely be asked to lead professional learning for your colleagues. And although you have participated in professional learning, you may have not had specific training or experience in organizing and facilitating these types of events.
5 Steps to Design Meaningful & Engaging Professional Learning
Here are some questions for different aspects of to help you formulate what kind of structures and models you will employ to provide a meaningful and motivating experience.
Step 1: Introduce the Topic and Outcomes
Participants want the focus and goals of any professional learning experience to be clear and easy to understand.
When you're introducing the topic & outcomes, you might want to think about…
How are you going to provide an opportunity for participants to connect with the topic and outcomes of the session?
What connections can they make to what they already know and do?
How will the outcomes provide a path for them to stay connected to their learning?
How can they connect with each other as professionals?
One example for how you can introduce the topic and outcomes, is to provide a couple of questions about the focus for the sesion to promote initial conversations among participants at tables or in small groups about their experiences and potential questions.
Step 2: Introduce the Content
Depending on how familiar (or not) participants are with the content of the session, you'll need to decide how much is manageable given your time frame.
When you're thinking about how you will introduce the content, you may want to consider….
How will participants access the content of this session?
Can any information be provided before the session?
Who already has experience or knowledge that can be shared?
What protocols could be used to guide in highlighting important information and promoting productive conversations?
As an example for how you might introduce the content, you can provide participants with some choice in readings or videos to access on the topic with a focus on collecting
Step 3: Focus on the Application of learning
Participants will be engaged with the learning if they can see how it applies to the work they do in the classroom.
When you're thinking about how to apply the learning during your session, you might want to consider…
How can you illustrate the application of the learning so participants can make the connections to their own work?
What are the opportunities for collaboration in applying the concepts and strategies?
How can you harness participants' creativity and innovation in finding ways they can use (or are already using) what they are learning?
An example of how to do this is giving participants time to develop a plan on implementing a strategy in their classroom on their own or with a small group.
---
What's YOUR level of coaching mastery?
All coaches go through various stages of coaching mastery. Once you identify where you're at, you can begin to build the skills needed to move to the next stage.
This quiz is based on real-life case studies compiled from years of working with coaches inside The Coach Certificate & Mentorship Program!
When you receive your results, you'll also get your matching case study from the STRIVE Case Studies to see where you fit in the stages of coaching mastery.
Ready to tackle your challenges and move on to the next level in YOUR coaching practice?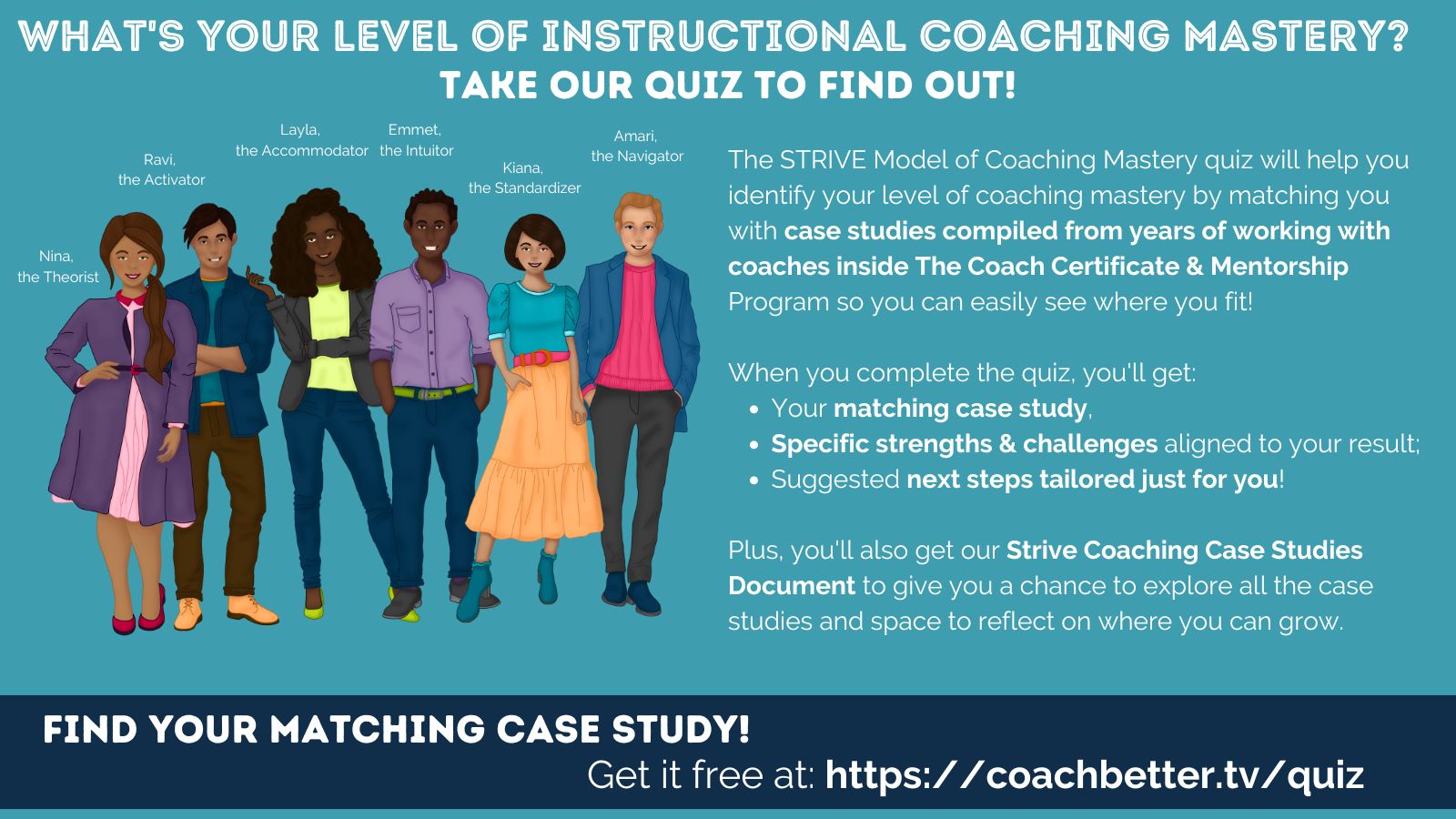 The STRIVE Model of Coaching Mastery quiz will help you identify your level of coaching mastery by matching you with case studies compiled from years of working with coaches inside The Coach Certificate & Mentorship Program so you can easily see where you fit!
When you complete the quiz, you'll get:
Your matching case study,
Specific strengths & challenges aligned to your result;
Suggested next steps for each stage;
Plus the Case Study Document includes:
Case studies leveled by coaching mastery;
A framework to identify essential stages of professional growth & key areas to focus on in your professional learning;
Alignment with the THRIVE Model for a Successful Coaching Culture;
Space for you to reflect & prioritize so you can take action immediately!
You'll go straight to the Quiz, and get the Case Study Document via email.
---
Step 4: Time for Sharing and planning Next Steps
To put their learning into action, participants will need an opportunity to share and plan for their next steps
When you're planning this time for participants to share, you might want to think about…
How will you build in time and space for participants to share their learning, ideas, and questions?
What will you put in place for follow up with teachers on what was shared and learned?
How can you help participants reflect on their learning and articulate their next steps?
How will you make connections back to the session outcomes?
An example for how you can have participants share their planning is to have them give a quick 'elevator pitch' to others to get input and guidance.
Step 5: Measuring Impact
Making sure to review the effect of the session and how you might adjust leading professional learning in the future will support your professional growth as a leader.
To make sure you get the feedback you need from your session, you might want to think about…
What do you want to know from the participants regarding their experience with this professional learning session?
How could you structure a feedback form to collect quantitative and qualitative data?
How will you use this information to inform your next steps with teachers?
One way you can easily collect feedback is to provide a digital survey. They are a great way to collect and organize input but make sure to make the number of questions manageable for your participants.
As you organize for professional learning events, whether its a one time presentation at a staff meeting or a series of PD sessions over time, it is important to focus your time and energy into planning and facilitating a meaningful and engaging experience. Do whatever you can to avoid a "Sit and Get" and promote conversation and collaboration among your colleagues and peers – even if it is something they might not be accustomed to.
Some of the most meaningful feedback I have gotten after facilitating professional learning has been around giving participants time to learn, process, and share and giving them a voice in their learning and how they move forward. You can do the same when you focus on providing participants connected, applicable, and focused professional learning.
Watch the Video
Learn More!
If you are interested in exploring more about how to lead professional learning, Eduro Learning has options to support and engage you in your learning journey – whether you're a coach, a teacher, or a leader.
One of the things we're most proud of here at Eduro is that there's no one-size-fits-all learning – you always have choice and voice in how you learn with us. Today's video highlights one of the key themes that you'll find in three of our programs, and if you're curious to take your learning deeper, we have three great options for you.
Try a Focused Course!
For an introduction to this topic, consider doing our mini-course Leading Professional Learning!
The course takes around an hour to complete, and by the end you'll be able to utilize a variety of strategies within a professional learning context to provide quality professional development.
New Coaches:
If you're just getting started as a coach, and you want to learn how to make these mindset and skillset shifts, watch our New to Coaching Workshop, which will also tell you all about our brand new course, Getting Started as a Coach.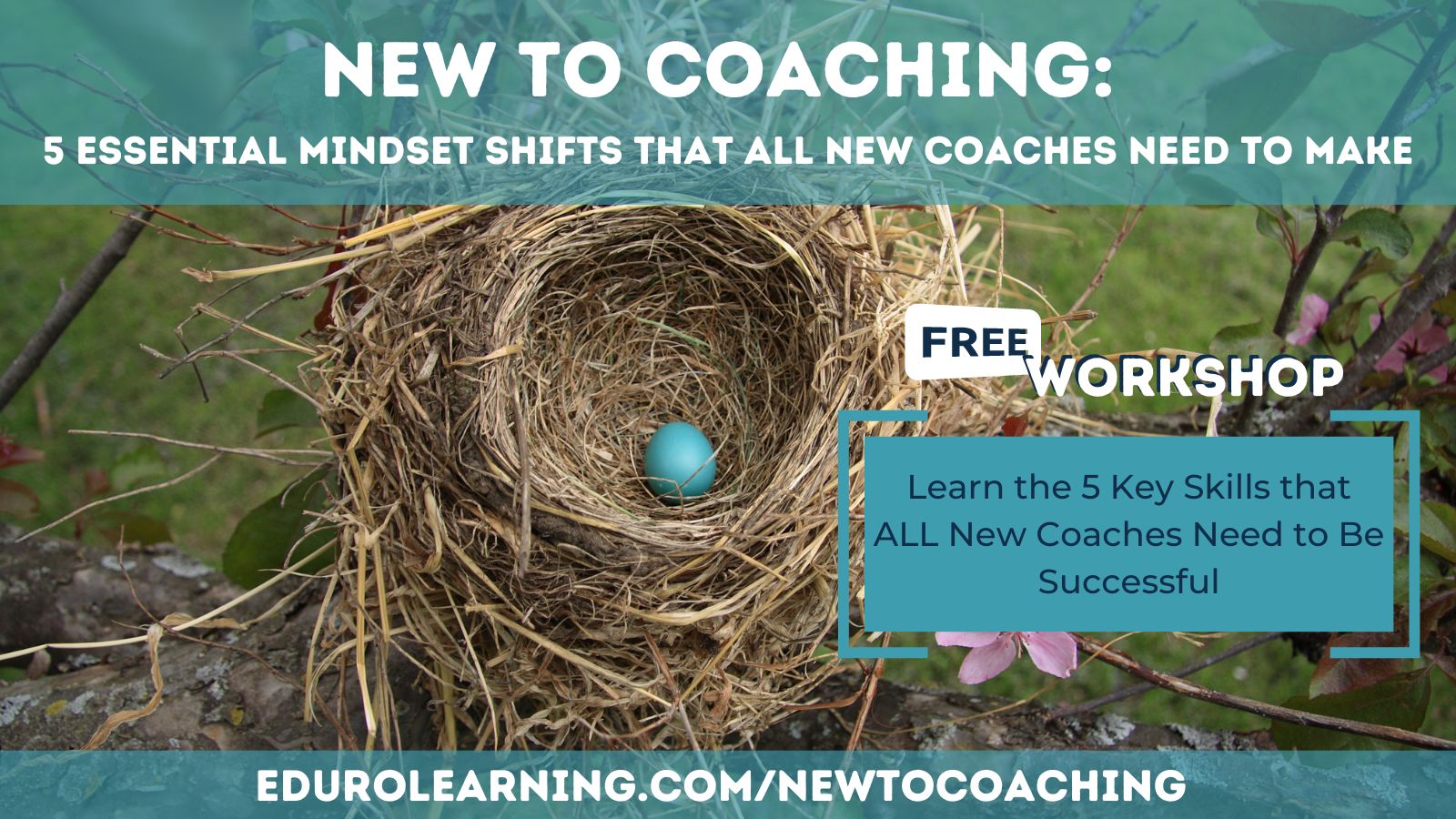 Experienced Coaches:
If you're already a coach & you want to think about being more intentional & strategic in your practice, watch our workshop on the Thrive Model for Coaching Success which will help you evaluate your program to see where you may have room to grow – and help you decide if our year-long mentorship and certification program, The Coach, is right for you, right now